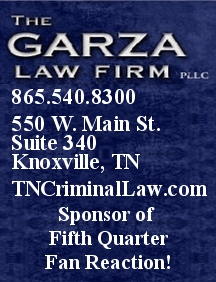 Tony World:
Random musings as we work our way through summertime in East Tennessee:
FULMER'S BACK IN THE FOLD
and that's good for John Currie. Though we wouldn't look for the two to go on vacation together, UT's hiring of Phillip Fulmer is a good thing for Currie and helps him consolidate support from Fulmer's former players. The Hall of Famer and former head coach is happy because he gets a nice stipend and other perks, so it's the classic case of Currie would much rather have Fulmer on the inside whizzing out than outside whizzing in. The House of Haslam obviously wanted this to happen as payback for jerking Fulmer around in the AD process before Currie was hired. There's also a lingering remorse in the HoH over the firing of Fulmer, given the debacles that were Lane Kiffin and Derek Dooley.
DID TENNESSEE SERIOUSLY GET INTO CONTENTION
for Memphis DE Jordan Davis during Orange Carpet festivities last weekend? The 6-5, 238-pound Alabama commit would be a great flip for Butch Jones and staff, but this one is still an uphill battle. Davis has been zooming up the recruiting rankings in the last few months. The consensus four-star is ranked #222 in the nation by 247 Sports,#125 by ESPN and #73 by Rivals. In a banner year for in-state defensive linemen, Davis can give Jackson's Greg Emerson a run for being the best in the state. Emerson, ranked #40 nationally by Rivals, is listed as a DE/DT but few think he won't end up as a DT while Davis looks like a pure perimeter rush end.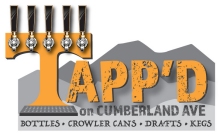 Coming Soon to Cumberland Ave!
SPEAKING OF BAMA, NICK SABAN'S WOES CONTINUE
on the recruiting trail. The Tide has slipped to 67th in the national team rankings for the 2018 class, just ahead of lowly Missouri (#83). Tennessee is #11 nationally, third best in the SEC. If you're looking for a yardstick as to how many top players are committed in the 247 Sports rankings, 3 of the Top 10, 9 of the Top 25, 24 of the Top 50 and 55 of the Top 100 are committed.
ALABAMA DOES NOT LEAD FOR A SINGLE FIVE STAR PLAYER
and has no commitments from 5-star players. Compare that to the fact Saban signed 21 5-stars over the last four years, out of 126 players who were given the top designation.
IT APPEARS THE VOLS CERTAINLY MADE PROGRESS
with Cordova three-star OT Jerome Carvin, who will end up higher before the 2018 class gets final rankings. Once again, Jones and his cohorts are battling Alabama for the 6-4, 325-pounder. Carvin would be a very nice add to five-star OL Cade Mays in a great year for big tackle bodies in Tennessee.
THE VOLS TOOK A COMMITMENT FROM LOW 3-STAR
corner Tanner Ingle this week. The Orlando, FL product is ranked #1150 in the nation by 247 Sports. Ingle is the second low 3-star DB from Florida that Jones and staff have taken. Neither player has been offered by the Big 3 of Florida, FSU or Miami.
TENNESSEE LET NASHVILLE WR CAMRON JOHNSON GO
to Vanderbilt as many have soured on the four-star. We're told the Vols like several other WR's on their board more. We'll see if that decision was a good one. Clarksville athlete Shatar McClay decommitted from the Vols yesterday in a move that was no surprise. Academics are said to be an issue for the 6-0, 165-pounder, who is ranked #1148 in the nation. Still, all stars matter in your ranking, and McClay's defection dropped UT out of the national top 10 for now. We're glad Tennessee has that spot back.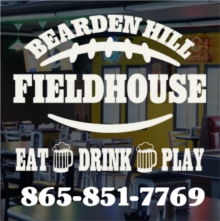 WE CAN GIVE UP ON OUR FANTASY OF SEEING SPRINTER CHRISTIAN COLEMAN
in a Tennessee Football uniform. The spectacular junior is turning pro and has his sights set on Olympic gold in Tokyo in 2020. Presumably, Jamaican Usain Bolt's reign as the World's Fastest Human will be over by then. In between, there are plenty of endorsements available for Coleman as he continues to gain notoriety on the world stage. Coleman will bring great attention to the UT track program for years to come.
Orange Throat
IGYAE/IV