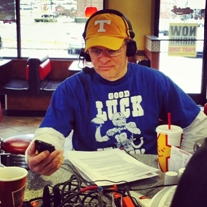 FREE THOUGHT FRIDAY (on Thursday):
VOLS ARE SOMETIMES WHAT THEY'RE PREDICTED TO BE:
I know you feel it just like I do; the dread of high expectations. It seems that every time things appear aligned for the Vols to have a special season something goes amiss. It also feels as if our best teams always come out of nowhere. While there is some validity to Big Orange Nation's fear of underachievement and affinity for underdog status most of that perception is formed by only a handful of events. Conceding that initial rankings are based mostly on returning contributors, the previous year's success -or lack thereof- and to some extent past history, it is still viewed as a barometer of the season to come. Short of a more accurate measurement I have used the AP Poll's initial and final rankings over the last 30 years to attempt to bring some clarity to the discussion of the Vols routinely underachieving and always being an afterthought in their most successful campaigns:
VOLS IN THE AP POLL
YR INITIAL/FINAL RANK; RECORD

1986 10/ NR; 7-5
1987 17/ 14; 10-2-1
1988 18/ NR; 5-6
1989 NR/ 14; 11-1
1990 8/ 8; 9-2-2
1991 11/ 14; 9-3
1992 22/ 12; 9-3
1993 10/ 12; 10-2
1994 13/ 22; 8-4
1995 8/ 3; 11-1
1996 2/ 9; 10-2
1997 5/ 7; 11-2
1998 10/ 1; 13-0
1999 2/ 9; 9-3
2000 13/ 25; 8-4
2001 8/ 4; 11-2
2002 4/ NR; 8-5
2003 12/ 4; 10-3
2004 14/ 13; 10-3
2005 3/ NR; 5-6
2006 23/ 25; 9-4
2007 15/ 12; 10-4
2008 18/ NR; 5-7
2009 NR/ NR; 7-6
2010 NR/ NR; 6-7
2011 NR/ NR; 5-7
2012 NR/ NR; 5-7
2013 NR/ NR; 5-7
2014 NR/ NR; 7-6
2015 NR/ 22; 9-3
;
BLOGGER'S NOTE: One of the seasons that helps form the thought great Vol teams are always a surprise is the 1989 season. Surprisingly that is not reflected in the AP poll results above due to one of the strangest poll discrepancies in history. At the end of the 1989 season the AP had Tennessee ranked 14th the UPI had them 13th while the USA Today Coach's Poll ranked them 4th. I think most of us that watched that team believe they were much closer to a Top-5 unit than 13th or 14th. I don't remember the specifics behind the huge contradiction and doubt there has ever been another instance of a 10 spot difference in the history of polling.
SUMMARY:
-PRESEASON RANKED 22 OF LAST 30 SEASONS. OUTPERFORMED RANKING 8 TIMES (1987, 92, 95, 98, 01, 03, 04, 07). UNDERPERFORMED 13 TIMES (88, 91, 93, 94, 96, 97, 99, 00, 02, 05, 06, 08). EQUALED RANKING ONCE (1990)

-IN THE EIGHT SEASONS INITIALLY UNRANKED, RANKED IN FINAL POLL TWICE (1989, 2015)

-FOUR TIMES RANKED IN INITIAL POLL AND NOT RANKED IN FINAL (1986, 88, 2002, 05)

-PRESEASON RANKED TOP-5 FIVE TIMES (1996, 97, 99, 2002, 05); HIGHEST FINISH WAS 7TH IN 97. FINISHED NOT RANKED TWICE (2002; 05)

-RANKED IN TOP-10 IN INITIAL POLL 11 TIMES (1986, 90, 93, 95, 96, 97, 98, 99, 01, 02, 03). FINISHED IN TOP-10 SEVEN OF THOSE SEASONS (90, 95, 96, 97, 98, 99, 01)

-EIGHT TOP-10 FINISHES IN LAST 30 SEASONS (1990-8; 1995-3; 1996-9; 1997-7; 1998-1; 1999-9; 2001-4; 2003-4). IN FOUR OF THOSE SEASONS (95, 98, 01, 03) THEY OUTPERFORMED THEIR INITIAL RANKING. IN 1990 THEY STARTED AND FINISHED AT #8

-2003 IS THE ONLY SEASON THE VOLS FINISHED IN THE TOP-10 (#4) WHEN THEY WEREN'T RANKED THERE INITIALLY

-BEGAN UNRANKED INITIALLY 8 SEASONS (1989, 2009, 10, 11, 12, 13, 14, 15). FINISHED RANKED ONLY TWO OF THOSE SEASONS (1989-14; 2015-22)
Draw your own conclusions from the information above but I came away feeling that though the Vols underachieve (according to pre-season perception) more than they exceed expectations they many times are about what the pundits believe they will be. I also believe most of our perceptions are formed by only a handful of seasons including:
CRASH AND BURN WITH HIGH EXPECTATIONS:
2002, 2005
OUT OF NOWHERE SUCCESS:
1985, 1989, 1998 (Only because no one believed a NC was possible a year after Peyton's departure), and to a lesser extent 2004.


REVERSE OF THE CURSE:
Saw a 30 for 30 short entitled
The Deal
chronicling the Red Sox failure to sign Alex Rodriguez in the winter of 2003. The Red Sox were smarting from Aaron Boone's dramatic walk-off HR in the 03 ALCS and felt A-Rod was the piece they needed to overtake the Yankees and assume AL-East supremacy. The Sox had lined up trades to free up cash and had buy-in from Rodriguez to accept less money but were rebuffed by Donald Fehr and the Player Association who would not allow one of the games stars to give back the amount of money necessary to make the deal work. Red Sox Management were devastated and felt it represented continuance of the Curse of the Bambino. History has of course proven it to be just the opposite.
A-Rod's tenure with the Yankees has been marred by his selfishness, immaturity, jealousy, lack of star-level production and big-moment failures. He bristled at his inability to capture Yankee fan's imagination and devotion as Derek Jeter did without understanding he didn't possess Jeter's magnetism, leadership ability and certainly not The Captain's ability to capture the moment. He also became a complete embarrassment with his reckless use of PEDs and his shameful associated defense and attack on MLB. Rodriguez is certainly not to blame for Yankee management foolishly extending his contract instead of sending him packing years ago because they thought he would break the all-time HR record and wanted him to do it in pinstripes. As it turns out he was more distraction than attraction. In the end the biggest factor in Red Sox championship drought breakthrough and the ultimate fall of the Yankees was Boston's failure to do the one thing they thought necessary; sign A-Rod. In the end his association with the Yankees did not extend the Curse of the Bambino, it reversed it.
MLB BITS:
-Looks as if the Yankees will play just well enough in their post-All Star Game 10 game home stand to convince the easily-mislead Hank Steinbrenner that they should be a buyer rather than seller at the trade deadline thereby delaying a long-overdue roster retooling.

-I'm not a Dodger or National League fan but sure hope Clayton Kershaw's injury not season-ending.

-Great to see local product Bryce Brentz get another shot with the big club in Boston. Even if Chris Young's return relegates the South Doyle product back to AAA maybe another team will ultimately desire his services.

-Looks like the Believeland 30 for 30 documentary on the misery piled upon Cleveland sports fans was impeccably timed and apparently reversed their misfortune. Not only did the Cavs win it all the Indians look capable of not only qualifying for but making a deep run in the A.L. Playoffs.

-Too bad Yan Gomes and company's reenactment of Serrano's intervention in Major League didn't turn out nearly as well. I guess Jobu was offended. Hopefully Gomes will fully recover and find his stroke in the process.

-The line drive that Pirates pitcher Jameson Tallion took off the head this week was as terrifying as any I've seen. How he lived through that let alone continued to pitch was amazing.

-There is going to be a lot of intriguing, gut-wrenching baseball played in the Lone Star State for the next several months. The Astros have closed a once huge gap between them and the Rangers to 4 ½ games. The teams have 9 games remaining against each other with 6 of those in Houston.

-The Mets earlier left for dead due to injuries are somehow hanging in the race in the NL East.

-Don Mattingly appears to have the Marlins on the same path the Dodgers seemingly always took during his tenure in L.A. Start slow then sprint to the finish.
SEC TEAM SOUL BROTHERS
Tony has had several days of entertaining banter comparing SEC Football teams to first country groups and then rock groups with the Good Doctor Sean Sinclair. Since when it comes to music tastes I am allegedly Caucasian I think I'll take a swing at the only genre I'm familiar with; soul music. With that here are my best attempts at matchmaking.
EAST
TENNESSEE-AL GREEN: Traditionally solid and entertaining but someone always seems to be dumping hot grits on em
GEORGIA-PRINCE: Carved out a niche with unlimited talent with a fan base that overrates their importance.
FLORIDA-SLY AND THE FAMILY STONE: Lot of success jammed into a relatively short history and they always do it in unconventional fashion.
KENTUCKY-BLUE MAGIC: Every song (season) sounds (looks) the same and it's always mediocre.
VANDY-CHARLIE PRIDE: Look right but they need to go do something else.
MISSOURI-IKE AND TINA TURNER: Made a little noise until they started beatin each other up
SOUTH CAROLINA-HAROLD MELVIN AND THE BLUENOTES: The only time they were good was with Teddy Pendergrass (Steve Spurrier) out front.
WEST
ALABAMA-TEMPTATIONS Simply the best and have stood the test of time
LSU-ISLEY BROTHERS Successful over a long period; different from their peers with a party feel and a chance someone's going to jail.
OLE MISS-JOHNNIE TAYLOR: Memphis feel and most of their performances are about cheatin
ARKANSAS-ISSAC HAYES: Manly deep-voiced program that's going to do it their way whether it's a hit or not.
TEXAS A&M-RAY CHARLES: Have all the tools but really don't fit the genre
AUBURN-FOUR TOPS: Always 'Standing in the Shadow" of the Tide but they never go away
MISSISSIPPI STATE-THE DELLS: Been around forever but no-one can name a hit they've had.
FINAL FRIDAY THOUGHT: August is quickly approaching; do you know where your fantasy football cheat sheets are?