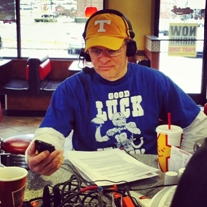 FREE THOUGHT FRIDAY
TIME TO THRILL KNOXVILLE:
Butch Jones and company have done a nice job with frills; now it's time for some thrills. Accepting a job few would consider, coming on the heels of the Lane Train's sudden departure and Mike Hamilton's -or more accurately a couple of well-known booster's- decision to replace him with the first hobo they saw hanging around the tracks, Jones has done an admirable job of reconstruction. Butch and his staff have tirelessly repaired relationships with Tennessee high school coaches while spreading the Big Orange cheer throughout the southeast and beyond. Tennessee's program has emerged from the depths of despair to a Top-15 ranking. The Volunteer roster is replenished to the point where every opponent must take notice of the talent in orange and consider a matchup with Tennessee as a threat to their season. The interest of the college football universe has been recaptured as well with ESPN Gameday making yet another appearance after an extended absence. The eyes of the nation are gazing once again at Tennessee's football program and its time for Butch -and his "infallible" process- to assure they don't turn away in amusement.
When asked what I think of Butch long-term as Tennessee's Head Coach I've always politely answered "I'll know when I know". I have a strong feeling when we reach the end of the month-long gauntlet facing his Vols "I'll know". Quite bluntly the time has come for Butch Jones' program to put up or shut up. I think it's fair to believe the looming four-game stretch will provide an accurate forecast of what to expect for the remainder of his tenure. Its Year-4; this is a Butch Jones' recruited and developed team; full of veteran experience. Eastern Division foes Florida and Georgia are currently as vulnerable as we can ever expect them to be; Kevin Sumlin is coaching for his job at A&M and Alabama has to come to Neyland Stadium. Slogans and gimmicks are quickly becoming more annoying than amusing and the statute of limitations has run out on excuses. It's time to win. Not necessarily all of them but certainly our share. I believe "our share" would be defined as a split. That would mean in the last two seasons Jones would be 4-4 versus ranked opponents after starting his career 1-16. It would also mean a likely 10-2 finish and continue the annual upward trend in wins we've seen in Butch's tenure. Anything short of that and I will begin to seriously contemplate if we've seen the best that he has to offer.
WHAT VOL FANS SHOULD KNOW ABOUT FLORIDA
OFFENSE:
-The Gators rushed for over 225 yards in both of their last two games. The first time that's happened since 2009.
-Florida has converted 58% (29-of-50) of its third downs in 2016, which ranks third in the country and first in the SEC.
-Lamical Perine is also the only FBS true freshman to rush for 100 yards and catch a touchdown pass in a game this year
-RBs Mark Thompson and Jordan Scarlett have both rushed for two TDs and average over 5 ypc.
-WRs Antonio Callaway and Brandon Powell are one of four pairs of SEC teammates with at least 135 receiving yards and two receiving touchdowns apiece this year.
-The Gators return six offensive linemen this season who have started at least one game at UF: David Sharpe (13), Cam Dillard (11), Martez Ivey (8), Antonio Riles (6) Tyler Jordan (2) and Fred Johnson (2).
-The Gator O-Line has yet to allow a sack.

DEFENSE
-The Gators have held their first three opponents under 200 total yards this year
-Florida is the only FBS team ranked in the top 10 in passing defense (second) and rushing defense (second). The Gators also lead the nation in total defense, scoring defense, sacks, and opponent completion percentage.
-The Gators have yet to surrender a passing TD
-Florida had seven sacks versus North Texas. It's the most since the Alex Brown fiasco versus the Vols in 1999
-DL Jabari Zuniga leads Florida in sacks with 4 and DE Jordan Sherit has registered 2.5 tfl and 2 sacks
-LB Jarrad Davis leads the Gators in tackles with 18 and has 2 tfl and 2 sacks
-LB Alex Anzalone has 2.5 tfl and 2.5 sacks
-DBs Teez Tabor, Quincy Wilson and Marcus Maye not only talk a big game they walk it as well. The trio have combined to play in 95 career games. Over their careers Wilson has 4 INTs, Maye has an amazing 174 tackles and 5 INTs and Tabor has 8 TFL, 3 sacks and 6 INTs.
SPECIAL TEAMS
R-Jr P Johnny Townsend appeared in all 14 games in 2015 punting 83 times for 45.4 ypp.
-Eddy Pineiro handles the kicking duties this year. Pineiro only played seven games in his high school career but is one of only two kickers in America (along with FSU's Ricky Aguayo) to make 4 FGs from beyond 40 yds this season.
-Antonio Callaway returned 28 punts for the Gators in 2015 and averaged 15.5 yards per return with two TDs
-Brandon Powell returned 24 kickoffs for UF in 2015 averaging 21.2 ypr with a long of 71.
ODDS & ENDS
-In Gameday contests Florida is 24-12 while Tennessee is 7-11.
-Florida is at +3 turnover margin. When winning or tying the turnover battle since 2011, the Gators are 37-9. When losing the turnover battle since 2011, UF is 4-16.
-The Gators have returned either a kickoff or punt for a TD for 11 straight seasons dating back to 2005.
WHAT VOLS MUST DO FLORIDA
AGGRAVATE APPLEBY:
I realize Florida has beaten us the last several years with a string of guys who were never heard from again after leading the Gators to victory. BUT AUSTIN APPLEBY IS A FLIPPIN BIG-10 REJECT!. HE CAME FROM PURDUE FOR GOSH-SAKES!. Appleby is as well known for throwing to the opposition as his own team with a matching 19 career TDs and INTs. We have the defensive front and hostile environment to make his day a nightmare. If this guy engineers a victory in our stadium maybe my good friend Philly -The Mayor of SoNo- is correct. The next time we'll beat the Gators is N-E-V-E-R
DON'T MAKE SEARGEANT CARTER BLOW HIS STACK:
Butch Jones teams if nothing else have played clean games for most of his tenure. This year's team -to date- has been the exception. The Vols have been penalized an average 7 times/game for 70 yards. Hidden yardage will get you beat in what almost assuredly will be a low scoring affair with every possession critical. If we see a bunch of players with buckets over their heads singing "From the halls of Montezumer" we'll know things aren't going well.
DON'T MAKE ME UTTER THE F-WORD (FUMBLE) UNLESS THEY HAVE THE BALL:
In one of the most amazing numbers of the season the Vols have fumbled 11 times. The only more surprising stat is they've lost only one. If we lay the ball on the ground more than once Saturday I can just about guarantee the Gators will fall on most all of them.
DO THE APPY WRAPPY:
I'm not sure I've seen a better tackling effort than the one Appalachian State put on in Neyland several weeks back. The Vols must emulate the Mountaineers and not allow extra yardage on plays where we're in position to make a stop. Knock every ball carrier to the ground at the first opportunity.
BE THE BEST 4TH QUARTER TEAM ON THE FIELD:
The last two games versus the Gators were lost in the final stanza. I know there's no pixie dust to make it magically happen but somehow the Vols have to save their best for last.
WHAT WE WILL LEARN IN WEEK 4
SEC EAST DRIVER'S SEAT:
With Georgia headed to Oxford to face a desperate Ole Miss squad a favorite in the SEC East race could emerge in Knoxville early Saturday evening. Georgia pulled off an Andy Dufresne-like escape from Columbia last Saturday but it's doubtful another is forthcoming. I generally yield to series history which greatly favors the Dogs who have won 10 straight versus Ole Miss and their last 5 trips to The Grove. This time however they will face a Rebel roster with very little resemblance to the ones they faced in High Freeze's first season and prior to his arrival. Here's betting the winner of the Vols and Gators will be the proud owner of the only unblemished division record when the day is done
IF LIKE RANDY NEWMAN STANFORD "LOVES LA".
After dispatching of USC (for the third time in less than a year) with little fanfare in Palo Alto last weekend Stanford will head on the road in search of a Tinsel Town twosome. The Cardinal faces off with UCLA Saturday in the Rose Bowl looking to place the Bruins in the early PAC-12 South cellar where they left the Trojans last week. If the Bruins can avoid the indignity it will mark their first win over Stanford in 9 tries.
BRIEF BEAR HIBERNATION BREAK:
Thus far Jim Grobe has either been staying out of the way or doing a pretty good Art Briles imitation. His Wake Forest teams weren't exactly known as offensive juggernauts but three games into his Baylor interlude the Bears are averaging 44 ppg with and average margin of victory of almost 5 TDs. The opposition (NW St; SMU and
Boiled
Rice) hasn't exactly been what the Vols are embarking on but those are good numbers regardless. The task gets exponentially more difficult -if for only one week- when the 2-1 (and really unbeaten) Oklahoma State Cowboys ride into Waco. The Pokes are putting up 44 per contest themselves and are walking bowlegged from something other than riding a horse. Baylor had nothing to do with the hosing but OSU probably doesn't care who pays for it as long as someone does. If Baylor can avoid the upset, they can climb back in the cave for the next two weeks with a trip to Iowa State and a visit from dreadful Kansas straight ahead.
FINAL FRIDAY THOUGHT: I'd rather take another line drive off the coconut then lose for the 12th straight time to the Gators. Enjoy the game -if that's possible- and Go Big Orange!