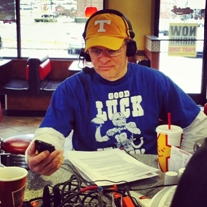 SINCE WE LAST SPOKE 7-10-14
SHOCKING SEC PREDICTIONS 2014 EDITION:
Last year in this spot I made my inaugural –and probably nonsensical- shocking predictions for the SEC Football season. I suppose like golf where one good shot in a round makes you believe it's worth another trip to the course I will hack away at another set hoping for a beauty like this from my 2013 effort:
Not only will Alabama not win the National Championship they won't win the SEC:
No less authority than the great Chris Low of ESPN told Tony after hearing my prediction that Alabama would run roughshod through the league and if they lost a game at all it would be in the National Championship Game. I wasn't convinced at the time that my prediction would hold up –hence the "shocking" label- but did have some historical numbers to back up my contention. The SEC has won 22 National Championships since 1951 and on only three occasions had the defending National Champ won the SEC the following season. What made the vision blurry was Alabama had been the one to do it all three times (1965, 74 and 79)
Then there was this forecast from the other side of the spectrum:
One or more of Steve Spurrier, Les Miles and Mark Richt will not return in 2014:
Wah-wah-wahhhhhhh; thanks for playing knucklehead and we have some great parting gifts for participating. Unfortunately all three Vol nemeses are back at their position and seem to be in no hurry to exit stage left.
With that here are this season's batch of SWAGs (Scientific Wild Ass Guesses):
1-Mississippi State –not Ole Miss- will have the best season:
Up until the 2013 Egg Bowl I thought Hugh Freeze and his Rebels were poised to not only take control of the Magnolia State but to hasten Dan Mullen's exit from its borders. Now I think that Mullen and the BullyDogs will be the surprise team from Mississippi;
IF there is one.
Both teams should be very good defensively and have question marks on the offensive line. I give the nod to State due to my preference of Dak Prescott over Bo Wallace at QB and a more manageable schedule with four walkover non-conference games; a home date with Texas A&M and Vandy and Kentucky from the East.
2-Steve Spurrier will –as promised- win an SEC Championship at South Carolina:
This shocks even me as I have frequently voiced my opinion that despite all his success in Columbia that the SEC Championship will elude him. The Gamecocks who were denied SECCG inclusion the last two seasons by having to travel to Baton Rouge in 2012 and an inexplicable loss to Tennessee last season will not be tripped up by schedule inequity or upset this season. They will take advantage of a home game against co-Eastern Division favorite Georgia on September 13th and Alabama's loss of their air of invincibility on December 6th in Atlanta.
3-Florida and Alabama will be searching for new Head Coaches in December
For vastly different reasons both the Gators and Tide will be searching for new head football coaches at the conclusion of the 2014 CFB season. Jeremy Foley showed great tolerance –for him- in retaining Will Muschamp after the Gators suffered their first losing season since 1979 but his patience will not be rewarded. Gator fans have been spoiled by two of the greatest offensive minds in CFB with Steve Spurrier and Urban Meyer at the switch and will never be satisfied with Ron Zook Part II.
Alabama on the other hand is led by one of conference's all-time great coaches but recent history suggests Saban's most successful seasons are behind him. He is entering the 8th year of his tenure in Tuscaloosa and that seems to be the point of diminishing returns for modern-day league coaches. In his first seven seasons at Florida Steve Spurrier was 73-14 (84%) with 5 SEC Championships and 1 National Title. In his last 5 campaigns in Gainesville he was 49-13 (79%) with only 1 SEC Title. Phillip Fulmer was 72-14 (84%) from 1993-99 with 2 SEC crowns and a National Championship while falling to 76-38 (67%) with no championships in his final 9 seasons. Mark Richt logged a 72-19 (79%) record in his first seven seasons as the Head Dawg with 2 SEC Titles but has fallen to 54-26 (67%) with no additional SEC hardware to show for his last 6 years. What does that mean? To me it suggests that Saban –master of perfection and arrogance that he is- will see the handwriting on the wall after a second consecutive non-SEC Championship season and take one of those long-rumored NFL opportunities.
SEC STRENGTHS:
With the season a mere 51 days away here's a quick glance at the major strengths of each of our league brethren. We'll look at major weaknesses in next week's edition.
ALABAMA-Running Backs
Though they rarely pan out at the next level Bama once again has a stable of seemingly NFL-destined RBs. T.J Yeldon has amassed 2343 yds and 26 TDs in his first two seasons but the drop-off will be literally undetectable when Sugar Bowl stud Derrick Henry or the speedy Kenyan Drake (if he hasn't spontaneously combusted) enter the fray.
Honorable Mention
-
Defensive Line
NG Brandon Ivory clogs the middle while DE A'Shawn Robinson picks up sacks. JUCO transfer DEs Jarran Reed and D.J. Pettway are expected to help Robinson upgrade last season's suspect pass rushing effort.
ARKANSAS
-
Running Backs
It must warm Bret Bielema's Big-10 heart to know he has 2013 SEC Freshman of the Year Alex Collins, complete back Jonathan Williams and speedster Korliss Marshall to hand or toss the ball to. Add to that trio behemoth Kody Walker (6-2; 240) who is a TB in a FB's body.
Honorable Mention
-
Punter
The aftermath of Bobby Petrino's crash and burn tenure with the Hogs and John L Smith's tragic fill-in is a roster so thin that Punter is the only real strength besides the RB corps. Sam Irwin-Hill is a potential All SEC Punter that can kick with either foot. My guess is he will have enough attempts to need both.
AUBURN
Quarterback
Nick Marshall had a near Cam Newton-like impact on Auburn's fortunes and is the perfect fit for Gus Malzahn's frenetic attack. Marshall ran for 1068 yards and 12 TDs while engineering a Tiger rushing attack that led the nation at 328.3 ypg. His "weakness" was passing where he completed 59 % for 1976 yards, 14 TDs and only 6 Ints.
Honorable Mention
Offensive Line
The Tigers return 4 starters from the line that as mentioned above paved the way for the best rushing offense in the country. The line is anchored by All-SEC C Reece Dismukes and LG Alex Kozan. Auburn O-Line Coach J.B Grimes cross-trains his lineman -as Phillip Fulmer once did at Tennessee- to assure position versatility.
FLORIDA-Defensive Line
The Gators return their entire starting front from 2013 including DEs Dante Fowler and Jonathan Bullard who combined for 26 TFL and 9 sacks last season. NT Leon Orr stuffs the middle while DT Darious Cummings assists and provides interior pass rush. Unfortunately they also have the depth to provide adequate rest for the starters.
Honorable Mention
-
Offensive Line
Florida returns three starters from 2013 (C-Max Garcia, LG-Tyler Moore; LT- D.J. Humphries) as well as 19 game starter RT Chaz Green who missed last season due to injury.
GEORGIA
-
Linebackers
The Dawgs linebacking corps is made up of a quartet of All-SEC caliber performers. ILBs Ramik Wilson and Amario Harris are tackling machines (245 combined) while OLBs Leonard Floyd and Jordan Jenkins live in the opponents backfield with 11.5 sacks; 21.5 TFL and 45 QB pressures
Honorable Mention-Running Backs
Todd Gurley is one of –if not the best-RB in the country and even if Keith Marshall is not fully recovered from ACL surgery incoming Freshman Nick Chubb has a Hershel Walker-like build and Sony Michel is a highly-regarded newcomer as well.
KENTUCKY-Running Backs
With a new starting QB and inexperienced WRs OC Neal Brown's Air Raid Offense will probably look more like Bret Bielema's ground-and-pound. The Cats have several solid RBs at their disposal with Jojo Kemp, Nebraska transfer Braylon Heard and Josh Clemons pushing each other for carries
Honorable Mention
-
Defensive Line
Mark Stoops is a defensive guy and he knows it all starts up front. DEs Bud Dupree (61 tackles; 7 sacks) will be in the NFL soon and his running mate Za'Darius Smith will man the other end quite nicely. DT Mike Douglas played extensively last season recording 26 tackles.
LSU
-
Secondary
Cornerbacks Rashard Robinson and Tre'Davious White were good enough as freshmen in 2013 to beat out older teammates and are poised for solid seasons. Safety is even more fortified with Jalen Mills, Ronnie Martin and Corey Thompson who have all started.
Honorable Mention
-
Offensive Line
The Tigers return four starters led by Sr All-SEC candidate +LT La'el Collins and C Elliot Porter
MISSISSIPPI ST
.-
Defensive Line
State returns 8 DL who played at least 10 games in 2013 and Lindy's ranks the unit 2nd in the Nation trailing only Ohio State. Soph DT Chris Jones has 1st team All-SEC potential and had 7 TFL and 3 sacks despite being constantly double teamed. DE Preston Smith was the Liberty Bowl Defensive MVP
Honorable Mention
-
Quarterback
Dak Prescott is State's version of Nick Marshall and is the latest in a string of solid multi-purpose QBs to grace SEC stadiums. Prescott threw for 1940 yds and 10 TDs but running is his forte with 829 yds and 13 TDs on the ground.
MISSOURI
–
Offensive Line
4 starters return from an O-Line that fueled the SEC's 2nd best rushing attack (trailing only Auburn) in 2013. Three year starter Mitch Norse has moved from RT to LT and Jr C Evan Boehm has started every game of his college career
Honorable Mention-Running Back
The Tigers have certainly recruited this position well if RB is a strength after losing Henry Josey to graduation. Marcus Murphy and Russell Hansbrough both averaged 6 ypc in 2013 and combined for 1286 yards and 13 TDs. Soph Morgan Stewart will provide depth if not become the lead back.
OLE MISS
–
Secondary
Sr FS and All-American candidate Cody Prewitt led the SEC with 6 INTs in 2013 and Jr SS Trae Elston has started since his arrival. CB Derrick Jones will draw the Rebel's opponent's best receiver.
Honorable Mention
–QB
Bo Wallace is the SEC's leading returning passer with 3346 yds and 18 TDs
SOUTH CAROLINA
–
Offensive Line
Huge offensive front that returns all but one starter. All-SEC caliber LG A.J Caan and mammoth LT (6-8; 348) Corey Robinson will provide space for one of the Nation's best RBs in Jr Mike Davis
Honorable Mention
-
Linebackers
After a trial-by-fire season in 2013 the Cock LBs are all grown up and ready to excel. Soph OLB Skai Moore led Carolina in tackles and interceptions in 2013 and Jr Kaiwan Lewis will man the middle. Sharrod Golightly heads a trio of capable Spurs (Hybrid LB/S).
TENNESSEE
-
Wide Receivers
Marquez North, Von Pearson and Josh Malone have a chance to restore Tennessee's reputation as Wide Receiver U … if the QB can stay upright and deliver the ball.
Honorable Mention-Linebackers
Curt Maggitt's (OLB; DE what's the difference?) return and Jalen Reeves-Maybin's emergence will make A.J Johnson that much better.
TEXAS A&M
-
Offensive Line
The Aggies continue their assembly line of NFL O-Linemen and LT Cedric Ogbuehi appears to be next in line. Three other starters return to assure he has plenty of help.
Honorable Mention
-
Running Backs
Tra Carson and Trey Williams provide the perfect power/speed combination respectively and will be bolstered by Oklahoma transfer Brandon Williams
VANDERBILT
-
Offensive Line
How in the name of Derek Dooley did Vandy wind up with a solid two-deep O-Line while the Vols are having difficulty finding 5 starters? I guess I answered the question with a question. Sr C Joe Townsend is a Remington candidate and leads the experienced deep unit.
Honorable Mention-
>Defensive Line
The Dores will switch to a 3-4 with veteran interior DL Vince Taylor and Barron Dixon anchoring the middle while youngsters Adam Butler (6 TFL) and Jay Woods make plays from DE.
MID SUMMER CLASSIC TIDBITS:
-I placed my votes for the final two spots on the All Star rosters selecting Chris Sale (8-1; 2.16 ERA; 96K) for the AL and Justin Morneau (.316 13 HR, 69 RBIs) for the NL.
-The quintet of potential finalist in the AL would make someone a terrific rotation; Sale, Garrett Richards-LAA (10-2; 2.71; 119 Ks), Rick Porcello-DET (11-5; 3.53; 64), Corey Kluber-CLE (8-6; 2.86; 137), Dallas Keuchel-HOU (8-5; 3.06; 84)
-I realize this blog will never be read in the office of the Commissioner of Baseball but I will continue to rattle my saber nonetheless. The team with the home field advantage has now won 23 of the last 28 World Series. Should something so influential in determining a World Championship be determined by something as insignificant as the All Star Game? It is one of the most absurd things in all of sports.
THE LAST INSTALLMENTS:
I love spring and summer but the truth is there are dues that must be paid to traverse the cavern that lies between the NCAA Basketball Tournament and the start of the sport the great Bill King refers to as God's Sport; COLLEGE-FRICKIN-FOOTBALL. Check-em-off as we go;
-NBA and NHL Scores constantly cluttering up the crawler and sports reports-CHECK
-Seemingly three months of NBA and NHL Playoff Games-CHECK
-Three-Four-Five Days of NFL Draft that could easily be concluded in less than half that time-CHECK
-Men's Singles, Women's Singles. Men's Double's, Women's Double's, Transgender Singles (sorry I got carried away) in The Australian Open, The French Open, Your-Fly's Open and God help us Wimbledon-CHECK, CHECK and CHECK
-The College World Series that an SEC team other than us seemingly wins every year-CHECK
-The Tour-de-France-Almost-CHECK
-NBA Free Agency and The Decision Parts "Not One, Not Two, Not Three, Not Four……Almost-CHECK
-The World Cup matches not involving the USA-Almost-CHECK
Blogger's Wisenheimer Note:
I know many of you would include anything connected to Major League Baseball on your "pain in the @$$ while waiting on CFB Season list" and that is certainly your right. If you want to do so GET YOUR OWN FLIPPIN BLOG
So there you have it the itemized list of costs required to make it to fall and the greatest game of all; College Football. The bill is almost paid in full and how rich we'll be when it finally is.
REPEAT RESPITE:
Once again I have to beg your forgiveness for another one-week absence from blogging. My Old Man's Softball Circuit concludes next weekend with the Nationals and I will need (at least) the entire week leading up to the tourney to prepare. I will see you right back here on July 24 with football, football and more football with no futbol. Have a great couple of weeks and I'll talk to you soon.
IN A PERFECT WORLD:
The clearinghouse would actually clear someone.
-