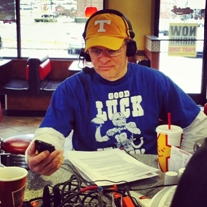 FREE THOUGHT FRIDAY
REPLY FROM THE PREZ (OR A REP)
Last week I posted my e-mail to UT President Joe DiPietro requesting he hire David Blackburn as our next AD. Below is the response I received:
Dear Jeff:
Thank you for your email message of January 11. I very much appreciate your interest in the UTK Athletics Director search. This is an important hire for the Knoxville campus. We wanted to ensure we had the right leader in place in the Knoxville chancellor position - which we now have in Dr. Beverly Davenport - and give her the opportunity to conduct her own thorough search. While Chancellor Davenport's official start date is not until mid-February, she is actively working towards building her leadership team, and the athletic director position is a priority for her. As has been the case in the previous two athletic director searches, the campus is in the process of securing a search firm, and this should be complete very soon.

This is an important hire for the Knoxville campus, and Dr. Davenport wants to ensure she is doing her due diligence.

Thank you for your great support of UT.

All the best,
Joe
Pretty much government boiler-plate and I'm not sure how much is an accurate portrayal but they did name a search committee only hours after I received the response. At least I know someone received and read my correspondence and I appreciate the response regardless of its content.
COLLEGE HOOPS GETTING HARDER TO WATCH:
With the emphasis on hand-checks and contact College Basketball is getting almost impossible to watch. The officials I'm sure are doing exactly as instructed but they are wearing out a whistle per game. I facetiously tweeted that OSHA will soon require players to wear hearing protection.
VOL HOOPS:
LOOKING BACK:
-The last two games are a perfect example of how wildly inconsistent this Tennessee basketball team is and probably will be for the course of the season. They looked like world beaters in Nashville and Egg Beaters in Oxford. Relying on undersized youth to be anything other was probably foolhardy in the first place.
-Beating the Vandy Commodores -especially in that hell hole Memorial Gymnasium- never gets old. I have an unhealthy, blow-a-blood-vessel, hatred for Vandy's basketball program so Saturday night's victory was especially uplifting.
-The Tad Pad on the other hand -or whatever they call it now- has the atmosphere of Willow Brook Elementary in Oak Ridge with First Methodist and Unitarian Church squaring off yet we rarely win there.
-Jordan Bone (23 pts; 4-5 from 3-pt; 5 assists 1 turnover) was the guy Saturday night we hoped we had prior to his stress fracture injury. Tuesday, he looked like he was reinjured going 1 for 9 from the floor and 0 for 3 from beyond the arc
-I am so happy to know I'll get to watch Grant Williams in orange for several years. He is a BASKETBALL PLAYER. He has a great all-around game and at only 6-5 is a gifted shot blocker. He has disappeared however on a couple of occasions and Tuesday was one of those
-The Vols did a terrific job running Vandy off the 3-point line where they generally live. Then against the Rebels they reverted to their Gainesville defense and allowed open lanes to the hoop or straight run-outs throughout the night.
-Of-course you can't run Vandy off the free throw line in Nashville. They shot 16 FTs to the Vols ZERO in the first half.
-Ole Miss shot 42 FTs to Tennessee's 24. Had the Vols shot 42 Tuesday they probably wouldn't have hit more than 22 anyway.
-I hope their performances Saturday Night were an indication that both Admiral Schofield and Shembari Phillips have erased their names from Rick Barnes S-List.
-Lew Evans did the blue-collar work that we need to see from him every appearance both in Nashville and Oxford. It's not pretty but grunt work usually isn't.
-It never hurts to follow Kentucky on another team's schedule as we did against the Commodores.
LOOKING AHEAD
vs MISSISSIPPI STATE (Sat 6 pm)
The State program is an objective measuring stick for the progression being made by Rick Barnes at Tennessee. Both Barnes and Ben Howland are proven commodities trying to regain past glory, took over programs in turmoil and have had relatively the same amount of time to begin the fix. 6-4 Soph G Quinndary Weatherspoon has become a solid player in his second season in Oxford and leads the Bulldogs with 17.9 ppg. 6-10 Soph F Aric Holman (10.3), 5-11 Sr G IJ Ready (10.1) and 6-0 Freshman G Lamar Peters (10.4) are other double figure scorers for State with Holman also pulling down 6.6 rebounds per game. As I said above concerning our game with Vandy it never hurts to catch a team coming off a game versus Kentucky.

vs KENTUCKY (Tues 9 pm)
I am continually amazed that John Calipari can take a new bunch of one-and-dones annually and convince them to play team, sacrificial basketball. You expect the very best freshmen in America to be skilled enough to compete at the highest level but it's much more surprising to see them defend and share the basketball as most of his teams do. 6-3 G Malik Monk (21.8), 6-3 G De'Aaron Fox (16.5), 6-3 G Isaiah Briscoe (15.4) and 6-10 F Edrice Adabayo (13.2) carry the scoring load for the Cats. Briscoe is the only non-freshman in the group and he is only a sophomore. Adabayo rakes 7.4 rebounds/contest. Kentucky will host South Carolina on Saturday before traveling to Knoxville.
REASONS HIRING PHIL FULMER FOR AD COULD WORK:
-Unlike most anyone in a position of authority currently at the University of Tennessee, Phillip Fulmer knows what it takes to have a great program in Knoxville
-He would be a good face and a solid representative for UT athletics in most every setting
-Fulmer has always had a presence about him that will play well in the AD role
-He's was sometimes looked upon as loyal-to-a-fault to his handpicked underlings yet wasn't afraid to peel off layers that adversely affected his job security. When you're in charge of the entire department that could mean not yielding to premature fan unrest yet making hard decisions when required.
-He is a political power-player; that plays better in the AD role than as a Head Coach
-I do believe it matters to him that Tennessee is good across the board in Athletics. He was a fan of other university teams during his run on the Hill.
REASONS PHIL FULMER FOR AD IS A BAD IDEA:
-The era of the dinosaur football coach as AD died about a quarter of a century ago.
-Even back-in-the-day when old FB coaches regularly moved to the AD chair I can't remember one returning to be the AD at a place he was fired.
-Fulmer has little to no experience directing an overall Athletic program. Hiring him over David Blackburn makes about as much sense as naming Blackburn the Vols head football coach after John Majors' dismissal in 1992 would have.
-From the Tennessean Article:
Phillip Fulmer likes everything he sees from Tennessee's Athletic Program these days. The former Vols football coach remains confident in Butch Jones' ability to return the football team back to the top of the SEC. he is encouraged by the energy and enthusiasm with which Rick Barnes basketball team plays and firmly believes Holly Warlick was the right person to replace Pat Summitt as coach of the Lady Vols
Even if believes the right people are in place saying he "likes everything he sees" is reason enough for him to be disqualified for consideration. Jones, Barnes and Holly all need some redirection or will very soon have to be fired.
-Do we really want the guy who felt an 8-win football coach should be given an automatic raise and extension as our AD?
NFL PLAYOFFS
-Aaron Rodgers -like Brett Favre before him- is gun-slinger, must-see, TV. His ability to extend plays and throw dimes from awkward positions is stuff of legend
-Having the dynamic duo of Dak Prescott and Ezekiel Elliott seemingly for years-to-come suggests long-term success for the Dallas. If anyone can limit their windows of opportunity however Jerry Jones is the guy.
-Good to see the Falcons extend their prolific offensive play from the regular season to the playoffs. They did seemingly whatever they wanted to with the Seattle "Legion of Boom" defense. Matt Ryan's resurgence has been one of the more pleasant surprises of the season.
-As I thought my adopted playoff favorite had a short stay. Kansas City was able to keep the Steelers out of the end zone but couldn't keep them far away enough to avoid Chris Boswell's playoff record six FGs. I realize the rules of the game have to be enforced for the entire 60 minutes but a holding call that wipes out a game-tying two-point conversion that determines the outcome? Get outta here. Keep it in your pocket and let the players determine who wins and loses.
FINAL FRIDAY THOUGHT: Spring now means, warmer weather, baseball, and prime-time for a UT AD hire.