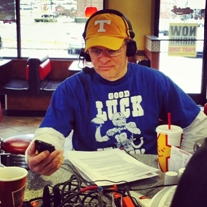 FREE THOUGHT FRIDAY
MY CONCISE OPINION ON BUTCH JONES:
I donít believe in Butch Jones. Four years of data points are enough for me to form the opinion that he is not the long-term answer for Tennessee. If I were the Athletic Director and had overseen the program for the Jones tenure I would make a change. The problem is Iím not the Athletic Director and a bigger issue is no one else is either. It is my belief that Tennessee would be fool-hearty to allow anyone but the next AD to fire Jones and hire a replacement after a season that you could make a solid case that while unsatisfactory was not a fireable offense. Especially at a time when the potential candidate pool is as shallow as I can remember. I understand the ďwhy wait to do the inevitableĒ viewpoint but that only applies when you trust whoever is in charge to do the
inevitable
and there is a clear-cut choice for replacement. I contend that neither is in place and the best thing for the program long-term is at least one more year of evaluation of both Butch Jones and possible replacements.
MY PLEDGE IS NOT TO JONES:
Without putting words in his mouth I believe Tony -like I- has seen enough of Butch Jones. Realizing however that current circumstances make it almost a certainty he will lead the Vols in 2017 T-Boz is drafting a pledge to find ways to appreciate and enjoy Tennessee Football regardless of who wears the big headset. Iím all-in for that. Iím not pledging my unconditional support for Butch Jones. If what Iíve said above doesnít adequately convey that message Iím not sure how else to say it. What I am pledging is to do everything humanly possible to support the players and program and just as importantly maintain my joy for Tennessee Football along with my sanity. With that as a preamble here are the things I would sign a pledge to do:
-Not assume that just because Iím convinced that Butch Jones will never win big here makes it an iron-clad cinch he wonít. Iím going to not only hope I have misevaluated his potential but pull against my assertion and hope to apologize for my doubt at the conclusion of the 2017 season.

-Enjoy the Music City Bowl, appreciate the opportunity to face off against another traditional power and see stalwarts such as Josh Dobbs, Cam Sutton and most likely Derek Barnett and Alvin Kamara play one last game as Vols.

-Celebrate the signing of Trey Smith who not only is ranked the #1 player in the State of Tennessee and #1 on ESPNís Top-300 but also seems like a wonderfully grounded young man who we will one day be very proud chose to play his football at Tennessee

-Celebrate a solid signing class -if one is indeed forthcoming- knowing that the program benefits regardless of who the coach may be in 2018

-Not belabor every off-season disappointment; such as misses on the recruiting trail or failure to make the number of staff changes that I feel are necessary, or use them as a club to beat Jones over the head with.

-Not ask ďwhy are we not being constantly apprised of what is being done to fix program issuesĒ. Then spend an hour of frustrating press conference evaluation when Jones does speak

-Not going to ignore positive strides while pointing out every slipup

-Not going to hope Jones falls on his face and his team tanks in 2017 to assure change

-Enter 2017 with an open mind hoping a 2006-like rejuvenation of both energy and performance occurs.

-Not going to throw away a season paying half-hearted attention when I have no idea how many more of these I have to enjoy.
BOWL GAME RANKINGS:
Though the glut of post-season games has diminished the honor and watered down the field to the point there arenít enough teams with winning records to fill the available spots I still enjoy bowl season. All bowl games however are not created equal and here is my take on those I will be glued to the TV on and those I would probably prefer my eyes be glued shut:
CANíT WAIT
ORANGE: Michigan vs Florida State
(Dec 30) Think both these teams will be playoff or New Yearís 6 Bowl participants for the foreseeable future
PEACH: Alabama vs Washington
(Dec 31) Can Petersenís offensive attack dent Bamaís seemingly impenetrable defense?
FIESTA: Ohio State vs Clemson
(Dec 31) Happy New Year to the Buckeyeís and Tigers. Whatís to come later for the winner wonít be so festive.
ROSE: Penn State vs USC:
(Jan 2) Two of the hottest programs coming down the stretch in 16

SOLID MATCHUP
LAS VEGAS: Houston vs San Diego State:
(Dec 17) A couple of one-time contenders for a New Yearís 6 Bowl
POINSETTA: BYU vs Wyoming
(Dec 21) Bowl regular vs very happy to be there.
HOLIDAY: Washington St vs Minnesota
(Dec 27) Classic opposing styles matchup and I like to watch the Pirateís teams
PINSTRIPE: Northwestern vs Pitt
(Dec 28) At least we wonít get Petermaned. Donít mess up the field boys
ADVOCARE V100 TEXAS: K-State vs Texas A&M:
(Dec 28) Big-12 vs SEC matchups are usually intriguing
BELK: Va Tech vs Arkansas:
(Dec 29) Two pretty solid coaches
SUN: North Carolina vs Stanford
(Dec 30) Love this matchup and the setting
VALERO ALAMO: Oklahoma State vs Colorado
(Dec 29) The league title runner-up bowl
MUSIC CITY: Nebraska vs Tennessee
(Dec 30) Good to have a traditional power opponent
CITRUS: LSU vs Louisville
(Dec 31) The Looney-Toons Head Coach Championship of the World
OUTBACK: Florida vs Iowa:
(Jan 2) I think the Gators will fare better in this one than against Michigan as 2016 kicked off
COTTON: W Michigan vs Wisconsin
(Jan 2) Rowing the boat gets a little harder for P.J. Fleckís crew versus the Badgers
SUGAR: Auburn vs Oklahoma
(Jan 2) Big-12s best versus SECís 2nd best may be a mismatch
IT IS COLLEGE FOOTBALL, RIGHT?
CAMELIA: Toledo vs Appalachian St:
(Dec 17) I like watching the Mountaineers..except in K-Town
NEW ORLEANS: Sou Miss vs UL-Lafayette:
(Dec 17) Iíll watch in honor of Tom Marine of Smoothie King
MIAMI BEACH Tulsa vs C Michigan:
(Dec 19): Only game of the day so Iíll probably glance at it.
BOCA RATON: Memphis vs Western Kentucky:
(Dec 20) Should be some offensive fireworks
ARMED FORCES: La Tech vs Navy:
(Dec 23) Patriotic duty to watch
DOLLAR GENERAL: Ohio vs Troy:
(Dec 23) Tickets should be a buck
HAWAII: MTSU vs Hawaii:
(Dec 24) Wish it was on Christmas Day but Iíll watch the Blue Raiders
INDEPENDENCE: NC St vs Vandy:
(Dec 26) The late, great, Paisanís alma-mater will try to do what the Vols couldnít
HEART OF DALLAS: Army vs N Texas:
(Dec 27) Got to watch the Cadets in the postseason
MILITARY: Temple vs Wake Forest:
(Dec 27) Shouldnít Army be here?
CACTUS: Baylor vs Boise St:
(Dec 27) Love watching Boise but Baylor made a bowl game? Baylor?
RUSSELL ATHLETIC: Miami vs WVU
(Dec 28) I would certainly have tuned in if this were a regular season tilt
FOSTER FARMS: Indiana vs Utah
(Dec 28) May have overrated this one
BIRMINGHAM: USF VS South Carolina
(Dec 29) Didnít expect to see the Cocks bowling this season
LIBERTY: Georgia vs TCU
(Dec 30) The Ďhow the hell did we get here?Ē bowl
ARIZONA: Air Force vs S Alabama:
(Dec 30) The Jags havenít been this excited since they beat Mississippi State
TAXSLAYER: Georgia Tech vs Kentucky
(Dec 31) The Butch Jones better not lose to either in 17 bowl.
THIS IS A BOWL GAME?
Find a basketball game to watch
GILDEN NEW MEXICO: UTSA vs New Mexico
(Dec 17)
AUTONATION CURE: Arkansas St vs UCF
(Dec 17)
FAMOUS IDAHO POTATO Colorado St vs Idaho
(Dec 22)
POPEYES BAHAMAS: ODU vs E Michigan
(Dec 23)
ST PETERSBURG: Miami (Oh) vs Mississippi State
(Dec 26)
QUICK LANE: BC vs Maryland
(Dec 26)
BLOG BREAK:
Itís time to take some time away and reset the mechanism. I want to wish you and yours a very Merry Christmas and a Happy New Year. Iíll be back early in 2017 and weíll do it again. God bless you all
FINAL FRIDAY THOUGHT: Isaiah 9:6
For to us a child is born, to us a son is given; and the government shall be upon his shoulder, and his name shall be called Wonderful Counselor, Mighty God, Everlasting Father, Prince of Peace.