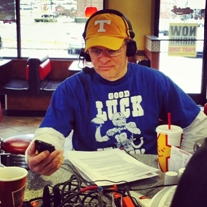 SINCE WE LAST SPOKE: 5-28-15
BACK AGAAAAIN:
After an extended break the Beano Blog is back. Thanks to you and Tony for allowing me a respite to reset the mechanism. Can't promise that it will turn me into a literary genius but I look forward to sharing whatever brain mists I can muster with you in the weeks ahead. Hope all of you enjoyed a wonderful, safe and reflective Memorial Day Holiday with your loved ones.
THE FENWAY IS THE RIGHT WAY:
Oh how this hurts for a lifelong Red Sox hater to admit but…give me a second to compose myself…well hell…I've never had a better baseball experience than I had in Fenway Park this past weekend. For a baseball purist who cares only about the game being played, the field that it is being played on and the knowledge of and passion for the game exuded by those you share it with Fenway Park now stands #1 on my list of all the places at which I have been blessed to witness a game.
Though there are none of the modern amenities I can live with the narrower concourses and cozier restrooms if they are clean and efficient. It also lacks the games and diversions so popular with young families that are prevalent –and serve their purpose- at the newer retro parks. I am simply a crotchety old baseball fan that has no interest in wandering through an amusement park on the way to my seat for the evening.
Fenway is the perfect park for me. Seated low enough where the pillars could not block my view the venerable old stadium was beautiful in every way I measure. Conceding that I am a hopeless romantic when it comes to the National Pastime it was more aesthetically appealing to me than anywhere I had watched games previously including the sacred House That Ruth Built. The Green Monster was as imposing and profound as I had always imagined. The grass was real and green and the asymmetrical design dictated by the streets that existed long before the ballyard was put in place like a piece to a jigsaw puzzle is far more appealing to me than perfect geometry. This is how baseball should be and Fenway is the only place preserving that history Wrigley Field included.
I will also begrudgingly admit that the baseball intellect exhibited by the Red Sox faithful I sat around was impressive. They know their baseball and their passion for the game and the home team is palpable. The bars and old-school restaurants in the neighborhood surrounding the park are packed and create a festive pre-game atmosphere that Southeastern Conference Football Fans would appreciate and in some cases maybe even envy.
Lastly the customer service received inside and around the park from the ticket takers, section ushers, concessionaires, and security personnel is refreshingly designed to enhance rather than hinder the experience. It also doesn't hurt that I got a delectable Italian sausage on a deli/bakery quality bun and a bag of the best kettle corn I have ever tasted. I despise the Red Sox with all my being but there is simply no getting around the fact that they know how to conduct, view and enjoy a baseball game and they do it in a stadium that in my opinion is without rival.
BEANO'S UPDATED STADIUM RANKINGS:
Heaven help me Fenway is now #1 with a bullet:
FAVORITE MLB STADIUMS
1-FENWAY PARK
For a baseball purist and romantic who cares only about the game and where it's played Fenway has no rival.

2-CAMDEN YARDS:
The first and best of the Retro design stadiums in a great baseball town
3-PNC PARK:
Real close to being 2-A with perfect size, great sightlines and palpable franchise history
4-COORS FIELD:
Unique design with the peaking CF bleachers and a hard to describe beauty
5-YANKEE STADIUM (ORIGINAL):
Lacks the amenities of the Retros but the historical significance was immeasurable to a lifelong Yankee fan
6-NATIONALS PARK:
Beautiful design and though it appears money was no object in its construction simple touches like bullpen message boards make it special
7-NEW YANKEE STADIUM:
Adequately captured the history of its predecessor and the Yankee Franchise.
8-US CELLULAR:
Surprising in its beauty and practicality. Without question one of the best pre-Camden Yard stadiums with a savvy baseball crowd
9-WRIGLEY FIELD:
Greatest strength is also a weakness. Too many attendees are there to see a National Treasure rather than a baseball game
10-PETCO PARK:
Beautiful park in a gorgeous city. May have ranked higher if I had attended with baseball fans rather than workmates looking for something to do on a Sunday out-of-town
11-MEMORIAL STADIUM (Baltimore)
Outstanding baseball city and facility where the greatest Oriole teams played. Doesn't hurt that I remember watching countless Colt games on TV played there
12-FULTON COUNTY STADIUM
The first MLB park I saw a game live at. More appealing than other multi-purpose stadiums due to natural grass and memories of Hank Aaron.
13-TURNER FIELD
Ranks very low compared to other post-Camden Yards stadiums I have seen. With all the carnival-like activities in the concourse it's like attending an MLB game in Pigeon Forge
14-TROPICANA FIELD
Better than it appears on TV but its still indoor baseball with as indifferent a crowd as I have ever experienced
15-GREAT AMERICAN BALLPARK
The Red's organization did a disservice to some of MLB's greatest fans and their team's great history by going on-the-cheap with this facility. Everything about it screams penny-pinching and rather than a Queen City skyline you're looking at Kentucky. I can do that from Jellico
16-MINUTE MAID STADIUM:
The only stadium I've ever been in where I prefer the upper deck. The lower level is cramped with bad sightlines. Like the Astros; it sucks
17-RIVERFRONT STADIUM:
Cookie-cutter, multi-purpose, turf-covered, monstrosity with no character or redeeming features
18-PRO PLAYERS STADIUM:
This isn't even a good football stadium but is a blight on MLB. The fans were so bad that I showed up two hours before game time and there were so few cars there I thought I had read the schedule wrong
19-METRODOME:
TVA&I Fair Officials would move their event if this pup tent was located at Chilhowee Park.
REVISED HIT LIST:
The next new (to me) stadium I visit will be my 20th. Here are the most likely candidates for the "honor"
STADIUM TOUR HIT-LIST
1 MILLER PARK (Milwaukee)
2 KUAFFMAN STADIUM (Kansas City)
3 BUSCH STADIUM (St Louis)
4 SAFECO FIELD (Seattle)
5 AT&T PARK (San Francisco)
6 PROGRESSIVE FIELD (Cleveland)
7 COMERICA PARK (Detroit)
8 RANGERS BALLPARK (Arlington)
9 CITIZENS BANK PARK (Philadelphia)
10 CHASE FIELD (Arizona)
11 DODGER STADIUM (Los Angeles)
12 ANGELS STADIUM (Anaheim)
13 TARGET FIELD (Minnesota)
14 MARLINS PARK (Miami)
15 CITI FIELD (New York)
16 OVERSTOCK.COM (Oakland)
17 ROGERS CENTER (Toronto)
HIT and RUN:
With apologies to Keith Hatfield who is much better at this style than I here are some random quick hitters:
-The NBA Playoffs have a disturbing up-and-down quality this year. The first round was absolutely atrocious followed by a thrilling second round. If not for the sheer joy of watching the super talented LeBron James and Stephen Curry the third round would have been totally void of suspense.
-Matthew Dellavedova has chop blocked more people in these playoffs then Alabama's offensive line. He's a mini Bill Laimbeer who will be lucky if someone doesn't give him a MMA-style @$$ whippin before his career is over.
-Let's give LeBron his due, other than a penchant to over dramatize his effort there is very little else to dislike about the game's best player, unless he is doing everything imaginable to eliminate your favorite team. His return to Cleveland to lead his –might as well be- hometown franchise to a surprising Finals appearance is great theatre and in my mind rinses away the foul taste of his ill-advised "The Decision" debacle when he chose to leave for Miami. He also has been the blueprint for anyone paying attention as to how to handle premature fame and instant fortune.
-What the Weeklys have done is truly remarkable. Much like Pat Summitt years before they have built a national power from scratch and have done it in a sport much more competitive than 1970s-80s women's basketball.
-I don't think Dave Serrano will be able to turn the fortunes of Tennessee Baseball around and had he been fired it would have been a justifiable dismissal. That being said it makes no sense at all but I'm glad it didn't happen. I am a sucker for the fact that he wants so badly to be here and to return the program to its winning ways during his tenure as an assistant to Rod Delmonico.
-Seeing Mike Trout and Dustin Pedroia play in the same game was truly a treat. Both are consummate pros and true five tool players that play with a passion that everyone should appreciate.
-Corruption in FIFA? No? Next you're going to tell me that the Patriots cheat, the NBA Draft Lottery is not on the up-and-up and rasslin is fake.
-I don't care if we do have ¾ of the season remaining the Twins and Astros being a combined 20+ games over .500 is an amazing and uplifting story
-Meanwhile Miami and Boston languish in last place in their respective divisions which to me is uplifting as well.
-Speaking of the Twins their first year Manager Paul Molitor is one of my all-time favorite players. The first ballot Hall of Famer played 2B, 3B, SS, OF and later DH; got a record 5 hits in his first World Series game and went on to hit .355 in a 7 game Brewer loss to the Cardinals in 1982; hit 2 doubles, 2 triples and 2 HRs and was the MVP in his next WS appearance 11 years later; hit .357 in two ALCS and .418 in two WS; had a 39 game hitting streak; collected 200 hits as a 40-year old and is the only player in MLB history whose 3000th hit was a triple. He is one of four players in baseball history with at least 3000 hits, a .300 lifetime batting average and 500 stolen bases (Ty Cobb, Honus Wagner, Eddie Collins). He accomplished all of this despite an early-career cocaine addiction and still speaks to youth groups today about the dangers of drug use. If the first two months of his MLB managerial career are any indication he may prove to be as fine a manager as he was a player.
IN A PERFECT WORLD:
There would be more Fenways