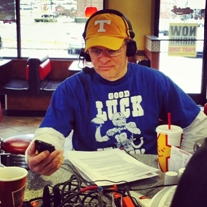 SINCE WE LAST SPOKE 7-31-14
FINALLY A PLAYOFF:
I've been waiting for years for this season; the year college football ends with a playoff. The BCS is mercifully in the rear-view and a four team single elimination can almost be seen through the windshield. I realize it is rife with complications in its maiden season such as only four spots for five major conference winners, no stated selection formula, a better than average chance that the regular season's best squad won't win the big trophy and a committee comprised of …well…humans. I'll take an initially flawed playoff over an eternally doomed championship game every time.
We've touched on what a playoff may not do but let's look at what it will:
-IT WILL give additional deserving teams a chance to prove they're worthy of an opportunity
-IT WILL remove some of the questions concerning the unfair advantages and inequities concerning schedules and strength of conference
-IT WILL shorten the break between meaningful games at a critical juncture of the season
-IT WILL leave enough doubt about deserving participants to preserve the debate that college football fans so love to engage in
ABOVE ALL IT WILL restore the luster to New Year's Day and give college football back a special day missing since the BCS' introduction.
Is four enough? Not for me long-term. I believe eight is the perfect number to provide every deserving team an opportunity while keeping it exclusive enough to preserve the integrity and sense of urgency of the regular season. The first step should be quarterfinal games played at the top four seed's campus sites. That would be a couple of crazy days of football that would turn the CFB world upside down.
When the inevitable formation of four super 16-team conferences comes to pass then the conference championship games can serve as the quarterfinals. If it were up to me each of these super conferences would be made up of 8-team divisions with 9-game conference schedules where each team plays every team in its division and two inter-division games that do not count in the race for the division championship as Steve Spurrier has proposed for today's SEC. This would assure that conference championship game participants were not aided by schedule inequities.
Any way you slice it a new day is at hand for college football fans. And entering my 50th season of clear CFB fandom memory let me say not a minute too soon.
UH-OH-LINE:
As if there aren't already enough concerns for the Vols totally new O-Line I bring you this ominous tidbit; if Dontavius Blair beats out Jacob Gilliam for the LT spot the Vols will start only two Tennesseans on their offensive front.
C-Mack Crowder (Bristol)
LG-Marcus Jackson (Vero Beach, Fl)
RG-Kyler Kerbyson (Knoxville)
LT-Jacob Gilliam (Knoxville); Dontavius Blair (Anniston, Al)
RT-Coleman Thomas (Max Meadows, Va)
That historically IS NOT a good thing. I have been a staunch proponent of stacking our line with as many native Tennesseans as possible and here are the stats to prove my contention:
YEAR; TENNESSEE-BRED STARTING O-LINEMAN;
#; NAMES
1980 2 Jay Williams, Tim Irwin
1981 1 John Matthews
1982 1 Matthews
1983 0
1984 3 David Douglas, Raleigh McKenzie, Bruce Wilkerson
1985 4 Daryle Smith, Harry Galbreath, John Bruhin, Wilkerson
1986 4 Same as 85
1987 3 Galbreath, Bruhin, Eric Still
1988 3 Ray Robinson, Phil Stuart, Still
1989 3 Charles McRae, John Fisher, Still
1990 3 Doug Baird, McRae, Still
1991 2 John Fisher, Patrick Lenoir
1992 3 Bubba Miller, Jeremy Spivey, Jeff Smith
1993 4 Jayson Layman, Kevin Mays, Miller, Smith
1994 4 Same as 93
1995 3 Layman, Smith Miller
1996 3 Trey Teague, Spencer Riley, Chad Clifton
1997 3 Same as 96
1998 2 Clifton, Riley
1999 2 Same as 98
2000 2 Scott Wells, Toby Champion
2001 2 Will Offenheusal, Wells
2002 2 Same as 01
2003 1 Wells
2004 0
2005 1 David Ligon
2006 1 Ligon
2007 1 Ramon Foster
2008 1 Ramon Foster
2009 4 Aaron Douglas, Jacque McClendon, Cody Sullins, Cory Sullins
2010 1 James Stone
2011 2 Alex Bullard, Stone
2012 3 Tiny Richardson, Alex Bullard, James Stone
2013 3 Same as 2012
OBSERVATIONS:
-1989-1998 is arguably the most successful continuous run in Tennessee football history.
During those 10 years there were only two seasons when there were less than 3 starting Tennessee-bred O-Linemen in the interior 5. (1991, 1998)
-We have witnessed a falloff in both success and offensive production from 1999-2013.
During those 15 seasons we have had more than two starting Tennessee-bred O-linemen only three times (2009, 2012, 2013)
-Since 1980 we have started 3 or more Tennesseeans in the O-Line in 16 of 34 seasons. Here are the comparative stats:
3 or More Tennessee Interior Linemen (16 Seasons)
Avg Wins
8.3
Avg Losses
3.4
Avg Rush Yds
2121
Avg Total Yds
4716
10 or more wins 6 Seasons
(38%)
2000+ Rush Yds 9 Seasons
(56%)
2 or Less Tennessee Interior Linemen (18 Seasons)
Avg Wins
8.1
Avg Losses
4.2
Avg Rush Yds
1856
Avg Total Yds
4343
10 or more wins 5 Seasons
(28%)
2000+ Rush Yds 5 Seasons
(28%)
As you can see the win totals aren't vastly different though somewhat skewed by the last two seasons when the Vols 10 total wins lowered the average wins/season for teams with 3 or more Tennessee-bred O-linemen by ˝ game/season (from 8.8 to 8.3) and raised the average losses per season by ˝ game as well (from 2.9 to 3.4). It also lowered the % of 10 win seasons by 5% from 43 to 38%.
What is still glaring is how much better we run the ball when our line is stacked with Tennesseeans. As shown above we are twice as likely to have a 2000 yd. rushing season with a majority of blockers from Tennessee leading the way and even the much criticized former unit led the way for 2216 yds on the ground in 2013.
S-K-I-N in the GAME:
In this instance S-K-I-N stands for "Swift Kick in Nuts". The section will be dedicated to uncovering painful events suffered by fans or in some cases pointing out anyone associated with the sports world that deserves to be ruptured.
The caller Sage chimes in with this week's S-K-I-N entry. A stat group that more clearly defines the recent suffering that Vol Football Fans have been forced to endure than any I can think of. These God-awful numbers are almost too mind-boggling and awful to comprehend. Sage writes:
OK, put on your cup, here it comes: 34-0!! This is the combined win streak that 7 teams in the conf. have against UT.
Here is the breakout:

Fla 9
Ala 7
Aub 6
LSU 4
UGA 4
MO 2
Van 2

34

As you know, the numbers for Aub and LSU are not sequential years as we don't play every year. The Aub streak started in '03 and goes through '13 (last year's complete embarrassment). LSU started in '06 and goes through '11.

I am 65 yrs. old and never thought I would live long enough to see us in such a state.

SAGE

Good heaven's that's terrible. Thanks Sage…..I think.
IN A PERFECT WORLD:
I could enjoy NFL Training Camp coverage without being deluged with Johnny Manziel, blah-blah-blah; Ray Rice blah-blah-blah and Michael Sam blah-blah-blah.
-