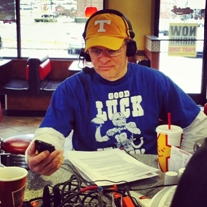 FREE THOUGHT FRIDAY
WHAT AM I MISSING ON AN SEC REGULAR SEASON CHAMPIONSHIP?
On Mondayís show I made what I thought was an aside comment about not really caring about winning an SEC Regular Season Championship and was somewhat surprised by the reaction. Several callers -and I appreciate you greatly- found this to be offensive and borderline treasonous. It was not my intention to diminish the accomplishment of winning a 14-team league with an 18-game schedule or to say I wouldnít celebrate it for a week or so after it happened but it remains down on my list of goals for my favorite basketball team.
Whether we like it or not College Basketball has become an NCAA Tournament dominated sport. From the opening week the overwhelming theme is
ďRoad to the Final-4Ē
and except for leagues without a conference tournament -if those even still exist- not one single bid is awarded due to winning a league regular season title. Even in one-bid leagues all that is gained from a regular season conference title is the #1 seed in the all-encompassing conference tournament. Though the SEC recognizes the regular season winner as the conference champion itís automatic bid is still determined by the winner of the tournament.
Iím not sure if Iíve changed since the Ernie and Bernie era when I lamented a missed opportunity to win the SEC or the game has changed so drastically that I evolved with it. Every season my goals are now the same; 1-have a resume worthy of NCAA Tournament inclusion and 2-advance in the tournament. I would actually place more emphasis on an SEC Tournament Championship than a regular season title because it indicates youíre playing your best basketball at the right time and the memory of success and confidence built in a tournament format is fresh on your mind entering The Big Dance.
Again, I understand the pride of winning a championship of any form, will celebrate those that come along and respect those that value that above advancing in the NCAA Tournament. I just donít share that level of regular season title fervor.
CLOSING IN A DIFFERENT MANNER:
A lot has been said -including right here in the Beano Blog- about Rick Barnes first two Tennessee teamís failure to close out the regular season. And though his current unit isnít exactly clicking on all cylinders down the stretch in Year-3 they are at least finishing in the black more often than not where it matters most; the scoreboard. The Vols have looked sluggish offensively for the last five contests and at times have let it slide over into their typical hard-nosed defensive effort. Through it all however they have won 3 of those 5 almost assuring themselves a double-bye in the SEC Tournament and staying on pace to be one of the 16 top seeds in the NCAA Tournament. A glance at seasonís results suggests this team is a ďcloserĒ in the truest sense of the word. The Vols are 7-2 in games decided by 5 points or less with wins over Clemson 71-67; Purdue 78-75; Furman 66-61; Vandy 67-62; Kentucky 61-59; S Carolina 70-67 and Florida. Their only losses in under two-possession contests were versus North Carolina 73-78 and Missouri 55-59. Rick Barnes latest group of Vols may not be sprinting to the finish line but they are clearing most of the hurdles along the way.
VOL HOOPS:
GEORGIA
The mysterious Georgia domination of Tennessee Basketball continued with another puzzling poor performance by the Vols in Stegeman Coliseum

Iím not sure Iíve seen Grant Williams make less contribution through an entire contest than against the Dawgs.

The biggest question coming out of a 4-game swing when Tennessee -though winning two- has played subpar basketball is it a lull or is this team spent?

I continue to have no idea how James Daniel III is awarded so many more crunch time minutes than Jordan Bone.

I also question John Fulkerson over Derrick Walker

Other than some late-game failures to box out I didnít have a problem with the Vols overall effort. It was simply a poor performance from most any measure.

Tennessee will win very few games on a night when Williams mails it in but our guard play has left a lot to be desired over the last 4.
FLORIDA
It was a tale of two halves for the Vols defense and rebounding. Tennessee swarmed defensively early holding the Gators to 18 first half points and gave up very few second shots (two come to mind one off of a free throw). The second stanza however was filled with uncontested Florida runouts; failure to find 3-point shooters and allowing wide open cuts to the rim. When the Gators did miss they raked double-digit offensive rebounds.

The Vols had several opportunities to blow the game open. The first vanished when Grant Williams picked up his third foul 29 seconds into the second-half. When Tennessee somehow built the margin back to 10 with Williams watching from the bench Jordan Bowden inexplicably fouled a three-point shooter then allowed an old-fashioned trey after his own turnover.

Tennessee was truly fortunate to hold on in a game that saw very little contribution from their corps of guards. Jordan Bone; Bowden; LaMonte Turner and James Daniel III combined for only 23 points with 9 assists and 7 turnovers.

Thank heavens Admiral Schofield and Grant Williams had broad enough shoulders to carry their teammates. Barnesí linebacker unit combined for 39 points and 14 rebounds.

The Vols were also uncharacteristically careless with the ball in the first half with 9 turnovers. They thankfully remedied that malady with only three in the second stanza.

On the bright side Tennessee was 13-15 at the charity stripe, corralled 30 defensive rebounds and beat the hated Gators possibly jettisoning their rival to the NIT.

FINAL FRIDAY THOUGHT: With three games remaining in the regular season the Vols are playing for seeding. Sure feels good for a change doesnít it?