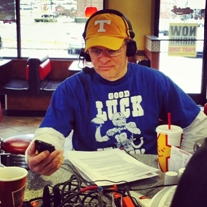 FREE THOUGHT FRIDAY:
When you donít have one-course meal -let alone three- worthy blog material what do you do? You put together a little brain-mist hobo stew.
HALF-DOZEN FOR DAVE:
I am happy for Dave Serrano. Heís a guy that left a job that almost assured high-level success annually to take over a program that only one man has ever had any at. He has apparently done everything right except the most important thing; win games. I was not prepared to celebrate his firing nor am I devastated by his retention.
That being said I am not happy for Tennesseeís Baseball Program because I fear Serranoís sixth season will look EXACTLY like the previous five. While hoping to be proven wrong only the most magical of thinkers could have watched his five seasons at the helm and believe an extra inning of it will make a difference. Serrano inherited a program in shambles and not only has he failed to move the bar on the field a single centimeter he has somehow seen it regress in his tenure. There was absolutely no baseball reason to have brought him back. That leaves only the following possible explanations and it is probably a combination of all:
-Dave Hart is a lame-duck AD who either didnít want -or was instructed not to- fire and hire a baseball coach in his last days at the helm
-Dave Serrano has so ingratiated himself in the community, the athletic department and within the locker room that wins donít factor into the decision

-The big-money boosters and the vast majority of Big Orange Nation donít give a ratís ass about baseball and therefore there is little or no reason and too little backlash to fire a man of Serranoís character that has proven himself previously
I think there is truth to all of the above. In my heart I wish Dave Serrano nothing but luck and hope that Year 6 suddenly produces the magic missing from the program since late in Rod Delmonicoís time at UT. My brain however has a hard time believing that next year will amount to anything more than the completion of a half-dozen rotten-egg seasons and that a need for a coaching change will be even more painfully obvious than it is now.
VOL BASEBALL:
-The Vols played a relatively clean 1st Round SEC Tournament game against a mistake-prone LSU team and still came up short in their effort to advance.
-Choosing to start a pitcher that had thrown only 3.1 innings prior to the tournament opener suggests LSUs coaching staff may be as disappointed with the outcome as the Vols. It gave the appearance of preferring a quick exit to using up pitching prior to the NCAA Regionals
-The only real consistency of Tennesseeís season was the bullpenís season-long dreadful performance
-Even when Dave Serrano pushed the right button it quickly malfunctioned. He burned a Sunday start for Andy Cox choosing instead to use him out of the pen which led to a series win versus Vanderbilt. When he went to the same well the next weekend versus Missouri Cox got clocked. The same ploy worked with Aaron Soto at Georgia then Tuesday night I think I could have hit a line drive against him.
-A couple of bright spots shone through late in a lost season. Sophomores Brodie Leftridge and Benito Santiago look to be solid contributors and Will Neely was the Vols best weekend starter once given the opportunity.
-Dave Serrano will probably have to place newcomers in the 3 and 4 slots with Nick Senzel and Vincent Jackson departing. I donít see any other middle of the order guys currently on campus.

TENNESSEE FOOTBALL:
-I sure like it when Vegas holds the Vols in higher regard than I do. Experience has proven they are right about my team -and everyone elseís team- more than I am.
-I say 10 and 10.5 win totals are high yet I will likely be disappointed with a 9-3 regular season record.
-Itís tempting to bet the under so I at least get something out of a season that falls short of expectations. The problem is I could never wager enough to make a disappointing season anything other than a disappointing season.
MLB MENTIONS:
-Maybe itís because Iím retired but there sure seems to be more afternoon action being played on Wednesdays and Thursdays than I remember. I sure am enjoying it regardless.
-Rarely am I disappointed when a player comes OFF the DL. A-Rod is helping me break new barriers of fandom almost weekly.
-Bryce Harper is in a funk. Guess not seeing a strike for days at a time isnít the best way to get in a groove.
-Seattle 10 games over .500? Didnít see that coming at any point of the season.
-A caller asked Tony who his current Top-5 starting pitchers in MLB are? Mine would be
1-Clayton Kershaw, 2-Jake Arrieta, 3-Chris Sale, 4-Noah Syndergaard, 5-Madison Bumgarner.
-Thatís 4 of my Top-5 in the National League. Donít tell me it doesnít make a difference getting to face the opposing pitcher at least three time/game.
A LITTLE NBA:
-Hereís some top-flight hoops analysis for you. Golden Stateís mojo is a no-show against Oklahoma City. Looks like Steph Curryís injuries and the pressure of following up one of the greatest regular season performances of all-time has them in a funk that only an off-season can cure
-OKC should be given a lot of credit. Whatever mystic power the Warriors lost the Thunder seems to have found.
-I love Draymond Greenís competitive spirit but he needs to get a grip. You canít kick a guy TWICE in the bean bag because things arenít going your way. He had no business on the floor in Game 4.
-Toronto is a nice story and Kyle Lowry and DeMar DeRozan are fine players but does anyone really want to see them in the NBA Finals?
MEMORIAL DAY originally called Decoration Day is a day of remembrance for those who have died in service of the United States of America. May God bless all of our service men and women and their families. We owe you all a debt of gratitude we can never repay.
NO-SHOW BLOGO:
Think Iíll take the weekend off from blogging to reset the mechanism. See you back here next Thursday evening
FINAL FRIDAY THOUGHT: Shake the hand of one of our military heroes this weekend and tell them how much you appreciate them.