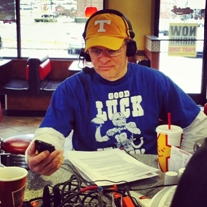 FREE THOUGHT FRIDAY
FAVORITE VOL OPENERS
1968 TENNESSEE 17 GEORGIA 17:
The Vols scored the last 8 points of the game with no time on the clock to force one of those ties that feels like a win. It was not only the first game played on "Doug's Rug" -the artificial surface then coach Doug Dickey preferred- but it was also Lester McClain's first game as a Vol and marked the first Tennessee football broadcast for the esteemed Voice of the Vols, John Ward. Bulldog coach Vince Dooley was so incensed by Tennessee's fake grass that 42 years later he sent us a fake football coach.
1974 TENNESSEE 17 UCLA 17:
No I don't have a tie fetish or a reverence for the number 17. I do love the number 7 however; as in Condredge Holloway. As mentioned in an earlier blog the "Artful Dodger" came back from the hospital bringing both Neyland Stadium and the Vols back to life.
1985 TENNESSEE 26 UCLA 26:
Maybe I do need a tie-intervention. Though this was a deadlock that seemed more like a loss -since UCLA scored the last 16 points- it was proof positive that the Vols had a solid squad. The Bruins were ranked 10th and had beaten a Top-ranked BYU team (#9) in Provo a week earlier. The initial assessments of both teams proved correct as the Vols and Bruins went on to win the Sugar and Rose Bowls respectively.
1987 TENNESSEE 23 IOWA 22:
The Vols and Hawkeyes opened the 1987 College Football season at the Meadowlands in the Kickoff Classic. The most memorable play of the game was Darrin Miller's 96-yard return of an errant pitch but Phil Reich kicked three FGs including the game-winning 20-yarder with only 3 seconds remaining. The game was also Reggie Cobb's first as a Vol.
1991 TENNESSEE 28 LOUISVILLE 11:
The first Thursday night regular season football game in Tennessee history was played at Cardinal Stadium in Louisville. The Cards had to be asking "who were those guys?" after Tennessee unleashed freshmen RBs James "Little Man" Stewart and Aaron Hayden on them.

1998 TENNESSEE 34 SYRACUSE 33:
The first of several breathtaking victories in a National Championship season. Tee Martin was only 9-26 for 143 yards in his first start but as he so often did, made huge plays at the most opportune times and led the Vols down the field setting up Jeff Hall's game winning 27-yard FG
2006 TENNESSEE 35 CALIFORNIA 18:
The Vols were coming off one of the most disappointing seasons in program history and took out a year's worth of frustration on the shell-shocked Golden Bears. Cal came in ranked 9th in the country but were out-run, out-hit and out -classed from the opening kickoff. It made it even more special that a Cal beat writer had told Tony and I on the show earlier in the week that California would "squash Tennessee like a bug".
SEC BIG GAME ROADMAP
We looked at big games across the country last week now how about what really matters?
THURS SEPT 1
SOUTH CAROLINA @ VANDY:
Watch this one then never tune into these two teams again.
SAT SEPT 3
ALABAMA VS USC (Arlington):
Bama is must-see in these early neutral site games
CLEMSON @ AUBURN:
Do the SEC Tigers have anything for the ACC Tigers?
GEORGIA vs NORTH CAROLINA (Atlanta):
The Kirby Smart era jumps right into it.
LSU vs WISCONSIN (Green Bay):
Les Miles begins his second life as the Big Bayou Bengal
SUN SEPT 4
OLE MISS vs FLORIDA STATE (Orlando)
Jimbo vs Djembe?
SAT SEPT 10
ARKANSAS @ TCU:
Hope this goes better than Toledo did in this spot last season
TENNESSEE vs VA TECH (Bristol):
Should be a spectacle if nothing else.
SAT SEPT 17
ALABAMA @ OLE MISS:
Can it possibly happen three times in a row for the Rebels?
TEXAS A&M @ AUBURN:
Gus Malzahn will adjust the thermometer on the seat of his pants in one direction or the other very early in the 16 season
MISSISSIPPI ST @ LSU:
Bulldogs will probably find Baton Rouge less accommodating without Dak Prescott
SAT SEPT 24:
FLORIDA @ TENNESSEE:
Nothing else matters
GEORGIA @ OLE MISS:
Rebels could make it a great day for Vol fans
LSU @ AUBURN:
Good grief Malzahn may not make it to October
SAT OCT 1
TENNESSEE @ GEORGIA:
A two-game SEC winning streak would be huge for the Vols
SAT OCT 8
ALABAMA @ ARKANSAS:
Bielema wishes Saban had the other Kiffin as a Coordinator.
LSU @ FLORIDA:
Geaux Tigers
TENNESSEE @ TEXAS A&M:
So the Aggies really are an SEC team?
SAT OCT 15
ALABAMA @ TENNESSEE:
3rd Saturday in October
OLE MISS @ ARKANSAS:
The day pretty much belongs to the Vols and Tide
SAT OCT 22
TEXAS A&M @ ALABAMA:
Johnny Manziel where are you?
OLE MISS @ LSU:
Great old-school SEC contest
SAT OCT 29
FLORIDA vs GEORGIA (Jacksonville)
Hope this goes in Tennessee's favor whatever that means.
AUBURN @ OLE MISS:
Will the Tigers still be relevant?
SAT NOV 5

ALABAMA @ LSU:
Miles needs this one or the wolves will be back at the door.

SAT NOV 12
LSU @ ARKANSAS:
This one always seems to be entertaining.
AUBURN @ GEORGIA:
No, I haven't seen every game in the series.
OLE MISS @ TEXAS A&M:
Sumlin and Freeze match wits.
SAT NOV 19
ARKANSAS @ MISSISSIPPI STATE:
Most of the league should be ashamed of themselves on this day
THURS NOV 24

LSU @ TEXAS A&M:
Rather it be the Egg Bowl but this will do
SAT NOV 26
AUBURN @ ALABAMA:
Malzahn's last Iron Bowl?
FLORIDA @ FLORIDA STATE:
A-C-C; A-C-C
GEORGIA TECH @ GEORGIA:
A-C-C; A-C-C
MISSISSIPPI ST @ OLE MISS:
Love me some Egg Bowl
SOUTH CAROLINA @ CLEMSON:
S-E-C; S-E-C
SAT DEC 3
SEC CHAMPIONSHIP (ATLANTA 4 PM)
BASEBALL BITS:
-They may have waited too late but the Royals championship pedigree is showing through winning 9 of their last 10 to pull within 5 games of the wildcard.
-Amazingly 10 of the 15 AL teams are playing better than .500 baseball with only Tampa Bay, White Sox, Minnesota, Oakland and surprisingly the Angels lagging behind.
-The Yankees are somehow more of a playoff contender after being a seller at the trade deadline than they were before. Gary Sanchez and Aaron Judge are both going to be really special.
-Raise your hand if you had the Giants going 11-25 after the All Star Break and the Reds winning 22 of 37. I'm waiting.
-The Texas Rangers are one of the strangest 1st place teams in baseball history. Their run differential on the season is at -1.
FRIDAY BUMPERS:
Tony's buddy Guitar Melvin was kind enough to suggest the bumpers I select are not only show worthy but should be listed in the blog. I'm humbled that a young, accomplished musician would care about the music tastes of a fossil such as I. Thanks Melvin and here you go:

-Trying to Love Two-William Bell
-Touching Me-The Ovations
-Old Fashion Love-The Commodores
-Runnin for Your Lovin-The Brothers Johnson
-Tell Her Love Has Felt the Need-Eddie Kendricks
-Open the Door to Your Heart-Darrell Banks
-Use ta Be My Girl-O'Jays
FINAL FRIDAY THOUGHT: I'm not sure if the fact we're so close to getting our football program back where we want it gives me comfort or makes me even more nervous leading into the 2016 season. Think I'll just enjoy the journey.