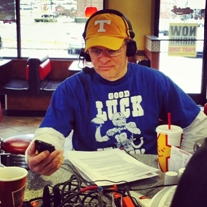 ON MY MONDAY MIND:
OVER WHEN IT WAS SCHEDULED:
Looking for a scapegoat for the Vols' Saturday night loss in Fayetteville? Look no further than the schedule maker. With the exception of Starkville and possibly Columbia Missouri these Vols will lose most anywhere they can't walk from their dorm or apartment to. The Vols are now 1-10 (0-3 at neutral sites) away from TBA and appear to be becoming more homesick with every trip. Add to that the fact that -like Tennessee- Arkansas is a solid home team having lost only to Kentucky in SEC games played in Bud Walton Arena this season.
Another scheduling factor is Tennessee's victory over Kentucky five days earlier. Though I don't have numbers to prove it I would be willing to bet that teams upsetting the Cats then traveling to play their next game historically fare poorly. The emphasis that everyone in the league -and especially Tennessee- places on Kentucky is an emotionally draining experience that the best teams struggle with. The Vols won't be mistaken for one of those. The good news? The Hogs have to come to Knoxville in three weeks and they aren't exactly road warriors themselves having beaten only Missouri away from their home court (1-6 away; 0-2 neutral).
TOP-5 VOL HOOPS SURPRISES:
This is way beyond fashionably late since the Vols unexpected win over Kentucky is now six days old. But the pleasant surprise victory got me thinking about other stunning results in Tennessee hoops throughout my years of fandom. Off the top of my head -with a slight memory boost from the media guide- here are my top five in chronological order:
December 6th, 1969 Tennessee 55 #1 South Carolina 54:
The Gamecocks had John Roche, Tom Riker, Tom Owens and Bobby Cremins. South Carolina finished 25-3 and went 14-0 in the ACC
December 4th, 1979 Tennessee 97 #9 St Johns 80:
Don DeVoe's second team won the season's first game in surprisingly convincing fashion.
February 24th, 1993 Tennessee 78 #2 Kentucky 77:
With the Vols down 3 and only 4.9 seconds to play Allan Houston made one free throw and intentionally missed the second. Corey Allen got the rebound scored with 1.5 seconds left and was fouled. He completed the three point play for the victory. Two weeks later the Cats put the infamous 101-40 thrashing on Wade Houston's Vols
December 17th, 2005 Tennessee 95 #6 Texas 78:
Bruce Pearl's first team announced to the Big Orange Nation -and the rest of the country- that Tennessee Basketball was a force to be reckoned with.

March 26th, 2010 Tennessee 76 Ohio State 73:
Pearl's next-to-last team is the only Vol hoops squad to ever reach the Elite-8 and this is the win that advanced them there.
SEC HOOPS TIDBITS

AGGIE ANGST:
Texas A&M has hit a rough patch. After winning 17 of their first 19 the Aggies have lost three of four and with difficult trips to Tuscaloosa and Baton Rouge on-tap this week the slide could get worse before it gets better. Though A&M is in no danger of slipping from the NCAA Tournament bracket they run the risk of entering March Madness with a much lower confidence level than it appeared they would for much of the season.

MEANWHILE THE COCKS ARE CROWING:
South Carolina on the other hand are quieting critics who were questioning if their bloated record was more mirage than substance. After going 13-0 in a non-conference schedule sponsored by the Walking Dead Carolina lost three of their first five SEC road games (@Bama @Tennessee @Georgia) by an average of 15 points. Pinning A&M's first home loss of the season on the Aggies Saturday however showed the rest of the conference that the Gamecocks are not going away and in Year-4 are exhibiting Frank Martin-like toughness.
JOHNNY JONES IS LEAVIN EM ALONE:
Don't look now but LSU is all alone in first place in the SEC. The Bayou Bengals have lost one SEC game since January 9th and played then #1 Oklahoma off their feet. Ben Simmons is playing like the first pick in this year's NBA Draft and several of his teammates may eventually join him there (Craig Victor II, Tim Quarterman, Antonio Blakeney). With a stunning eight losses already on their resume however this week's games @ South Carolina and at home versus Texas A&M could either punch their ticket or be a sucker punch to their postseason resume.
SUPER BOWL SNIPPETS:
-I knew both defenses were very good but thought Carolina's was better; I was mistaken.
-Due to Cam Newton's ability to scramble I thought Denver's pass rush would be neutralized; I was mistaken there as well
-Cam was mortal and Peyton only a shadow of what he once was so the changing of the guard storyline never really materialized
-It is wonderful to see a great ambassador of the game like Peyton go out on top.
-Funny how Cam can celebrate every first down for 18 games but the Panther's defense takes offense when opponents do the same.
-Von Miller is a terrific football player with a Lawrence Taylor like effect on the game.
-Aqib Talib had a totally out of control game. He should join Vontaze Burfict with the Bengals
WHAT A RIDE IT WAS:
I jumped on The Paisan Train over 45 years ago. I had no idea at the time that it had no brakes. Don's birth certificate may have indicated he was 60 years old at the time of his death but he jammed at least 100 years of living into his time on this earth. He was all-in, all the time. We went to Oak Ridge High School together, played baseball together, went to Cleveland State together,played tournament softball together, worked at Y-12 together, worked for the Operating Engineers together and returned to Y-12 together. I saw and experienced things I never would have without him and they were always more enjoyable -and definitely more exciting- because he was involved. We were just starting to retire together which early indicators suggested was one of the few things I was better at than he. Here's an example:
Don was calling me every morning at 7:30 am which I attempted to put a stop to:
DON:
JEFFRO!
ME:
Juice I'm trying to retire here so why are you calling me every morning at 7:30?
DON:
Well I go to bed every night right after Andy Griffin (he used the wrong name intentionally because he knew it made me crazy) and I get up at 4:30 so I'm waiting three hours before I call
ME:
Well if that's your schedule you need to get a job at Waffle House, Dunkin Donuts or get a paper route
DON:
I can't go to work for the News Sentinel
ME;
Why the hell not?
DON:
I still owe them $26 from the last route I had in 1968
Three days after Don passed the phone rang at 8 AM and my heart momentarily leapt for joy.
I mentioned in my tribute that Don was equally comfortable regardless of the setting or company. His work as the Operating Engineers National HAZMAT Program Director saw him frequently meeting with members of Congress, Senators, Governors and Cabinet Members. He was equally relaxed and confident in those situations as he was sitting in Freddy or my living room watching a Tennessee Football game or eating a hamburger with friends at a drug store diner. My Dad once told me there were no "big people", only regular people serving in "big positions". Don lived his life by that mantra. He could go big or go small with equal effectiveness in the same day. An illustration was a phone conversation we had one night during his stint at Ground Zero
ME:
What're you doing tonight Juice?
DON:
I'm eatin chicken wings and duck (see the high-low metaphor?)
ME:
Chicken Wings and Duck? (then to bust his stones a little) Who do you think you are Oink Rockefeller?
Regardless of who you thought you were -or sometimes because of it- Don justifiably expected to be treated with respect. If he thought for a second he was being big-timed you were in for -at the very least- a laser-precision cussing. I was standing shoulder-to-shoulder with him when as a 15 year old he gave Steve Carlton a profanity-laced dressing down in Fulton County Stadium in 1972 as Lefty stared -mouth agape- at his teenage detractor in stunned amazement. 39 years later I was told by those present that Regis Philbin got blistered as well in a Manhattan Bar after Paisan had spent a long day at Ground Zero. Don knew how to treat anyone with respect who deserved it and go full Sam Kinison on those who didn't.
One last humorous tidbit. Though Don's Mom was Guatemalan and his Dad was raised in East Tennessee -and probably of Scotch-Irish descent like most of us- many thought he was Italian. His dark good looks, union affiliation, affection for all-things New York and some play acting obviously contributed to the perception. Early in his time in West Virginia he was scheduled to visit a friend one evening who had a teenage son. Upon the lady informing her son that Mr Carson was coming over that night to watch the Sopranos his retort was,"Mom, Mr Carson IS the Sopranos.
I truly miss my friend and will for as long as I draw a breath. But the ride sure was great while it lasted.
IN CLOSING
: Here's a Tams classic dedicated to Bruce Pearl's second trip to TBA as Auburn's head man
LINK