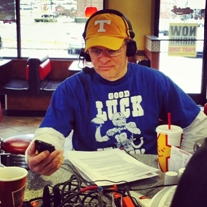 FREE THOUGHT FRIDAY
COACH CLASSIFICATIONS:
Though it was my intention to have a blog Open Date Tony B gave me yet another homework assignment on rather short notice. During The Dean and the Good Doctor Sean Sinclair's excellent show on Wednesday some discussion on current coaches' rankings were briefly mentioned. Especially in terms of how far ahead of the rest of the pack Nick Saban and Urban Meyer appear to be at-present. I couldn't agree more and believe that Jim Harbaugh is the only current CFB Head Coach that belongs in the discussion. My "
next level"
selections below could certainly be ranked almost anywhere between 4-10 and several of their teams are having below previous standards seasons.
Before you proceed, I'm sure Tony would want you to know:

BASILIO RADIO FAMILY DISCLAIMER: The views and opinions expressed in this blog are those of the simpleton that wrote it and do not necessarily reflect the official policy or position of the Tony Basilio Radio Family:
So, with that out of the way here we go:
TOP-10
GENERATIONAL:
1-NICK SABAN-Alabama
2-URBAN MEYER-Ohio State
<
i>VERY CLOSE
3-JIM HARBAUGH-Michigan
NEXT LEVEL
4-MARK DANTONIO-Michigan State
5-DAVID SHAW-Stanford
6-GARY PATTERSON-TCU
7-JIMBO FISHER-Florida St
8-DABO SWINNEY-Clemson
9-CHRIS PETERSEN-Washington
10-BOBBY PETRINO-Louisville
RISING STARS:
TOM HERMAN-Houston; PJ FLECK-W Michigan; JUSTIN FUENTE-Va Tech; PAT NARDUZZI-Pitt; PAUL CHRYST-Wisconsin
SOLID BUT WHAT'S NEXT?
BUTCH JONES-Tenn; GUS MALZAHN-Aub; JIM McELWAIN-Fla; BRETT BIELEMA-Ark; DAN MULLEN-Miss St; HUGH FREEZE-Ole Miss; KEVIN SUMLIN-Texas A&M; PAT FITZGERALD-N'Wesern; JAMES FRANKLIN-Penn St; SONNY DYKES-Cal; JIM MORA-UCLA; KYLE WINNINGHAM-Utah; GARY ANDERSEN-Oreg St; LARRY FEDORA-UNC; BRONCO MENDENHALL-Va
ALREADY PEAKED:
MARK RICHT-Miami; PAUL JOHNSON-Ga Tech; DAVID CUTCLIFFE-Duke; BILL SNYDER-K-State; BOB STOOPS-Oklahoma; JIM GROBE-Baylor; LOVIE SMITH-Illinois; MIKE RILEY-Nebraska; RICH RODRIGUEZ-Arizona; TODD GRAHAM-Arizona St
PHONEY-BALONEYS:
CHARLIE STRONG-Texas; BRIAN KELLY-Notre Dame; WILL MUSCHAMP- S Carolina; KIRK FERENTZ-Iowa; MARK HELFRICH-Oregon; MIKE GUNDY-Oklahoma State
ALL BLING NO RINGS (Fun but they're not going to win anything):
MIKE LEACH-Wash St; DANA HOLGERSON-WVU; KLIFF KINGSBURY-Texas Tech; DINO BABERS-Syracuse
SOON-TO-BE COORDINATORS:
MARK STOOPS-Kentucky; DEREK MASON-Vandy; ED ORGERON-LSU; KEVIN WILSON-Indiana; DARRELL HAZEL-Purdue; CLAY HELTON-USC; MARK MACINTYRE-Colorado; MATT CAMPBELL-Iowa State; DAVID BEATY-Kansas; STEVE ADDAZIO-BC; DAVE DOEREN-NC St; DAVE CLAWSON-Wake Forest
WHO KNOWS?
KIRBY SMART-Georgia; CHRIS ASH-Rutgers; TRACY CLAEYS-Minnesota; BARRY ODOM-Missouri; DJ DURKIN-Maryland; KILANI SITAKE-BYU
RANKING VOLS' REMAINING OPPONENTS (Least to Most Difficult)
5-TENNESSEE TECH:
This one should have been scheduled for November 19th with the rest of the SEC's
Pay to get Pummled
matchups. The
Freddy Bowl
will not be competitive regardless of Tennessee's injury woes.
4-MISSOURI
The Tiger program died as an SEC entity prior to the Vols arrival in Columbia last season and no resurrections are expected. Besides Tennessee is not losing again in the friendly confines of Neyland Stadium in 2016.
3-KENTUCKY
The Wildcats are probably the best team remaining on the Vols' schedule but -
say it with me Philly-
Kentucky will N-E-V-E-R beat the Vols when the game matters.
2-VANDY
Rating the Dores as more difficult than Kentucky because of a better defense and the game being played in
hostile
Vanderbilt Stadium. The Spelling Bee however continues N-E-V-E-R.
1-SOUTH CAROLINA
This game seems to always be closely contested regardless of the quality -or lack thereof- of either team's roster. Will Muschamp for some reason has been a thorn in Tennessee's side while simultaneously being a pain in the ass for his own fanbase. Here's hoping the Bill Curry rules are in effect -as in tough at Alabama and tough $#!+ at Kentucky
FINAL FRIDAY THOUGHT: Enjoy the open date and rest and rehab those vocal chords.