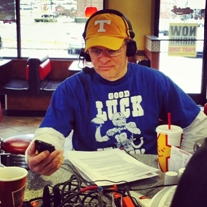 SINCE WE LAST SPOKE 7-30-15
BEANO VISIONS:
Phil Steele claims his preseason magazineís prediction accuracy is the best in the industry. Well heís obviously never read my blog. What the first sentence of this paragraph has to do with the second I have no clue. DO NOT take the following predictions to Vegas with your life savings because what follows is something else I have no clue about.
2015 TENNESSEE SEASON PREDICTION
TENNESSEE 41 BOWLING GREEN 20
-Vols win as many games in Nissan Stadium in September as the Titans
TENNESSEE 24 OKLAHOMA 20-
Vols
truly
back in national consciousness for the first time in many years
TENNESSEE 51 WESTERN CAROLINA 3
- Vols throttle the Catamounts
TENNESSEE 27 FLORIDA 13
- IT MUST END AT 10
TENNESSEE 23 ARKANSAS 20
- Vols hold on against Hogs punishing running game
GEORGIA 27 TENNESSEE 20
-Physically drained Vols canít hold on against Chubb and the Dawgs
ALABAMA 29 TENNESSEE 21
-Getting closer but still a ways to go
TENNESSEE 31 KENTUCKY 27
-New spot on schedule helps Cats but not enough to change the outcome
TENNESSEE 35 S CAROLINA 27
- Jones has the Head Ball Coachís number like none who have come before him
TENNESSEE 61 N TEXAS ST 0
This ainít 1975
MISSOURI 26 TENNESSEE 24
-Tigers move to 4-0 versus the Tennessee as an SEC member
TENNESSEE 65 VANDY 3
-Derek Masonís tenure is a short one
OUTBACK BOWL (JAN 1ST 2016)
TENNESSEE 30 MICHIGAN ST 24
-The first annual Mike Griffith Bowl
FINAL RECORD
10-3 Overall; 5-3 Conference; 4-2 in SEC East
2015 SEC PREDICTIONS
EAST
ALL SEC LOSSES
GEORGIA:
10-2; 6-2
Bama, @ Aub
TENNESSEE:
9-3; 5-3
Ga, @Bama, @ Mizzu
S CAROLINA:
8-4; 5-3
@Ga, @A&M, @ Tenn, Clem
MISSOURI:
8-4; 4-4
@Ky, S Car, @Ga, @Ark
FLORIDA:
6-6; 3-5
TN, @Mizz, @LSU, Ga, @SC, FSU
KENTUCKY:
4-7; 2-6
@SC, Fla, Aub, @Miss St, TN, @Ga, Lou
VANDY:
1-11 0-8
Everyone but Austin Peay
WEST
ALL SEC LOSSES
ALABAMA:
11-1; 7-1
@Aub
AUBURN:
10-2; 6-2
@LSU @Ark
LSU:
9-3; 5-3
@Miss St, @ S Car, @Bama
ARKANSAS:
8-4; 4-4
Tenn, @Ala, @Miss, @LSU
TEXAS A&M:
8-4; 4-4
Ark (Arl) Ala, Aub, @LSU
OLE MISS:
7-5; 3-5
@Ala, @ Fla, A&M, @Aub, LSU
MISS ST:
6-6; 2-6
@Aub, @A&M, Mizz, Ala, @Ark, Miss
SEC CHAMPIONSHIP GAME
ALABAMA 27 GEORGIA 23
GENERAL OBSERVATIONS
-Picking two teams with cloudy QB pictures to meet in the SECCG is certainly not the shrewdest prognostication approach but both have solid offensive lines, a stable of running backs Ėand especially in Bamaís case- stingy enough defenses to provide development time for their signal callers.
-Picking Georgia to win the East when their non-division opponents are Alabama AND Auburn is even more risky. Theyíll have to run the table versus their other six SEC opponents to do so.
-Auburn and Tennessee are trendy picks to meet in Atlanta but I fear too-much-too-soon expectations for the Tennessee program and for Tiger QB Jeremy Johnson.
-Could it be that Cardale Jones wonderful postseason for Ohio State has many expecting the same for Johnson simply because he too is a tank with a strong arm?
-Did you notice I picked the loser of the Iron Bowl to win the West? Thatís a reach
-I obviously have great faith in LSU RB Leonard Fournette and the Tigers penchant for reloading talent in most positions since I donít think either of their QBs (Anthony Jennings or Brandon Harris) can play dead.
-Tennessee and Arkansas are on similar upward trajectories but the Vols should benefit in Year 3 of both Brett Bielema and Butch Jonesí rebuilding efforts due to the Hogs visit to Neyland and the overwhelming strength of the West
-I admire what both Dan Mullen and Hugh Freeze have accomplished at the Mississippi schools but obviously donít believe there will be another Magic in the Magnolia State season in 2015.
-My biggest reach (other than that Iron Bowl thing) is Kentucky beating Missouri in Lexington. The game will be played on September 26 and if the Cats are to pull an upset early in the season is their best opportunity. Beating Florida the week before is probably more likely.
-Add me to the legions still underselling Missouri
-Iíve got the SEC with 12 bowl eligible squads
-One last prediction; Will Muschamp and John Chavis will wish they had chosen different programs at which to ply their trade. I believe they will find both their new bossís offensive approaches are not conducive to strong defensive efforts.
PLAYOFFS? YOUíRE PREDICTING THE PLAYOFFS? YOU KIDDIN ME? PLAYOFFS!
Yes Jim Mora Iím talking about the playoffs. Hereís a 75% prediction for you:
COTTON BOWL
#3 SEED ALABAMA:
The Tide has questions at QB and no longer have game-breaker Amari Cooper but will field their usual stingy defense and the dynamic RB duo of Derrick Henry and Kenyan Drake
Vs
#2 SEED TCU:
The Horned Frogs return 10 starters on offense including arguably the best QB in the land in Trevone Boykin and the painful memory of last seasonís snub. Hereís guessing that Gary Pattersonís team gets back to playing his style defense as well
ORANGE BOWL
#1 SEED OHIO STATE:
The Big-10 has always struggled with the SEC and now they have a Southeastern Conference stocked roster and Coaching Staff in their midst. Urban Meyerís Buckeyes were a year ahead of schedule in 2014; return 7 starters on both sides of the ball and three QBs that would start at most schools. Iím afraid they will be hard to deal with for years to come
Vs
#4 SEED WHO THE HECK KNOWS
TOP-5 FOR #4
1-USC
-Returns 7 starters on both sides of the ball and Cody Kessler at QB
2-UCLA
-Returns 18 starters but must replace QB Brett Hundley and beat USC in the Coliseum
3-BAYLOR
-The Bears have the same incentive as TCU and return 9 starters on both sides of the ball. They must replace Bryce Petty but I think weíll find Art Briles offense is plug-and-play when it comes to QBs
4-AUBURN-
If
Jeremy Johnson is as good as advertised and
if
Will Muschamp makes a dramatic difference in the Tigers defensive performance and
if
they win the Iron Bowl as I predicted the Tigers could be the second (or even better ONLY) SEC West team in the playoffs
5-FSU-CLEMSON WINNER:
I know thatís cheating but in the era of New England Patriot World Championships whoís counting? Itís a stretch however to think either will reach such lofty hopes. Jameis Winston may have been an off-the-field disaster but he was a straight up winner on it Öand Everett Golson is not Jameis. The Tigers on the other hand are dealing with QB DeShaun Watsonís recovery from ACL surgery, only 3 returning starters on defense and their penchant to crap the bed at the biggest moments.
Bloggerís Grand Finale: Thereís only one way to end a segment on playoffs and it never gets old. Hereís a classic Jim Mora rant for your viewing pleasure:
Jim Mora
This one has nothing to do with playoffs but it is a C-L-A-S-S-I-C
Jim Mora II
IN A PERFECT WORLD:
The Vols would occasionally exceed my expectations.
-