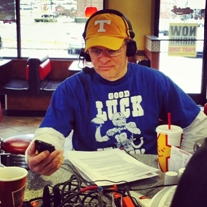 SINCE WE LAST SPOKE: 10-1-15
BIG ORANGE REARVIEW MIRROR:
-The Vols running attack looks as if it will be effective against every opponent on the 2015 schedule
-The Vols passing attack looks equally inept regardless of the opposition.
-Josh Dobbs is a major factor in both. His mobility and toughness provides the Vols with two ground weapons in any formation. The frequent inaccuracy of his throws is the one thing that Butch Jones has apparently shot the fanbase straight about since his hiring.
-If you had told me our offensive line would be more than serviceable –as we have witnessed to this point- I would have bet my house we would be 4-0
-I understand the magnitude of losing Rashaan Gaulden and Curt Maggitt to injury but the late game defensive collapses are beyond alarming. I hope we're not witnessing before our very eyes why John Jancek and Willie Martinez were fired at Georgia.
-I can't remember two more crushing results in the same Tennessee football season than what we witnessed versus Oklahoma and last Saturday against Florida. The only thing that even comes close is the Auburn's come from behind tie and Alabama's block our game winning FG attempt and immediately kick one of their own duo in 1990.
-I'm stunned that Butch Jones seems to have no feel for the game after two previous head coaching stints. I've seen many coaches that were better Sunday through Friday than on Saturday but never to this magnitude. I also struggle to remember anyone that seemingly freezes at the point in the contest where their team most desperately requires their direction.
-Saturday's game will be an interesting study in the resilience and character of this team. If ever a staff has given its players a reason to quit on them this group of coaches have done just that.
BEANO-RHYTHMS
Players and coaches have to -as Butch Jones says- "snap and clear". As a fan however I'm more likely to "clearly snap". Therefore each week I will take just a second to describe what the results of the previous game have done to my Big Orange outlook:
Like everyone else in Big Orange Nation I am at a level of discontent rarely reached in my 50+ years of fandom. My nerves are obviously frayed by rebuilding fatigue in the seemingly never ending wait for Tennessee Football to return to relevance. But having your head coach deserve so much of the responsibility for snatching two crucial victories away from his players and fans is a new experience for even the most beleaguered of supporters of which Tennessee fans are almost unquestionably lapping the rest of the field.
Beano-Rhythm Status: In disbelief, in shock and incensed; but no longer in denial. I had hoped that Butch Jones would learn enough on the job to be our version of Les Miles. Instead I now believe he is much closer to Gene Chizik minus Cam Newton. I now fear a potential 0-for-October run due to an overall loss of team confidence fueled by Jones' Saturday sideline ineptitude.
DEMO DERBY:
After experiencing my first football weekend in Vegas since Brother Freddy and I lodged there prior to attending the 1997 Tennessee-UCLA game in Pasadena I now realize there is nothing that Tennessee Football can't ruin. Want to tailgate and fellowship with friends at Neyland Stadium? The Vols are only a few hours from making you lose what you ate and drank. Want to enjoy a day of football viewing with family and friends on the tube? Better make it an open date for Tennessee Football and whoever's the latest "savior" on our sideline. Want to attend a viewer watch party with members of your favorite radio family? Better view a game other than ours. Even all the lovely distractions of four days in Vegas can't rid your mind of the damage three hours of Tennessee Football can inflict. There is only one escape hatch and I have never found it. You have to not give a rat's patoot which is a state of mind that I am completely incapable of reaching. Tennessee Football is clearly a demolition team that can turn rapture into rubble in a matter of minutes.
WHAT WE LEARNED IN WEEK 4
LA ANNEXED ARIZONA:
The Tinseltown twosome of USC and UCLA rolled into the the land of the Grand Canyon and cactus without falling in the ditch or having to pluck spines from their backsides. The Trojans and Bruins thrashed Arizona State and Arizona respectively by the disrespectful combined score of 98-44. If not for Utah's impressive dismantling of Oregon on the same day we might already be conceding that the PAC-12 South would be decided November 28th at the LA Coliseum.
BYU IS BONE-TIRED:
Not to take anything away from Michigan or the obvious positive effects of Jim Harbaugh's arrival but you had to know that the early season meat grinder would get to BYU eventually. The Cougars had already lost early-season Heisman dark horse QB Taysom Hill to injury as well as facing Nebraska, Boise State and UCLA with only one of the contests (Boise) played in Provo. A third trip to the home of a Power-5 Conference foe in the first four weeks was simply too much too soon. When Bronco Mendenhall finishes choking out his AD he should ask him for a raise. BYU was outrun (254-50), out-gained (448-105) and out-of-gas.
NO TRACTION FOR BOTH UTs:
There is no joy in anything connected with UT these days. The only place in America that cares so much and receives so little in return other than Knoxville has to be Austin Texas. Longhorn fans are enduring a Chinese water torture rebuilding process rivaling the one occurring locally under the direction of Charlie Strong who appears to be almost as popular there as Derek Dooley –and rapidly his successor- was/is here. Texas –like Tennessee- invented a way to lose a crucial game versus Oklahoma State. Longhorn punter Michael Dickson dropped a deep snap inside the 10 with less than a minute left in a tie game culminated by a booming 10 yarder setting up a second FG within seconds of each other for the Cowboys to escape Austin with a win. For those keeping score at home the brilliant Dave Hart hired a guy here that will be lucky to survive beyond the 2016 season AFTER failing to hire the guy that probably won't at Texas.
AUBURN & OREGON NOT WHAT THEY'RE QUACKED UP TO BE:
I don't know about you but I never saw this coming. Auburn and Oregon who have both played in two of the last five National Championship Games look as if they have a better chance this season of meeting in Shreveport. The Tigers and Ducks stand at 2-2, without a conference win, have suffered lopsided home losses and have unexpected issues at the QB position. Vernon Adams Jr and Jeremy Johnson have fallen far short of their ballyhooed buildup while Mark Helfrich and Gus Malzahn appear to have suddenly lost their brilliance. CFB is ever-changing but the sudden misfortune of these two recent juggernauts is bizzare.
WHAT WE WILL LEARN IN WEEK 5:
CAN ONE WEEK OF PRACTICE REGROW CACTUS?
The above-mentioned Wildcats of Arizona and Sun Devils of ASU get a chance at redemption for last week's abysmal PAC-12 start with games versus Stanford and UCLA respectively. It won't be easy however for either to regain traction as The Cardinal appear to have recovered quite nicely from the egg they laid at Northwestern in Week 1 and the Bruins appear early –along with Utah- to be the class of the conference. Both games for the Arizona squads are also on unfriendly turf but after last week's home debacles a road trip may be a welcome diversion. Probably a little more inviting for the Sun Devils since the visitor has won three straight in the series while the Wildcats have lost 8 of their last 10 versus Stanford and haven't won in Palo Alto since 2006.
HOW STRONG HAS TENNESSEE'S SCHEDULE REALLY BEEN?
The two villains of the last two Vol horror shows will be put to the test again Saturday. Though mostly untested Dana Holgorson will take what some feel is his best WVU team to-date to Norman to face Oklahoma in the Big-12 opener for both teams while Florida hosts Ole Miss. The Mountaineers have dropped three straight to the Sooners after a thrilling 50-49 victory in Morgantown in WVU's first season in the Big-12. Based on the last two seasons versus Alabama, Ole Miss enters games against traditional powers without fear of the venue or opponent and have won 3 of their last 4 in Gainesville. Realizing CFB is a week-to-week affair wins by the Mountaineers and Rebels will not make me feel better about what lies ahead for the Vols.
BLARNEY STONE OR HOWARD'S ROCK?
#6 Notre Dame and #12 Clemson put their perfect records on the line when the Irish travel to Clemson on Saturday. ND is far more tested having played three Power 5 Conference opponents (Texas, UVA, Ga Tech) while the Tigers have feasted on Wofford, Appy State and a 1-3 Louisville squad. The Tigers however are not only in a Power-5 League they are a contender for the ACC Championship and a possible spot in the CFB Playoffs. Notre Dame is considered by some to have Final-4 potential as well but will have to overcome some recent poor history as they are only 2-10 in their last 12 true road games versus ranked opponents.
EARLY PEEK AT ATLANTA?
Alabama travels to Georgia on Saturday hoping to avoid an unthinkable 0-2 start in the SEC. Most preseason magazines had this pegged as the first of two contests between the Dawgs and Tide with the second to occur in the SECCG on December 5th. The Tide is in peril of falling out of the conversation three weeks before Halloween after a division home loss to Ole Miss two weeks ago. Georgia on the other hand appears to have some wiggle room standing at 2-0 in the weak Eastern Division with only the upstart Florida Gators joining them with an unblemished conference record. Something will certainly have to give in this one as the Dawgs run the ball with authority (257.5 ypg; 2nd in the SEC) and the Tide stones opponent's rushing game (56.75) better than anyone else in the league.
WHAT WE MUST SEE FROM VOLS IN GAME 5:
-RESILIENCY:
Butch can preach the snap-and-clear philosophy ad nauseum and it doesn't change the fact that the Vols have lost two very winnable and important games in the most gut-wrenching fashion and those type of losses can't be forgotten easily.
-BALANCING ACT:
Tennessee must quite simply be more balanced offensively than we've been to-date. I love the fact that we have seen a semblance of reintroduction of the power running game but this team will not be successful in the month of October operating a one-dimensional attack. Arkansas (2), Georgia (4) and Alabama (1) boast three of the top-4 rush defenses in the league while of our next four opponents only Georgia (166 ypg; 2nd in SEC) has a pass defense ranked among the league's best.
-STREEEETCH THE FIELD:
Conceding that Josh is not the most accurate passer in America the Vols must take some shots down the field to make the Hogs defend more than a 15 yard patch of turf. Tennessee's line hasn't been impenetrable but the Hogs are tied for last in the SEC in sacks with only 3 for 19 yards in 2015.
-RUN THE SPREAD NOT THE SINGLE WING:
Josh Dobbs must be a QB as well as a RB. Josh is the 13th leading rusher in the SEC (60.75 ypg) but only the 12th leading passer (139.3) trailing even Jeremy Johnson (157.7) who was benched at Auburn.
-FIND A PASS RUSH:
Somehow in the craziness that is the SEC Arkansas is third in the league in Passing Offense (285.3 ypg) and only 8th in Rushing (186.25). The Hogs also lead the league in sacks allowed with only 2 surrendered. That however must change this Saturday if the Vols are to be successful. The Vols may be without Curt Maggitt but they must find ways to if not drag Brandon Allen to the turf at least make him throw under duress. Rushing three with a spy will not get the job done.
WIN GOING AWAY:
I doubt the roster or fans can stand another nail biter and I damn-well know the staff won't respond appropriately.
WHAT VOL FANS SHOULD KNOW ABOUT ARKANSAS:
OFFENSE:
-Sr QB Brandon Allen has been asked to do more than expected through the air going 82-177 for 1141 yds with 7 TDs and 3 Ints
-The Hogs clearly miss injured SR RB Jonathan Williams but Jr Alex Collins is holding up his end averaging 125.5 ypg with 4 TDs
-Arkansas receivers to watch are Drew Morgan (18-303-3), Hunter Henry (17-206-1) and Keon Hatcher (13-198-2)
-The Hogs start 2 SRs (LG Sebastian Tretola; C Mitch Smothers) and 2 JRs (LT Denver Kirklans, RT Dan Skipper) in the Offensive Line
-Amazingly the Razorbacks rank only 8th in the SEC in Rushing Offense with 186.5 ypg. By comparison the Vols rank 3rd with 248. Equally stunning is Arkansas 3rd best in the SEC passing attack averaging 285.3 ypg through the air.
DEFENSE:
-DE Jeremiah Ledbetter has 22 tackles with 3.5 tfl
-MLB Brooks Ellis leads Arkansas in tackles with 28
-Arkansas is one of only two teams (Alabama) in the SEC surrendering less than 100 ypg rushing allowing only 93.75 yards/contest
-The Hogs pass defense is a different story entirely last in the SEC at 264 ypg
-As mentioned above the Razorbacks are tied for last in the SEC in Sacks with only three on the season
-Arkansas and Tennessee are both at the bottom half of the league in terms of Scoring Defense allowing 23 and 24.8 ppg respectively.
STs
-R-Fr PK Cole Hedlund is 4-6 on FGs with a long of only 27 yds.
-P Toby Baker averages 38.5 ypp with a long of 50
-Jared Cornelius returns punts for the Razorbacks averaging 18.3 ypr with a long of 43 while Eric Hawkins handles most of the kick return duties averaging 22.7 with a long of 30.
OTHER FUN STUFF
-Tennessee is 6-1 vs Arkansas in Knoxville with the Hogs only win coming in 1992 25-24. The Vols have won those games by an average score of 40-22
IN A PERFECT WORLD:
Higher math would be used by NASA not NCAA Football Coaches