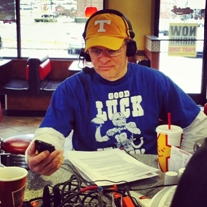 SINCE WE LAST SPOKE: 3-26-15
TOURNEY TID-BITS:
-The first day of the tournament was as remarkable as any in recent memory. For the first time in tournament history there were 5 games decided by one point as well as three other one possession contests. Considering the modern day player's penchant for fouling three point shooters at crucial junctures I'm counting Notre Dame's 69-65 victory over Northeastern as one possession affair as well, meaning 9 of 16 games came down to the last team with the ball.
-As is usually the case in the first round excuse me for a second while I scream
"THE PLAY-IN GAMES ARE NOT THE FIRST ROUND. Thanks I feel better
there's always a day of mayhem and a day of sanity. Friday's games provided a dramatic correction that saw another first as 15 of the 16 higher seeded (I struggle with this but have settled on the belief that low number = higher seed; do you agree?) teams won and advanced to the second round. Only 11th seeded Dayton's victory over #6 seeded Providence upset the apple cart.
-Next year as I'm filling out my bracket if I write down any Big-12 team –not named Kansas-more than once I want someone to give me a swift mule kick in the jewels. Every year I believe in Team X Big-12 squad and my bracket bleeds to death because of it. This season I ran Iowa State out to the finals –the FINALS I said- and they were gone Day 1 shortly after Hardees flipped their menu from breakfast to lunch. The Big-12 at least contributed to history when Baylor and the aforementioned Cyclones became the first two 3 seeds to fall on the same day of Round 1. Texas and Oklahoma State were soon to follow meaning over half the league's entries fans quickly turned their attention to something more important like spring football. Kansas was then dispatched by a Wichita State team that they have –now understandably- ducked for decades. Only Oklahoma and West Virginia –a refugee from the Big East- were able to avoid the carnage and advance to the Sweet-16.
-I also committed a cardinal sin of wagering –for entertainment purposes only of course- on Saturday. I forgot: THOU SHALT NOT BELIEVE IN FAIRY TALES AFTER ROUND ONE. UAB, Georgia State you were great contestants and we have some nice parting gifts for you on the way out. Thanks for playing.
-I am officially a crotchety old man. As a youngster I fell in love with Denny Crum's athletic up-and-down squads led by Doctor Dunkenstein Darrel Griffith. Those high-flying, up-tempo, in-your-face defensive teams were thrilling to watch and revolutionized the game of basketball. Until very recently it was still my preferred method of attack. With the eroding overall skills and plummeting basketball IQ of the current limited upperclassmen, AAU-schooled era up-tempo often resembles up-chuck and is simply impossible to watch. Until that is rectified give me Notre Dame vs Butler with motion, crisp passing and at least some level of competent marksmanship.
-Jay Wright is obviously an outstanding basketball coach. In his Villanova career his Wildcats have 10 NCAA tournament appearances in 14 seasons (he also had two at Hofstra) with one Final-4 (2009) and two Elite-8 (2006; 09) runs. His last five tournament entries however have failed to make it beyond the first weekend and have raised questions concerning his guard-driven undersized approach. It's still working like a charm in the regular season but no longer seems to be Big-Dance efficient.
-Tom Izzo and his Michigan State Spartans are the yen to Wright's yang. Izzo's teams might as well be receiving Big-Dance double-byes as they live in the Sweet-16 and beyond. Often rather pedestrian looking in December and January they always seem to do enough to make the field and once they do, boy do they take advantage of it. In 20 seasons Tom's teams have made 18 NCAA Tournament appearances with 13 Sweet-16s; 8 Elite-8s; 6 Final-4s and 1 National Title. In the last 8 seasons State has failed to make the Sweet-16 only once in 2010-11.
-Speaking of teams living in the Sweet-16 just place an X in your bracket a couple of times next season. Xavier has made 6 Sweet-16 appearances since 2004 under three different coaches (Thad Matta 2004; Sean Miller 08, 09, Chris Mack 10, 12, 15)
-While loving the relatively new NCAA Tourney TV conglomeration with CBS, TNT, TBS and Tru-TV bringing all the action to our living rooms and watering holes free it is absolutely ridiculous that a game starts anywhere close to 10 PM est on Sunday.
-I had a relatively early mental checkout during the first weekend of games. After a full first day of total engagement in which every game seemed to provide another chapter of drama my interest seemed to wane during the early night session Friday. I thought it was the product of a day of chalk domination and expected to be recharged by Saturday's slate. That day however found me watching games in pieces rather than their entirety and I even surrendered the TV several times to my cold-stricken wife who –though a big college hoops fan- chose westerns and gun shows (don't ask, there's not sufficient space or time here for an explanation). On Sunday I was totally disinterested other than a long-awaited Kansas-Wichita State matchup. Maybe it's the ills of the game creeping into the tournament but my self-evaluation revealed a different diagnosis. I think I have a Vegas hangover. I don't think my recliner provides the required distractions for a four day hoops extravaganza. I believe I now need a trip to Sam's Town, card games, dog races and scantily clad….oh never mind... to make a deep mental run through the first weekend. Looks as if I might as well make my reservations now; Freemont Street, see you next year about this time.
SPRING FOOTBALL=UNANSWERABLE QUESTIONS:
I love a little college football in the spring if for no other reason than to whet my appetite for fall. It's the same premise as watching the MLB Channel in the dead of winter with the real season still months away. There's little of significance occurring but it sure makes you feel good. So follow it; watch it; enjoy it; just don't read too much into what you see. All SEC spring practices attract a great deal of attention but rarely provide any insight into what's to come five months hence. The sessions are somewhat entertaining yet virtually useless as an evaluation tool. Coaches adamantly defend its vast importance and staffs and rosters may gain valuable development time but for fans very little can be gleaned. That being said here are my questions for which the spring will provide no answers:
JOSH DOBBS ACCURACY:
The last thing separating Dobbs from solid all-around performance is putting the ball where he wants it when he wants it. Improved arm strength is easy enough to recognize but accuracy is far more difficult to evaluate. Throwing it where you want in a drill or during scrimmages with a green jersey on is one thing; putting it on the money against an SEC opponent intent on knocking you out as you do is quite another. One thing I can guarantee is Dobbs will not be hit on Haslam or Shields-Watkins field. If he is whoever does should be dismissed and their position coach should be fired.
WHO'S DOBBS BACKUP?
I guess the staff may be able to determine who has the early lead for the Vols backup QB slot between Quinten Dormady and Jauan Jennings but it will be no more than the preface to an expansive novel. Remember to quote Allen Iverson this is
"practice, not a game; not a game; we talkin bout practice".
Even a memory as feeble as mine can recall Butch Jones and staff adamantly telling us that both Justin Worley AND Nathan Peterman were more prepared to face the rigors of SEC play than Dobbs due to their
practice
performances and there was no such thing as a "gamer". Once finally given the opportunity however it was painfully apparent that neither Worley nor Peterman could carry Dobbs clipboard though that's exactly what both should have been doing. My point is we won't know which of the freshmen can really play until they face some live bullets. Besides I don't think the best of the newcomer signal callers has even reported to campus yet as Sheriron Jones may well be the best suited of the trio to run Butch Jones' offense.
DEVELOPMENT OF O-LINEMEN:
For the 2015 Vols to have the season most hope for the offensive line must make a quantum leap from the unit we witnessed for the majority of 2014. Dontavius Blair must become the player most thought he could be and Brett Kendrick must reintroduce himself to Butch Jones to bolster the immensely important tackle position and major development needs to occur for Coleman Thomas, Jashon Robertson and Dylan Wiesman. The question is how the heck are we going to know when the defensive line they face in the spring has only five healthy bodies and is in no way representative of what they will face next fall?
IS KAMARA FOR REAL?
By reputation Alvin Kamara alone should provide the lightning to Jalen Hurd's thunder next fall. Spring practice however has falsely projected numerous backs that haven't been heard for since. As stated in both segments above it is questionable how much Kamara will be hit and even in live action he will be running at a handicapped defensive front.
ARE SPECIAL TEAMS SPECIAL?
Aaron Medley needs to build on his impressive debut season, Evan Berry must continue to be the dynamic return specialist he showed flashes of and a replacement must be found for Matt Darr. Alas in the spring there is no true pressure to further steel Medley; returns are little more than undermanned walk-throughs and Tommy Townsend –Darr's likely replacement will still be in Orlando Florida.
JUST DON'T KNEE-JERK:
As time to post the blog rapidly approached the national drumbeat was deafening that Donnie Tyndall and AD Dave Hart would know the charges against Tyndall by nightfall and the embattled coach's fate here might be decided much sooner than thought. I have no idea what the rap sheet will look like or to what extent Hart and company are willing to go to keep the coach who was seemingly instantly popular among the masses but I do know it's a situation that calls for strong and determined leadership
I would hope regardless of the charges that the decision makers at UT would be astute, proactive and diligent enough to do everything possible to extract information from knowledgeable, trusted, sources on the possible penalties that could be expected to be levied on Tyndall based on whatever transgressions occurred. Simply throwing Tyndall on the trash heap to save face for Hart or the "image" of the university would be absurd. Though I realize it is apples and oranges due to the NCAA's shotgun method of enforcement I can't imagine that anything approaching the organized crime spree at Syracuse occurred in Hattiesburg and I know I would happily watch someone other than Donnie Tyndall coach the Vols for 9 games and welcome him back with open arms afterward.
A BYRD IN HAND:
Inevitably when a coach appears in danger of losing his job based on performance or behavior or compliance issues the replacement rumor mill begins to spin prematurely. It is almost always pure conjecture and just as often pure poppy-cock. That being said two of the names already being bandied about are Will Wade at UTC and Steve Prohm of Murray State. If there is any truth that either are on Hart's short list it bolsters my opinion above that waiting to see what Tyndall is formally charged with is the best tact. Coaches of Wade and Prohm's ilk are not exactly blue-hot commodities as a matter of fact those are they type guys you approach when you are forced to fire your coach months after the tournament and the coaching carousel has long since stopped spinning.
If the worst comes down and Donnie Tyndall is terminated my approach would be vastly different than I have advocated in the past. I have previously been a proponent of identifying the most accomplished, mid-major, young, up-and-comer available and rewarding them with a job they would feel is the best of their lifetime. Reward them and they will cherish the opportunity and reward the Big Orange Nation in return. Best laid plans. That's exactly the approach that the University has followed lately and if Tyndall is forced out you can argue that –including Pearl's ugly demise- the tactic is zero for the last four. If we have to move on from Donnie the program must identify a leader that will provide stability and integrity, resonate with the fan base, put a quality product on the floor and most importantly have legitimately earned the opportunity. That does not describe either Will Wade or Steve Prohm. Instead it looks like a job description written to assure that Rick Byrd is our next basketball coach if –heaven forbid- we have to go down that road once again.
IN A PERFECT WORLD:
Dogwood winter would actually occur in wintertime.