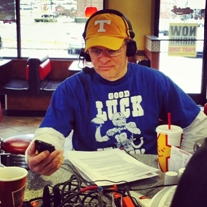 SINCE WE LAST SPOKE 8-26-14
WHAT VOL FANS SHOULD KNOW ABOUT UTAH STATE:
OFFENSE:
-Prior to tearing his ACL and MCL in the 1st quarter of the 6th game of the season (BYU) Chuckie Keeton had 1388 yds passing for 18 TDs and only 2 Ints while rushing for 388 yards and 2 TDs
-Keeton was eventually replaced by (at the time freshman) Darrel Garretson (1446, 10, 7) who led the Aggies to the MWC Mountain Division Championship and a Poinsettia Bowl win over Northern Illinois
-The offensive line is basically starting over after losing 5 of their top 6 that accounted for 152 career starts
-RB Joe Hill ran for 252 yards, averaged 4.8 ypc prior to being lost for the season in the 5th game of 2013
-State lost their 2 top WRs from 2013, Travis Reynolds and Travis Van Leeuwen who averaged 16.3 and 12.7 ypc respectively. Of the returning, experienced, wideouts –Bruce Natson, Brandon Swindall and Roland Butler- only Butler averaged over 10 ypc (14.4)
DEFENSE
-The Aggies return only 5 starters but 15 returning lettermen on the defensive side of the ball should help fill holes on the D-Line and in the secondary
-The linebacking corps is the unit's strength with Nick (Sr) and Zach (Soph) Vigil and Kyler Fackrell combining for 263 tackles last season
-The only returning D-Lineman is DE B.J Larsen who registered 4 sacks in 2013
-The secondary also returns just one starter; FS Brian Suite who had 5 interceptions last season
SPECIAL TEAMS:
-Aggies utilized two placekickers in 2013. Nick Diaz (13-17) was used from 49 and closer while Jake Thompson (1-3) attempted anything from 50 yds and beyond
-P Jeron Bentrude doesn't have a huge leg (39.8 ypp) but is accurate and had 31 punts downed inside the 20; 12 inside the 10; and 39 of his 73 punts were fair caught.
-Bruce Natson had the first punt return for a TD for the Aggies since 2007
OTHER FUN STUFF
-USU has won 25 of its last 33 games with the 8 losses being by a combined 48 points.
-Utah State has won 11 of its last 16 road games
-Aggies have played in 3 straight bowl games for the first time in school history winning their last two (41-15 over Toledo in 2012 Idaho Potato and 21-14 last season over N Ill. In Poinsettia)
-The Aggies will play only two games this season on Natural Grass (Tenn, BYU) and played only one (USC) on a natural surface last season.
-Vols have a one-year head start as this is only Team 117 for Utah State
-The Aggies have 15 Polynesian players on their 2014 roster
-Against SEC opponents (at the time played) the Aggies are 1-9 with the only victory coming over Kentucky in Lexington (35-6 October 10, 1970) Way to go Big Blue! (Alabama 0-2; Arkansas 0-1; Auburn 0-1; Georgia 0-1; Kentucky 1-2; LSU 0-2)
WHAT WE WILL LEARN NATIONALLY THIS WEEK:
TITANIC FOR ACC-ATLANTIC?
Preseason projections indicate the top-2 challengers for Florida State in the ACC Atlantic Division are Clemson and Louisville who play the Seminoles on September 20th and October 30th respectively. Both have a lot of work to do prior to that date including Week 1. The Tigers get tested early with a road date in Athens to face their traditional nemesis Dawgs. At least that one doesn't count in the league race. The ACC decided they couldn't wait for the Cardinals to be an official member tossing them immediately into conference play with a home game versus the Miami Hurricanes
JOHNNY (FOOTBALL) COME LATELYS?
Texas A&M had an outstanding maiden SEC season in 2012 finishing at #10 with a 12-2 record, a regular season win against National Champion Alabama and a 41-13 pasting of long-time foe Oklahoma in the Cotton Bowl. Last season was a step back to a still respectable 9-4 and a Chic-Fil-A Bowl win over Duke. Now the real test; are the Aggies truly SEC-worthy without the virtuoso known in College Station as Johnny $%*!#@% Football. Manziel displayed the type on-field heroics that lifts a program to new heights and certainly enabled the Aggies to cut corners in their transition in the best division of the best football conference in the land. Now Johnny Genius is in the NFL and the question is can the program continue to compete at a consistently high level? The first challenge is anything but a baby step. A&M travels to Columbia to face South Carolina and the Gamecocks have a program-lifting savior of their own. The biggest difference in the two -other than Steve Spurrier's two SEC program sustained greatness- is the old ball coach did something Manziel cannot; come back from the NFL.
WHO SAYS NOBODY'S NEUTRAL ON THE SEC?
Southeastern Conference Members once again are attractive invitees for early season neutral site non-conference matchups with Alabama and Ole Miss traveling to Hotlanta to faceoff with West Virginia and Boise State respectively and LSU takes on Wisconsin at NRG Stadium in Houston.
HOW WILL MOUNTAIN WEST FARE AGAINST THE BEST?
Preseason favorites to win the brilliantly named Mountain and West Divisions of the Mountain West Conference Boise State and Fresno State can strike an early blow against the autonomy movement of the Power 5. The Broncos face Ole Miss from the big-bad SEC in Atlanta while the Bulldogs travel to La-La-Land to square off with Steve Sarkisian's first USC Trojan squad. The first AP Poll has USC at #15 and the Rebels at #18. Boise and Fresno come in unranked and probably would have it no other way.
IS THIS A FAIR FIGHT?
A couple of outsiders are heading for the Lone Star State and plan to have a shootout in Dallas. Oklahoma State returns only 4 starters on offense but that may be a plus since 2013 was the first season since 2009 that they have averaged less than 44 ppg (39.1). Their immediate problem is Florida State returns 7 starters –including Heisman Trophy Winner Jameis Winston and they averaged 51.6.
ARE WE REALLY READY FOR SOME FOOTBALL?
Penn State and their new Nittany Lion King James Franklin head to Ireland to take on last season's biggest surprise the UCF Knights. George O'Leary –destined to coach a game in Ireland- and his Knights shocked the world with a 12-1 finish including a double-digit win over Baylor (52-42) in the Fiesta Bowl last season. Blake Bortles has left for the Jacksonville Jaguars of the NFL handing the reins to Soph Justin Holman. The burning question is not however the Knight's new QB's ability or how Franklin's first Penn State squad will respond; it is how many of us will be tuned in for a game that kicks off Saturday morning at 8:30 am? What is this the Oak Ridge and Alice Bell Pee Wees in the outfield at Bill Meyer Stadium?
S-K-I-N in the GAME:
In this instance S-K-I-N stands for "Swift Kick in Nuts". The section will be dedicated to uncovering painful events suffered by fans or in some cases pointing out anyone associated with the sports world that deserves to be ruptured.
Few things in a fan's life are as enjoyable as the blessing of watching a truly gifted and special player wearing your favorite team's uniform. The type of difference maker that comes along once every twenty years or so with the ability to change a game in an instant and the enormity to raise a program by his exploits and presence alone. Conversely few things are as demoralizing as seeing that gift taken away by injury. Tennessee fans suffered just such a devastating fate almost a quarter of a century ago when Chuck Webb went down with a knee injury versus Pacific. Here's something you will never again see written by your faithful blogger; I feel badly for Ohio State fans who must be feeling as if a S-K-I-N is being administered over-and-over with the loss of Braxton Miller for the season due to a reoccurrence of his shoulder injury. I hate it for the fans in Columbus and for the young man because their disappointment will be felt –or should be- by all who truly love college football.
IN A PERFECT WORLD:
The Vols would discover a special, program-lifting, player among the 2014 newcomers.