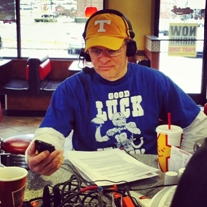 SINCE WE LAST SPOKE: 2-26-15
VOL HOOPS PROGRESS REPORT
Saturday night at The Tad Pad was the most disappointing night of the Donnie Tyndall era so far for me. I want so badly for this team to make the NIT and be rewarded for the over-the-top effort they have displayed throughout what has been a trying season filled with adversity and uncertainty. Yet with every close loss in tossup games that hope –once firmly in their grasp- slips further and further away. It feels as if Mississippi State and Ole Miss conspired to deliver a Magnolia State mauling to Tennessee's once pleasantly surprising season. I now believe it will take wins in three of their remaining four contests or a couple of wins in the SEC Tournament both of which seem unlikely considering the Vols undermanned roster and their inability to make shots under seemingly any circumstance.
I'm not sure what I expected? Tyndall basically inherited three players capable of making a true contribution to a winning SEC effort in Josh Richardson, Armani Moore and Robert Hubbs. Even that trio has been asked to do the impossible from playing out of position to overcoming injuries quicker than could reasonably be expected. With the exception of Kevin Punter the rest of the roster is either non-SEC caliber, inexperienced, lacking physicality or all of the above. That alone would seem to be enough to doom the Vols to their predicted preseason fate of a 13th place finish in a 14 team league without even considering season-ending injuries to Brandon Lopez, Jabari McGhee and Ian Chiles as well as Devon Baulkman being limited by a balky shoulder. The carnage continued with Dominic Woodson quickly showing how a player could actually be run from a University of Memphis roster spot, the NCAA's refusal to grant Florida Gulf Coast's Eric McKnight's transfer and Liberty University's stubborn stance on refusing to grant a release for potential PG prospect Braxton Bonds. I'm not generally affable to even listening to excuses let alone making them but the additional roadblocks thrown in Tyndall's path this season have simply be too numerous to ignore. So again I ask myself, what the heck did you expect? The answer is just enough left in the tank in the second half of the SEC season to salvage a much better than expected start and a spot in the usually distasteful NIT. The die has not been completely cast but the season has suddenly gone in the wrong direction and the brakes are failing. The Vols need to win three of their last four as stated above to keep their NIT dream alive. Can you find the three wins from the groupings below?
PROBABLE LOSSES:
@LSU (Mar 4)
PROBABLE WINS:
Vandy (Feb 26); S Carolina (Mar 7)
TOSSUPS:
@Florida (Feb 28)
PUMP THE BRAKES DAVE:
Vol baseball got off to a mildly disappointing start losing two of three to FIU in Miami then waiting very late to dent the scoreboard to even their record at 2-2 (
Now 3-2 after defeating Belmont
) with a win over Lipscomb in of all places Georgia. College baseball being what it is for all we know FIU and Lipscomb may both prove to be juggernaut programs going forward or more likely had pitchers more prepared than Vol batters at this point in the season. Make no mistake however this is judgment time for Dave Serrano and staff. Year four is already upon us and the needle certainly hasn't been moved as quickly as I –or Serrano- was convinced would occur when he was hired. Serrano's hiring represented one of the few times in any sport that Tennessee was able -or willing- to secure the services of a head coach with a proven track record of high success. Serrano took over a UC-Irvine program in 2005 –which had been eliminated due to budget cuts from 1992-2002- and in his third season finished 30 games over .500 and took the Anteaters to the College World Series. He then took over at his alma-mater Cal State Fullerton where in four seasons he led the Titans to four Regionals, three Super Regionals and one CWS appearance. His teams at Fullerton were 102 games above .500 overall and 50 games over .500 in league play.
That however all occurred in the Big West Conference which though known for solid baseball play is lightweight stuff compared to what he now faces in the eat-your-own SEC. The conference known for football supremacy is even better in baseball and quite a bit more difficult to find upward mobility in than Serrano realized or would ever openly admit. I have been surprised with his inability to recruit and assemble a pitching staff with enough arms to assure a quality starter for each game over a three day weekend especially when pitching is his area of expertise. I have also seen little or no change in the stature of our everyday lineup that continues to be among the smallest in the league. I love that baseball is the least prejudicial of all sports when it comes to size but generally speaking you should have some brawn in at least three of six spots including your corner infielders and outfielders, catcher and DH. Even in what's known as the dead ball era (hopefully somewhat repaired with the flatter seam ball in play this season) you should have the ability to more than occasionally score runs without taking three hits to do so.
Though still confidant that Serrano is the right guy for the job the rebuilding process has certainly progressed at a slower pace than I thought we would witness. The only guy more surprised than Vol Baseball fans is the head man himself. His stiff-chinned, overly-optimistic projections prior to each of his four campaigns demonstrates my assertion. He's talked about winning the SEC Tournament when simply making the field would be challenging, predicted regional appearances when Hoover should have been the goal and now has uttered the "O" word prior to his Vols making their first NCAA field under his watch. Omaha is a pipe dream. It's like predicting a trip to the Final Four when in reality making the field should be your annual goal. Make the Regionals regularly enough and you will eventually find yourself at the ultimate destination. The Vols need to take one rung at a time and this season the reasonable next expected step is being invited to play somewhere ….anywhere… after Hoover. Failing to do that after four seasons will certainly test even the most devoted Serrano fan's patience.
FROM A-ROD TO NIMRODS:
Last week I ripped A-Rod in this spot which he has –and will in the future- deserve every bit of. The truth is however it is not
his
fault he is still wearing the pinstripes long after wearing out his welcome. That abundance of absurdity can be placed in the laps of Hank and Hal Steinbrenner who history will show have a lot more in common with Jim Carrey and Jeff Daniels of
Dumb and Dumber
fame than their famous father. Those two geniuses renegotiated A-Fraud's contract in December of 2007 after he and his agent Scott Boros had opted out of his ten-year deal signed with Texas in 2000. The Buffoon Brothers signed him to a new 10-year pact for 275 million AND agreed to 30 million in bonus money to be paid in installments upon passing Willie Mays (660), Babe Ruth (714), Hank Aaron (755) and Barry Bonds (762) in career HRs, an agreement they are now attempting to welch on. A-Rod has never been a good teammate, never represented the Yankees in a class manner, has always been a distraction and though I will begrudgingly concede he got a few big hits in route to the 2009 World Series Championship has for most of his NYY tenure been a serial choker. So why the 10 year contract? Because the Steinbrenners were more interested in A-Rod becoming the All-Time HR King in a Yankee uniform than having championship teams. Well congratulations boys. Now you're on the hook for at least 61 million more dollars' and three season's worth of flare ups and big spot popups from a guy that couldn't hit 109 more homers if new Commissioner Rob Manfred named Titleist the official ball of MLB. Your Father would be so proud.
HIT-MAN HART FLAILING WILDLY:
I guess the relentless cold, ice, and snow have finally caused irreparable
dain bramage
because I am about to mention
Lady Vol
Athletics in the blog. Don't get the wrong impression I am not one to deny opportunity nor am I anti
Lady Vol
. My wife was a college basketball, tennis and softball standout, is enshrined in both the Lenoir City High School and Tennessee Wesleyan Sports Halls of Fame and I am tremendously proud of all her accomplishments. I simply am not entertained by most women's athletic events with the exception of collegiate softball. I spend too much time measuring their other athletic endeavors against men's in the same sport and they pale miserably in comparison.
That being said this segment is more about Dave Hart then women's athletics or the
Lady Vols
. One of the first tasks Hart was charged with after becoming UT's AD was to consolidate the Men's and Women's Athletic Departments. This was an essential and necessary reorganization that eliminated a number of duplicate positions and slowed the hemorrhaging of funds that the old structure allowed. Now however Hart has moved from a sanctioned bout to brawling in the streets outside the arena. There was absolutely no feasible reason to take the additional step of robbing the
Lady Vols
of their identity and history. There was absolutely no harm in them having their own title, color scheme or emblem and depriving them of such –while maybe saving pennies- escalates the perception that Hart is simply a bully looking for his next victim in his huge schoolyard. It was simply a fight not worth waging and attempting to justify it while also deflecting a portion of the blame on Nike makes it even a greater PR disaster. Hart as we so often hear him declare on
The Drive
with Russell W and Richie D may have
"…a level of expertise and a level of information that no one else has"
but that apparently hasn't made him wise enough to avoid fights that result in everyone getting bloodied for no good reason.
IN A PERFECT WORLD:
East Tennesseeans wouldn't founder on snow cream