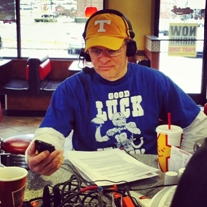 SINCE WE LAST SPOKE: 12-18-14
NATURAL ATTRITION or PROGRAM DEMOLITION?
The recent defections of 4-star recruits TE Daniel Helm, DE Dewayne Hendrix, RB Derrell Scott and DE Joe Henderson have created quite a buzz on local sports radio. Especially with rumors swirling that in at least two instances -Helm and Hendrix- Butch Jones' alleged caustic motivational approach was a strong factor in their departure. The discussion has gone straight party line with those already convinced Butch is the wrong guy expressing alarm while those who are believers or hopeful that Jones is the man view it as the cost of big business as in with high-level, high-number recruiting comes high turnover. Count me in the latter camp. I understand the former however. Once you decide that someone is wrong for the program you jump on every real or contrived flaw in an attempt to build a rap sheet to promote your opinion. I know this from experience; I did it with Phillip Fulmer.
I think in this instance alarm is far too strong an emotion due to my belief that the true driving force behind most every defection is about future playing opportunity and not mistreatment. I am however experiencing slight pangs of concern due to a discussion I had with an old friend months ago. My buddy is a local high school coach who is a fan of another SEC team. I mostly forgive him for that indiscretion and have always valued his opinion due to his learned view of the game and his usually fair assessment concerning Tennessee's program. In a discussion several months ago I asked his opinion on Butch Jones' early tenure? He espoused Butch's background, approach, work ethic and obvious skills on the recruiting trail and was generally impressed with the direction of the program. As an aside however he threw in a caveat that I hadn't thought of again until this week. He said "Butch would be better served to employ a less abrasive teaching/motivational method". Again I'm not alarmed, heck I'm not even particularly concerned but my buddy's contention combined with this week's events give me just enough pause to at least consider the other opinion and watch for a pattern going forward.
MY SPORTS CHRISTMAS WISH LIST:
Dear Santa,

Long time no talkee. I hope you've had an excellent 2014 and that you won't hold against me that I continue to cheer against any and every team that wears your favorite color. I also hope you were out feeding your reindeer or giving the elves motivational speeches about how they too could be the next Nick Saban in the midst of my profanity-laced tirades during both the South Carolina and Vanderbilt games. I know what you're thinking; if he responds that way to wins I would hate to be around him the other six (or seven) times a season. But I digress; I've probably behaved myself as well as any other overly-passionate fan so I unrepentantly come to you once again this year with another large list. I'm pretty sure that naughty and nice thing is a bunch of hooey anyway since my behavior was just as bad last year and you granted all of these requests:
-A QB who can hurt teams with his arm and his legs:
I love me some Joshua Dobbs
-A big-time pass rusher:
Derek Barnett is a wunderkind
-An SEC-caliber RB:
Jalen Hurd is going to be a stud
-A flippin win over Vandy in football
Oops, sorry again for the language and thanks for the win however ugly
-An NCAA Tournament appearance for Cuonzo Martin.
Didn't think even YOU could deliver that one
-An SEC Tournament appearance for any UT Baseball Coach:
See note above
Though your generosity is greatly appreciated what happened to these?
-A coaching job for Bruce Pearl; preferably here but if not somewhere I could enjoy his team and not have to face them.
Check your schedule Santa we play Auburn every season and sometimes twice
-A different job for Jimmy Cheek and Susan Martin; preferably at Florida or Alabama.
You apparently at least told them to make themselves scarce
-A zero client list for Jimmy Sexton
At least Dave Hart doesn't immediately assume the Ned Beatty position
-A win over Florida in football
I know driving a flying sled doesn't make you that kind of miracle worker
-A 5-Year extension for Will Muschamp which makes my last wish a lock
Not sure that would have mattered
-A football game –any kind of football game- to watch on Christmas Day
I know you're real busy that day
-A show-cause for Nick Saban and John Calipari
Did you read those names wrong?
-A trip to the Wizard for A-Rod who needs a brain, heart and some courage. A Miami Marlins uniform with his name on the back would be really nice as well
A one-year reprieve was nice
I'll just leave them on the list again in case they fell in that crack between your sled console and driver's seat last year. Soooo Big Guy without further ado here is this year's wish list.
-Back-to-back winning seasons for Tennessee Football. You can deliver both before Christmas 2015
-Some books for Butch Jones' library;
History of Offensive Tackles and Their Use; Short Yardage for Dummies and Coaching Clichés Volume 2
-More room in Neyland Stadium
-Less room in Thompson Boling Arena
-A clean bill of health for Eric Berry
-A reprieve for Donnie Tyndall
-A Point Guard for whoever is Tennessee's Basketball Coach in 2015/16
-A pure shooter would be nice as well
-Oh yeah and a big man
-SEC-caliber pitchers for Friday, Saturday AND Sunday
-A suitor for A-Rod
-A spot in my Fantasy Baseball League playoffs
(I know a win over Florida may be more attainable)
-Someone to continue my string of Yankee favorites; Mantle, Murcer, Munson, Mattingly and Jeter
Thanks Santa
Yours Truly
Billy Graham (Just in case the naughty-nice deal is being more rigidly enforced)
BOWL ME OVER:
I am not one who complains because there are too many Bowl Games. I see nothing wrong with packing as many as possible between December 20th and January 12th. I love College Football so whatever keeps it alive I'm all for. That doesn't mean all are created equal or elicit the same level of anticipation as a matter of fact I would characterize them as follows:
CAN'T BELIEVE I TUNED IN AT ALL (but probably did)
12-20 IDAHO POTATO:
Air Force vs W Mich:
Service Academy vs the MAC does not spell r-i-v-e-t-i-n-g.
12-23 POINSETTIA:
San Diego St vs Navy:
The Middies twice in less than two weeks is too much
12-24 BAHAMAS:
W Kentucky vs C Mich:
Would love to be in the Islands in December. Still wouldn't attend this game
1-2 ARMED FORCES:
Houston vs Pitt:
Hope I can focus on the playoff games with this monster matchup looming
1-4 GO DADDY:
Toledo vs Arkansas St:
The only game in history that the fans would rather they go to commercial.
CAN'T WATCH WITHOUT A WAGER
12-26 HEART OF DALLAS:
Illinois vs La Tech:
A game only Lou Holtz could love
12-26 QUICK LANE:
Rutgers vs N Carolina:
A couple of lemons in the Motor-City
12-27 MILITARY
Va Tech vs Cincinnati:
Tubberville is in self-imposed banishment; Beamer should consider the same.
12-30 FOSTER FARMS
Maryland vs Stanford:
Randy Edsall versus David Shaw in the Bore the Hell Out of Everyone Bowl
1-2 CACTUS
Okla St vs Washington:
I'm just not intrigued
CAN'T HELP MYSELF
12-20 NEW ORLEANS:
La-Laf vs Nevada:
What can I say? It's the first bowl game of the season
12-20 NEW MEXICO:
Utah St vs UTEP:
I like to watch Vol opponents to see how they've progressed
12-20 ROYAL PURPLE:
Colorado St vs Utah:
The Jim McElwain-less Rams versus a PAC-12 opponent
12-20 CAMELIA:
Bowling Green vs S Ala:
Let's see what the Falcons have coming back for next year's opener
12-22 MIAMI BEACH:
Memphis vs BYU:
Cougars are always fun and Tigers are improving rapidly
12-23 BOCA RATON:
Marshall vs N Ill
: Still have a soft spot for the Herd
12-24 HAWAII:
Fresno St vs Rice:
Need something to watch on Christmas Eve that doesn't involve Jimmy Stewart. Wish it was played a day later though.
12-26 BITCOIN:
NC State vs Cent Fla:
Knights play with a chip on their shoulder even when they're the favorite
12-27 PINSTRIPE:
BC vs Penn St:
The Nittany Lions with James Franklin coaching them; what's not to hate?
12-30 BELK:
Louisville vs Georgia:
A coach who has fallen off a pedestal versus one who has fallen off everything.
1-1 CITRUS:
Minnesota vs Missouri:
New Year's Day elevates this one-level above what it deserves
1-1 OUTBACK:
Wisconsin vs Auburn:
Too much like past matchups to receive a higher ranking
1-2 ALAMO:
Kansas St vs UCLA:
Good matchup of well-coached teams
1-3 BIRMINGHAM
East Carolina vs Florida:
Just seeing the Gators in Birmingham will do my soul good
CAN'T MISS
12-27 SUN:
Duke vs Arizona St:
Absolutely love the setting and like the resolve of Cutcliffe and the Dukies against the odds
12-27 INDEPENDENCE:
Miami Fl vs S Carolina:
Spurrier vs a guy wearing a tie is must-see, Caddyshack-like viewing
12-27 HOLIDAY:
Nebraska vs USC:
History says it will be one of the best games on the slate
12-29 LIBERTY:
West Va vs Texas A&M:
Fun shootout even if the conferences they now represent make no sense
12-29 RUSSELL ATHLETIC:
Clemson vs Oklahoma;
Who wants to be here? Tigers won their in-state rivalry games while the Sooners blew theirs.
12-29 TEXAS
Texas vs Arkansas:
Not the one the bowl wanted but an old SWC rivalry nonetheless
12-30 MUSIC CITY:
Notre Dame vs LSU:
Bert Jones fires it to the end zone and has his cousin Andy Hamilton for a TIGER TOUCHDOWN!
Man, I'm a fossil
12-31 FIESTA:
Arizona vs Boise St:
Rich-Rod's teams are always entertaining and the Broncos like nothing better than knocking off the PAC-12
CAN'T WAIT:
12-31 PEACH:
TCU vs Ole Miss:
Rebels overcame disappointment to win their biggest game of the season; can the Horned Frogs do the same?
12-31 ORANGE:
Ga Tech vs Miss St:
Couple of near-miss squads that don't want to drop the ball before the ball drops.
1-1 COTTON
Baylor vs Mich St:
Classic contrasting styles matchup and I love how red Briles got in his defense of the Bears and Baylor University
1-1 ROSE:
Oregon vs Florida St:
First College Playoff game in history; nuff said
1-5 SUGAR:
Alabama vs Ohio St
: There was a time when I was certain who to root for in this matchup.
1-6 TAXSLAYER:
Iowa vs Tennessee:
A game only a Vol or Hawkeye fan could love
WHAT WE MUST SEE FROM VOLS vs IOWA
A PUNT IS NOT A BAD THING:
It's always great to get the other team's offense off the field but against Iowa it has a chance to be even more satisfying. The Hawkeyes are not only 10th in the Big-10 in punting at 38 ypp they're last in the league in punt coverage surrendering 17.9 ypr. Even when we are forced to punt take heart; Iowa is also last in their league in punt returns with a measly 9.8 ypr
TAKE A KNEE:
As strange as it sounds after the information above the Hawkeyes cover kickoffs exceptionally well. They surrender only 28.5 KO return yards per game so unless we're sure, it would be best to leave it in there and take it on the 25.
DON'T RUSH or FORCE IT JOSH:
It may be an entirely different story against our feeble front but Iowa rarely –if ever- plays in the opponent's backfield. They are 9th in the Big-10 in sacks and 11th in TFL. Jalen Hurd shouldn't be dodging would be tacklers prior to securing the ball and Josh Dobbs should have ample time to survey the field. Survey the field he should however as even without a ferocious pass rush the Hawkeyes are 2nd in the Big-10 in Pass Defense allowing only 175.8 ypg and have 12 interceptions on the season.
HEED THE GENERAL:
Game Maxim #1 The team that makes the fewest mistakes will win. Iowa does not value the ball. They rank 10th in the Big-10 in Turnover Margin at -5 on the season. The Vols on the other hand are more equal opportunity at +1. With both teams seemingly challenged offensively one extra possession or short field to navigate could without question be the difference in the game.
WHO CAN BE MORE RED:
Even with the Vols short yardage woes they somehow excel in Red Zone conversions. They have scored on 45 of 49 trips with 26 TDs which ranks 2nd in the powerful SEC. Iowa on the other hand struggles to keep their opponents from scoring inside the 20 with only four stops all season (28-32). What the Hawkeyes do well is make sure a high percentage of those scores are FGs rather than TDs. They have surrendered 16 TDs and 12 FGs meaning 37.5% of the scores against them from in close are 3 pts rather than 7. The Vols must find a way to punch it in when opportunities arise.
When Iowa gets close they fail to score at a much higher rate than the Vols with 41 scores in 52 attempts. They rarely settle for FGs however as 33 of those entries have resulted in TDs. The Vols must improve drastically from their regular season Opponents Red Zone Conversion Rate percentage to take advantage of this after surrendering an SEC worst 29 scores in 30 attempts with 20 of those being TDs.
CONTINUE TO MAKE THEM GO UNNOTICED:
Thankfully the flag-happy SEC officials will not be a part of the Gator Bowl festivities barring slinging one from San Antonio while warming up their arms for the Alamo Bowl. Regardless of which league the crew comes from they should have a pretty uneventful day as neither the Vols or Hawkeyes commit many violations. Iowa is the least penalized team in the Big-10 at only 28.9 penalty yards/game while the Vols lead the SEC at 32.4. Tennessee needs to continue their clean play to win the hidden yardage aspect of the contest.
BLOG BREAK:
I'm going to take a brief sabbatical to reset the mechanism and enjoy the holidays. I want to thank each and every one of you who take time out of your busy days to read my sometimes half-witted musings. I appreciate it more than you know. I will be back in a couple of weeks to review the bowl games; preview the National Championship Game and jump head-long into hoops. Until then God Bless You and I wish you and your loved ones a Blessed Christmas and a Happy New Year
IN A PERFECT WORLD:
Matthew 1:21
She will bear a son, and you shall call his name Jesus, for he will save his people from their sins.