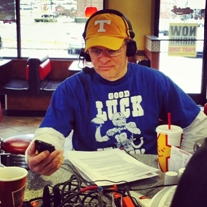 SINCE WE LAST SPOKE: 9-18-14
WHAT WE LEARNED IN WEEK 3
NATION:
LA CAN'T PLAY:
USC's shocking defeat as a double-digit favorite -versus a Boston College team that Pitt handled easier than the 10 point spread indicated- combined with UCLA's lackluster start has me wondering if LA-LA Land football is all glitz and no hits.
Blogger's Random Thought: As I wrote that memories flooded my mind of one of my late Dad's favorite political moments when during the Republican Convention a wisenheimer held up a derisive sign aimed at the Democratic ticket of Jimmy Carter and Walter Mondale that read "Fritz and Grits give me the $#!+$" Now back to your regularly scheduled blog:
I know it seems strange to write off USC one week after a dramatic win over Stanford and an undefeated UCLA team but losing in Chestnut Hill shows the Trojans haven't completely recovered from the Lane Kiffin era Attention Deficit Disorder and the Bruins are only 3-0 due to playing –with apologies to Virginia who is better than expected- the stiff of the week club. Heck they only beat Memphis by 7 points in the Rose Bowl a
feat
that will almost certainly be surpassed by greater than half the Tiger's upcoming opponents. Throw on top of that Brett Hundley's underwhelming, injury-riddled start to the 2014 campaign and you have a recipe for an underachievement the size of the city that both the Trojans and Bruins represent.
PENN-LATE:
Even at the accelerated rate they procreate shouldn't James Franklin be about to run out of rabbits to pull out of his hat? The Nittany Lions claimed their second late game come-from-behind victory of the young season breaking the hearts of Rutgers fans hoping for a win in their first Big-10 game. After being held without a TD for 58 minutes and 47 seconds Penn State culminated a 6 play 80 yard drive to score with only 1:13 left to secure a 13-10 victory. This came a mere two weeks after an 8 play 55 yard drive for a FG with no time left snatched victory away from Central Florida who had taken the lead 68 seconds earlier in Ireland. As I've said before he may not be the game's greatest tactician but when the game's on the line late his teams execute and believe. Those attributes are much harder to instill than strategy and fundamentals.
SEC:
MAUCK SPEED:
I remember when another guy was the most prominent James Franklin in the SEC. Missouri's version bounced back from an injury-plagued first season in the SEC to throw for 2429 yards with 19 TDs and only 6 Ints and ran for 510 more and four additional scores while leading the Tigers to an unexpected SEC East Championship. Along the way however the league got introduced to the heir-apparent and latest in a line of successful Tiger QBs coached by Gary Pinkel. After coming in as a closer due to a 4th quarter Franklin injury in an upset win over #7 Georgia in Athens Maty Mauk announced loudly to Florida, South Carolina and
especially
Tennessee that he would not soil the lineage of Brad Smith, Chase Daniel, Blaine Gabbert and Franklin once his full-time opportunity came throwing for over 700 yards with 5 TDs and only one Int while rushing for 150 additional and a score. He has not disappointed since taking the reins for good with 12 TD passes in the first four games of 2104. Though Mauk ranks only 7th in the SEC in passing yards his 12 TDs with only three Ints trails only Kevin Sumlin's latest gem, Kenny Hill who has 11 with no picks.
GEORGIA=CLEMSON:
Old-school bitter rivals Georgia and Clemson have more in common than either would like to admit. Such as always being good but never quite good enough and Steve Spurrier is their Daddy. After spanking the Tigers in both teams opener the Bulldogs looked to be primed to march into Williams-Brice Stadium and for all intents-and-purposes end the Gamecocks involvement in the 2014 SEC Championship chase. Instead Spurrier –and as my South Carolina fan office mate refers to them, his
ass-kickin-chickens
beat the Dawgs for the 4th time in the last 5 seasons after the Head Ball Coach beat them 11 out of 12 while at Florida. Stevie-Boy has irritated his Northeastern Palmetto State neighbors to no end winning 6 of 9 since his arrival in Columbia and 5 of 6 from current Tiger coach Dabo Swinney. Georgia who was perceived to be the team-to-beat in the East and much improved on the defensive side of the ball proved to be none-of-the-above in a weather delayed start. Little did the Dawgs know that the lightening had not yet started.
STOOPS UNTIL HOOPS:
This Florida team may prove to be dreadful by Gator standards but you can't deny that there seems to be something attention-grabbing in the blue grass state prior to Midnight Madness. Mark Stoops –much like Butch Jones- is trying to fumigate the stench of his predecessor and seems to be infusing the Wildcats with talent and enthusiasm. The Cats are an expected 2-1 but didn't look like a team that had lost 27 straight in the series Saturday night in Gainesville and were probably a blown delay of game call away from leaving the Swamp drained. Soph QB Patrick Towles ranks 3rd in the SEC in passing yards with 916 and is also among the Top-25 rushers with 111. WRs Ryan Timmons and Garrett Johnson (10th and 13th in SEC) have combined for almost 400 of those yards with Johnson adding two TD receptions. Surprisingly with a Stoops in charge the Cats rank only 9th in the SEC in Total Defense (384.3) despite playing a schedule not exactly laden with offensive juggernauts (UT-Martin, Ohio U and Florida). There is no question however that Stoops and company seem to be bringing the Wildcat program back at a more rapid clip than expected.
WILL (BE GONE) MUSCHAMP:
The grim reaper may not be on the front porch but if Saturday's lackluster, very fortunate, win over Kentucky is any indication he's parking his car in the driveway. Will Muschamp has about as much chance of being the Gator coach in 2015 as Ron Zook. Muschamp is only 9 games over .500 (25-16) in 3+ seasons; he's coming off the worst season in Gainesville since Charlie Pell's first in 1979 (0-10-1); his offense regardless of who the coordinator is seems unwatchable and to add insult to injury the unit he spends the most time with (secondary) looked lost Saturday. We've seen this movie in Knoxville with both coaches far more accomplished (Fulmer) and stunningly, even more inept (Dooley) and regardless it doesn't end well. The Vols M-U-S-T take care of business in Knoxville on October 4th and assure they don't go 0-for-Muschamp which would be equally embarrassing as going 0-3 during Bill Curry's Alabama tenure.
WHAT WE WILL LEARN IN WEEK 4:
WE'RE GOING WHERE, TO PLAY WHO?
What in the world is college football coming to? You mean to tell me that Auburn has to play a true non-conference road game against a team from a power conference? This is an outrage. Malzahn –though he's had nothing to do with Auburn's cowardly scheduling ways of the past- should check his contract and see if he has an escape clause. He better do it quick since the game with Kansas State in Manhattan –stunningly Kansas and not New York- is scheduled for Thursday. Out of league the Tigers have adopted NBA Officials motto of there is no such thing as traveling for as long as I can remember which would seemingly make a huge challenge that much more difficult when they face the Wildcats in Bill Snyder Family Stadium. The last time they were here (1979) the stadium was only 11 years old and the guy it is named after was a 40 year old first-year OC at Iowa. The Tigers are 3-0 all-time versus K-State but have dropped their last 5 true non-league road games to Syracuse, USC, Georgia Tech, WVU and Clemson spread over how many years I am uncertain. I do know that their last win under these circumstances came at Virginia in 1997.
GOOD BAYOU TO BULLYDOGS?
Mississippi State was my surprise pick to finish in the upper-half of the brutal SEC West Division. My pick was based on home games versus Texas A&M and Auburn and a weak eastern Division schedule that somehow sees them playing Kentucky and Vandy. A&M now looks as though State would have trouble defeating them unless the game is played in a Starkville phone booth and Auburn looks as though they are capable of another solid season as well. In other words I am having very early reservations about my faith in the maroon mutts. If I am to be anywhere close to accurate State may well need to pull off the upset as a double-digit dog in Baton Rouge. In order to do so they will not only need to best the Bayou Bengals but history as well. State has lost 14 straight in the series and their last win in Death Valley was in 1991
TIGERS SEEM TO BE THE THEME OF THE BLOG:
The third member of the streak (who knew a group of Tigers is referred to as a
streak
or
ambush?
) of preview Tigers is Clemson who will probably find that a group of Seminoles constitutes a true
ambush
. In what 12 months ago was being touted as the game of the year in front of their passionate, die-hard fans the Tigers were demolished 51-14 and proved to be little more challenge to FSU than Wake Forest or NC State who finished a combined 2-14 in ACC play. Maybe with Jameis Winston suspended for a half (Way to run a tight ship Jimbo), less fanfare and the possibility that the Seminoles may let complacency creep in Clemson can make a better contest of the 2014 matchup. Recent history suggests otherwise however as the home team has won 10 of the last 12 meetings and the Tigers are 8-19 all-time versus the Seminoles. If Clemson is looking for a hard-to-find trend in their favor they can take solace only in the fact that they haven't dropped three in a row to FSU since 2000-02.
MOUNTAIN(EERS) MAY BE STEEPER THAN EXPECTED:
The Oklahoma Sooners get their second straight contest versus a group of EERS as they go from a home game against the Volunteers to a road contest versus the Mountaineers. WVU has been overmatched since joining the Big -12 (6-12 in two seasons) but don't tell that to the Sooners. Oklahoma has won both conference matchups but barely escaped Morgantown in 2012 with a 50-49 shootout victory as an 11 point favorite then slogged to a 16-7 win last season in Norman against a 3 TD dog that proved to be one of the worst Mountaineer teams in recent memory. WVU appeared to be much better than expected in their season opening contest in Atlanta against Alabama and their crazed fan base will be anxiously awaiting the first true home test with Towson being the only team to visit Mountaineer Field to date.
WHAT WE MUST SEE FROM VOLS THE OPEN WEEK:
GET WELL:
Miraculously there seemed to be few if any significant injuries of note coming out of what was one of the more physical games in recent memory but I'm guessing strains and contusions are almost epidemic. The Vols desperately need for both Von Pearson and Ethan Wolf to be available for –with apologies to South Carolina- what could be their most challenging road contest of the SEC slate. Despite my gloomy preseason expectations of the Vols chances in Athens the last three games between the two have been decided by 8 pts or less and this one could prove no different if the Vols can have all-hands on deck.
GET A FB:
The Vols need something additional for both the short-yardage running game and to help their inexperienced and thin O-Line in max pass protection situations. I realize true FB sightings in the Jones-Bajakian offense are Sasquatch type events but any of the TEs or even a cameo by a LB would work just fine on occasion. Open dates are the perfect opportunity for minor tweaks. Sometimes minor tweaks can produce major results.
GET A PUNTER
Darr to be great
should be the Vols off week Special Teams motto. As in Matt needs to improve drastically or someone else should get the first shot at punting in Athens. Too big a challenge for a first-time punter you say? My question is how can it be any worse?
GET A KR
I love Devrin Young, a local kid who by all accounts is a fine young man, student teammate and in my opinion a valuable change-of-pace RB or slot receiver. He is not however a kick returner. He has neither the instincts, acceleration, nor ability to make people miss required of a top-flight return man. I realize he's injured at the time but it doesn't take General Neyland to recognize the potential that Pearson would provide in that role. He appears to have a little Cordarrelle Patterson in his repertoire and that's good enough for me. Get him back there as soon as his ankle allows. In the meantime try someone other than Devrin because at some point game production has to outweigh who looks better in practice.
THE BEANSTER GOES 0-FOR-SEPTEMBER:
Due to continued travel and work demands I will not be appearing with Tony on Fridays for the remainder of September. I truly appreciate him mixing me in this past Monday as I had a great time talking to both you and The Dean of Knoxville Sports Radio. I will do my best to continue checking in with the blog until my schedule allows my full return in October. Until then enjoy the rest of the month's football, God Bless You and we'll talk ending the Gator streak upon my return to the air.
IN A PERFECT WORLD:
Peyton would have a Heisman and clowns like Johnny Manziel and Jameis Winston would not.