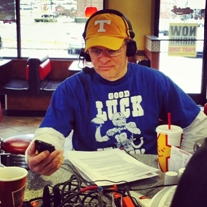 FREE THOUGHT FRIDAY:
UNDERRATED APRIL:
I would guess most sports fans -especially in the college football crazed south- are like me; they rarely mention April among their favorite periods on the sports calendar. My immediate response would be October when college football's pecking order is coming into focus and Major League Baseball's postseason has begun. The December-January conclusion to college football and the NFL and my late recognition of college basketball's existence would be a close runner-up. My bronze medalist would be March with the NCAA Basketball Tournament and MLB Spring Training signaling that God-forsaken winter is drawing its last breath. April? It never crosses my mind until it's here. Then it's hard to deny its appeal and especially its diversity. The spring jumpstart has something for everyone regardless of what primes your pump:
-
College Football
spring practices may have concluded but the discussion and analysis of them continues
-
NBA and NHL
playoffs have launched with seemingly everyone with a pulse included
-
Major League Baseball
is back with every fan enjoying the warmth that comes with it and a renewed sense of hope regardless of how irrational that may soon prove to be.
-
College Baseball
teams have made the turn of their conference season and are vying for precious spots in league and regional tournaments.
-
The NFL Draft
one of the great equalizers in all of sports lasts three days but the results -good or otherwise- will be felt for years.
-
The Masters
is the true kickoff to both the PGA season and spring itself
-
Horse Racing
enthusiasts can jump on a bus with Tony B and head to Keenland or other beautiful settings
-
NASCAR
is coming to a town near you all over the southeast
-Even
Soccer
is being played professionally around the globe as I understand it.
Enjoy the plethora of entertainment choices while it lasts my fellow sports enthusiasts. The June-Swoon lies dead-ahead
FAN REGRETS:
Time has a way of bringing clarity to most issues and hindsight is indeed 20-20. It proves the wisdom of certain beliefs and stances and the sheer fallacy of others. Although the list below is far from all-inclusive here are some of my fan stances that upon further review I would reverse my viewpoint:
COLLEGE FOOTBALL AND MLB REPLAY ADVOCACY:
After further review I wish there were no further reviews anywhere in sports other than the NFL. I argued vociferously that it is imperative you get calls right. Little did I know that college football would find a way to stop what already lasts too long time-and-time again and
still
get it wrong as often upon review as they did at first glance. Not only are the guys in the booth less competent than those on the field what is actually reviewable needs more review than replay itself. Now Major League Baseball is following the same wayward path threatening to circumvent any efforts to assure that games in EST end prior to the witching hour.
NO FULMERITES:
Jilted and shaken upon Lane Kiffin's abrupt departure I was in no mood for a second coaching search in as many years. My sense of renewal and excitement based on my early opinion of Kiffin's year as the Vols head coach quickly turned into a terminal case of red hiney. The last thing I wanted was a return of association with any remnants of the tired-ass late tenure of Phillip Fulmer.
Anyone but Cutcliffe
was my mantra. Anyone turned out to be Derek Dooley who just may be the worst Power-5 conference head football coach in the history of the sport along with being a colossal male appendage. Cutcliffe -who I knew to be a very good man- has since proven to be a winner at a place where few have succeeded before him and his teams play an over-achieving, disciplined, entertaining brand of football.
DON'T SAY THAT TO ME TONY:
My list is quickly proving that I shouldn't be leading any search committees. When Cuonzo Martin decided to take his
talents
elsewhere I wasn't nearly as downtrodden as when the Lane Train left the station but apparently was no more lucent either. Tony -knowing my preference for coaches climbing the ladder rather than those descending it- decided to pick at that scab. Once he was informed that Tubby Smith's name was being bandied about as a candidate he wasted no time in passing along this juicy tidbit. For several days he would call me up;
"hey Beanstar, I'm hearing it's Tubby"
. Somewhere around the third such call he got his desired result; I snapped.
"Tony, if you mention TUBBY SMITH'S name to me one more time in connection with our basketball job I am going to WHIP YOUR ASS"
Now I would like to kick my own for that stance. I love Donnie Tyndall but hiring a guy one year from walking the NCAA's Green Mile is like bringing back Wade Houston and Dooley as a package deal. Little did I know that one year from the time I decried the possibility of Tubby we would employ his brother from another mother; Rick Barnes. Tubby is every bit as decorated as Barnes and more. AND we would be one year further down the road of a program rebuild than we currently stand since Smith would have almost certainly turned down a Memphis offer to stay at Tennessee.
These are just a few of what I now view as my more glaring mistakes of judgement as a fan. If I didn't hate replay, I would say
"after further review".
Those are my stories, call us on the Tony Basilio Show Friday from 11-1 and let us know yours.
FAINT PULSE:
The Baseball Vols' reached for the defibrillator in the nick of time and saw their season condition upgraded from flat-lining to intensive care. Though there is still much healing to do a series win over the hated -and talented- Vandy Commodores made us at least momentarily turn our attention back to Lindsey Nelson Stadium and beyond. The Vols used the tried and true method of better pitching and timely hitting -not to mention better use of personnel- to draw us back in.
Aaron Soto, Zach Warren and Will Neely combined for 18.2 innings as starters surrendering only 6 earned runs over three days. Ineffective starter turned closer Andy Cox registered his first two saves of the season one of which lasted four innings and 50+ pitches making a one run lead hold up on Saturday. Neely ably stepped into Cox's Sunday Starter spot and each should be left in those roles for the duration of the 2016 season.
Tennessee batter's numbers may have been similar to previous SEC series but they were much more efficient and timely. The Vols' three-run answer in the bottom of the sixth of the rubber match after Vandy had broken a 2-2 tie in the top of the frame was one of the few late-inning answers the team has mustered this season.
The series win put the Vols back in position to make the 12-team conference tournament in Hoover late next month. Their 6-12 conference slate has them tied with Arkansas for one of the brackets last two spots; one game ahead of Auburn (5-13) and two in front of their next weekend opponent Missouri (4-14). It ain't over but at least it ain't over.
MLB MENTIONS:
-If I were picking an everyday player to start a franchise I would take Mike Trout due to his all-around skill set and the way he comports himself. If you ask me who the best hitter in the game is however give me Bryce Harper.
-Jake Arrieta has gone from a disappointing stiff with Baltimore to the best pitcher in baseball in a couple of seasons. He's 20-1 in his last 24 starts with a 0.86 ERA, 0.70 WHIP with all twenty-four being quality starts. He's been so good after being so average that the PED whispers have begun.
-All Star voting began last week. All Star voting? After less than three weeks of play? Are you flippin kidding me?
-Having the pleasure of visiting the Yankees' dugout several years ago at Camden Yards and seeing up close and personnel just how big most MLB players are it's wonderful to know those who don't fit the profile can still not only participate but star. Jose Altuve is 5'6" and 165 pounds.
-This is the Yankee team I expected to see last season. Mark Teixeira, Alex Rodriguez, Carlos Beltran and C.C Sabathia are no longer capable of carrying a team and Michael Pineda, Masahiro Tanaka and especially Jacoby Ellsbury are too fragile to take up the mantle. I will be so glad when player contract status gets to the point that the brass can hose out this dog pen.
-At midweek Seattle, Tampa, Oakland and the White Sox had each won seven of their last ten games. I'm not sure you could find four more unlikely candidates to do so in the American League.
-Fab-5 Freddy has an advocate. Joe Girardi said if he was Commissioner he would outlaw the shift. He followed up that he would continue to employ it as long as it's legal. Wonder how many other managers feel the same?
FINAL FRIDAY THOUGHT:
Don't lose our number when the calendar flips to May. In my experience it's the toughest month of all to do sports radio in the Knoxville area. Love you and thanks for always being there.