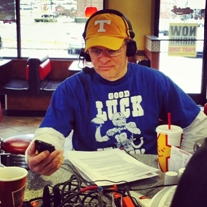 SINCE WE LAST SPOKE: 11-20-14
WHAT WE LEARNED IN WEEK 12:
NATION:
THE BAD GUY NEVER DIES UNTIL THE END
For at least the fifth time this season (Okla St, Clem, ND, Louisville and Miami) Felonious State University looked to be in serious trouble teasing the rest of the hostile nation prior to mocking their way off the field with yet another improbable victory. Down 23-3 the Seminoles led by Crime Family Boss Jameis "Teflon" Winston outscored the Hurricanes 23-3 including a 20-3 second half advantage to win their 26th consecutive game. I will begrudgingly give FSU their due. With seemingly weekly reports of alleged lawless behavior and the turmoil that follows FSU continues to overcome both their on and off-field lack of discipline with ability and poise that can't be questioned. What is in doubt however is can they continue their high-wire act once forced outside the cocoon of the feeble Atlantic Coast Conference that has proven more protective than both the Tallahassee and Florida State Law
Enforcement
Agencies? With only Boston College and a traumatized Florida team left in the regular season and an ACC Championship Game opponent from the scrawnier side of an already weak league the incalculable number of haters –of which I proudly count myself- will likely have to wait until the playoff to see their season come to a hopefully abrupt and psychologically painful end. Here's the kicker; not only will we apparently have to wait until the drama's end to see the bad guys get their just due we may have to enlist the help of an almost equally distasteful entity to see it happen. Can I get a "Rolllllllll Tide" anyone?
TRADITION STILL MATTERS:
In a football version "life's not fair" we turn to what was referred to above as the scrawnier side of the ACC where good guy David Cutcliffe and his Duke Blue Devils seemingly represent all that's good about CFB almost as well as FSU represents all that isn't. In this case good guys might not finish last but they sure missed a good opportunity to approach assuring they finish first in the Coastal Division for the second consecutive season. Beleaguered Virginia Tech and their stale staff showed that history will always be an up-and-comer's most demanding opponent. The Hokies may have entered the game at 1-4 in the ACC but with the knowledge that they were 13-2 against Duke since 1960. The Hokies scored all their points off three Duke turnovers to at least temporarily detour the Blue Devils drive to the ACCCG in a 17-16 win. Duke (8-2; 4-2) still controls their own destiny thanks to an October 11th win over Georgia Tech (9-2; 6-2) but must grab wins over arch-rivals North Carolina tonight and Wake Forest (11-29) both of which take place in Durham.
ANOTHER NEBRASS-KICKIN
The Big-12 may be a much stronger conference but my guess is Nebraska would much prefer trips to Norman, Austin, Stillwater and Fort Worth to Madison Wisconsin. The Huskers took a 5 TD thrashing at the hands of the Badgers which to the chagrin of Big Red faithful is not uncommon. The outlier seems to be a 30-27 2012 regular season victory played in Lincoln. With the exception of that contest Nebraska's Big-10 meetings with Wisconsin have resulted in 48-17 (2011); 70-31 (2012 B-10 CG) and last Saturday's 59-24 embarrassment. Adding insult to injury the once feared Husker defense surrendered an FBS record 408 rushing yards (and 4 TDs) to Melvin Gordon who had 6 runs of 35 yards or more. Indiana and Northwestern teams of yester-year couldn't have laid down any better.
SEC
COCKS CAN COACHES
Beleaguered –and now former- Florida Coach Will Muschamp found what much better men than him learned before; late season losses to South Carolina may be hazardous to your longevity. The announcement that Muschamp will not return as the Gator's head man brought back memories of both Johnny Majors and Phillip Fulmer returning from Columbia to find pink slips on their desk. Coach Major's 1992 loss to the –at that time- hated Steve Taneyhill-led Cocks -that diminished a once glowing season into the ruins of missing the inaugural SECCG in Birmingham after defeating both Georgia and Florida earlier in the year- for all intents-and-purposes ended a brilliant playing and successful coaching career at his alma-mater. Coach Fulmer's 2008 27-6 loss in the chicken coup was the last misstep he was allowed after several seasons of diminishing returns in an ultra-successful era. Not sure what it is about South Carolina that brings out the worst in Athletic Directors but for whatever reason they seem to have the ability to push a staggering career over the edge of the cliff.
NO FEAST ON THE EAST
There was a time when I was uncertain the SEC East would win a game against the West PERIOD. I openly questioned in the October 16th edition of this blog if Arkansas who at the time was 0-3 in the league could beat Georgia with the Dawgs coming off a big win over Missouri in Columbia. In other words could the worst of the west beat the best of the east? Saturday night however little brother flexed their muscles. Georgia tied the all-time series with Auburn (55-55-8) with an impressive 34-7 blasting of last season's SEC darling Auburn. In doing so they put Missouri in a do-or-die position of needing victories over Texas A&M, Tennessee and Arkansas to make their second consecutive SECCG appearance. Check that first one off the list as the Tigers overcame a 1st half deficit to win 34-27 in hostile Kyle Field. Funny the twists and turns that a CFB season takes you through while constantly reminding you that it is a week-to-week game like no other.
ZERO TOLERANCE FOR TIGERS:
As mentioned above Missouri is already in playoff mode. With Georgia finished with SEC play at 6-2 and owning the division tiebreaker via their October 11th 34-0 demolishing of Missouri in Columbia the Tigers need to win out to make it to Atlanta. Tennessee and Arkansas stand in their way with the first taking place in Knoxville and the last in Missouri's Memorial Stadium.
WHAT WE WILL LEARN IN WEEK 13:
DOES DICKIE V DO FOOTBALL?
If so you better believe he will be in Durham tonight.
It's North Carolina and the Dukies Baybeeeee!
Surprise-surprise it is once again more meaningful for Duke than for Carolina. Coach Cut's Blue Devils are in the same spot in the ACC Coastal as Missouri is in the SEC East; win your last two conference games and head to the Championship Game. Amazingly if both are successful they will take down the entire state of Georgia denying both UGA and Georgia Tech from appearing. It's a matchup of the guy I didn't want when we hired Derek Dooley (Cutcliffe) and the guy I did when we hired Butch Jones (Larry Fedora). I was obviously wrong on both as Cutcliffe has Duke on the precipice of a historically good run while Fedora is having trouble gaining traction. As stated above much more than the Victory Bell is at stake for Duke who will as in most every occasion will once again have to overcome history. Though the Blue Devils have won the last two meetings they have lost 21 of the last 24 and the last time they won three straight was 1987-89.
GOPHERS REALLY GOLDEN?
After taking the Big-10's only true CFB Playoff contender to the wire in a closer-than- expected 31-24 loss, Jerry Kill's Minnesota squad has an opportunity to put themselves in position for a rematch with Ohio State in the Conference Championship Game. The Golden Gophers travel to Lincoln Nebraska to face a wounded bunch of Huskers at high noon Saturday. A win would set up a Big-10 West winner-take-all game the following weekend in Madison with Wisconsin. If they beat the Badgers they would win the tiebreaker in either a two-way tie with Wisconsin or a three-way deadlock including Iowa which the Gophers pummeled 51-14 on November 8th. Trends suggest it will take quite a feat for Minnesota to avoid division elimination however. Prior to last season's win in Minneapolis the Gophers had lost 16 straight in the series; their last win in Lincoln was in 1960; the Huskers have won 21 of their last 26 home finales and haven't lost back-to-back home finales (lost to Iowa 38-17 in 2013) since 2003-04.
ANY CLAIM TO THE "BIG GAME"?
Stanford and Cal have been playing since 1918 and will meet for the 94th time this Saturday in Berkeley. That's great tradition but this season there is little or nothing "Big" about the game. The winner will claim second place in the PAC-12 North but with division leader Oregon entertaining Colorado in Eugene they will still be at best a hopeless three games behind. Neither team is –or likely to become- ranked for the first time in a number of years and barring the Stanford Band wandering onto the field while the ball is in play don't expect any real news to emerge. Cal will be looking to exact some retribution after Stanford scored a series record 63 points and administered an all-time high 50 point beating on the Bears last season. The Cardinal have won the last 4 with only the 2011 game (31-28) decided by less than 18 points.
LORDS OF LA-LA-LAND
In one of the most hotly contested division races in all of CFB USC and UCLA meet for the 84th time with a lot more than the city championship at stake. The current PAC-12 South standings show four teams (USC, UCLA, Ariz & Ariz St) with two losses and Utah with three. Short of pulling up the PAC-12 tiebreaker protocol and an abacus I feel comfortable in speculating that the loser Saturday will not win the division. The Trojans have won 12 of the last 15 but two of the three losses have come in the last two seasons. The last time the Bruins took three in a row from USC was 1996-98.
SEC=SCAM EVERY CUSTOMER
Western Carolina @ Alabama; Samford @ Auburn, Eastern Kentucky @ Florida; Charleston Southern @ Georgia and South Alabama @ South Carolina? On November 22? What a bunch of disgraceful, dreadful, dreck.
WHAT WE MUST SEE FROM VOLS vs MISSOURI:
MAKE MATY WING IT:
Maty Mauk is a dual-threat QB. A threat to opposing defenses that ignore his penchant to run when needed and a threat to his own offense when he throws it. The Tigers are 12th in the league in Passing Offense (178.4 ypg) and Mauk is tied with Dylan Thompson, Dak Prescott and the seemingly incomparable Jeff Driskel when it comes to throwing it up for grabs with 10 interceptions.
TUCK IT AWAY
The Tigers lead the SEC in Forced Fumbles with 13. Every Vol ball carrier must recognize that prowess and secure the ball.
HOLD BACK THE SACK ATTACK
Missouri lives in opponents backfields ranking 2nd in the SEC in both sacks (3.2/game) and TFL (7.3/game). The Vol O-Line and Josh Dobbs need to continue their new-found ability to minimize negative-yardage plays
MAKE THEM GO THE LONG WAY:
No one in the SEC is as efficient as the Tigers at converting in the Red Zone. Missouri has scored on 29 of 31 trips inside the 20 including 20 TDs.
WHAT VOLS FANS SHOULD KNOW ABOUT THE TIGERS
OFFENSE
QB Maty Mauk has completed 53.1% of his passes in 2014 for 1784 yds and 19 TDs
RB Russell Hansbrough rushed for a career-high 199 rushing yards and averaged 9.9 ypc vs Texas A&M including TD runs of 49 and 45 yards. Hansbrough leads Mizzou with 790 rushing yards and 9 TDs on the year
SR WR Bud Sasser has 52 receptions for 701 yds and 8 TDs this season
WRs Jimmy Hunt (5 TDs) and Darius White (4 TDs) have provided solid support for Sasser.
SR RB Marcus Murphy is a dangerous weapon whether by rushing (13 career TDs), receiving (2 TDs), kickoff return (3 TDs) or punt return (4 TDs).
DEFENSE
The Tigers rank 2nd in the SEC in total defense (306.5 ypg) and 3rd in scoring defense (19.7 ppg) in conference games,
The Tigers lead the SEC and stand 16th nationally with 34 sacks
DE Shane Ray is having an incredible season with 13 sacks and 18 tfl.
Senior DE Markus Golden has 6.5 QB sacks on the season
LBs Soph Michael Sherer (88) and Jr Kentrell Brothers (86) have combined for 174 tackles in 2014.
Sr S Braylon Webb (4 INTs in 2014) has 39 career starts the most of anyone in the SEC
SPECIAL TEAMS
Jr PK Andrew Baggett (11-16 FGs; Long-44) currently ranks fourth all-time at Mizzou with his 264 career points. He also has 31 touchbacks on the season
Senior P Christian Brinser (41.1 ypp; 59-long) has done an outstanding job of neutralizing opposing teams' punt return units this season, allowing just 16 returns on 55 punts this season
Returns? See Marcus Murphy above
OTHER FUN (or maybe not) STUFF:
The Tigers are looking to win a school-record 10th-straight road game, breaking the old mark of 9 straight road wins from 1978-80.
Mizzou is 23-7 in the month of November from 2007-present.
IN A PERFECT WORLD:
Having a false sense of entitlement wouldn't be so prevelant.