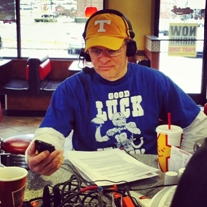 SINCE WE LAST SPOKE: 4-16-15
WE TALKIN BOUT FANTASY?
It's time for me to bore many to tears and launch others into an Allen Iverson like tirade of
"We talkin bout fantasy? Not a game…not a game…we talking bout fantasy?"
Well it's my blog and its April so YES "we talkin bout fantasy".
Fantasy baseball as I have mentioned in the past is one of those things that I love dearly but can't play a lick. I guess I'm not an accomplished enough sabermatrician and I have been fairly Yankee-centric throughout most of my fanhood. Add to that an uncanny level of misfortune and you have the recipe of being the fantasy version of the Houston Astros. The league I have participated in the longest with my "buddies" –known in fantasyland as your "home" league- has seen my squad make the playoffs on only one occasion. An "accomplishment" so repulsive to other league owners that the requirements for playoff eligibility were immediately changed. Misfortune? My other opportunity for postseason play was denied in such painful fashion that I accused another owner of having a relative working at cbssports.com. I defeated his team in the next to last game of the regular season to ostensibly secure the final playoff spot. The following week cbssports.com mysteriously reversed the score and the league standings. His team was awarded the final playoff spot then during the first round of the playoffs the score of the regular season game in question was corrected meaning his 5th place team was somehow in the playoffs while my 4th place team sat at home.
That aside I love fantasy baseball with a passion and time investment far exceeding what it deserves. It inspires me to watch and enjoy a wider variety of games and players and to view and study baseball from a different viewpoint. The Dynasty league –which allows you to keep up to 20 players per season- that I participate in has also given me a greater knowledge of various team's prospects and farm systems as I attempt to build my team for the long-haul. I have come to enjoy the baseball version more than Fantasy Football due to the daily nature of the game and greater opportunities to improve your team through waiver-wire acquisitions which provides a genuine chance to overcome a subpar draft; something virtually impossible to accomplish in the fall.
Many fantasy baseball leagues play Rotisserie rules which generally have 5 hitting and 5 pitching stat categories accumulated throughout the season which determine the standings. The leagues I play in are Head-to-Head (a different opponent each week), points (basically 1 point for each stat total bases, runs, RBIs, strikeouts innings pitched etc.), formats like the fantasy football leagues most play. A lineup consists of 9 position players and 7 starting pitchers (starters or relievers). After the draft and a little early waiver wire action here is my current roster:
C-Travis d'Arnaud-NYM
1B-Jose Abreau-CWS; Eric Hosmer-KC
2B-Robinson Cano-SEA
3B-Mike Moustakas-KC; Anthony Rendon-WAS (DL)
SS-Ian Desmond-WAS
OF-Carlos Gomez-MIL; Christian Yelich-MIA; A.J Pollock-ARI; Gregory Polanco-PITT
UT-Kendrys Morales-KC
SP-Corey Kluber-CLE; Julio Teheran-ATL; Doug Fister-WAS; Brandon McCarthy-LAD; Jake Odorizzi-TB; Matt Shoemaker-LAA; Mike Fiers-MIL; J.A Happ-SEA; Taijuan Walker-SEA; Justin Verlander-DET (DL); Chris Heston-SF (picked up as 2-start pitcher for this week)
RP-Aroldis Chapman-CIN
So there you have it the latest edition of BamBeanos who are sure to provide me with weeks of entertainment, frustration and be out of playoff contention early enough for me to turn my attention to preparing for the 2015 Fantasy Football Season.
BARNES ON BASILIO:
If you missed Rick Barnes' appearance on
The Tony Basilio Show
Tuesday do yourself a favor and catch it on the archives (Off the top on Tuesday April 14). Since Tony blessed me with the opportunity to co-host on a semi-regular basis I now judge coach's interviews from both a fan and host's viewpoint. I guess the only real difference is as a fan you want information and a sense that you are appreciated while a host wants honesty and a segment that spurs show interest and participation. I think Barnes passed in flying colors regardless of the criteria you use to judge. His intelligence, candor and obvious effort to give the best interview possible came across loud and clear to anyone listening. He didn't seem to be participating simply out of obligation, was not condescending, nor was he attempting to tickle the hosts and listeners ears in order to curry favor. He simply provided an honest opinion in a very respectful and enlightening manner. With that said here is how I would describe recent UT coach's radio personas:
FOOTBALL:
PHILLIP FULMER:
A very guarded and many times intentionally-intimidating presence who provided little or no substance while expecting the media to be cheerleaders rather than the eyes and ears of the public
LANE KIFFIN:
Uncomfortable, uncertain and because of it somewhat unapproachable. He has television looks but not enough substance to be a leading-man.
DEREK DOOLEY:
A bad stand-up comic and the rarest of combinations; a condescending moron
BUTCH JONES:
A master of motivational minutia; ruler of rhetoric; king of coach speak who gives the impression that it is a total waste of his time to engage the media. He's obviously a totally different individual in recruit's living rooms otherwise he couldn't convince me to play for the Vols
BASKETBALL:
BRUCE PEARL:
The absolute master of the media who knew exactly what to say and when to say it. His media savvy and entertainment value will never be equaled in my lifetime at UT. Now was there ever any real substance, true emotion or honesty to it? That is another question entirely.
CUONZO MARTIN:
Was never comfortable in any regard during his time at UT and it was most obvious when with the media.
DONNIE TYNDALL:
Warm, ingratiating and open while understanding that the media had a job to do. He had a chance to be the most well-rounded interview of any coach during my radio time. Too bad for all involved that it didn't work here.
TIME FOR THE STRETCH RUN..AND THAT'S STRETCHING IT:
I never dreamed we would be here again. The Vols are entering the second half of the SEC season with a questionable opportunity to make the tournament; not the NCAAs; THE SEC Tournament. In Serrano Year-4 with a full dugout of his own recruits and three years of "culture change" in the rearview mirror Tennessee is sadly tied for the league's worst record with Auburn at 5-10. With five-Juniors; two-Sophomores and only one freshman in the SEC lineup and a senior (Bret Marks) and Junior (Drake Owenby) anchoring the weekend staff this should be the year the Vols establish themselves as an annual NCAA Regional threat rather than once again praying for a ticket to Hoover.
The SEC games only stats bear out just what a struggle it continues to be. The Vols are 12th in the SEC in batting (.243) and last in the league in both pitching (5.68 ERA) and Fielding (.956, 24 errors) which begs the brutal but honest question what does this roster –and staff- do well?
There is one saving grace; the league is nowhere near as deep this year as in seasons past. With 5 conference series remaining the Vols will face only one team with a winning record (Texas A&M 11-3) and four other opponents who currently have either 5 (@Ky), 6 (S Car, Miss St) or 7 (@Ark) wins. The opportunities are still there for the Vols to finish closer to the middle of the standings then the depths where they currently reside. The only things standing between them and league upward mobility seem to be hitting, fielding and pitching.
IT TEARS ME UP:
With the passing of Percy Sledge few if any of the true great soul artists remain with us. Percy –like Otis Redding- was a southern-born soul singer and remained loyal to true soul music though
"When a Man Loves a Woman"
was a crossover smash. My brother Freddy –to whom I'm eternally grateful music-wise and otherwise- inspired my lifelong love and appreciation for Soul and R&B music that is as strong today as it was in my influential youth. I'm actually a decade ahead in my tastes than I probably should be from listening to his albums of great soul artists like The Big "O", Sledge, Curtis Mayfield and The Impressions, The Tams, and Major Lance. I love the Motown stuff as well but as Freddy correctly schooled me years ago it was more crossover and somewhat less-soulful in order to appeal to both black and white audiences to increase sales. The "real" soul was coming from Chicago (Mayfield, Lance, Jerry Butler etal) and Memphis (Redding, Eddie Floyd, Sam & Dave etc) and as I've grown older these are the songs and artists that for me have stood the test of time.
My favorite Sledge songs include the aforementioned
When a Man Loves a Woman
,
Take Time to Know Her, Warm and Tender Love
and
It Tears Me Up.
My favorite of them all however comes from one of Freddy's fabulous album collection from back in the day
Warm and Tender Soul
. It's a cover of an old Jerry Butler song entitled
I Stand Accused
. I finally found it on YouTube looking for some Sledge recordings to listen to with word of his passing. Hard to believe anyone could sing one of "Ice Man's" songs better than he but Sledge pulled it off. Click on the link below and check it out for yourself. God speed Percy Sledge, gone but never to be forgotten.
Percy
IN A PERFECT WORLD:
Soulful artists like Percy Sledge wouldn't be such a rarity.