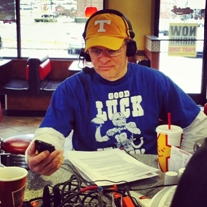 SINCE WE LAST SPOKE: 10-30-14
I'M NOT JOSHIN
At 27-0 after the first quarter Saturday night there was no way in the world anyone could have convinced me that I would be about to write a blog segment describing my heightened hope for the future of the program. As a matter of fact I was so angry with our performance and prospects for the future that even a Jumbotron tribute to one of my favorite all-time Vols –Peyton Manning- elicited an under my breath profanity laced response. I told those close to me that we're so bad that our entire game production approach is to encourage the Orange-Blooded faithful to look back to past heights so we don't think about how long it is taking to dig out of the current depths.
"I'll be 75 years old and they'll be showing Peyton throwing TDs.I feel like an Illinois fan taking solace in Red Grange's time on campus".
Then when the KPD came to remove some unruly Alabama fans from our section I begged them to
"take me instead".
Then everything changed. Josh Dobbs entered the game and many of the mountains I saw that needed scaling didn't seem so insurmountable. Our running game went from abysmal to admirable; our offensive line went from excruciating to executing; our November went from playing out the string to stringing together some wins. Josh Dobbs is not Condredge Holloway or Heath Shuler but in this offensive attack he is much closer to those guys than Justin Worley –however tough, courageous and admirable- ever had a chance to be. Josh Dobbs carries not only hopes for a bowl game but the offseason doesn't look as daunting either. We saw Saturday against one of the best defenses in America that the dynamics he brings to the position in the Butchjakian attack means a couple of tackles may not have to appear out of thin air between now and September for the Vols to compete with most everyone on the 2015 schedule. This is Coach Fulmer uncharacteristically deciding a decade ago to turn his offense over to a couple of true freshman rather than retroactively handing the job to an upperclassman. There was hope in that decision as there is in turning the present position over to Dobbs. There are those that would argue that injury should not derail the starting hopes of one that has given his all as Worley has and if Justin is physically capable it would be unfair not to give him the starting nod. To those I say I respect that thought but when what's fair to one is unfair to 84 others you go with what's best for the whole rather than the individual. Josh Dobbs is a fit for this offense and raises the level of play of those around him. Worley is and does none of the above. An injury opened the door and Dobbs seized the opportunity. An opportunity that he earned the right to take advantage of for the rest of the season and beyond.
BEING STUBBORN IS ONE THING…
being spiteful is another thing all-together. I understand Coach Jones implying that he is leaving the QB and offensive line competitions open during his weekly Monday press conference. I believe that was part gamesmanship, part expectation management, part promotion of continued competition, part inspirational for players to continue to develop and the cynic in me believes part CYA. I have no problem with any of the above. I don't care what he says; I care about what he does. And what he better do Saturday is start Josh Dobbs along with the same offensive line he played behind against Alabama. It is clear to anyone who has watched our offense's season-long struggles that the combination is far more effective than any tried to-date. Dobbs as described above is the right trigger man and the O-Line configuration employed last Saturday will assure he can continue in that capacity. Brett Kendrick and Jacob Gilliam must man the tackle positions regardless of the availability of Marcus Jackson and/or Coleman Thomas. Do what you want at guard but DO NOT Mickey Mouse around with trying to make either Kyler Kerbyson or Thomas man positions that they are incapable of succeeding at. Its real simple guards play guard and tackles play tackle. I don't mind stubborn to a certain degree it's probably a necessary trait to coach at the SEC level. If the decision is to go back to Justin Worley and the old offensive line grouping however that is no longer stubbornness; it's spitefulness at best and idiocy at worst.
WHAT WE LEARNED IN WEEK 9:
NATION:
LET'S BE FRANK:
We in Big Orange Country understand completely Hokie fans. We've lived the frustration you're currently experiencing; TWICE. The legendary coach that has done so much for the program has lost his magic; reached the point of diminishing returns and refuses to get off the stage. Frank Beamer has meant the world to Virginia Tech football the problem lies when a coach –and his minions- believes he IS (insert your school here) football. Beamer's team appears headed for a third straight disappointing season with the latest black eye being a 30-6 home thrashing at the hands of an average Miami squad that had lost by double-digits in its three previous road stops at Louisville (31-13), Nebraska (41-31) and Georgia Tech (28-17). The Hokies stand at 4-4 on the season and 1-3 in the ACC Coastal Division. For those paying attention that is the division that
does not
include Florida State, Clemson or Louisville and the last two seasons have seen Beamer's teams finish 4th and tied for 2nd in that watered down group that Duke emerged from as the champion is 2013. As solid as Beamer has been in Blacksburg excellence has never
truly
been reached under his watch. Despite the –now seemingly- miraculous victory over Ohio State in Week 2 Frank's teams are 7-29 versus Top-10 opponents and a pedestrian 43-49-1 versus Top-25 teams. When Coach Fulmer was in trouble here he frequently referenced the
equity
he and his staff had built up over the years. In Beamer's case that claim would really ring hollow given the numbers above. Virginia Tech football has reached a fork in the road. The question is do they have an administrator with the backbone and gravitas to make the difficult but warranted decision to take the road that leads away from Beamer? Hopefully for Virginia Tech fans they do. Here's also hoping for their sake that after that tough decision is made that Mike Hamilton is not involved in the search for Beamer's successor.
TEXAS WRECK:
Kliff Kingsbury was all the rage. The former Red Raider QB had taken the helm of his alma-mater and they were cruising along at 7-0 with an average margin of victory of 41-19. Dang if Kliff didn't forget one fairly important premise though; you might want to play a little defense along the way. What SMU, SF Austin, TCU, Texas State, Iowa State and West Virginia failed to take advantage of early in 2013 was exposed for the world to see by every Big-12 opponent since with the exception of Kansas. Tech has won only 4 of their last 14 with the Jayhawks being the only Big-12 victory since October of 2013. All of their conference brethren have treated the Red Raider defense as if it was their scout squad since that great start
averaging 50.2 ppg
against them. Kingsbury's star has faded quickly in Lubbock and he better find a way to hold his future conference foes far below the current rate of half-a-hundred or I can see the bumper stickers now" Red Raider Football; Let's All Jump of a Kliff".
SEC:
LSU-OLE MISS WAS OLE SCHOOL:
It was an absolute throwback. Bringing back memories to fossils such as I of broadcasts of highly ranked LSU and Ole Miss squads in the 60s on the Pick-of Dixie game of the week. I looked back at the history of the rivalry and last Saturday night's 10-7 Tiger victory matched the score of the 1961 game also played in Baton Rouge which was the first of –for some reason-four straight games in Tiger Stadium. The scores of those games were 10-7, 15-7, 37-3 and 11-10 with LSU winning the first and last and losing the two in between. The only score of the second half of the latest edition of the Magnolia Bowl –a term apparently coined in 2008 that I had never heard- saw LSU score the only points of the second half with 5:17 remaining in the 4th quarter after a 95 yard drive that took 6 minutes off the clock. The Rebels had a perfect offensive balance running and throwing 34 times. The Tigers on the other hand went straight 60s running the ball 55 times for an average of 4.8 yards/tote while throwing it only 16 times. The one thing that was modern day about the contest? It was the fourth time in the last five seasons that LSU has taken down a Top-5 team in Death Valley. In 2010 the Tigers beat #5 Alabama 24-21, in 2011 #3 Arkansas 41-17 and in 2012 #3 South Carolina 23-21. 2013 was the only season without a Top-5 scalp when #9 Texas A&M (LSU won 34-10) was the highest ranked team with the misfortune of showing up in Cajun Country.
EAST-WEST GAMES GO TO THE CARD:
They were all supposed to be over by the half. The best of the West were set to kick sand in the faces of the lightweights from the wrong side of the SEC tracks. Then #1 Mississippi State, #4 Alabama and #5 Auburn were predicted to bludgeon Kentucky, Tennessee and South Carolina respectively. Vegas expected the combined carnage to be right around 50 points. Instead the squads from the SEC-Least accounted pretty well for themselves. None were able to pull out victories but all played within the number, the Wildcats and Volunteers were in the game in the 4th quarter and the Gamecocks were an answered prayer and a 2-pt conversion from pulling off one of the biggest shockers of the 2014 campaign. Moral victories aside some disturbing trends continued; the Vols lost their 8th straight to The Tide; Kentucky their 6th straight to State and in one of the league's "how is that possible" stats the Gamecocks are now 0-8 all-time in SEC games versus Auburn and their lone win against the Tigers remains a 16-14 victory in 1933.
WHAT WE WILL LEARN IN WEEK 10:
IS A LOSS IN THE CARDS?
For FSU haters –and the number continues to grow in the Jameis Winston one-man crime wave era- Thursday appears to be the last realistic opportunity to see the Seminoles, Shame-us and his enabler Jimbo lose in the regular season. Louisville (6-2; 4-2) and their own hard-to-like coach awaits in Papa John's Stadium in less than surprise party conditions since experts were pointing to Notre Dame's visit to Tallahassee and this contest as the only true challenges on FSU's less than daunting schedule since the summer. Louisville won the last contest played in 2002 but had lost the previous 12, five of which were shutouts
LET'S BE FRANK-LIN:
Remember way back in 2010 when James Franklin was the OC and coach-in-waiting for the Maryland Terrapins? I bet Franklin hasn't forgotten. Eric Prisbell from the
Washington Post
described the circumstances this way on December 12 2010:
Over the past three months, you've heard the first-year athletic director (Kevin Anderson) say he is not a fan of coach-in-waiting plans. You've heard the 10th-year head coach (Ralph Friedgen) say he tells high school prospects that he plans to coach for the majority of their college careers, even though his contract expires in 12 months. And you've heard exactly no one at Maryland say James Franklin is likely, expected or guaranteed to be named Maryland's head coach in January 2012. Without the ironclad promise, Franklin this week did what no one else has been willing or able to do to date: he single-handedly untangled Maryland's 22-month-old coach-in-waiting mess (took the Vandy job).
Less than two weeks later Friedgen's contract was not renewed leading to the hiring of then U-Conn coach Randy Edsall. In what was a confusing episode one thing is very clear; Anderson –and obviously his backers- did not want James Franklin to be the Terrapins Head Coach. It was a strange decision at the time and seems even more ludicrous as time passes. Edsall –while showing steady progress since his hiring- is 18-27 in College Park after taking over a program that lost
only four
games the year prior to his arrival. Franklin on the other hand was 24-15 at perennial doormat Vandy who had won
only four games
combined in the two seasons prior to his tenure in Nashville. Now fate has brought all parties back together this Saturday in State College for of all things a Big-10 matchup. James Franklin appeared to be a chip on your shoulder guy to me during his time in the SEC. Unless I'm mistaken he'll be carrying a boulder sized one this Saturday whether he admits it or not.

"TOTAL" ANNIHALATION:
I'm not sure what the betting total will be Saturday in the Big-12 matchup between TCU and West Virginia in Morgantown but I'm guessing it will have to be quite large to prevent a rush to the window of "over" players. The Horned Frogs fresh off laying 82 on Texas Tech lead the league in scoring at 50.4 ppg despite the fact that Baylor also resides in the conference. The Mountaineers are no stranger to the end zone themselves averaging 36.9 ppg. The weather could always be a factor at Mountaineer Field in November and WVU's defense (along with everyone else in America including NBA All-Star teams) is much stronger than the Red Raiders' but my guess is a replay of Ole Miss at LSU is not in the cards.
ELIMINATION ACROSS THE NATION
The PAC-12 takes center stage with both the North and South Divisions staging elimination games. Stanford and Oregon looks like a winner-take-all in the North while Arizona visits UCLA to decide who remains in the hunt with Arizona State and Utah in the South. Oregon has dropped only four games since the start of the 2012 season all to Arizona and their Saturday opponent Stanford. Oregon has won 9 of the last 12 in the series but the 2012 and 13 losses were devastating from both a National and PAC-12 Championship standpoint. There are indications that this is the season the Ducks return sanity to the series. Coming into the 2014 season David Shaw's teams were 14-4 versus ranked teams. So far this campaign the Cardinal stands at 0-3 (USC 13-10; ND 17-14; Ariz St 26-10). In the South UCLA attempts to keep their slim hopes alive against Rich-Rod's surprising Wildcats. Arizona will close out the season @Utah and hosting Arizona State but needs to enter those two finales with only one conference loss (USC) to have a legitimate shot at the division crown. Speaking of the one loss Sun Devils and Utes they too square off starting at 11pm Eastern in Tempe. Stay with it and you can roll your clocks back at the appointed time.
BEST OF THE WEST PART III:
The third installment of the SEC West Final-Four round robin comes up Saturday as Auburn travels to Ole Miss. In previous episodes Mississippi State dispatched of Auburn 38-23 on October 11th and Ole Miss took down Alabama 23-17 the week before. With only Mississippi State's visit to Alabama on November 15th and the Iron and Egg Bowls left in the SEC super series the West's representative in the SEC Championship Game –as well as the CFB Playoff- will not be determined until the regular season's last day. The loser Saturday however while not completely eliminated will have the steepest incline to ascend and most need of help. The Rebels should feel good about the site of this season's contest. Including last season's 3-1 record Auburn has won
only four
conference road games since the start of the 2011 season (@ S Car in 2011).
WHAT WE MUST SEE FROM VOLS vs S CAROLINA:
POSITION YOURSELF TO WIN:
As in Josh Dobbs
must
be your QB and Kyler Kerbyson and Coleman Thomas
must not
be your tackles.
GET OFFENSIVE:
The Vols will never have a better opportunity to have fun with the ball in their possession. The Gamecocks are tied for last (with Vandy) in Scoring Defense (32.8 ppg); last in Rush Defense (208ypg); 11th in Pass Defense (229ypg); 13th in Total Defense (437.5ypg) and last in Sacks (1 spg)
OSKIE; OSKIE:
Only the abysmal Jeff Driskel (10) has thrown more interceptions in the SEC than Dylan Thompson (9). The Vols D is tied for 6th in the league in interceptions with 9 in 8 games.
GET RED IN THE RED ZONE:
As good as the Vols defense has performed overall, it has been a disappointment when opponents penetrate the Red Zone. The Vols have yet to get a stop (17-17) and have surrendered 12 TDs. The Gamecocks on the other hand take advantage of their trips inside opponents 20 scoring on 29 of 33 opportunities with 21 TDs. They were however only 2 of 5 versus Auburn last Saturday.
WHAT VOL FANS SHOULD KNOW ABOUT S CAROLINA?
OFFENSE:
QB Dylan Thompson has completed 60.8% (175-288) for 2241 yds with 20 TDs and 9 Ints
Jr RB Mike Davis has logged 11 100-yd rushing games in his career, tying him with Brandon Bennett, Harold Green and Marcus Lattimore for second on the all-time list behind only George Rogers.
WR Pharoh Cooper is the Gamecocks' top pass catcher with 40 rec (5.0/game, T4th in the SEC), 553 receiving yards (69.1/game, 5th in the SEC) and 6 TDs
5th yr Sr WR Nick Jones He is second on the squad in receptions (31), receiving yards (406) and touchdown receptions (4).
Shaq Roland makes it an excellent WR trio with 21 catches for 300 yds and 4 TDs this season
The Gamecocks have what they believe could be the best O-line in school history led by Sr LG A.J Cann (46 starts), Sr LT Corey Robinson (30 starts) and R-Jr RT Brandon Shell (31 starts)
DEFENSE:
Sophomore defensive end Gerald Dixon leads the team with 2.0 sacks this season. The Gamecocks have only 8 all season
LB has been a revolving door for the Gamecocks who have started 9 different players. Marcquis Roberts (4), T.J. Holloman (3), and Kaiwan Lewis (1) have each started at MLB; Skai Moore (6) and Jonathan Walton (2) at WLB and Sharrod Golightly (6) and Jordan Diggs (2) at the Spur.
Sr S Brison Williams is the leader in the secondary with 23 tackles (20 solo), 5 PBUs and a 53 yard Interception return for a TD (vs Vandy)
The Gamecocks have only 4 INTs on the season two of which came in Game 2 versus East Carolina.
SPECIAL TEAMS
PK Elliott Fry has made 12 straight FGs after missing his first attempt of the season vs A&M. He has also made a school record 83 straight PATs
Sr P Tyler Hull is averaging 42.6 ypp having the best year of his three seasons as a starter
OTHER FUN (or maybe not) STUFF:
This is the 33rd meeting between the Vols and Gamecocks with Tennessee holding a 23-7-2 advantage. The Vols are 8-5-2 in Columbia.
Spurrier is 14-9 all-time vs Tennessee including a 5-4 mark at South Carolina
The Gamecocks are 21-2 in their last 23 games at Williams-Brice Stadium and 37-5 (.881) in their last 42 home games.
The last time South Carolina lost as many as four straight SEC games came at the end of the 2007 season (Vanderbilt, at Tennessee, at Arkansas, Florida) and the start of the 2008 campaign (at Vanderbilt, Georgia) when they dropped six in a row
IN A PERFECT WORLD:
(As I say every year at this time) The Vols would have junked the single-wing and signed Steve Spurrier out of Johnson City.