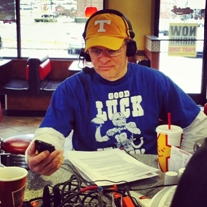 SINCE WE LAST SPOKE: 10-23-14
FRUSTRATED BUT NOT FED UP:
Mike Strange wrote an excellent column in the October 20th edition of the
Knoxville News Sentinel
that utilized a series of questions to gauge the Big Orange Nation's current level of faith in the direction of the program under Butch Jones. After an inexcusable (my word not Mike's) loss to a dreadful Florida team and an embarrassingly lopsided effort versus Ole Miss. I will readily admit that I would have logged a stronger score on the SAT (
Strange Attitude Test
) after the Georgia game then I did the Monday after Ole Miss. While standing strong in the belief that Butch Jones fits here and is taking care of business on the most vital of fronts -such as mending relationships, creating stability, changing the culture and most importantly fortifying the roster through recruiting- I am less than impressed with the utilization and development of the offensive pieces –however limited- he and his staff currently have at their disposal. It is not the current staff's fault that the offensive line is the worst of my 50 year memory of Vol football or that the quarterback is arguably the most pedestrian of that period. They do however need to take responsibility for refusing to help or develop either. Butch Jones -unlike his immediate predecessors- recognizes how special this place can be, greatly appreciates the opportunity, works hard at his craft and can obviously sell a dream yet to be realized. RIGHT NOW, that's enough for me. After 19 games at the helm however Jones and staff are certainly not above criticism. The level of ineptitude of the offense warrants a bark or two. What I don't believe is that any staff member deserves this early in the process to be coaching for their job. Not 19 games in. A year from now however I will not be as charitable. All of the reasons frequently mentioned by Coach Jones –youth, inexperience, lack of depth, a dearth of offensive linemen- at this point ring true however frustrating they are to hear. But by the time the Vols travel to Alabama next October I will turn a deaf ear to any mention of all of the above. By year three if you have failed to develop or recruit a competent SEC QB and an offensive line capable of opening an occasional running lane and keeping your signal caller out of the ER then THAT has nothing to do with Derek Dooley or Lane Kiffin and everything to do with what I'll call the Butchjakian methodology. I will also remind anyone who will listen that three long years earlier we were told that the system was
"infallible" (Butch's word not mine)
. I will keep Mike Strange's SAT handy and retake it (as I should have done with the ACT 40 years ago) at this time next season. Here's hoping our offensive performance improves drastically in that period so my score can as well.
WHAT WE LEARNED IN WEEK 8
NATION:
IRISH NO LONGER CHARMED
This should
wake up the echoes
AND
shake down the thunder
Notre Dame got hosed.
Notre Dame got hosed,
I thought I would write
I have great respect for Jameis Winston the man
before I EVER wrote
Notre Dame got hosed
. The Irish were called for offensive pass interference on a play run thousands of times every Saturday with no flags hitting the ground even in the obnoxiously over-officiated SEC. ACC officiating supervisor Doug Rhoads –in true Rogers Redding style- quickly came to the defense of his officials which is further proof that the call was blown. The Irish had 147 more yards of total offense and outrushed the Seminoles 157-50. Their four turnovers to FSU's one however put them in the position of leaving their fate in the hands of the officiating crew in the final moments. As an SEC fan I can only say that's probably not a good idea regardless of conference affiliation. I always thought
Notre Dame got hose
d would feel good to say. That however was before the phrase
Jameis Winston got a reprieve
stole all the joy from it.
MORGANTOWN MADNESS
Though I've never had the pleasure of spending a fall Saturday at Mountaineer Field in Morgantown, West Virginia I know full well the challenge the Baylor Bears faced –and failed- last weekend. I spent a considerable amount of time in West Virginia in a previous job and can say without question that Mountaineer faithful take a backseat to few if any when it comes to passion for sports and their teams. Like many SEC fans WVU faithful come early, stay late and carry a chip on their shoulder for both perceived and actual affronts directed at their state and its inhabitants from those who have no clue about either. This fuels a raging fire that reaches explosive proportions on crisp fall afternoons. You could hear it, see it and feel it through the TV screen and it obviously unnerved the Bears who committed a felony-level 18 penalties for a whopping 215 yards.
Wisenheimer Alert: To put it in perspective for those watching and keeping score in the Volunteer State the official advanced the ball further than Tennessee Running Backs will in any given three week period.
The raucous crowd not only spurred WVU to a two TD victory despite losing the turnover battle 3-0 but may have shaken the Bears right out of the CFB Playoff bracket.
SEC:
CHANGE THE NAME TO SEC BEST
I didn't think it was possible for the SEC to raise its level of play –or the ire of football fans outside the southeast- to a more ridiculous level than what we saw in the last decade but I stand corrected. The SEC West might as well petition the NCAA to change the "W" –even though win is all its members do- to a 'B" and be done with it. Let's face it someone allowed the Big-10 to once call their divisions Leaders and Legends and this would be a much more accurate portrayal than that. Realizing we are only halfway home in the 2014 CFB season and intra-division attrition is certainly forthcoming how in the world does one conference grouping EVER get 4 teams in the Top-5? #1 Mississippi State, #3 Ole Miss, #4 Alabama and #5 Auburn have formed the most exclusive divisional club in the history of CFB. Their only losses have been dealt by other members of their pigskin penthouse and I wouldn't doubt if that isn't a season-long theme. With Auburn and State taking the week off Ole Miss and Bama thrashed a couple of minions –the club in which our current membership sadly resides- by a combined score of 93-3. Throw in LSU –who the bouncer won't let in because of their 0-2 record versus their West brethren- and the carnage balloons to 134-6. Surely this is as good as it gets right? If not what's next? An all SEC CFB Final-4? Wouldn't the rest of America love that?
CHANGE THE NAME TO SEC LEAST (WITH APOLOGIES TO GEORGIA)
Meanwhile down in the low rent district everyone in the SEC East with the exception of the Georgia Bulldogs are watching their cross division conference mates play on tiny black and white TVs while eating sardines and crackers. While the West has never been better the East has never been as incompetent. As a matter of fact Georgia's win over Arkansas in Little Rock Saturday may be the only Western scalp the East hangs in 2014. The inter-division schedule sees three games this weekend as the Vols host Alabama, South Carolina travels to Auburn and Mississippi State takes on Kentucky in Lexington. All of the East teams are at least two touchdown underdogs and will probably go 0-3 not only on the field but on a three-team teaser as well. After Saturday the remaining East-West matchups are Missouri @ Texas A&M (11-15), Auburn @ Georgia (11-15) Vandy @ Miss State (11-22) and Arkansas @ Missouri (11-28). If I were a handicapper I would set the line for season SEC East victories versus the West at 2 ½.
If I were a betting man
I would play the under.
WHAT WE WILL LEARN IN WEEK 9:
LATE NIGHT PAC-12 FIGHT:
By the time it's over much of the country will be tucked into bed and someone in the PAC-12 South will likely see their dreams of a conference championship game appearance dashed. USC –with their 4-1 PAC-12 record- travels to Salt Lake City to take on surprising Utah (5-1; 2-1). Though the Trojans currently sit atop the division it is only because Arizona State has one less conference win. The Sun Devils are actually looking down at USC due to their answered prayer Hail-Mary (or Male-Hairy as one of my tongue-tied friends used to say) victory in the Coliseum on October 4th. Due to that heart-breaking result USC must know that a second division loss will almost certainly spell doom barring a 3-way tie for the lead at season's end. The Utes on the other hand somehow lost at home to Washington State and then even more surprisingly followed that stinker up with wins on the road at both UCLA and Oregon State. Think those were stunners ? Try this one on for size; if Utah beats the Trojans it will be their first regular season win over USC since 1916.
FROM MUST-SEE TO PEW-WEE:
How do you get to Week 9 in the heart of conference races and have a lousy slate? Teams that historically play solid football stink it up that's how. The weekend's schedule includes only two games pitting ranked teams with #3 Ole Miss visiting #24 LSU and the above mentioned USC (20)-Utah (19) matchup. In years past there would be many more games of interest such as Texas @ Kansas State, Michigan @ Michigan State, Alabama @ Tennessee, South Carolina @ Auburn and Ohio State @ Penn State. This isn't "years past" as the Longhorns (+10), Wolverines (+17-), Vols (+15-), Gamecocks (+18-) and Nittany Lions (+13-) are all much more likely to help someone win a parlay than they are of delivering a much-needed straight-up win for their suffering fans.
WHAT WE MUST SEE FROM VOLS vs ALABAMA:
WOULD YOU LIKE A TURNOVER WITH THAT?
For a change we can emphatically answer that question "hell yeah". One of the few statistical categories that favor the Vols is turnover margin. Bama has given the ball away 11 times (8 Fum; 3 Ints) while taking away only 9 (5 fum, 4 Ints) for a -2 TO ratio. The Vols on the other hand are more opportunistic defensively (9 Ints, 5 FR) and more generous offensively (8 Ints, 6 fum) for a +0
SCORE A COUPLE OF FLIPPIN TDs:
Is it too much to ask for the Vols to have an offensive player in orange find themselves in the checkerboard with the ball in their possession? And I don't mean at the end of a safety. With the exception of Vandy there is only one team in the SEC that you can beat without scoring a TD and we've already lost to them.
THROW, THROW AND THROW SOME MO:
Alabama has the SEC's best Rush Defense allowing only 63.43 ypg. The Vols have the league's worst ground attack and are the only team in the SEC averaging less than 100 ypg (94). I know you can't completely abandon the running game but simply handing it off to Jalen Hurd into the heart of the Tide's defense will result in little to no gain and Derrell Scott being your #1 tailback heading into November.
SNAP AND CLEAR THE CALENDAR:
October hasn't been kind to the Vols in the post-Fulmer era. After Lane Kiffin's only team garnered impressive wins over Georgia and South Carolina in Neyland Stadium the Vols have gone 3-16 with two of the victories coming over Buffalo (2011) and UTC (2014) in the month with the prettiest weather and ugliest football. I used to cringe at the
They remember what you do in November
mantra but it has never seemed more relevant than this season. Next month has four winnable games with two of the three true challenges occurring in the friendly confines of Neyland Stadium. First however the Vols must flip the calendar with enough healthy minds and bodies to take advantage of whatever opportunities the final third of the schedule presents. Stay healthy, stay focused, stay the course and stay the hell out of the training room and ambulance.
WHAT VOL FANS SHOULD KNOW ABOUT BAMA?
OFFENSE:
The Alabama offense is off to a record-setting pace with 3,602 yards of total offense for an average of 514.6 ypg the second most yards through the first seven games in school history
QB Blake Sims is completing 66.5 percent of his passes for 1,748 yards (249.7 per game) with 13 touchdowns and three interceptions.
JR RB T.J. Yeldon's (566 yds; 4 TDs) 1-yard scoring run in the second quarter vs A&M was the 30th rushing touchdown of his career
Soph RB Derrick Henry has added 452 yds and 3 TDS
Jr WR Amari Cooper is leading the SEC and is fifth nationally in receptions per game (8.9) while ranking fourth nationally in receiving ypg (129.7) and receiving yards (908).
DEFENSE:
Alabama's defense has surrendered just 102 touchdowns over the last 74 games
Alabama ranks second nationally and first in the SEC in rushing defense (62.9 ypg) while ranking third nationally and first in the league in total defense (261.6 ypg)
Under Saban, the Crimson Tide has held opponents to 10 points or fewer 51 times
The Crimson Tide defense recorded six sacks against Texas A&M, which was the most since it had five against Michigan State in Orlando on Jan. 1, 2011.
Sr OLB Xzavier Dickson leads the team with 5.5 sacks
Jack LB Ryan Anderson and DE Jonathan Allen have 3 and 2.5 sacks respectively.
Jr SS Landon Collins is leading the Crimson Tide defense with 50 tackles in seven games. He also has two interceptions, five pass breakups and a quarterback hurry
SPECIAL TEAMS
Fr P JK Scott averages 47.3 ypp (2nd nationally and 1st in the SEC). He has placed 13 of his 23 punts (56.5 percent) inside the 20 while allowing just four punts to be returned all season for a total of 26 yards
Soph PK Adam Griffith is 9 for 13 on FG attempts this season, including four from 40-plus yards
KR Christian Jones averages 25.1 YPKR
OTHER FUN (or maybe not) STUFF:
The Tide has won five straight in Tuscaloosa and three straight in Knoxville by an average score of 38.5-10.7
Alabama has been very good on third down on both sides of the football in 2014; fourth nationally in third down conversion % on offense at 53.0 % (53 of 100) and fifth in the SEC in third down conversion defense at 30.2 % (29 of 96). (Tennessee is first in the SEC at 28.0).
The Crimson Tide is 65-2 since the start of the 2008 season when rushing for at least 140 yards
Alabama is one of the least-experienced teams in the nation according to Phil Steele's 2014 Combined Experience Chart ranking 107th out of 128 teams in total experience.
The Tide has 36 non-offensive touchdowns in the Nick Saban era. Since 2007, they have 15 interception returns, nine punt returns, five kickoff returns, four fumble returns and three blocked punt returns for a touchdown.
IN A PERFECT WORLD:
I would again believe we can play with Alabama and be justified in doing so.