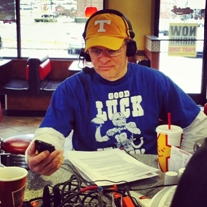 SINCE WE LAST SPOKE: 1-29-15
HOOPS LOOK-AHEAD:
The recent two-game losing streak has our Vol Basketball team sitting at 12-7 overall, 4-3 in-conference and though the last week has been underwhelming, still ahead of where most projected. Games against Auburn Saturday and a rematch with Mississippi State the following Tuesday will bring us to the midway point of the conference season and as the caller Mouthpiece astutely pointed out on the SmartWay/Dalton Bearing Overtime Show two wins and a 6-3 record would be an SEC Coach of the Year-worthy start for Donnie Tyndall. It would also provide a crucial cushion with a seemingly much more difficult SEC slate remaining. Five of the Vols last nine contests are on the road (Ga, Vandy, Ole Miss, Fla & LSU) -all of which are more difficult tasks than any faced to-date with the exception of Bud Walton Arena- with the seemingly-invincible Kentucky Wildcats one the remaining four games in TBA. Tyndall and company have to this point been a very pleasant surprise but even the most wild-eyed optimist would have to admit that a winning record in the last 9 would be the most shocking development of all. That being said here is how I would categorize the remaining regular season games:
PROBABLE LOSSES:
@Vandy (Feb 11; I hate that hell-hole); Kentucky (Feb 17); @Florida (Feb 28); @LSU (Mar 4)
PROBABLE WINS:
Auburn (Jan 31); Miss State (Feb 3); Vandy (Feb 26); S Carolina (Mar 7)
TOSSUPS:
@Georgia (Feb 7); LSU (Feb 14); @Ole Miss (Feb 21)
If my likely wins and losses are correct that puts the Vols at 16 wins needing two of the tossups to reach the 18 regular season win plateau that would probably place them firmly on the bubble and in the conversation for an NCAA Tournament berth leading into the SEC Tourney in Nashville March 11-15. I must admit just being mentioned as a possibility will exceed my wildest expectations.
DEBORD? WHAT DE-HELL?
If Mike DeBord is indeed named the successor to Mike Bajakian as Tennessee's OC I sure hope Butch Jones knows what the hell he's doing. On the surface it wreaks of cronyism and rewarding a friend regardless of the impact on the program. It's not that DeBord has a blank resume; he served two extended periods at Michigan (92-99; 04-07) including two stints as OC (97-99; 06-07) and led their offense during the 1997 National Championship season. He has head coaching experience (C Mich 00-03) as well as several stops as a position coach in the NFL and is considered to be an excellent offensive line coach. But OC of a team that exclusively deploys the spread which he has little or no experience with? How about tutelage of the Vols young QB corps and Josh Dobbs who has yet to accumulate an entire season worth of starts when his only QB coaching experience came 30 years ago at some place called Fort Hays State? It just makes so little sense in so many areas that you have to question -other than doing a friend a solid- just what exactly is Butch thinking? I tell you what he should be thinking; the last two head coach firings at this University can be more than indirectly tied to poor coordinator hires with Phillip Fulmer and Dave Clawson and Derek Dooley and Sal Sunseiri not to mention the fact that Fulmer was shown the door with much more equity in his account than Jones can ever hope to accumulate here. Heck if Lane Kiffin had hung around long enough and retained his Father running the Tampa-Two or Dread-the-Spread or whatever that stuff was he was employing in 2009 he would have been fired as well. Jones promised upon his hiring that he would assemble the best staff in the country; I guess he meant the USA -as in C-USA- if this is how he intends to fill future openings.
COORDINATOR COUNTER-POINT:
All the above reservation being stated I will concede that Butch Jones has every right to hire whomever he thinks is the best man for the job/program and fit for the staff . And while I will admit to Manute Bol reaching for silver linings I can see a couple of areas that I have been concerned about that Mike DeBord may be able to fix or at the very least improve upon. His history as a pro-style, run-heavy OC -and offensive line coach roots- may be enough to aide in the utilization of some power sets in crucial short yardage situations that have been desperately lacking. Also at his advanced age and with his mentor status MAYBE he can convince Jones to ease up on his apparent over-the-top, Marine, hard-ass, nonsense that is obviously becoming an issue with an increasing number of players. Every coach needs a sounding-board; a confidant; a mentor; that they trust and admire to go to in times of need and since much of Jones' staff have always been subordinates he doesn't seem to have anyone to fill that role. Johnny Majors had Tim Kerin, Phillip Fulmer had David Cutcliffe and both suffered without their wise council. Maybe DeBord –the man Jones credits with his true ascension in the coaching ranks- is the perfect guy to fill that vital role.
PRAISING PEARL:
Tony was asking callers to share their favorite Bruce Pearl moments in preparation for his return to Knoxville as coach of the Auburn Tigers on today's
Tony Basilio Show
. There were so many high points and pleasurable moments that it's hard to pinpoint a singular event but the one I came up with occurred very early in his tenure. So early it was the day Tennessee announced his hiring. I had been jockeying for him to be Tennessee's coach on the Calhoun's Saturday Conversation before most lucid Vol fans even knew who he was. Hey I'm no gym rat or hoops savant like Keith Hatfield and others, as a matter of fact Pearl first came to my attention in a post on the old
SportsParlorSouth
message board. I wish I could remember the gentleman whose post initially brought Pearl to my mind but I regretfully cannot. The poster had followed Pearl's Southern Indiana teams closely and continued to keep up with him at Wisconsin-Milwaukee. The more I looked at his bio and watched his team at UWM the more I became convinced that he was the ONLY selection. He was not only a National Championship coach but a tireless promoter as well, a gift I felt essential to take us where we wanted to go. What made it even more satisfying was that it was only the second time in my many years as a Tennessee fan when the UT Administration actually selected the man I wanted –long shot that it was- during a hiring process in
any
sport the other being the no-brainer Johnny Majors in 1977. Tennessee Men's basketball had enjoyed NCAA Tournament seasons only a few years prior to Pearl's arrival under Jerry Green but his teams were underachievers, the fanbase was not engaged and there was no real hint of having a true "program". As a matter of fact Vol Men's Basketball ceased to be a "program" the minute Dale Ellis walked off campus and 5 coaches and 20 years of futility had failed to restore it. From the very outset it was clear that Bruce Pearl could motivate, coach and sell anything to anyone. His teams –especially in the early years- played with a relentless fervor that had been missing for as long as most care to remember a quality that has only recently reappeared. He is
solely
responsible for resurrecting a corpse of a program that most had long-since left for dead. Was he a snake, snake-oil salesman and in areas disingenuous? Yes. Did he lie to an NCAA Investigator and turn a parking ticket into capital punishment self-destructing in the process? Unquestionably. Do we still owe him a debt of gratitude for the NBA-quality arena, a school record six straight NCAA appearances, the fact that the national media now realizes that the University of Tennessee plays MEN'S basketball, a cornucopia of great memories and thousands of fans that discovered or rediscovered Tennessee Basketball during his tenure? You bet your ass we do
MARKING FOR MEARS AS WELL:
I realize that many that read this blog are too young to remember –or possibly care- about the Ray Mears era at Tennessee. As I mentioned above however he is the first coach to build –and with Pearl's self-destruction- the last to maintain a true basketball program at Tennessee. Don't let those too young to know better than to disparage his legacy due to his NCAA Tournament resume fool you. Yes he was 0-3 in NCAA Tournament Games and one of those came at the hands of an underwhelming VMI team. If you were cognizant enough at the time to know better however you understand that under today's format Mears would have had only two teams in his 15 seasons at Tennessee that would have failed to qualify for the tournament (his 13-10 first team in 62-63 and possibly the 16-9 team in 69-70). He also would not have played a Dayton team that finished as National runner-up to UCLA in 1967 right off the jump and the committee certainly would never dream of a first round matchup between two Top-10 teams such as Tennessee (#7) and Syracuse (#10) in the first round in 77-78. There would have been many tournament wins and probably several deep runs for the Wizard of Orange and his teams by today's standards. Mears teams played the style that his talent dictated and was the only SEC team challenging mighty Kentucky on an annual basis in those years. He is the Father of Tennessee Basketball and don't let anyone tell you different.
SUPER PLAYS:
I always watch the Super Bowl but rarely experience the enjoyment or level of passion I feel during earlier rounds of the playoffs. The Super Bowl –unless your favorite team is involved- has devolved into a Hollywood-like event where the background noise drowns out whatever rhythm the game once had. I guess I have enough hatred for the Patriots to keep my attention for as long as it appears they could lose but after that all bets are off. Which brings to one of the few things that can keep me riveted on Super Sunday…BETS. Though I rarely play anything other than the spread and total I enjoy checking out the many prop bets that Vegas is so creative with in an attempt to maximize their opportunity to empty your wallet on a day with only one football game. Here is a taste of what's out there for the true degenerates:
WHO WINS THE COIN TOSS: NE -101 SEATT -101
WILL EITHER TEAM SCORE IN THE 1ST 5 ˝ MINUTES: YES +110 NO -140
TEAM THAT WILL SCORE FIRST: NE -120 SEATT -110
TEAM TO COMMIT 1ST (ACCEPTED) PENALTY: NE EVEN SEATT -130
TEAM TO USE 1ST COACHES CHALLENGE: NE -115 SEATT -115
FIRST TD WILL BE: PASSING -160 ANY OTHER +130
WILL GAME BE TIED AFTER 0-0: YES -120 NO -110
OVER/UNDER OF JERSEY # OF PLAYER SCORING 1ST TD: OVER 29.5 -135 UNDER 29.5 +105
LONGEST TD OF GAME: OVER 44.5 -115 UNDER 44.5 -115
SHORTEST TD OF GAME: OVER 1.5 -115 UNDER 1.5 -115
WILL EITHER TEAM SCORE 3 STRAIGHT TIMES; YES -160 NO +130
AND MY FAVORITE PLAYER PROP BET (Plug in any number of skill position players)
DANNY AMENDOLA SCORES A TD AND NEW ENGLAND WINS: +850
IN A PERFECT WORLD:
The Colts and Packers would have been good enough to stage a classic throw-back Super Bowl