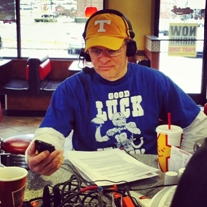 MONDAY ON MY MIND
WHO WILL THE VOLS UPSET?
If Tennessee is to break through the 8-regular season win ceiling set to date in the Butch Jones tenure they must not only beat everyone they're supposed to but find an upset win in the mix as well. With that in mind let's look at the four games the Vols are likely to be underdogs in and rank them from most to least likely to win:
1-GEORGIA Sept 30: (Early line Tenn -1)
The Vols have taken the Bulldogs down two years in a row and are a fluke Pig Howard fumble from being 3-1 over the last 4 (maybe the Hail Mary evens it out but this is MY BLOG). Media members tabbed the Dogs to win the East at SEC Media Days which means they have zero chance of doing so. We might as well be the ones to keep the scribes run of futility intact.

2-LSU Nov 18: (Early line LSU -7-)
The renewal of a rarely played SEC series brings the Tigers to Neyland Stadium in the next-to-last game of the 2017 regular season. Prior to the new millennium Tennessee had dominated the Bayou Bengals historically to the tune of 18-3-3. LSU has won six of the last eight however, two of which occurred in the SEC Championship Game. All of the Tiger wins since 2000 came when either Nick Saban or Les Miles were leading the program in Baton Rouge and nothing could be further from the case this year. Ed Orgeron will have had plenty of time to prove he is a better closer than starter when LSU rolls in here a week ahead of Thanksgiving
3-@FLORIDA Sept 16: (Early line Fla -9-)
The Vols finally broke the Gator's 11-year stranglehold last fall and are looking for their first consecutive series wins since 2003-04. The Gators are back-to-back SEC East winners and feel they've been disrespected in the process. The Lizards do have a tester (Michigan in Arlington on Sept 2) prior to the Vols arrival for a change but their first true Gainesville challenge will be Tennessee. As if the Gators didn't have enough incentive and potential advantage Quinten Dormady or Jarrett Guarantano will be making their first SEC start in the midst of their first truly hostile environment. It will be a tall task indeed.

4-@ALABAMA Oct 21(Early line Ala -24-)
The Tide has somehow turned the SEC into Alabama and everyone else and it's hard to envision the 2017 season changing that reality. Bama has run off 10 straight versus Tennessee since Nick Saban's arrival and could tie the record for longest winning streak in series history with an 11th consecutive on the Third Saturday in October. The Vols were surprisingly good in their last trip to Tuscaloosa (19-14 loss) as a 15-point underdog so anything is possible. Of the four biggest testers on the schedule however this is by far the biggest challenge.
SEC NON-DIVISION SCHEDULE RANKINGS:
As the SEC has expanded -and conference members have refused to consider increasing the number of SEC games played- non-division foes play more heavily into winning divisions than ever before. Below I attempt to determine who holds the schedule advantage for the top three contenders in each division (from most to least advantageous)
EAST
1-FLORIDA (LSU; Texas A&M):
Last year's game sight switch means the Tigers and Gators will play their annual affair in Gainesville in 2017 and 2018. It also allows Florida to play both of their West Division foes on their home turf this fall.
2-GEORGIA: (Mississippi St; @Auburn):
If the sights were switched I may have ranked this slate more advantageous than Florida's but a late season trip to the "Loveliest Village on the Plains" is no picnic.

3-TENNESSEE (@Alabama; LSU):
Being the only contender with Alabama on your schedule is disadvantage enough without throwing LSU in the mix

DARKHORSE ADANTAGE: KENTUCKY:
(@Mississippi St; Ole Miss) Probably can't ask for any more than the Magnolia State minions from the loaded West.
OTHER EAST ND SCHEDULES:
MISSOURI: (Auburn; @Arkansas); SOUTH CAROLINA: (@Texas A&M; Arkansas); VANDERBILT: (Alabama; @Ole Miss)
WEST
1-ALABAMA (@Vandy; Tennessee):
State of Tennessee SEC members "Volunteer" for ass whippings

2- AUBURN (@Missouri; Georgia)
Similar to the rival Tide's slate but both opponents are picked to finish a slot or two above Bama's draws from the East
3-LSU: (@Florida; @Tennessee)
A pair of road games at very hostile sights
DARKHORSE ADANTAGE: ARKANSAS
(@South Carolina; Missouri) Playing in Columbia is not a gimme but that's a pretty light load combined.
OTHER WEST ND SCHEDULES:
MISSISSIPPI STATE: (@Georgia; Kentucky); OLE MISS: (Vandy; @Kentucky); TEXAS A&M: (South Carolina; @Florida)

MLB TIDBITS:
-The Sabermetrics crowd can come up with all the advanced stats they want to explain Aaron Judge's second-half slump. Take it from a guy that watches him every at-bat; since the Home Run contest he is flying open leaving himself vulnerable to pitches he was driving the other way prior. He has now also expanded his already huge strike zone due to his struggles.
-Sure hope Luis Severino can overcome his awful start against the Red Sox Saturday. With the Yankee staff depleted by injury he has to continue to be an ace.
-The Red Sox are obviously the better team but somehow the Yankees had won 8 of the 11 contests between the two entering Sunday night's matchup. As John Sterling is fond of saying
"You just can't figure baseball"
-Let's keep our fingers crossed that Bryce Harper's knee injury is minor enough that he can resume what has been his best all-around season after a brief stay on the DL
-Giancarlo Stanton is as hot as any player in recent memory. I follow a MLB Home Run account on Twitter and he appears on my timeline seemingly daily (actually 20 HRs in his last 32 games).
-Division foe or not it's impossible not to celebrate Toronto's Chris Rowley. Less than two years ago Rowley was on active duty in the United States Army. Saturday afternoon the undrafted righthander became the first graduate of the United States Military Academy to pitch a big-league game and was impressive in picking up his first MLB win. That's a great story.
-It looks as though the NL Central will be the only truly-contested division race in all of baseball. Don't look now but the previously buried Cardinals are right in the thick of it.
-The Wildcard on the other hand is going to be a wild scramble with 7 American and 5 National league teams vying for two spots.
FINAL MONDAY MUSING: By the time you read this we'll be just outside of two weeks until the Vols opener. I'm guessing a Yankee baseball trip and a couple of fantasy football drafts will be just what I need to make the wait fly by.