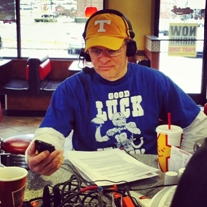 ON MY MONDAY MIND:
NOT READY FOR PRIMETIME BUT ALMOST FULL-TIME:
Tony B has decided to take some well-deserved time away from the mic this week (June 13-17) to handle the critical -but not nearly as fun- business side of the
Tony Basilio Show
house. Tony has brilliantly directed his family-owned, independent talk-show career up until now; when he handed the reins to me in his absence. I will be with you Monday through Thursday and will do my best to assure The Dean has a show to return to at week's end. Realizing that one mortal such as I can't carry TB's headset I have lined up a star-studded cast to help me through. My former
Calhoun's Saturday Conversation
partner Geoff Brock will be with me on Monday and possibly later in the week as well. The Good Doctor Sean Sinclair another Convro alumni will make his usual sterling Wednesday appearance and I'm hopeful The Mayor of SoNo Phil Cooper will grab his piece of the pie as well.
More importantly we need you. For the week of June 13-17 only the show caller number will be 865-441-7465. Please write it down and dial it often as the week progresses. This show is for you, about you, and most certainly won't be as good without you. Light up the lines all week and let's celebrate a blessed June week in lovely East Tennessee.
With that here are some suggested topics we will discuss as the week rolls along:
MONDAY:
IS YEAR 4 WHEN YOU FORM A CONCRETE OPINION OF BUTCH JONES?
A: YES; YEAR-4 WILL CONCRETE MY OPINION

B: NO; I'LL NEED MORE TIME WIN OR LOSE

C: I'VE ALREADY FORMED MY OPINION
My approach has always been -and continues to be- that unless a coach is proven to be an NCAA outlaw, immoral, or a complete imbecile any judgement rendered in less than three seasons is premature and unjust. I do think that in most instances the four and five year marks are indicative of what you're in for over the long-haul. I am personally torn on how I feel about the Butch Jones era going forward and believe that Year-4 will likely be the point where I land on one side or the other of the debate rather than sitting on the fence in wait-and-see mode. Here are a couple of recent blog entries that describe my mental jousting and my honest appraisal of Coach Jones with three seasons in the books
MY MENTAL STRUGGLE:
Butch Critic: "The guy's clichés, condescending tone, excuse making and overselling of any small positive make him a press conference nightmare"

Butch Fan: 'The guy's a salesman and whether you like it or not the kids are listening and always ready to play on Saturday"

Butch Critic: "How about how he reneged on his introductory press conference promise of assembling the best staff in America"?

Butch Fan: "Mike DeBord has been much better than advertised and Bob Shoop is a huge upgrade"

Butch Critic: "He's tarnishing Tennessee's legacy as Wide Receiver U"

Butch Fan: "But he's resurrected a ground attack dormant for more than a decade"

Butch Critic: "His poor game management skills cost the Vols two important games and a chance at a truly special season"

Butch Fan: "He improved as the season progressed and his team recovered nicely to salvage a solid season"

Butch Critic: "He's overly critical and rumors persist about him being borderline abusive yet bristles at any hint of criticism directed his way"

Butch Fan: "he appreciates the opportunity, is a tireless worker, recognizes how special Tennessee is -unlike his immediate predecessors- and has repaired relationships with both former players and local high school coaches"

Butch Critic: "Player attrition is at an all-time high"

Butch Fan: "He rescued Tennessee for APR peril, recruits high-caliber young men and has restored Tennessee's football brand to respectability"

Butch Critic: His record against ranked teams at Tennessee is atrocious (3-14) and he'll never win a championship

Butch Fan: The talent level is the best since the early 2000s and they are competitive with everyone in the best league in America; the big wins are coming
And so the war rages on in my feeble mind
I HOPE THIS IS A FAIR ASSESSMENT OF BUTCH JONES
WE'RE SET UP FOR SUCCESS:
It has been a long time since Tennessee was in better position to represent the Eastern Division in the SEC Championship Game in Atlanta. Even Jones' most vociferous critic -if honest- would admit that regardless of the state of the division the Vols transformation from also-ran to favorite in the East has been done in a relatively short period.
THE ROSTER PASSES THE EYE TEST:
I wasn't directly involved as Sean was but in covering practices for Tony in times of more open media access I saw the roster when it was stacked and when it was depleted. The current player pool is much closer to the former than the latter. While conceding teams that consistently win leagues as strong as the SEC routinely sign Top-10 classes Jones and staff can evaluate and recruit plenty good enough to keep us competitive regardless of the number assigned beside the class. The roster is balanced and SEC-ready.
WHILE 2016 IS A KEY SEASON ALL IS NOT LOST BEYOND:
We may never be better positioned for success than the upcoming season but 2017 won't be a wash. We'll be solid on both lines and the kicking game in 2017 and I will take that over proven skill position players and doubts at the point of attack.
BUTCH BETTER CONTINUE TO BE SPECIAL IN RECRUIT'S LIVING ROOMS:
Because so far he has proven to be anything but on the sideline on Saturdays. I believe he prepares his team well during the week but to date I have seen nothing to suggest he can make a positive difference against the teams we must win our share against in order to be a frequent SEC Championship contender. If he were truly special in that regard the Vols would have been in Atlanta last year. I don't care if it was deemed one year too early Tennessee had the best team in the East last season and failed to take advantage of it. I hope I saw some maturation in Butch's approach as last season progressed but I can't be certain when the level of competition obviously fell off. The next several seasons against Alabama, Georgia and especially Florida will tell us all we need to know.
STAFF UPGRADES MUST CONTINUE:
Just as he evaluates the needs of his roster Butch Jones must also constantly analyze and improve his coaching staff. Three seasons in I believe he has handled this phase of his tenure well. While uncertain staff changes to-date were precipitated by things in Jones' control I'm convinced Mike Bajakian to Mike Debord; Mark Elder to Larry Scott and John Jancek to Bob Shoop are all significant upgrades. I give Butch an A+ in reactivity. The required staff changes from this point will probably call for a more proactive approach.
TWO OUTTA THREE AIN'T BAD:
If forced to give a definitive evaluation of Butch Jones earlier than I'm prepared to do so I would say he's 2/3rds of the total package. He's at his third stop as a college head coach. He's entering his 10th season running his own program. If he was ever going to special on game day it probably would have been evident long before now. In order to be successful lacking that gift you must be a tireless and effective recruiter; CHECK. And you must create a culture and process that enhances development and prepares players for the challenges of being a major college football player both on and between Saturdays; CHECK.
TUESDAY
-WHAT ARE YOUR ANNUAL EXPECATIONS FOR TENNESSEE FOOTBALL?
The interesting thing about this discussion is it will almost certainly be driven by when you were introduced to it and how successful it was during your most impressionable years. Here are the numbers break down of my years of fandom
THE VOL FOOTBALL PROGRAM I HAVE KNOWN
YEARS
1965-2016 = 51 Seasons
COACHES (7
)
Doug Dickey 1964-69 (6 Seasons)
Bill Battle 1970-76 (7 Seasons)
John Majors 1977-92 (15+ Seasons)
Phillip Fulmer 1992-2008 (16+ Seasons)
Lane Kiffin 2009 (1 Season)
Derrick Dooley 2010-12 (3 Seasons)
Butch Jones 2013-Present (3 Seasons)
8 Season Average Tenure (Excluding Jones)
WINS
410 Wins in 51 Seasons =
8.0 Wins/Year
BOWLS
40 Bowl Appearances =
8 Bowl Appearances/Decade
(Non-Bowl Seasons: 1975-78, 80, 88, 2005, 08, 11-13)
23 Bowl Wins =
4-5 Bowl Wins/Decade
SEC CHAMPIONSHIPS
1967, 1969 (Doug Dickey)
1985, 1989, 1990 (John Majors)
1997, 1998 (Phillip Fulmer)
Two Long Championship Droughts
1970-84 (15 Seasons)
1999-15 (17 Seasons)
1 SEC Championship/7 Seasons
SEC CHAMPIONSHIP GAME APPEARANCES
1997, 98, 2001, 2004, 2007 =
5 Appearances in 24 Seasons = 1/ 4.8 Seasons
FOR YOUNGER FANS:
Now for those of you introduced to Tennessee Football during the 90s bless your heart you have to be a confused bunch. Just about your entire period of following the Vols has consisted of stratosphere highs and the abyss of lows. You my friend have seen the best and the worst that Tennessee Football has to offer:
VOL FOOTBALL OUTLIER DECADES
1990-99
90- 9-2-2; SEC CHAMPS: Sugar Bowl (Win-Va)
91- 9-3; Fiesta Bowl (Loss-Penn St)
92- 9-3; Outback Bowl (Win-BC)
93- 10-2; Capital One Bowl (Loss-Penn St)
94- 8-4; Gator Bowl (Win-Va Tech)
95- 11-1; Capital One Bowl (Win-Ohio State)
96- 10-2; Capital One Bowl (Win- N'Western)
97- 11-2; SEC Champs Orange Bowl (Loss-Nebraska)
98- 13-0; SEC Champs; National Champs; BCS Championship Game (Win-FSU)
99- 9-3; Fiesta Bowl (Loss-Nebraska)

SYNOPSIS:
-99-22-2 (.818%); 9.9 wins/season

-3 SEC Championships; 1 National Championship

-5 BCS Bowl Games; 9 New Year's Day Bowls; 6-4 in Bowl Games

-5 Seasons with 10 or more wins; Only 1 season with less than 9 wins
CURRENT DECADE:
10- 6-7 Music City Bowl (Loss-UNC)
11- 5-7
12- 5-7
13- 5-7
14- 7-6; TaxSlayer Bowl (Win-Iowa)
15- 9-4; Outback Bowl (Win-N'Western)
SYNOPSIS:
-37-38 (.493); 6.1 wins/season

-3 Bowl Games (2 Wins)

-First time Vols have had 4 consecutive losing seasons since 1903-06
MONDAY MUSING: That's what's on the agenda for Days 1 and 2 of 'Where's Tony Week'. We'll figure the rest out as we go. As long as you join in on the fun I can promise it will all work out. Remember this week only dial 865-414-7465.