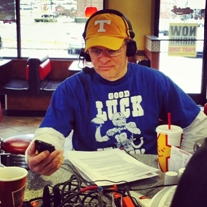 SINCE WE LAST SPOKE: 11-26-15
BIG ORANGE REARVIEW MIRROR:
-If the choice is intangibles or the best football team give me the latter every time
-Missouri's football team may have been in lockstep solidarity behind the campus cause but I got the distinct impression their fans were not impressed by their stance
-Gary Pinkel and Steve Spurrier will be missed but it certainly doesn't appear they've left the cupboard stocked for their successors
-I LOVE the way we run the football between the 20s
-Red Zone and short yardage? Uh not so much
-Our passing game on the other hand is the envy of the by-land-and-sea service academies only.
-The offenses we have played recently are pedestrian at best but we are advancing defensively headlined by our improved pass rush and linebacker play.
-Don't let any of the other position players mislead you; Trevor Daniel is a stud.
-Aaron Medley has also persevered and rewarded his coach for his belief and support when few thought he should keep his job. Now if that coach will quit icing his own kicker…
-Our staff handled the game, score and clock management better than any time during the Butch Jones era
BEANO-RHYTHMS Players and coaches have to -as Butch Jones says- "snap and clear". As a fan however I'm more likely to "clearly snap". Therefore each week I will take just a second to describe what the results of the previous game have done to my Big Orange outlook:
The Vols continue to trudge toward another step-forward season for the program and my general outlook is brightening with each stride
Beano-Rhythm Status: Hosting in place of Tony B the Friday prior to the Georgia game I polled the callers on what the Vols would have to do in order for fans to look back on the season fondly. You responded –and I agreed- snap the Dawgs streak against us, play Bama off-their-feet, win out and collect 8 regular season games and add an impressive bowl performance. Well check the first two off the list and get the pen ready for the third. The Vols have proven if nothing else that they are a talented, resilient collection who have bought into the one-week-at-a-time mantra preached by the staff and have come ready to play on every occasion with the exception of a game the whole Big Orange Nation could care less about. I say that's something worth pulling for and after early season excruciating heartbreak I am enjoying the ride.
WHAT WE LEARNED IN WEEK 12:
URBAN UNREST:
Oh the fickle fate of a football coach. Urban Meyer lost his first regular season conference game in four seasons as
The
Ohio State resident genius and
The
locker room is splintered and
The
alleged dynasty was short lived. That pesky bunch from Michigan State –that owns both Big-10 victories over Meyer- hushed the horseshoe with a dominating defensive effort protecting two backup QBs filling in for the injured Connor Cook. In doing so they may well have opened up a CFB Playoff spot that they could prove worthy of filling and forced a couple of bemoaning Buckeyes (Ezekiel Elliott and Cardale Jones) to say Goodbye-O Ohio.
LS SHOO:
LSU –and their embattled coach Les Miles- better hope they don't remember what you did in November. Entering the season's last month the Bayou Bengals were cruising along at 8-0 with everyone's favorite for the Heisman Trophy Leonard Fournette running around, by and over anything in his path. At the time only Mississippi State (21-19) and Florida (35-28) had played the Tigers within double-digits and LSU was averaging 34 points per game. Then the calendar flipped from October to November and so did the script. The Tigers have now lost three in a row (@Bama, Ark, @ Ole Miss) by an average score of 33-16 and not only will Leonard fall short of the Stiff-Arm Trophy but he may have a new coach before he travels to NYC to hear who does.
VEGAS VINDICATION:
I can still see the gargantuan, loud-mouth, drunken, Oklahoma State fan stuffed into a booth in the Las Vegas Golden Nugget Sports Book doing the Gator Chomp and bellowing "I told you the Big Orange sucks" as I walked toward the cashier to cash the few winning tickets I had shortly after the devastating defeat at the hands of Florida. Since he was far too big for me to whip his @$$ I guess last Saturday's result is the next best thing. The Cowboys had escaped a close contest with Texas (30-27) the day the Gators did their usual to us and much to my chagrin had run the table in the six weeks that followed. Then the Baylor Bears came out of a one-week hibernation to maul the Pokes gloriously using a third string QB to do so. I realize that all OSU fans aren't a horse's ass like the Sin City simpleton and that the Cowboys are still alive in the Big-12 Championship race but from the bottom of my heart I would like to say
"Hey Crisco Kid, getcha some of that"
.
GOODBYES ARE BETTER IN BLACKSBURG:
After watching two long-standing -and outstanding- College Football coaches say farewell in the last home games of their excellent careers and the fan receptions that followed I can say I would rather do it in Blacksburg Virginia than Columbia Missouri. Frank Beamer went out on the shoulders of his entire roster with a stadium full of adoring fans. Gary Pinkel on the other hand seemed to leave on two guy's shoulders with a portion of the roster disinterested in front of an almost empty house with as much orange as black and gold. I realize it was late and cold and the game had long-since been decided but the Faurot Field friends-and-family only final goodbye suggests that though two greats called it quits Saturday only one had a happy ending.
MONEY PITS:
That sucking sound you heard was not only South Carolina, Memphis and Houston going down the drain Saturday it was also large dollars being vacuumed from Sean Elliott, Justin Fuente and Tom Herman's future bank accounts. While Fuente and Herman can still make big coin staying put their combined bargaining power has taken a hit at a time when many Power-5 ADs are making a prospective coaching list and checking it twice. That second glance shows that both American Athletic Conference coaches may come at a more bargain price than their resume once suggested. Elliott was probably never a serious candidate to replace Steve Spurrier at South Carolina but he probably could have snared a D-1 head coaching job after energizing the Gamecocks upon the HBC's abrupt departure. Then Sean got Jack Crowed as the Citadel dealt Elliott's job prospects a devastating blow just like it did the guy the relatively new verb is named after one game into the 1992 season at Arkansas.
WHAT WE WILL LEARN IN WEEK 13:
MIDDIE-LIFE CRISIS?
We all knew it would eventually come down to this right? This of course being the annual titanic clash between Houston and Navy for all the marbles in the AAC West. If it's not stunning enough that Houston was undefeated and #13 in America (now 21st) prior to U-Conn spoiling the party how about the Midshipmen currently at #16 with only a loss in South Bend staining their resume. The winner takes the Division crown and maybe a bowl spot usually reserved for teams from much more prestigious leagues. The Middies -a conference member for the first time in 124 years- are probably thinking we should have tried this league thing a century ago.
WHAT VOL FANS ARE DEPRIVED OF:
Oregon State-Oregon; Washington State-Washington; Clemson-South Carolina; Virginia Tech-Virginia; Georgia-Georgia Tech; North Carolina-North Carolina State and Alabama-Auburn; all historic in-state rivalries that keep the passions of their fans alive even when their seasons have gone terribly amiss. It is one of the few areas where I feel deprived as a Tennessee fan. Vandy's seemingly perpetual run of ineptitude has made the contest a foregone conclusion for most of my lifetime. There are times when I wish the programs were more evenly matched …this Saturday is NOT one of those times.
IOWA'S OPPONENT:
Ohio State's surprising home loss to Michigan State with the Spartans forced to rotate their second and third team QBs after losing Connor Cook to injury the week before -and even more stunning Buckeye locker room uproar- has turned the Big-10 East race into a one-week extravaganza. Though Michigan State controls their own destiny OSU could still claim a spot in Indianapolis –despite their turmoil- with a win over Michigan in Ann Arbor and a Spartan loss to Penn State. Harbaugh's Wolverines will also be scoreboard watching pulling for the Nittany Lions if they can thrill the Big House by taking down the Buckeyes for only the second time in the last twelve seasons.
IOWA'S FINISHING KICK:
The last team I thought I would be mentioning in the blog late in the CFB season after watching the TaxSlayer Bowl in January was Iowa. I figured a week after the season's conclusion I would be commenting on Kirk Ferentz's firing or questioning why it wasn't happening but never dreamed he would lead his Hawkeyes to the Big-10 Championship Game. While skeptical Tennessee fans –myself included- wait for the other shoe to drop Iowa is one game away from a perfect regular season. Though it will have no bearing on their already clinched spot in Indianapolis their date with Nebraska in Lincoln has everything to do with any CFB Playoff spots they may harbor hopes for and holding off the inevitable wave of "I told you so" that will resound across America if they fall. Iowa already has solid road wins versus Northwestern and Wisconsin on their resume and this is not a vintage Nebraska squad. The Cornhuskers however need a win to become bowl eligible and are 21-6 in their last 27 home finales.
SEC-ACC LATE SEASON BRAGGING RIGHTS:
Though Clemson at South Carolina appears to be a mismatch of epic proportions Florida State at Florida and Georgia @ Georgia Tech are both expected to be played within a TD by those that make a living predicting such things. The deterioration of the Gamecock program has occurred stunningly fast and their five straight series wins prior to Clemson reversing fortunes last season will probably just add fuel to the Tigers fire. Florida State has won four of the last five against the Gators after dropping six in a row prior. An interesting tidbit from Phil Steele; since 2006 when FSU has an ACC Championship game bid awaiting they are 3-1 versus Florida; when they don't they are 1-4. This season they don't. Georgia Tech won last season's game versus the Dawgs in an impressive run that saw them win their last five regular season games, play FSU to the wire in the ACCCG and thrash Mississippi State in the Orange Bowl. The Dawgs however have only lost one other time to GT in the Mark Richt era.
BIG-12 IN FOCUS
The top four teams in the Big-12 will do battle Saturday with 75% still in contention for a CFB Playoff spot. Oklahoma has amazingly recovered from a stunning Red River Rivalry rocking to be in the best position to win and get in with a Bedlam victory over arch-rival Oklahoma State. Though the Sooners might still need help for one of the coveted Football Final Four spots –such as a Notre Dame loss to Stanford- they would wrap up the Big-12 crown. Oklahoma State on the other hand needs not only to hold serve in Stillwater but for a wounded TCU squad to beat Baylor in Fort Worth on Friday or Texas to do so in Waco the following week to make a victory over the Sooners count for more than just state pride.
WHAT WE MUST SEE FROM VOLS IN WEEK 13:
REMAIN RESILIENT:
Topping this segment for the 5th consecutive week. As I first stated prior to the Kentucky game there was simply no regular season foe remaining from that point that had as good a football team as Tennessee. I felt if the Vols remained focused and resolute they would run the table. Four down; one to go.
KEEP SWARMING DEFENSIVELY
: The Vols seemed to have more bodies at the point of attack against Missouri then at any time this season. Much of that was a complete disrespect for Drew Lock and the Tiger's WR corps ability to make plays down the field. If they think Lock was bad wait until they get a load of Kyle Shurmur who completes only 42% of his passes for an average of 73.5 ypg. Last week against a Texas A&M defense that ranks below Tennessee's in every major stat category with the exception of Pass Defense (A&M-168.4 ypg; Tenn-217.9) the Dores had a paltry 148 yds total offense and 23 yards passing. That's TWENTY-THREE in a game they trailed from the outset; so let's pin our ears back and swarm the football with impunity.
READY IN THE RED:
The only real blemish in the Missouri effort was the frequency with which we settled for FGs in the Red Zone. The bad news for the Vols is Vandy is a better Red Zone defensive unit (2nd in SEC 68.29%) than the Tigers. The Vols can probably kick FGs and come out with a win but a team that runs the ball as well as the Vols should be better at stuffing it in the end zone more frequently when they get it in the shadow of the goal line.
BALL SECURITY ABOVE ALL ELSE:
Vandy's defense is only the fifth best that the Vols have faced this season (behind Bama, Fla, Ga and Mizzou in Total D) but they are still very solid and take the ball away at a high rate (17 on the season). The Vols need to value the ball as extra possessions and point-blank opportunities are the only way Vandy puts up any points.
BE THANKFUL FOR VANDY'S GENEROSITY
The Dores problem is their offense gives it away at a higher rate than they pilfer it (SEC Leading 24 turnovers) with 9 fumbles lost and 15 INTs. The Vols need to continue to pressure and be physical and let Vandy be at their charitable best.
FINISH THE DEAL:
Tennessee is on the precipice of an 8 win season that once seemed far-fetched after a gut-wrenching slow start. Though the season will never be what it could have been I applaud the resilience and focus that allowed a recovery that has the Vols on track for what will certainly be looked back upon as a step forward for a program that has been going backwards or spinning its wheels for the better part of a decade. Now go out and drive the last regular season nail hopefully with a sledge hammer.
WHAT VOL FANS SHOULD KNOW ABOUT VANDY
OFFENSE:
-Fr QB Kyle Shurmur who took over as the starter for the careless Johnny McCrary (146-267, 1533 yds, 6 TDs, 12 INTs) has been equally ineffective (29-69, 294, 2 TDs, 2 INTs). Look for the Commodores to use both this Saturday in some combination.
-Soph RB Ralph Webb now has 1,003 rushing yards this season – fifth most in the SEC – on a league high 256 carries (3.9 ypc) and has rushed for 5 TDs.
-Jr RB Darrius Sims has a better per carry average (5.8) than Webb but has carried the ball 210 fewer times for only 252 yds
-Soph WR Trent Sherfield leads VU with 45 catches for 574 yds and 2 TDs. Amazingly 16 of those receptions and 240 of the yards came in one game vs Austin Peay.
Sr TE Steven Scheu has 24 catches for 218 yds (9.1 ypc) on the season
-Sr O-linemen G-Jake Bernstein and C-Spencer Pulley share the team lead for active career starts (40)
DEFENSE:
-Vandy's defense is tops in the SEC and ranks fourth nationally allowing foes to convert just 26 percent of their third downs.
-The unit's 68% success rate in red-zone defense ranks second in the conference and fifth in the nation. Opponents have scored on just 28 of 41 red zone possessions – and have produced just 14 TDs.
-DE Caleb Azubike in limited play (8 games 5 starts) is the Dores most productive D-Lineman with 27 tack, 6 tfl and 3 sacks
-ILB Zack Cunningham ranks among the league leaders in numerous defensive categories, including solo (59) and total tackles (93), tackles for loss (16.5), forced fumbles (4) and fumble recoveries (3).
-OLB Stephen Weatherly has 44 tackles, 8.5 tfl (33 yds); 3.5 sacks; 9 QBH and 2 fumble recoveries.
SPECIAL TEAMS
-Tommy Openshaw handles both placements and punting for Vandy. He is 12-19 on the year on FGs including an impressive 7-10 between 40-49 yds and averages 44.4 ypp with a long of 78.
-Darrius Sims handles KO returns averaging 19.4 ypr with a long of 47 while Ryan White is the punt returner (19-146, 7.7 ypr, Long-36)
OTHER FUN (or not so much) STUFF
-Vandy has captured two of the last three meetings in the series, 41-18 in 2012 and 14-10 in 2013.
-The last time the Commodores had consecutive road wins in the series were the 1920 and 1922 seasons
-The average margin of victory in the last 10 years of the series is 4.1 points.
-The Commodores rank fifth in the SEC in fewest penalty yards (43.4 ypg).
IN A PERFECT WORLD:
Giving thanks always and for everything to God the Father in the name of our Lord Jesus Christ 1
Thessalonians 5:18
HAPPY THANKSGIVING