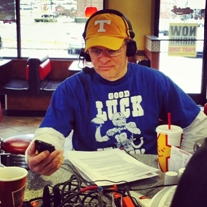 SINCE WE LAST SPOKE: 10-16-14
MULLING MULLEN'S FUTURE:
While watching the UTC game with lifelong friends Paeson and Rebo (I know, it sounds like a Gambino -or
GamBeano
- social club watch party) the former's son –who we'll call Donnie Knoxville- phoned his Dad to lament the Vols putrid offensive line play but dropped a gem between the lines. Could Dan Mullen be Florida's next football coach? Mullen's name has been prominently speculated in the noise surrounding Will Muschamp's impending dismissal but Saturday's results make it seem even more plausible. It made so much sense to me that I tweeted the following long after State's third win in a row versus a Top-10 opponent and shortly following the Gator's last-second loss to LSU:
I think three months from now we'll look back on October 11th as the day Dan Mullen became Florida's FB Coach.
Discussing the possibility the next day with Brother Freddy he questioned why a seemingly intelligent man such as Mullen would ever consider making that switch? In a job market where sanity is prevalent his point would be indisputable. College Football Coaching is not that market. If it were me I would prefer Mississippi to Florida; Starkville to Gainesville; Bulldog fans to Gator faithful and cowbells to chomps. I would also prefer the rational expectations and appreciation of the long-suffering rather than the illogical prospects and irrational entitlement of the insufferable.
My guess is however if given the opportunity Mullen will jump at the chance to return to Gainesville. He will rationalize the move with thoughts of countless blue chip prospects in his backyard, a chance to lead the resurgence of Gator Nation to the level of success enjoyed while he was Urban Meyer's OC, the greater opportunity for prolonged success, the easier path to prominence that the Eastern Division currently presents AND $$$$$$! Those alone are reason enough to at least contemplate the move but there are a couple that I think are even more compelling; Mississippi State may never again experience a magical season like this one has the potential to be and next season will be his seventh in Starkville which as we have discussed earlier seems to be a point of diminishing returns. If I'm Mullen and the job is offered –despite the reservation discussed above- I would be tempted to jump. Then again I would be violating a wise premise that should take priority in any decision-making process "you can't beat happy". I wonder if that is even a thought in present-day coach's minds.
O-(SILVER)-LINE-(ING): WISENHEIMER ALERT:
Take heed Vol fans. Though this is without question the worst O-Line in my memory I can see …well maybe not see but feel… progress being made. Recruiting will improve depth and competition at the position, trial-by-fire will provide needed experience and the off-season will supplement the on-going improvement in agility and strength. From a strength standpoint they have to be gaining ground with every contest. After all they've been dead-lifting their QB from the turf five or six more times each Saturday than any other O-Line in America.
SERIOUSLY THOUGH:
At the risk of being viewed as an alarmist I've yet to hear a convincing argument of exactly how the Vols will be significantly improved on the offensive front NEXT SEASON. I realize that both Jashon Robertson and Coleman Thomas will have the benefit of an offseason weight training and conditioning program but that won't change the fact that Thomas is an interior lineman out of position at tackle. I also realize that a year under fire should raise the play of Kyler Kerbyson, Mack Crowder and Marcus Jackson. How much improvement however can be expected from a trio of current redshirt juniors that have already been in the program for four years? My guess is their performance in year five will be comparable to what we have seen thus far from their starting careers. I have been told by someone much closer to the inner-workings than I that Butch Jones and staff are intent on redshirting Dontavius Blair in the belief that a full year in the program will help him blossom into the tackle they projected him to be during his recruitment. Others who have seen him up close and personal believe that is an unrealistic expectation. Can incoming freshmen be the solution? While Jack Jones (Murfreesboro) Venzell Boulware (Fairburn Ga), Zach Stewart (Coalfield) and Chance Hall (Roanoke Va) represent a potentially excellent haul and are all listed as tackles I question how many project to that position in college AND we have seen this season what comes from freshman starters in the offensive line in an unforgiving conference. Maybe everything I have described above is a panicked reaction to watching what I believe to be the worst Tennessee offensive line of my lifetime and if anyone has a convincing argument otherwise I'm all ears. Until I hear a reasonable counter-point explanation however I will continue to believe that barring a couple of SEC-ready tackles appearing out of thin air between now and next September our offensive line woes will continue.
WHAT WE LEARNED IN WEEK 6
NATION:
BEST OF THE WEST? SEASON-LONG TEST:
With the exception of UCLA's unexpected paltry start the PAC-12 looks –as we thought in the preseason- to be a season-long battle especially in the South Division. Arizona State's answered prayer in The Coliseum two weeks ago combined with Utah's unlikely victory in the Rose Bowl have kept the USC Trojans from putting a gap between themselves and the rest of the division and kept everyone viable except Colorado. The North is more business as usual with Stanford's visit to Oregon on November 1st likely to put one of those two in the League Championship Game that for the first time will be held at a neutral site which for at least the next three years will take place at Levi Stadium in San Jose. Before Tim Brando can beat me to it there is a possible
fly in the ointment
to a winner-take-all between the Ducks and the Cardinal. Oregon State can deal damage to both starting with Stanford's visit to Corvallis on October 25th and culminating with the 118th playing of the Civil War when the Beavers travel to Eugene November 29.
SEC:
BEST OF THE WEST? SEASON-LONG TEST:
While Mississippi State's rise to #1 in the country and Ole Miss lofty #3 perch stun the nation they just as surprisingly remain in a four-way battle for the SEC West title with their border state neighbors to the east Alabama and Auburn. Conceding that the Rebels took down the Tide two weeks ago and the Bullydogs dispatched of the Tigers last Saturday the race continues due to the likelihood that no team will emerge from Western Division play unscathed and the better than even odds that a 3-way tie removes the head-to-head tiebreaker advantage that the Mississippi schools currently enjoy. The only thing that will automatically eliminate any of the four from championship contention is a home loss or a loss to an SEC East opponent. With that in mind here are the remaining home and East games for the Best of the West:
Mississippi State:
@Kentucky, Arkansas, Vandy
Ole Miss:
Tennessee, Auburn, Mississippi State
Alabama
: Texas A&M, @ Tennessee, Mississippi State, Auburn
Auburn:
S Carolina, Texas A&M @Georgia
If my above contention holds true State and Auburn seem the least likely to suffer a home loss but each has an added degree of difficulty with trips to both Tuscaloosa and Oxford looming. It should be a drama-filled second half of the season for sure.
NOT JUST GURLEY-MEN:
How do you figure the Georgia Bulldogs? In what was a seemingly come-from-nowhere tumultuous four days leading up to a crucial division road game versus Missouri –void of the talents of who was the Heisman frontrunner Todd Gurley- the Dogs were as dominant as any time in recent memory. The Tigers who had won 9 of their last 11 SEC regular season games and had lost only one conference home game since the middle of the 2012 season were overwhelmed in every phase. The Ratty-Maty Mauk showed up completing only 9 of 21 passes for less than 100 yards and
threw
in four interceptions for good measure. The Tigers also lost a fumble and the turnover war 5-0. They also
drew back a nub on Chubb
and while Freshman RB Nick didn't take Gurley's place in the Heisman discussion he certainly didn't shy away from the spotlight with 38 carries for 143 yards. The Dogs took control of the SEC East race with the impressive victory and can enhance their standing by being the first Eastern Division team (0-4) to secure a victory over a Western opponent this season when they travel to Fayetteville on Saturday.
WHAT WE WILL LEARN IN WEEK 7:
COULD WORST OF SEC WEST BE EAST'S BEST?
That will be decided this Saturday in Fayetteville Arkansas when Georgia faces the Hogs. Bret Bielema's crew –though excruciatingly close in two of their three SEC tilts to date- stands at 0-3 in the SEC and are still looking for the first SEC win of his tenure. The Dogs on the other hand are a missed chip-shot FG in the real Columbia from being 4-0 in the league and 6-0 overall. Georgia opened as a 3 point favorite and will need to shake off the high of their solid victory in Columbia-lite to keep the Hogs from recording Bielema's only conference scalp to-date and the program's first since Kentucky in 2012. It will be Arkansas' best opportunity (@Miss St, LSU, Ole Miss, Mizzou) prior to Missouri's visit on November 29th to do so.
SHAME-US vs SHAM-US:
A #2 vs #5 matchup between two traditional powers from different regions should be the story but alas life and Notre Dame's scheduling fortune prove otherwise. Whether you prefer Jammed-up Jameis or Shame-us Winston the side-show that is the
former
Heisman Trophy winner continues to overshadow the game as well as the Seminoles' season. Winston is facing an information gathering hearing to determine if he will be charged with up to four violations of the student conduct code (2 sexual misconduct and 2 endangerment violations) stemming from an alleged sexual assault in 2012. Notre Dame's sins –as far as we know- are much less egregious; they're simply overrated for at least the 25th consecutive year. Their 6-0 slate comes against teams whose aggregate record is 17-21 and only one opponent with a winning record (Stanford). Making the Irish' current achievements even less impressive –if that's possible- is the fact that this will be their first true road game of the season.
BIG-12 MOVING DAY:
As is the case in most leagues October is for positioning and November is for grabbing the trophy. The Big -12 moving day is this Saturday when the Top-6 teams –all with a single conference loss or less go head-to-head. K-State (2-0) visits Oklahoma (2-1), Oklahoma State (3-0) travels to Fort Worth to face a chapped TCU squad (1-1) and Baylor (3-0) visits Morgantown to face WVU (2-1). Undefeated conference squads taking to the road to meet one-loss desperate opponents. It should be a great weekend of Big-12 football that will either clear-up or further jumble the final month.
WHAT WE MUST SEE FROM VOLS vs OLE MISS:
DON'T TURNOVER THE KEYS TO VICTORY: The Rebels are 4th in the SEC in Turnover Margin at +1/game. They take it away often -especially when the ball's in the air- with 12 INTs and 4 fumble recoveries. If the Vols are opportunistic the Rebels are also prone to being charitable losing four fumbles and 6 INTs of their own.
IF THE HOSTS ARE OFFENSIVE THAT'S OK:
Ole Miss is smack-dab in the middle of the league in Scoring Offense at 35.7 ppg. With the exception of Alabama the Vols' defense will be the best they have faced this season. Our stop troops are capable of keeping us in the game as long as none of our other units give up points. The Vols cannot compete in this game if they allow the Rebs to score in unconventional fashion via a defensive or special teams TD.
SLOW BO'S THROW:
I'm not sure there is a
Good-Bo-Bad-Bo any mo
. There is however Good-Rebel-Bad-Rebel offense. The good is when Bo Wallace is tossing the football around, the bad is when they go to the ground. The Rebels are 2nd in the SEC in passing offense (295 ypg, 15 TDs 6 Ints) yet only 12th in the league in Rushing Offense (146.5 ypg). So
nickel and dime
the Rebs to death and let A.J Johnson and Jalen Reeves-Maybin do their thang.
WHAT VOL FANS SHOULD KNOW ABOUT OLE MISS?
OFFENSE
-QB Bo Wallace is 124-181 for 1700 yards with 15 TDs and 6 INTs
-RB Jaylen Walton leads the Rebels in rushing with 287 yards, 5.9ypc and 3 TDs
-WR Laquon Treadwell demands the most attention and still has 30 catches for 415yds, 13.8 ypc and 4 TDs
-WRs Vince Sanders (22 rec, 316 yds, 14.4 ypc and 3 TDs) and Cody Core (21, 333, 15.9 and 4) are excellent targets for Wallace as well.
DEFENSE:
-Ole Miss is allowing 11.8 points per game, which leads the SEC and ranks second nationally.
-The Ole Miss defense has scored almost as many touchdowns (4) as it has allowed (6) this season.
-Rebels are tied for the national lead in interceptions with 12 and have returned three for TDs (also tied for 1st)
-CB Tony Conner (36 tack, 4.5 tfl)), DB Mike Hilton (34, 2.5) and FS Cody Prewitt (32, 3.5) all have 30+ tackles on the season
-DE Marquis Haynes leads the Rebels in sacks with 4 for -49 yards
-Senquez Golden has 5 INTs on the season and 11 for his career
SPECIAL TEAMS
-P Will Gleeson is averaging 44.4 ypp with a long of 70 yards this season
-PK Andrew Fletcher is only 3-6 on FGs this season with a long of only 31 yds
-KRs Jaylen Walton (54) and Mark Dodson both have returns of 40 yards or greater this season
OTHER FUN (or maybe not) STUFF:
-The Rebels are 6-0 for the first time since 1962, when they went 10-0 and earned a share of the national title
-Ole Miss' No. 3 ranking in the national polls is its highest since being ranked No. 1 in the 1964 preseason poll.
-Tennessee holds a 44-19-1 advantage in the series and has won 13 of the last 14
IN A PERFECT WORLD:
Hugh Freeze while speaking to the assembled media commenting on Butch Jones recruiting prowess would say
"a lot of people go to a farm and can't tell the difference between a horse and a mule"
and throw in a
"Butch who"
for good measure.