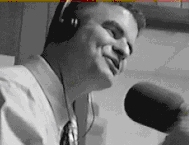 Live Thursday @
Performance Medicine
Posted: Thursday, March 30th, 2017, 8:05 AM
Today's blog and show are in honor of the passing of Ken Sparks. Coach Sparks was a Hall of Fame coach but he was a giant in my faith. He was a man that touched thousands of lives. Ken Sparks set a tremendous example in that he finished the race well. Coach Sparks hit the tape!. RIP Coach Ken Sparks. My condolences to his friends, family, fans and former players.
Dave Hart Daze!!!
...

[more]
Wed Live @ Copper Cellar
Cumberland Ave
Posted: Wednesday, March 29th, 2017, 5:01 PM
Dangerous Dave Hart's final day of destruction is Friday. What should we do on Friday's show to commemorate the occasion? Any ideas would be greatly appreciated.
I also want to say that I greatly appreciate the warm wishes of folks sending support on my time of inventory regarding my future in this market/crazy business.
Some have been wondering my opinion of the Al Roker deal in Neyland Stadium. A couple of readers reached out and asked me to ridicule UT doing this. Well, I hate to disappoint you but what Dr.
...

[more]
Tuesday
Posted: Tuesday, March 28th, 2017, 8:48 AM
TREMENDOUS conversation with Beano and our listeners yesterday regarding a ton of interesting topics. It was fun and cleansing getting some stuff out there. If you read the projected totals we published yesterday, you probably saw that I put myself on the clock. For the first time since I've done a daily show in Knoxville, I'm thinking about perhaps doing something different. Or maybe I'm thinking of doing things differently. Stay tuned here for updates as I'm trying to hash out in my mind what the next chapter holds for me. We all have to do what we feel we must. Rest assured that I love the opportunity you've given me. Even if you're a hater, you've made it possible for me to have a terrific run here. And hey, nothing lasts forever, right?
...

[more]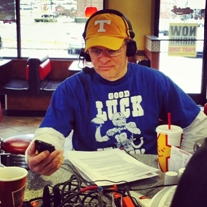 MORE TOURNEY TALK
Posted: Thursday, March 23rd, 2017, 1:49 PM
FREE THOUGHT FRIDAY
TOURNEY TIDBITS: As usual the tournament had no shortage of drama and gave us a wonderful weekend of entertainment.
-If seeding is your measurement there were very few surprises in the round of 64. Only five lower seeds won in the first round and amazingly three of those were 11 seeds (Rhode Island, USC, Xavier). The other "upsets" came from 12 seed MTSU and 10 seed Wichita State. Vegas wasn't buying the Shockers' seed making them a 1-pt favorite over 7-seed Dayton
-Seth Davis -in ridiculous fashion- selected Wichita State as his "underdog lock of the day" prior to their win over Dayton.
...

[more]
TOURNAMENT TIME
Posted: Thursday, March 16th, 2017, 3:46 PM
FREE THOUGHT FRIDAY
TOURNEY TIDBITS: I enjoy college basketball but it is a conditional love. I rarely think of it when it isn't in season and if given truth serum I would admit that it would rank no better than fourth on my list of favorite sports behind college football, Major League Baseball and the NFL. But there is no question the NCAA Men's Basketball Tournament is still the most enjoyable spectacle in all of sports, especially the first two days of the event and I'm not referencing Dayton. The proof of the pudding is my excitement for the event doesn't wane if my favorite team is excluded unlike other sports' major championship events. As usual I am ready for what will almost certainly be days of great drama and enjoyment. Here are some early thoughts on the 2017 tourney:
-The four 5-12 matchups look as if they will prolong the slot's reputation as the most likely upset spot.
...

[more]
BUTCH HAS HAD AN "A" OFFSEASON but...
Posted: Thursday, March 9th, 2017, 5:40 PM
FREE THOUGHT FRIDAY
BUTCH'S OFFSEASON HAS BEEN SOLID: Back on December 12th when the anguish of missing a second straight point-blank opportunity to win the SEC East was still weighing heavy on the hearts and minds of Vol fans everywhere -not to mention Vandy of all flippin teams had knocked us out of the Sugar Bowl- Tony asked me the following; "What would Butch have to do to regain your confidence going forward?" My immediate thought was "resign" but I accepted the assignment and expounded upon it. Below is what I blogged last December with the results of the offseason bolded below each item:
HIRE -AND EMPOWER- A STRENGTH & CONDITIONING COACH: One of the first red flags that too much player capitulation was occurring should have been the firing of Strength and Conditioning coach Dave Lawson and his replacement by Mike Szerszen. Widespread speculation was that the players opposed Lawson, not because of the program which he directed but because he would not allow them to play their music during sessions. What's next, quitting the team because you can't wear your Beats headset under your helmet during the games? I won't go so far as to say that the S&C coach shakeup had anything to do with the rash of injuries but it almost certainly negatively affected the performances of those who played.
...

[more]