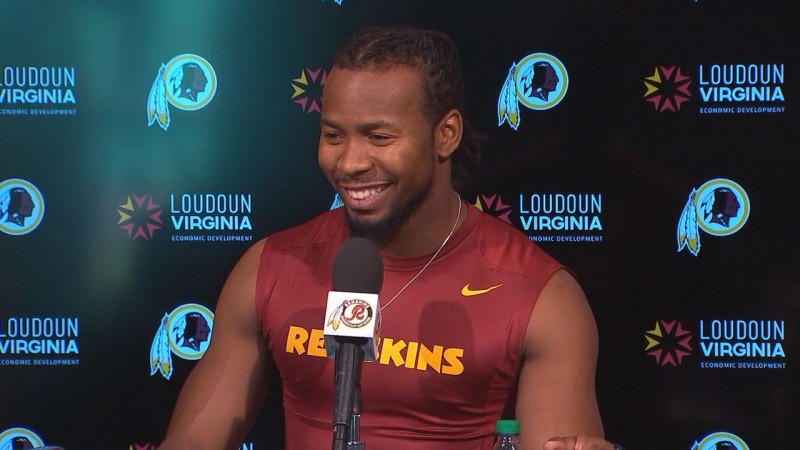 Josh Norman has Carolina in his heart and in his blood. It's apart of who he is. Growing up in Greenwood, South Carolina, he is the fourth son of five brothers. He is built country-strong from a small town. Two of the most instrumental building blocks for a foundation of one the most humble and selfless superstars in the NFL.
Nothing was ever given to Norman. An underdog his entire life, Norman has worked to compete and earn his roster spot for every team he has ever been on. He believed in himself and he has let his work ethic speak for itself.
During Norman's senior year of high school in 2006 his high school football coach, Shell Dula, sat him down with the other safety heading into a home playoff game. Dula had a bizarre idea to switch the safeties to the corner positions to cover the slot receivers. This was the first time during his high school career where Norman played the position that would earn him NFL First-Team All Pro and Pro Bowl awards. Greenwood won the state championship.
Despite being the best player on his high school team, no D1 college teams were offering scholarships or giving much thought to the small town country kid. His older brother, Marrio, was a scholarship player for Coastal Carolina University in Conway South Carolina. Josh followed his brother to Coastal. He slept on his couch while attending community college. He worked everyday before and after class to become a student at Coastal and became a walk-on for 2008 Chanticleer's roster. His sophomore year he earned a full scholarship to Coastal. Teal and black were now plated into the soil of his Greenwood soul.
As a communication major and theater minor, the football field became his stage. Norman earned three First-team All-Big South awards and Frist-team FCS All-American his senior year.
The Carolina Panthers took Norman in the fifth round (143rd overall) in the 2012 NFL draft. Norman became the third player from Coastal Carolina University to be drafted. Norman didn't become a house hold name until his third season. He was patient and worked even harder. A season where he was almost released was quickly turned around and he was one of the highest rated corners in the NFL. In 2015 Norman picked up right where he left off in 2014. For the season, opposing quarterbacks had a passer rating of 54.0 when throwing at Norman, the lowest rating allowed by all NFL corners. Norman recorded 56 tackles, 18 passes defended, 4 interceptions, 3 forced fumbles, 2 fumble recoveries. Norman helped the Panthers win a team record 15 games, become NFC Champions and a trip to the Super Bowl.
Even when the Panther's knew the Super Bowl was over and the Denver Broncos were going to win, Norman ran across the field to show his respect to Peyton Manning. It was a moment that moved you to tears. It showed what a class act Norman truly is. Playing on the biggest stage in the biggest game of his life where his dream of becoming of a Super Bowl champ has been crushed and his reaction is to say thank you to the QB who just beat him. His humbleness is a characteristic that very few individuals have. Josh Norman is a rare breed. He is a guy you want on your team as player and as a leader.
Last Wednesday the Panthers rescinded their franchise tag placed on Norman after he and the team failed to come to an agreement on a long-term deal. Norman became an unrestricted free agent and a lot of teams went after Norman. Thank you sports gods for aligning the stars and Norman becoming a Washington Redskin! I'd like to think that expressing my approval to go after Norman was a factor, but my Redskins contacts didn't need to consult with me. They knew this is a special kid who will be a playmaker for the burgundy and gold.
"This feels mighty nice. I can't help but want to be a part of something that's special and great because we're on the rise, man. Get on the train or not" said Norman.
After signing a five year, $75 million dollar deal Norman said "I'm going to bring something magnificent here, bring everything I've got and give it to these guys. The fan base is so strong and they're looking for a championship here. And that's all I'm going to bring them, man, 110 percent, full-out effort."
When asked how his conversation with Redskins owner, Dan Snyder went Norman said "'Hey, be yourself. Take the team, be a leader. Don't feel pressure. Just be yourself." Mr. Snyder is right, Josh. Just be yourself. Congratulations, you earned every penny in your contract. As a Coastal alumni, I couldn't be more proud to have Norman in a Redskins jersey!
Welcome to Washington, we are so excited you're here!
#HAIL