Rise Ball

Posted: Tuesday, May 21st, 2013, 12:07 PM
Recently I had a great conversation with one of the best broadcasters in college sports, Mike Patrick, about one of the best games that sports fans are not watching; College Softball! Dismiss any stereotypes that come to mind when you hear the word "softball'. This is a fun, fun game to watch and these women are beautiful athletes who can play ball!
There are 64 teams in the NCAA softball tournament bracket. The Southeastern Conference sent 11 teams. Six SEC teams have advanced to the NCAA Super Regional (sweet 16). The defending National Champions, the Alabama Crimson Tide is the only SEC team to win the Women's College World Series. The PAC-12 owned the WCWS from 2006-2011. But the sport is changing as a new conference dynasty begins. With the strength of these SEC teams, the SEC is looking for their second WCWS Championship.
Of course I'm rooting for the University of Tennessee Lady Vols to dominate in Oklahoma!
The Lady Vols had been ranked No. 2 before losing to Missouri in the SEC tournament. The No. 7 seed Lady Vols host the best out of 3 against Alabama on Friday on ESPN2 and again Saturday on ESPN! Prime Time on ESPN!
Since 2004 UT coaches Boo and Karen Weekly have made the Lady Vols a powerhouse in the sport and have reached the NCAA tournament every year and the WCWS 5 times. This could be one of the all around best UT softball teams the Weekly's have coached. Second-basemen Lauren Gibson was named SEC Player of the Year and Raven Chavanne led all hitters in the SEC with .391 in conference batting average (.439 for all games) and 2nd in stolen bases. The Renfroe sisters are fierce in the circle with a combined 36-8 win-loss record. Senior Ivy has an amazing 0.88 WHIP (walks and hits allowed per innings pitched) and a 0.91 ERA (2.02 career ERA). Junior Ellen is a pushing sibling rivalry with a 0.80 ERA and 67 strikeouts in 52.1 innings pitched. The youngest Renfroe, Anna, is a freshman infielder, has only played in three games and earned an .333 on-base percentage.
Even if you never played fast-pitch softball you should give the Riseball another look. It's basically an upside down curve ball thrown overhand. It's not an easy pitch and it's more difficult to hit (the ball rises as its thrown to the batter from the backspin and pitching technique). Watch one game, root for the Lady Vols, and you'll become a college softball fan.
-Enjoy the College World Series Mr. Patrick! And if I see Angle Hernandez, I'll be sure to send him a drink with your best regards. :)
---
---


Calhoun's Atop Bearden Hill
6515 Kingston Pike
Knoxville, TN
865.673.3377

Calhoun's on the River
400 Neyland Drive
Knoxville, TN
865.673.3355

Calhoun's at Pellissippi Parkway
10020 Kingston Pike
Knoxville, TN
865.673.3444


---
---
Now YUUUU Know!

Posted: Tuesday, May 7th, 2013, 12:48 PM
Incase you didn't hear, Jason Collins is gay, Forbes says Tim Tebow is the most influential athlete in 2013 (seriously?), and someone is offended by the name Redskins.
Blah, blah, blah.
I'm more shocked that in 2013 we have our first gay athlete come out. My gut reaction was this being a marketing stunt to appeal to the large gay community in DC to sell more game tickets for the Wizards- but Collins is a free agent. Congratulations Jason! I wish you the best and commend you for being you, but how is this JUST now happening, it's 2013! Honestly, I don't care if athletes are gay; I care about if they are great athletes.
Clearly, Forbes doesn't mean "most influential athlete on the field" when naming Tim Tebow as the most influential athlete of 2013. He was a back up QB who scored zero TD's on a Jets team who won six games last year. He was so influential that the Jets released him. I know, he's a good kid, but he hasn't been very good on the field.
The Washington Redskins will ALWAYS be the Washington REDSKINS. Councilman David Grosso, let-it-go.
Here's what should be making news headlines.
Generation K:
In 28 consecutive starts Texas Ranger starting pitcher, Yu Darvish had not allowed more than one home run making it the longest streak in major league baseball. The streak ended on Sunday against the Red Sox. In seven innings, the right-hander struck out 14 in the Red Sox lineup and lowering Darvish's ERA to 2.56. With 74 K's this season he is averaging 14.3 per nine innings with a 40% strikeout rate! Darvish struck out 14 in his season opener and was one away from a perfect game against the Astros in April. Roy Halladay in 2011 was the last starter to throw two games with 14K's in one season. Talk about swing-and-miss- Darvish leads the league with a 41% swing-and-miss rate. Last year he led all pitchers with a 29% rate. The baseball gods have sent us a piece of baseball history developing right before our eyes. He is magical on the mound and Yuuuu is truly something special. (Whoever puts his pants in the dryer, thank you!)
Stephen Curry:
Kobe who? Stephen Curry is the king on the west coast. In 2008 he put Davidson on the map and he has been one of my favorite players to watch. He is so smooth with so much control when he plays and one of the purest shooters I've ever seen in my sports lifetime. Curry is lighting up the league as the breakout guard for the Golden State Warriors. He's not your average tattooed, big NBA player and when most people forget about him, get your popcorn ready, watch him sneak up on you and then the Stephen Curry show begins. Nicknamed the "Baby-faced assassin" he became the only player in the NBA to score 22-points in the 3rd quarter of a playoff game twice in the past 8 postseasons. He leads the NBA playoffs in steals, assist per game, free-throw percentage, three points made, and three point attempts. The best shooter ranked 16th on the NBA player ratings. He's still young, but as long as Curry stays healthy he will continue to be the baby-faced assassin.
---
---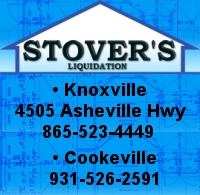 Stover's Wholesale Knoxville
4505 Asheville Hwy
Knoxville, TN 37914-3607
865.523.4449

Stover's Wholesale Cookeville
452 W Broad St
Cookeville, TN 38501-2334
931.526.2591


---
---
The 78th Annual NFL Draft

Posted: Wednesday, April 24th, 2013, 11:51 AM
This time last year I was getting the itinerary to fly on Dan Snyder's private jet and attend the NFL draft live in Radio City Music Hall. (One of the coolest experiences of my life!) This year the NFL draft wont be as exciting watching from my couch and waiting until Friday for the 51st pick for the Redskins to be on the clock.
The mock drafts have the Skins filling the safety position first. Even with salary caps the one thing Redskins fans can always count on is never knowing what Snyder will pull out of his bag of tricks. So until Snyder's magic show begins, I'll be rooting for the VOLS.
The University of Tennessee has several prospects that defined a season full of making great plays and a season full of dropping routine passes. Untimely, WR Cordarrell Patterson will be a first rounder (or he is projected to be) and the VOLS should see other alum drafted as well.
The controversy over Cordarrelle Patterson is that he only spent one year of playing at the college level for the University of Tennessee under Dooley's debacle of a program. The lack of having a real coach or even a full SEC college football experience has left CP's raw talent still untapped making him a risk and steepens the margin for being a draft hit or miss. Personally, I hope CP turns out to be a stud (just as long as he doesn't end up in a Eagles jersey). He is an electric player to watch. He's still a kid, he needs a solid foundation to mature and ripen, but when and if that happens- he'll have a winning career in the NFL.
OT Dallas Thomas is projected to be a second rounder along with wide receiver Justin Hunter. WR Zach Rogers is also expected to have his name called.
The one player I was excited to announce that he was forgoing his senior year of eligibility was QB Tyler Bray. Don't get me wrong, the kid has a cannon and he can hit his targets. But he's not a mobile QB and with the new hire of Butch Jones's spread offence it was a win for both Bray and UT. The issue with Bray is that he is a gun-slinging gambler with no protection plan. He called his own shots in the huddle and while he made great plays, he couldn't win in the SEC and VOLS fans will always remember that he never beat Florida. Great players preform at crunch time and Bray gambled more than he played smart. With the right mentor and someone to beat the cocky-ness out of him, he might be more humble and learn to play with head and his arm. Bray doesn't have the Brett Favre charm to pull off being so cocky. The smartest sentence Bray has ever said was acknowledging during Gruden's QB camp was that Tennessee football was a religion in Tennessee and I'll support anyone who worships the same sports gods as I do.
I was in Atlanta last weekend and happened to be at the same bar/restaurant as Georgia OLB and first round draft prospect, Jarvis Jones. The server told me he didn't drink so I sent him a Shirley Temple. To my surprise, he found my joke as funny as I did and even posed for a picture with a VOLS fan. He's in the SEC family so naturally I respect him and I'm rooting for the coolest dawg I know to hear his name called on Thursday night.
But where will Manti To'e fall into the draft? AJ McCarron's girlfriend had more airtime during the National Championship game than Notre Dame had possession of the ball. To's individual performance was a reflection of being exposed by the SEC. To'e was invited to attend the draft, but he declined. I guess he wanted to stay at home and watch the draft with his girlfriend…
---
---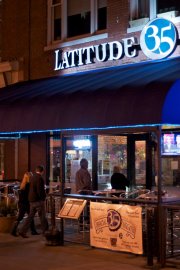 ---
---