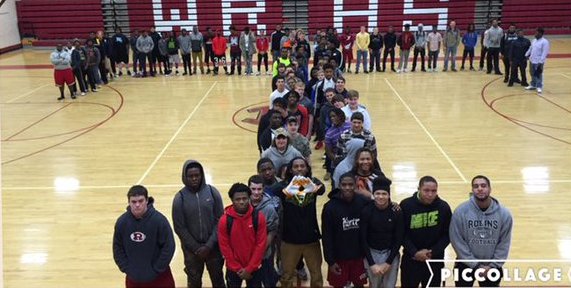 Every year on National Signing Day Eve, I wish I had a job where I could call in sick and spend the day following the Tennessee recruiting. Why isnít Signing Day a National holiday? Instead, my twin brother takes the day off and is up before the Tennessee fax machine is turned on.
Team 120 will be a small class with a solid squad returning for the Vols. The current 2016 class has 17 commitments and ranks 21st in the nation on 24/7 Sports. Signing as many of their top prospects will definitely rank the Vols higher at the end of Signing Day. This class has a high average ranking: 88.70; near a 4 star average. (Florida is ranked 7th with an 88.76 average, but they also have eight more commits.)
Tennessee will get a boast if the main prospects sign that are expected to. Landing Brown, Warrior, Kongbo and Byrd they would be sitting at 262.53. If they land Warrior, Kongbo and Byrd they would be sitting at 250.67. That would put the Vols in the Top 10 recruiting class based off of current scores but as other schools add their top recruits, their numbers will increase too. This class is not that far off from the top just short on total size due to lack of space.
For the first time in a long time the Vols had to turn away top talent because there just wasnít space on the roster. Itís a great problem to have. But every National Signing Day there are last minute flips and these kids end up choosing a school that no one saw them picking. They end up as players that we will love for picking the University of Tennessee or they will live with regret for the rest of their life for not becoming a Vol For Life.
Here are the players we want in Knoxville.
Derek Brown, Defensive Tackle from Buford, Georgia. A 6í4, 320lbs, five-star recruit who will be an elite defensive lineman wherever he goes. He loved his visit to Knoxville and tweeted lyrics to Rocky Top. Sounds like home-sweet-home to me.
Landon Dickerson, Offensive Tackle from Hudson, North Carolina. A 6í5, 295lbs, four-star recruit who is rumored to have his eye on Florida State. (Who would want to play in the ACC over the SEC?) Dickerson could see playing time, but maybe not right away. The O-line is loaded and Dickerson would add the depth the Vols need.
Tyler Byrd, Cornerback from Naples, Florida was listed as a hard commitment to the University of Miami. Former Miami assistant coach, Larry Scott is now on the Tennessee coaching staff. This put Tennessee still in the running for Byrd. Byrdís high school teammate and roommate, Carlin Flis-Aime, is a current Vols commit and Tennessee has their fingers crossed that Byrd will be one to follow in Cam Suttonís footsteps and have Vols fans rocking Neyland stadium during third-down-for-what. And what a great National Signing Day eve to have Byrd announce on Periscope that he will be a VFL!
Nigel Warrior, Safety from Suwanee, Georgia. A four-star, legacy player to the VFL Dale Carter. Carter was a two time All-American safety at Tennessee. Tennessee needs Warrior the most! Recruited by Tommy Thigpen, Coach Jones feels good about continuing the legacy recruiting tradition and Warrior fits the puzzle to make a huge impact for the Vols.
Jonathan Kongbo, Defensive End out of Yuma, Arizona. A 6í6, 260lbs, five-star listed as the top JUCO player has his eyes on Tennessee, Ole Miss and Florida State. On Friday, Ole Miss got hit hard with NCAA violations and that can destroy recruiting. Tennessee is hoping Kongbo will see that as sign not to pick Ole Miss. With three years of eligibility, this would be huge for the Vols.
The day is full of announcements. Most kids will fax in their National Letter of Intent to commitment to their university. Other kids will host live press conferences and use social media to make their choice official. I personally like the kids who get creative like Marquez Callaway. Callaway tweeted this sweet picture of the Power T to announce he was coming to Knoxville last week. (See picture above.)
Tennessee ended their season 9-4 and smoked another BigTen team in consecutive bowl games. Butch Jones is considered the Mariano Rivera of closing out recruits. The anticipation of 2016 being a big year for Tennessee football has come to full throttle. Brown, Dickerson, Byrd, Warrior, and Kongbo; you want to be part of history in Tennessee.