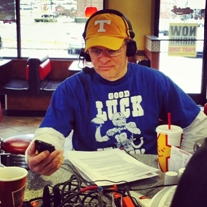 FREE THOUGHT FRIDAY
JUMPING THE GUN ON BUTCH?
As a long-time Tennessee fan I have seen a number of coaching transitions and much like meteorology the pattern can be read long before the storm actually hits. I can't say for certain how long-term the future forecast is or whether it will be a category 3, 4 or 5 but the winds of change are about to blow Butch Jones out of here. You hear it in the whispers of the connected; you notice the change in message of those who report on the program; you calculate the approval rating drop on the talk shows and the tenor at the grocery store or barber shop; you hear former players willing to publicly criticize the program for which they once toiled and risk life and limb; you see the rock plastered with "FIRE BUTCH NOW" and it isn't deemed by the UT Student body to be desecration and you notice the desperation in the coach's voice and face. The signs are all there that we are in the last days of the Jones era.
Tony -on his Tuesday show- warned those wanting an immediate ceremony and burial not to put their suit on or send flowers too quickly and I don't totally disagree. He is correct in the assumption that the league is as navigable then at any time in recent memory. But once the machine cranks up against a coach it never really runs out of gas and the off switch is almost impossible to find. Sure every game on the Vols remaining schedule is winnable short of the biannual trek to Tuscaloosa. The problem is with the exception of Saturday's walkover against U-Mass -and probably Southern Miss- they all are losable as well. I believe Butch Jones needs an unprecedented -during his tenure- run for the remainder of the season to wear the Power T in 2018. Something along the lines of 7-2 in his last 9. Either that or a reprieve from the Governor, or more accurately in our case, the Governor's Father.
IT MUST START WITH THE DAWGS:
If Jones is indeed to Houdini the burgeoning lynch mob the great escape must start on September 30th in Neyland Stadium. Forget Saturday against U-Mass. The only way that game is relevant is if the Vols lose to the 0-4 Minutemen in which case security intercepts Jones at the locker room door with the message that
only authorized personnel are allowed inside
. Georgia not only represents an opportunity to prove the Vols have recovered from yet another Florida disaster but that they are still capable of beating anyone remaining on the schedule not wearing crimson. It will probably be the last realistic opportunity to beat a ranked opponent as well and win a game that many will not expect them to. With LSU laying an egg in Starkville few if any of the Vols remaining opponents provide the opportunity to change the opinion of many that Jones is in over his head in the SEC. Lose it? I'm not sure there is any scenario short of upsetting Alabama that will be enough to keep the trap door from opening at season's end…or before.
BOTTOM LINE: Tennessee will either go on a 10-game stretch of playing quality, winning football or we will have a new coach in 2018.That sounds like a win-win scenario to me.
SAD TRUTH
While conceding I draw most of my conclusions from talk radio and Twitter -which if we're honest both lean toward negativity- I believe we are reaching the tipping point between those that would be happy to see Tennessee recover and finish 9-3 and those that fear it would be the worst thing that could happen for the long-term health of the program.
Personally I'm afraid it's closing in on time to dust off this
CLASSIC
WHAT WE WILL SEE IN WEEK 4:
ANOTHER LOSER LEAVE TOWN MATCH
: Get ready for a recurring theme throughout college football and especially in the SEC West in 2017. Coaches on that side of the league not named Saban and Mullen are fighting to remain employed by their current school. Nowhere is this more apparent than Saturday's matchup between Arkansas and Texas A&M in Jerry's palace in Arlington. While Kevin Sumlin is already ¾ of the way out the door and probably needs to earn the job back Bret Bielema needs wins to keep his seat from going from lukewarm to scorching. That's a brutal place to be before playing your first league game of the season but that's today's Power-5 reality. The old-school Southwest Conference foes have met 67 times with Arkansas leading the series 37-27-3. More importantly A&M has never lost to the Hogs in an SEC game winning all 5 contests. Sumlin better hope that increases to 6-0.
HOW'S FRANCOIS-LESS FSU?
The last we saw the Seminoles they were being physically battered by Alabama. Though that may have seemed to have taken place last bowl season it was actually the season opener. Amazingly due to a weather cancellation of their game against ULM and last week's scheduled duel with Miami moved to October 7th FSU will have had a 21-day layoff by the time they host NC State Saturday. This will be the first opportunity to see what FSU looks like without the talented Deondre Francois running the show. In place of the injured Francois the Seminoles will turn to true Freshman James Blackman who wasn't expected to take meaningful snaps but is held in high regard by everyone in the FSU program. Jimbo Fisher after a fall practice scrimmage was quoted as saying
"Oh, he played real well, got a bunch of reps, Doing outstanding. ...I'm extremely pleased with Blackman. ...Very intelligent guy, a lot of poise, a lot presence, a lot of command and he can throw the football. Moves around too, doing a really nice job."
Looks like the beat goes on in Tallahassee
CLASSIC BIG-12 CONTRAST:
A couple of Big-12 stalwarts both standing at 3-0 clash when TCU visits Oklahoma State. The offensive-minded Mike Gundy's Cowboys versus crusty-ole defensive wizard Gary Patterson's Horned Frogs. TCU currently stands third in the Big-12 in Scoring Defense after surrendering only 43 points in three games while Oklahoma State is currently scoring at a 54 ppg clip. Something has to give.
STEP UP FOR CAL BEARS
: In his first season in Berkeley former Tennessee DC Justin Wilcox has Cal off to a 3-0 start. They surprisingly won a 32-30 shootout at North Carolina on Labor Day weekend and have since dispatched of Weber State and Ole Miss. A dose of reality is about to set in however as a visit from #5 USC proceeds trips to Oregon and Washington. Wilcox served as the Trojans DC in 2014 and 15 so he knows what's coming. USC has won the last 13 games in the series by an average of 18 ppg.
BROHM BAROMETER:
Another first-year coach in a Power-5 league whose team is off to a surprising start is Jeff Brohm at Purdue. The Boilers are 2-1 with only a seven-point loss at Louisville staining their early-season slate. Like Wilcox the league did the rookie coach no favors in his Big-10 opener as Michigan pays a visit. The Wolverines have won the last three contests played between the aged-old rivals. Regardless of the outcome Brohm has the Boilermakers much more competitive than in recent years and needs only one more win to match last season's 3.

SEC'S SECOND BEST:
Projecting a season based on September results can make you look foolish but a snapshot-in-time glance suggests that the winner Saturday's game between Georgia and Mississippi State in Athens looks to be for the title of best team in the SEC not named Alabama. Sounds like a championship Butch Jones would claim if possible but I digress. The battle for #1 Dogs seems to favor the UGA variety not only because of location but because of what came immediately before. While State was expending energy and emotion throttling LSU Georgia was going through the motions and getting rest for key players versus Samford.
Georgia has amazingly won 10 of its last 13 regular season meetings versus SEC West teams
in a period where the West has been dominant. If they move to 11 of the last 14 it will mean an excellent start to Kirby Smart's second season.
EAST FRONTRUNNER
Though Georgia has the most impressive win (@ Notre Dame) of the trio the winner of Saturday's game between Florida and Kentucky in Lexington will be the early frontrunner for the East flag. The victor will stand 2-0 in the league with an all-important road division win in the books. Kentucky has more than a pretty-good Gator team to overcome; namely history. Florida's 30-game winning streak over the Cats is currently the longest in all of FBS.
WHO GETS AN F:
The real Big-10 headliner for Week-1 of conference play finds Penn State traveling to Iowa. Both currently stand at 3-0 and would like to get a quality win versus a cross-division opponent. The teams have only played twice in the last 5 years with the Nittany Lions winning both contests. It's Franklin versus Ferentz. Who do you pull for in that one?

BACK-TO-BACK JACK:
Coming off surprising 2017 seasons Washington and Colorado will match perfect 3-0 records in Boulder. Last year's PAC-12 Championship Game participants are unlikely to both make a return trip at season's end but whoever wins Saturday's contest can still dream of doing so. Washington is 4-1 all-time in Boulder.

BACK FROM THE DEAD:
UCLA came back from sure defeat versus Texas A&M on September 3rd now they'll have to do the same after suffering a real loss in the Bluff City to the Memphis Tigers. Stanford hasn't exactly flown out of the gate either standing at 1-2 including a humbling 20-17 loss at San Diego State. Both are desperate but the Cardinal need the victory to avoid an 0-2 start in conference play. Fortunately, the game will be played in Palo Alto and amazingly will be Stanford's home opener almost a month after they started the season versus Rice in Sydney, Australia. Nine is the magic number as in 9 straight home opening wins and 9 straight victories over the visiting Bruins for Stanford.
WHAT VOL FANS SHOULD KNOW ABOUT U-MASS:
OFFENSE
UMass QB Andrew Ford has thrown 139 pass attempts without an interception and is 90-for-140 overall (64.3 completion percentage) with 1,204 yards and six TD passes.
Four games into his Jr season, RB Marquis Young now has 2,008 career rushing yards over 409 carries, including 15 for touchdowns.
Jr WR Andy Isabella averages a team-high 111.5 all-purpose yds/game and has 4 TDs (3 rec, 1 rush). On his career he has 84 rec for 1,114 yds and 10 TDs
WR Sadiq Palmer posted his first collegiate 100-yard outing with seven receptions for 117 yards at Temple
TE Adam Breneman (6'4 250 lbs) has 1,177 receiving yards and eight touchdowns over 94 receptions as a Minuteman.
Over the last 10 games Breneman has 67 catches, 881 receiving yards and 6 TDs
.
UMass starting O- line of Ray Thomas-Ishman, Sr., (LT), Lukas Kolter (LG), Derek Dumais (C), Jake Largay (RG) and Jack Driscoll (RT) average 324.0 lbs. All five are at least 6-foot-4 and weigh at least 315
DEFENSE
Nose tackle Ali Ali-Musa totaled 15 tackles against Old Dominion
R-Sr DT Sha-Ki Holines has 21.0 TFLs, including 6.0 sacks, over 35 games played
DE Da'Sean Downey has 18 tkls, 4.5 TFLs (15 yards lost) & 3.0 sacks (12 yards lost) in 3 games. He missed CCU game (9/2/17) due to violation of team rules
In his first 4 games as a Minuteman MLB Bryton Barr led the team with 38 total tackles, including 1.5 TFLs and 1.0 sacks
CB Isaiah Rodgers has 23 tkls, 3 PBU, 1 INT, 1 FG blk so far in 2017. His 3 career INTs are most by any active Minuteman

SPECIAL TEAMS
P Logan Laurent averages 41.91 ypp over 147 career punts
R-Fr Michael Schreiner is the U-Mass PK after Laurent handled both duties in 2016
Isaiah Rodgers has the 11th-most career KR yds in UMass history (942). He is in his first year as the Minutemen's punt returner as well.
ODDS & ENDS
UMass ranks tied for the 10th-most returning starters in nation, with eight on the defensive side of the ball and seven on the offensive end
BRIEF BLOG BREAK
:
I will not be posting a blog for Monday (9-25) or appearing with Tony on the show that day due to a family commitment. Hope you have a great time at the U-Mass game or better yet give your tickets to Tony to be dispersed to the children of incarcerated parents in support of Amachi Knoxville. It's a chance to enrich young people's lives in a way they will never forget and you will be forever touched and blessed. God Bless you and the blog will be back for Friday September 29th.
FINAL FRIDAY THOUGHT: In a season that might turn ugly Saturday will be a beautiful day for a bunch of kids thanks to Amachi Knoxville, Tony and most of all your kindness. God Bless you all.