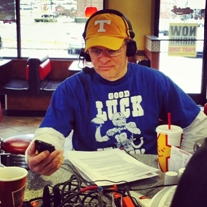 FREE THOUGHT FRIDAY
E-MAIL TO PRESIDENT DIPIETRO:
With Tony dedicating most of this week's shows to impassioned pleas to anyone who would listen and Copper Cellar Family of Restaurants Owner Mike Chase's Twitter support for the hiring of David Blackburn as Tennessee's next AD I thought it was time for me to toss my pebble into the sea. Here is the e-mail I sent on Wednesday evening:
Mr. DiPietro,

As a graduate of the University of Tennessee and a lifelong fan of the University's Athletic program I urge you to make your voice heard in the hiring of David Blackburn as our next Athletic Director. In over 50 years of closely following Tennessee sports I have never witnessed such overwhelming support behind a candidate -with the possible exception of John Majors return in 1977- by the Tennessee fan base for any candidate seeking any position at the University. He has earned the opportunity and you will never regret his hiring.

Thank you for taking the time to read my correspondence and I wish you nothing but the best.

Sincerely,

Jeff Henderson
UTK Class of 1979
BLOGGER SELF DEPRECATION ALERT: Even after proof reading the above correspondence numerous times before hitting the send button I was disappointed to realize I had used "candidate" twice in the same sentence. My hope is that President DiPietro will review my scholastic records, realize I was a PE major and think "in that case I guess we should celebrate his semi-literacy.
KUDOS TO CLEMSON:
In what will go down as one of the most exciting championship games in NCAA history Clemson did most of the world -outside of Tuscaloosa, Alabama and Columbia, South Carolina- a giant favor on Monday night. Enough of Nick Saban and Alabama raising the trophy and getting rained on with confetti. Let someone get a taste. It's good for college football and it's good for the UNITED STATES of AMERICA.
WHAT ABOUT BRENT?
Many accolades are being thrown in Dabo Swinney and Deshaun Watson's direction -and justifiably so- for Clemson's ascension to the highest of heights but I should be hearing more about Defensive Coordinator Brent Venebles. Swinney hired Venebles away from the University of Oklahoma after the 2011 season and the Tiger's defense has improved more dramatically since his arrival than any other facet of the program. To illustrate this point I specifically remember Clemson getting housed in the Orange Bowl a few weeks before his hiring to the tune of 70-33 by West Virginia. I was working with some avid South Carolina fans who took great pleasure in stalking Clemson faithful around the plant and bellowing,
"WORST LOSS IN BOWL HISTORY"
in their direction. That was probably an inaccurate statement but their point was well taken. The Tiger D was basically non-existent and finished an awful 71st in Total Defense surrendering 394.4 ypg. After a shaky first season when his defense improved only slightly to 64th (396.5 ypg) Venebles' last four units have finished 24th (356.3), 1st (260.8), 10th (313.5) and 8th (311.5).

ROAD MAP TO HOOPS POSTSEASON:
It's probably a year too early to expect the hoop Vols to get back to postseason play but those were my hopes. I had no NCAA pie-in-the-sky wishes but I did think the NIT was a plausible goal. It may still be but home losses to both Arkansas and South Carolina make the hill that much more difficult to ascend. The Vols currently stand at 8-8 overall and 1-3 in conference play with 14 SEC contests and a game with Kansas State in the SEC-Big 12 challenge remaining. In order to appear in the NIT bracket I believe the Vols much finish no worse than 9-9 in league; defeat Kansas State on January 28th and win one game in the SEC Tournament. That would make the Vols final tally 18-14 and with the strength of their non-league slate that should be enough. Playing 4 games over .500 the rest of the way however will be a tall order indeed.

OTHER HOOPS THOUGHTS:
-With the dismissal of Detrick Mostella the Donnie Tyndall influence on the Vols roster is down to his second signing class members Shembari Phillips and Admiral Schofield. Donnie was sadly jettisoned before either had the opportunity to play for the coach they pledged their loyalty to prior to his dismissal. Neither appears to be in great standing with Rick Barnes who inherited them upon becoming Tyndall's successor. Phillips was a box score no-show in 13 minutes against Arkansas and barely pulled off his warmups versus Florida. Schofield had one of the better games of his career in Gainesville but always seems to be only a few steps from Barnes' dog house. It will be interesting to see if either survives beyond this season as a Volunteer.
-I love the fact that the current Freshman class appears to be one that SEC opponents will grow more weary of with every passing season. Both Grant Williams and John Fulkerson far exceed their recruiting service rankings, Jordan Bowden will develop into a dagger-like, knock-down, shooter and either Kwe Parker or Jordan Bone will become a solid floor general. They are all four-year guys that will cause other SEC members to ask "how long have those guys been there?".
-The problem is unless Kyle Alexander hits a turbo-development stage the roster has to have an infusion of size and backups along with the players mentioned above. Barring a spring turn-of-events the 17-18 signing class will probably not provide the needed pieces. Barnes' staff did a great job of assembling a much better than advertised class last year. The upcoming class however looks like a whiff. You simply can't swing and miss on an entire class and not pay the price for it somewhere down the road.
-It was obvious against the stingy South Carolina defense that the Vols will miss Mostella's instant offense off the bench.
-The Vols were much better defending drives to the bucket than in Gainesville but you aren't going to win games in which you're outscored 21-3 from beyond the arch.
-As disappointing as the 3-game losing streak has been it comes against what probably will be the only three NCAA teams in the SEC other than Kentucky.
NFL PLAYOFF TAKES:
-The favorites won all four games in the Wild Card round and did so easily. Don't be surprised if that trend is totally reversed in the Divisional phase. I'm not saying all four dogs will win straight up but I wouldn't be at all surprised if Seattle (+5 @ Atl), Pittsburgh (+1- @ KC) and Green Bay (+4 @ Dallas) all advance and even Houston -who only made the playoff because they're in the worst division in NFL history- could easily play inside the 16 point number versus New England.
-Ben Roethlisberger performed his Miami post game media responsibilities in a walking boot. He's as tough a guy -short of Steve McNair- to ever play the position and will need to be at his iron-man best against Kansas City's defense on Sunday.
-I'm pulling for Kansas City so my apologies in advance to Chiefs fans everywhere. Your stay because of it will probably be a short one.
-Dallas and Atlanta have had story-book seasons that I'm sure their fans are giddy about. The playoffs however are a different animal and with postseason stalwarts Green Bay and Seattle straight ahead dreams can abruptly turn into nightmares.
-Like Alabama, the Patriots simply won't go away, HEY, SABAN, BELICHICK, retire already.
FINAL FRIDAY THOUGHT: The next two weekends of the NFL Playoffs are some of the best theatre in all of sports.

FINAL-FINAL FRIDAY THOUGHT: If our basketball team doesn't get back on track quickly the Impressions were prophetic; LINK