Doc's All American Grill
Listener Watch Party

I'm there from 11a-1p
Followed by Keith Hatfield from 1-3p
Watch Gator Bowl UT/Iowa
Followed by Smartway/Dalton Bearing Fifth Quarter Fan Reaction
We will do the show LIVE, ON SITE!
Here are some notes about our day at Doc's!
Listen Here
) and he was tremendous fun. Just comical. He's the perfect package for this place because he's an anti-Pearl. Tyndall's just a coach. He's not slick at all. He's not really good looking. He doesn't knock you out with the way he talks though he's obviously intelligent. He's not Madison Avenue like Pearl. He doesn't have a bunch of fancy quotes memorized. He just coaches. When you consider my comments about Chip Kelly below, Tyndall is a refreshing departure to the guys that usually get jobs these days. This is the era in sports as such terms as 'brand' and 'face'. Well, Tyndall is 'fit'. He's a perfect fit for this place. Tennesseans are a lot of things. We are a diverse people. Most of us are proud, we work hard, we take care of our own and we love to lay it out there. Donnie Tyndall may not be from here but he's of here. We need to embrace and get behind this guy. They can't let him walk out of here.


Losses to Santa Barbara, Pacific, at Colorado State, Dartmouth and Seaton Hall.
Mercer Bears are 0-2 on the road. They average 66 points per game. They've had huge losses off last year's team that met Tennessee in the NCAA Tourney. Tennessee is the first of 3 SEC contest for them before they get into their league schedule. They visit Georgia then Texas A&M to close non-league.
Mercer head coach Bob Hoffman has elevated that program since taking the job in 2008. During his time in Macon, 'Hoffman has led the Bears to nine high-major wins against the likes of Alabama, Auburn, Duke, Florida State, Georgia Tech, Ole Miss and Seton Hall.' (courtesy Mercerbears.com)
I was listening to Saints postgame show with Bobby Hebert last night when I heard an car sales ad sponsored by Kendall Bussey Sr. Daniel Lewis of RTI joins today and we will discuss Kendall Bussey Jr. and his commitment to the Vols.
Link
Barnett/Sherff is going to be a classic matchup in Jacksonville.
Link
Hatfield IX Time!!!

That idiot outright cut a pro bowl receiver in DeSean Jackson and let him go to a division rival. Who cuts their only deep threat? Why? Because he didn't get along with him? Because he's stubborn. I'll tell you what concerns me......Nah, never mind. I'm not going to go there. In professional football it isn't about winning with guys that you like. It's about winning. And the only people Chip Kelly has beaten his first two years in Philly are teams that can't play. Genius Chip Kelly sat there and watched Bradley Fletcher get burned for 35 points in two games. DeSean Jackson had 256 yards on his secondary. It was CLASSIC!!! Philly talk radio is CLASSIC today. Those poor people are shattered. I don't get shattered. I get pissed.
Link
The Seahawks bullied my Eagles two weeks ago. Since then those two teams have headed in opposite directions. When they play defense like this, it ain't happening for anybody else in the NFC. What a show they put on last night. Plus 594 yards of total offense. Who wants some of that?
Link
The Johnny Football experiment is off to a rough start....Jeez he looks little out there playing a man's game. In retrospect, I owe the Titans an apology. They were smart to stay away from him. It was the right move. It's early but it looks like Cleveland wasted a draft pick on him. Jason LaCanfora is reporting that Manziel has shown little improvement in practice. Apparently his footwork and technique has been terrible behind the scenes. Not to mention, his attitude stinks. Great job by the Titans not to buy the hype.
Link
Zero drama in the NFC this weekend. One playoff spot is up for grabs as Carolina travels to Atlanta to crown the winner of the NFC has gone South. A losing team will hoist the banner. Parity or parody?
Meanwhile here's how it shakedown seeding wise in the NFC East.
Link
Amazing story here from Raider land.
Link
Padres are going off this off-season. Could Cole Hamels be next.
Link
Here's a look at next year's roster:
2015 Scholarship Distribution

(Popout

)

Click for Full View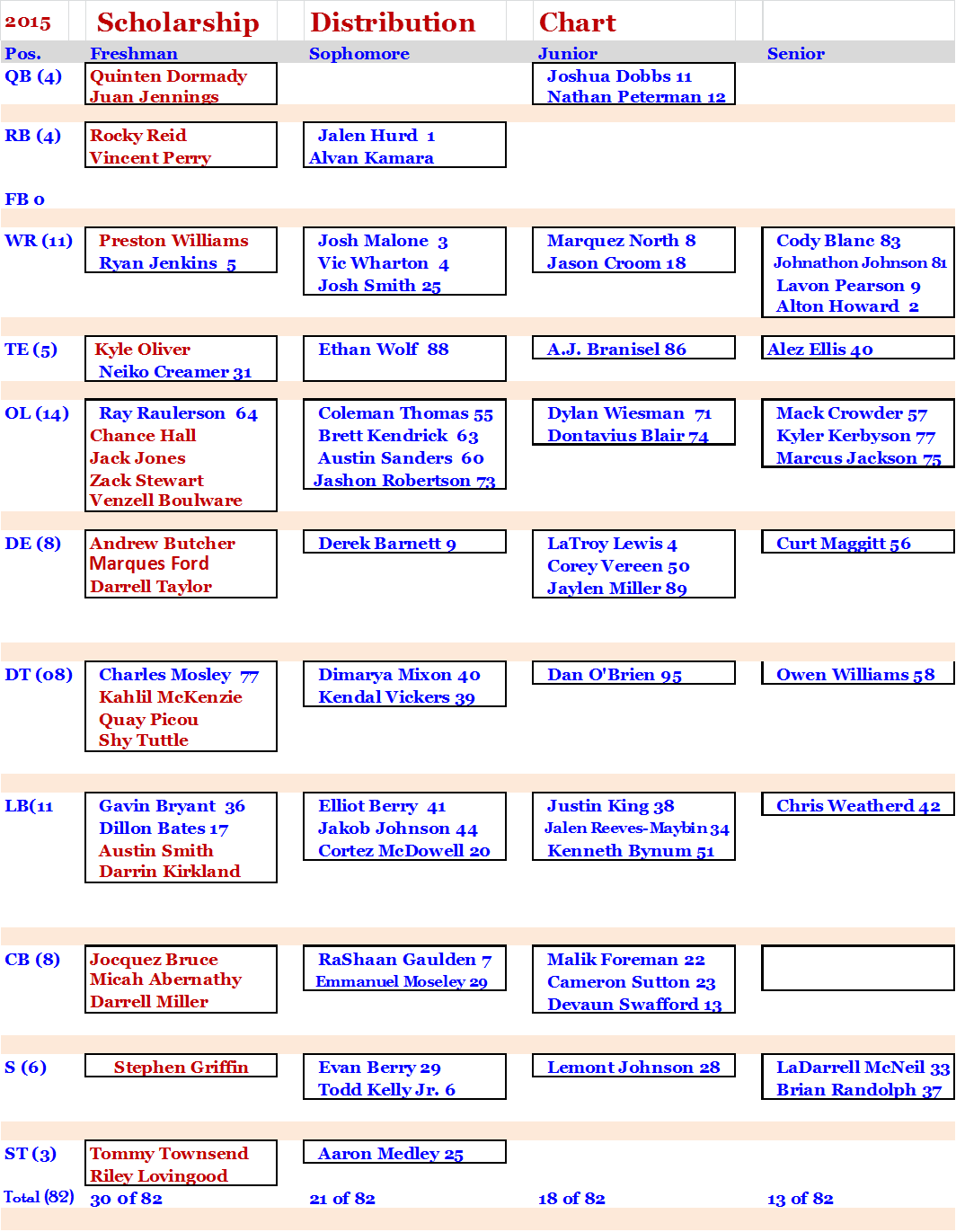 * Note, please add Michael Sawyers to the list above.

Link
Cuonzo Martin has Cal off to its best start in 55 years. Tonight the Bears get Wisconsin in Berkeley. Huge night for that program in year one under him. I'm not sold on Cuonzo because I don't think he'll get down and dirty in recruiting. Still, he's off to a great start there.
Inside all of us is a Rob Zepp! 'Flyers' 33-year-old rookie goalie Rob Zepp won his NHL debut Sunday. Per @EliasSports, Zepp is oldest goalie to win NHL debut since 1926!'
Tony B