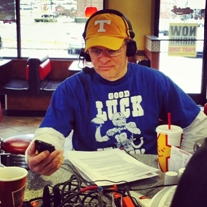 I have an admission to make. I watched quite a bit of the Cleveland Cavalier/Washington Wizards 1st round playoff series. Iím even more ashamed to confess I enjoyed it. The games were close and LeBron James and Gilbert Arenas were magnificent. It didnít spur me to write a check to purchase the DIRECTV NBA package for the 06-07 Season at a special early bird rate but it did make me wonder how I ever became so detached. I can remember as a kid wishing Curt Gowdy would hurry up and hook a marlin (which I now regret hoping would pull him into the murky depths since he was a Red Sox apologist) or shoot a large unrecognizable animal so The American Sportsman would mercifully end and The NBA Game of the Week would come on.
From Bill Russell, Sam and KC Jones and John Havlicek, to Havlicek and Dave Cowens to Bird and McHale. From Jerry West, Elgin Baylor and Wilt Chamberlain to Magic and Kareem. From Walt Frazier and Willis Reed to Bernard and Ernie. From Hal Greer, Billy Cunningham and Wilt to Moses and the Doc. From Dave Bing and Bob Lanier to Isiah and Dumars. From Chet Walker and Bob Love to Michael and Scottie. I loved it all. So what it the name of Red Auerbach happened to me, the game, or both. Here are a few of the potential culprits;
QUANTITY OVER QUALITY:
In sports leagues bigger is not better anywhere but the cashbox. As leagues expand talent base, rivalries, and individual game importance shrink. At the time of Bill Russellís retirement (at the conclusion of the 68-69 season) the NBA had 14 teams. It grew to 17 for the 70-71 season, to 22 after the NBA/ABA merger of 1976 and now stands at a ridiculous 30 teams.
HOWWWW LOOOOOONG; HOW LONG; HOW LONG MUST THIS BS GO ON ( As the late, great Richard Pryor would say)
The NBA playoffs are now a never ending event. They make He-Hawís television run seem like a blip on the radar screen. The percentage of league teams making the playoffs today (16 of 30 for 53%) is actually less than in 1970 (8 of 14 for 57%) but 4 rounds of playoffs, all of which are best of seven, and spread to assure almost exclusive TV coverage borders on the absurd. In the 1977 playoffs when the field was expanded from 8 to 12 teams the first round series were best of 3. Get in, get out, get on with your life (I just stole some companies slogan for which I apologize)
LONG GAMES:
As I watched the Cavs and Wizards I was switching to the Yankees as well. Amazingly they moved along at a similar pace. Even with OT a basketball game should NEVER last three hours.
WHAT THE HELL IS HIS NAME?
Andres Nocioni, Boris Diaw, Nenard Krstic, Zydranus IIgauskas. Forgive me for sounding red as a cedar stump but itís hard for me to see these names and think of the NBA. The European players are generally great team players and wonderful technicians but I guess I was accustomed to following a playerís career from high school to college to the pros. Now there are major contributors at the highest level who the only time Iíve seen their name was when my optometrist told me to ďcover one eye and read thatĒ.
IíM A MIDDLE CLASS, MIDDLE AGED WHITE BOY
I hope to heck Iím not this shallow but sometimes we have trouble relating to anything or anyone who doesnít fit our OPINION of how players should look and act. The tattoos, jewelry, and look at me celebrations of the modern athlete were not a part the sports culture during my impressionable years. I think however I can mark this off my list of reasons for being uninterested. If it were a major obstacle the NBA wouldnít be the only league on my S-list.
STAR SYSTEM
At some point during the Bird/Magic/Jordan days the NBA lost its way while promoting individuals over teams. Worse yet what was meant to be a marketing approach became a strategic approach as well. The two-man game became the leagues modus-operandi. If I wanted to watch a two man game beach volleyball would be my thing. On second thought I would watch womenís beach volleyball instead.
As I work through my self-evaluation I would guess that all of the above have contributed in one way or another to my apathy toward a league I once truly enjoyed. At the end of my well-intentioned analysis Iím more confused than ever. I guess itís like relationships. Sometimes you just drift apart.