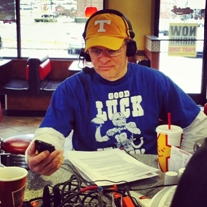 When the clock struck zero in Greensboro on Tennessee's resurgent basketball season my disappointment was overridden by a stronger sense, HUNGER. Not a brontosaurus burger or Jethro (the one on "The Beverly Hillbillys" rather than the ones on SPS. YOU know who you are!) cereal bowl appetite, but rather a sincere yearning for more basketball. I mean TENNESSEE basketball. That my "fine Christian friends" is an emotion that has been absent from this Vol fan for almost a quarter of a century. More times than not the end of a Vol hoop season brought relief rather than regret. It always felt more invigorating than injurious. This time my immediate response was simply "damn" without following that ingenious reaction with the obligatory "I'm glad that's over".
I'm ready for next season. I won't even mind the jumbotron at Neyland Stadium blaring ads about the upcoming basketball season in the middle of do-or-die football games versus conference opponents (Note to the tron operator: HOW ABOUT MIXING IN A COUPLE OF SCORES OF NON TOP-25 GAMES BETWEEN COMMERCIALS). That in itself is a metamorphosis. For the first time since the early DeVoe years I have a genuine confidence in the direction of the program. Past regimes gave me hope. This administration gives me assurance. What must happen to reward my faith and make Tennessee Basketball a perennial NCAA Tournament participant? Here's one man's opinion:
TOURNIQUET THE HEMORRHAGING OF MIDDLE AND EAST TENNESSEE TALENT: Memphis always has and always will be a crap-shoot for Tennessee coaches to recruit. We can, and must, however increase our success rate in inking in-state players from Nashville to Bristol. Unlike football there are enough quality basketball players within that area to establish a solid base for future rosters. Only elite programs (none of which are football-first institutions) can enjoy continued success without homegrown players. The days of allowing a mass exodus of players like David Harrison, Corey Brewer, Lee Humphrey, Jamont Gordon, Tyler Smith, and Brandan Wright must come to an end.
FIND THE NEXT CJ WATSON: Although his stretch run as a Volunteer fell short of what we had come to expect from CJ he was a solid floor general for four seasons. Point guards must live the "it's better to give than receive" credo to establish stability and maintain teammate contentment. As our talent level rises it will become more important to have a point guard who can protect and distribute the ball (and keep his counterpart from doing the same). In other words we need a man who can prevent on-court and roster turnovers
STOCK THE ROSTER WITH 6'6"-6'8" MULTI-PURPOSE PLAYERS: The teams that have successfully applied Bruce Pearl's "controlled chaos" type of attack have always had several long, mobile, players that can defend, deflect, dribble, and dunk. Just picture Louisville under Denny Crum and Arkansas under Nolan Richardson and that visual should be all you need.
DON'T UNDERESTIMATE THE VALUE OF A PURE SHOOTER: Chris Lofton is a good start but we need more perimeter options. Too many times shooters are unjustly characterized as slow-footed, defensive liabilities. Give me a gym-rat in every class.
IMPROVE OUR HALF-COURT EFFICIENCY: I love Coach Pearl's style of play but it must be accompanied by some sense of competency in the half-court game. The entire off-season should be spent emphasizing passing, moving without the ball, picks, rubs, entries, kickouts, and crashing the boards.
DEFEND, DEFEND, DEFEND: When you press you are destined to give up easy baskets. The Vols however cannot continue to allow teams to shoot 47% from the field and 37% beyond the arc with seven treys per contest. Additional bodies, especially of the 6'6"-6'8" variety mentioned earlier will assure fresher legs and fewer clear looks at the rim for our opponents and hopefully better looks for us on the other end.
CONTINUE TO PLAY WITH THE RESILIENCY AND PASSION OF THE 05-06 VOLS:
I have never been more impressed with the sustained effort of a Tennessee team. It is my hope that they have established a legacy that will be infectious for future squads.
There you have it. Beano's bible for basketball bliss. I was very pleased with the season which far exceeded my November expectations. As human nature would have it though I now want more. The difference is I believe this staff will deliver. I know they've only authored one chapter but for a change I'm looking forward to finishing the book.