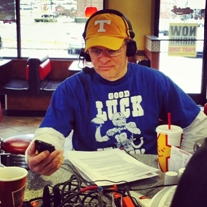 As I drove home from what may be the most impressive opening game performance against a quality opponent (with only Syracuse in 98 as a rival) in my time as a Tennessee fan, curiously enough one of my favorite lines from what will become a classic movie kept invading my thought process. In "Cinderella Man" a seemingly washed up fighter was matched against an alleged true heavyweight contender. The once proud fighter was supposed to provide little more than a sparring session for his opponents ascension and his own farewell appearance. But amazingly the tables were turned. The has-been pugilist was more aggressive, and skilled. Using a full arsenal which spectators hadn't seen him utilize in years he landed blow after blow inspiring his manager to scream "Where have you been Jimmy Braddock?" Like the aforementioned manager, Joe Gould, I find myself still muttering:
WHERE HAVE YOU BEEN
ERIK AINGE?
Last season's dazed, confused, and shaken, signal caller was transformed into an Andy Kelly-like gunslinger. His 4 TD passes were only one short of his season total for 05 and his accuracy (11-17; 65%) was much improved from the 45.5% of last season. He threw deep balls, darts, and touch passes with equal efficiency and overcame his one interception as an upperclassman should. He was in short a leader and looked like the QB most thought he could be after watching him lead a comeback versus Florida and a win in Athens in his Freshman season of 04
ROBERT MEACHEM?
Yes our expectations were probably through the roof after pulling off a heist of the highly-touted pass catcher who seemed destined to be a Sooner. But 2.25 catches/game and 6 TDs in 24 games sounds more like Tennessee tight end production than a wideout. Last night's 5 catches for 182 yards (36.4ypc) and two scintillating slipped tackle jaunts down the sideline to pay dirt is more like it.
OFFENSIVE LINE?
Going up against a Cal D-Line touted to be among if not the nation's best the Orange O-Line was more than up to the task. They created gaps which allowed four Vol backs to average over four yards per carry and rush for 216 yards. They also protected brilliantly allowing zero sacks.
SPECIAL TEAMS?
From knocking out Cal's first team tight end on the opening kickoff this unit may have put the special back in teams. James Wilhoit banged 3 of 6 into the end zone, Britton Colquitt boomed a 59 yarder and killed another inside the 10, Austin Rogers was sure-handed on punts, and Lucas Taylor even let a Cal kickoff go out of bounds instead of catching it and stepping out at the 2.
TIGHT END?
Don't let the two catches fool you. Chris Brown's early 19 yard reception to set up his subsequent twelve yard TD pass made the Golden Bears players and staff have to contend with the fact that THIS Tennessee team would not hesitate to throw to the tight end AND to the middle of the field.
DALE JONES er I mean RYAN KARL?
We pull for whoever has the "T" on the helmet but let's be candid. When it's an undersized warrior with an oversized heart who hails from the Volunteer State IT"S EXTRA SPECIAL. With a team leading 9 tackles and a hunger to get to the ball-carrier Ryan is destined to enlarge all our hearts.
BIG PLAYS?
Tennessee managed only three plays over 50 yards and only twelve over 20 in 2005. With touchdowns covering 42, 80 (Meachem), 50 (Swain) and 43 (Hardesty) last night alone it gives every indication that 2006 will see the return of much-needed quick-strike excitement.
HOME WINS AGAINST TOP-RANKED OPPONENTS?
As has been frequently reported (by yours truly and others) Tennessee had not defeated a Top-10 opponent on our home turf since a win over Georgia in 1999. More disturbing than that was our 15-18 (.455) record in our house versus teams ranked in the Top-25. Pre-season ranking or not last nights convincing win put salve on what had become a festering sore.
AN ANIMATED PHILLIP FULMER?
Exhorting the crowd to stay loud, emphatically high-fiving players as they left the field after big plays, chastising those who missed assignments, even a leaping half high-five half chest bump with an exiting Vol. That's the guy I saw stalking the sidelines at Athens in 92 that made me think he would someday be a fine leader for the Vol program
And last but definitely not least
DAVID CUTCLIFFE
This was without a doubt the best example of using your weapons and putting players in a position to succeed that Vol fans have seen offensively in many years. Throwing to the tight end, using the middle of the field, throwing a seam route to a streaking Swain, two reverses, getting your backup QB some early season snaps (at the right time) and most importantly utilizing short drops and quick releases to maximize Ainge' strengths and minimize his time standing deep in the pocket creating paralysis-by-analysis.
I don't know where you all have been but welcome back. And by the way feel free to stay as long as you like.