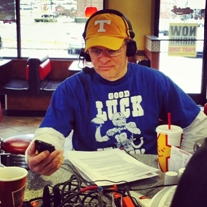 Itís no wonder Tennessee sleep walks through most every Memphis game. In TRYING to do research for the show Iíve taken a daily glance at the Memphis Commercial Appeal to find that instead of previewing this weeks contest theyíve been conducting a week-long celebration of the ten-year anniversary of the Tigers only win in the series. Callers havenít exactly been burning up the phone lines wanting to discuss the Vols vs Tigers either. Letís hope the Vols are much more focused on Saturday than those of us in the Orange Nation. I realize that itís the calm before the storm. The @Ga, Bama, @S Car, LSU and @ Ark stretch will most certainly define the season. A loss @Memphis though would defile it before itís defined.
Last nightís narrow Auburn victory over South Carolina put on full display why Tommy Tubberville and Steve Spurrier are two of the best in the business. Both possess instincts that others simply do not. Tubberville recognized that he had to do something out of the ordinary to WIN the game. He could not have let the game take itís course and come away with a victory. So he ordered an on-side pooch kick after a third quarter 8-minute drive ended in a field goal giving the Tigers a slim 7-point lead. The result was an Auburn recovery, possession of the ball for the ENTIRE third quarter, an eventual 14 point lead, and a win that the Tigers WOULD NOT have escaped with sans Tubbervilleís instincts and bravado. Spurrier on the other hand quickly recognized that Blake Mitchell could not lead the Gamecocks through the rigors of the SEC schedule. His early-season decision to turn to Syvelle Newton gives the Gamecocks the added dimension needed to be competitive with limited weapons and shaky offensive line play. We have a good coach. Auburn and South Carolina have great coaches.
How bad is Temple? Vegas may soon join the Big East in banishing the Owls. When Vegas thinks you canít be handicapped you REALLY suck. Check out the snippet below:
Following consecutive 62-0 losses to Louisville and Minnesota, the Owls, currently on a 16-game losing streak, were a 30-point underdog last week to Western Michigan. They didn't cover, losing 41-7. "I've never seen a team in the last 10 years that's been this non-competitive," said Mike Seba, senior oddsmaker for Las Vegas Sports Consultants, which sets college football lines for many Vegas sports books. "It's not asking that much [for Vanderbilt] to cover 33."
Furthermore, Seba said sports books may soon be forced to take Temple's games off the board. "If they get beat bad again this week, we'd send out an alert to our clients to take lower limits on their games," he said. "And then if they get blown out again the next week [against Kent State], we'll stop putting lines on their games.
Here are this weeks Game Notes
\
MEMPHIS GAMEDAY NOTES
Memphis 1-2, 0-1; Tennessee 3-1; 0-1
Series Record 19-1-TN @Memphis 8-1-TN Fulmer/Mem 5-1
Marshall Returning Starters: Offense-9; Defense-6
OFFENSE:
-Sr WR Ryan Scott (9-149, 166ypc, 1 TD) needs just 3 receptions and 30 yards to enter the Top-10 in both categories in the Memphis Record Book
-The Tigers have a corps of talented, young, tall receivers to compliment Scott and R-So Earnest Williams (9-116; 12.9ypc 2 TDs) (R-So Maurice Jones 6-4, R-Fr Carlos Singleton 6-8; Fr Duke Calhoun 6-4)
-R-Jr QB Martin Hankins a transfer from Southeastern Louisiana (Hal Mumme) has completed 62.7% ofhis passes for 770yds and has 6 TDs but also 6 INTs
-Jr TB Joseph Doss is the Tigers leading rusher with 227 yds (4.4ypc; 75.7ypg)
DEFENSE:
-Tommy West was the DC in 2000 and led the Tigers to a #1 national ranking in run defense and #5 in total defense
-Sr FS Wesley Smith leads the Tigers with 25 tackles (2pbu) and has started 40 consecutive games
-Joe Lee Dunnís pressure defense was anything but getting only two sacks on the season
SPECIAL TEAMS:
-Donít expect a bad snap. Deep Snapper Rusty Clayton has started 40 consecutive games
-Sr P Michael Gibson (42.4 ypp) is on the Ray Guy Award watch list
-Fr PK and Knoxville (Bearden) native Matt Reagan took over the kicking duties for the Tigers vs E Carolina prompting So Trey Adams to quit the team
THIS AND THAT:
-Sean McDonough who will serve as play-by-play man on Saturday was the play-by-play man of the infamous 96 game
-Tommy West is 2-8 vs the SEC since taking over for the Tigers. Both wins came over Ole Miss (03, 04)
STATS OF INTEREST
-Memphis is 23-5 when scoring 30 or more points and 5-20 when the opponent scores 30
-The Tigers rarely blow a late lead. They are 24-9 when leading at the half and 30-3 when leading at the start of the 4th quarter (1 of the losses last season to the Vols)
-Since 2000 the Tigers are 3-26 in games they are outrushed in
-The Tigers are -5 (9 to opponents 4) in turnovers
-Memphis rushes for only 114ypg while allowing 185; however they pass for 283 while allowing only 148
-The Tigers are Vols are remarkably close in several offensive categories:
STAT VOLS TIGERS
Total Offense 395 397.3
Rushing Yards 115 114.3
Passing Yards 280 283
Make sure you come out and celebrate another wonderful Football Friday in East Tennessee. If you canít make it tune us in and give us a call. Enjoy the football and have a great weekend
B-No