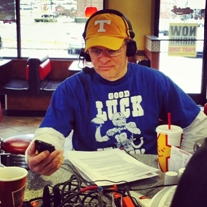 FREE THOUGHT FRIDAY
CAN WE TAKE THE CUP OFF?
I realize Iím the one credited -or discredited- for coining the moniker Cup Check University for the University of Tennessee Athletic Departmentís propensity to follow up good things with an immediate swift kick to the junk. While also understanding the hazard of doing so Iím considering letting my guard down. It may prove to be a fool-hearty premonition but I believe I see a crack of light penetrating the rubble pile left in the wake of the terrible trio of Mike Hamilton, Dave Hart and John Currie. Here are a few rays of hope:
-JEREMY PRUITT:
I believe weíve stumbled upon a gem in the hiring of Jeremy Pruitt. Heís a blue-collar every-man who has hit every rung of the coaching ladder in his quest to become a head coach and has apparently gained a great deal of respect from his players and peers alike. He has constructed an accomplished staff that appears ready to win their share of battles both on the recruiting trail and in stadiums throughout the southeast. More importantly he understands what it takes to be successful in the meatgrinder SEC and speaks a language that resonates with Vol fans of all walks.
-BLUE COLLAR HOOPS:
Rick Barnes has assembled a basketball team that is easy to identify with and pull for. With the exception of the lethargic performance earlier this season versus Auburn the Vols are rarely outworked or out-thought. The team defends, shares the basketball and to the naked eye appear to enjoy playing together. The Sophomore class is growing into a solid unit right before our eyes without a single NBA early-entrant candidate. The group looks poised to reintroduce Tennessee fans to the NCAA Tournament experience and may possess the staying power to do so three consecutive seasons.
-BASEBALL REBIRTH:
After the stunning failure of the Dave Serrano era -which few if any saw coming at the time of his hire- I should be much more guarded in factoring Tony Vitello into my optimism equation. There is no question however that he played a significant role in recruiting and developing players at TCU, Missouri and Arkansas and like Pruitt understands what it takes to win at a high level in the best college baseball league in the land. Vitello also had the prudence and respect to lure Frank Anderson to the staff who is not only one of the most respected pitching coaches in the business but also had a successful run as Head Coach at vaunted Oklahoma State.
-A FIT AT AD:
You never know where life will take you as evidenced by my newfound happiness that Phillip Fulmer is in charge of Tennesseeís Athletic Department. Maybe the Hamilton-Hart-Currie crashes have thrown me through the windshield onto the pavement wiping away my long-term memory but I believe it is more likely that there is truly
a time and place for everything
. Now is the time and the University of Tennessee is the place that needed someone that has both experienced and understands what it takes to succeed at the highest level in Knoxville and the SEC. He seems to truly appreciate another opportunity to be associated with Tennessee sports and at least initially is taking a
call-me-if-you-need-me
approach to overseeing the football program. Of everything Iíve said above this may be the most surprising unconditional belief stated; Fulmer appears to be providing a stabilizing presence.
ON THE OTHER HANDÖ..
Jeremy Pruitt has never been a head coach at any level; Rick Barnes is a semi-retired recruiter whose Tennessee teams have yet to exhibit a finishing kick and there are already whispers from the baseball community that Vitello could be in over his head. When I combine that with the whisper in the recesses of my mind saying
ďFulmer is a uniter? Pfffffffft
. Maybe Iíll leave the protection in place until we at least lock-down an NCAA Tournament bid.

VOL HOOPS:

BY GEORGE YOU JUST CANíT WATCH IT THAT WAY:
Due to the fact weíve experienced so much misery as Vol sports fans lately, I havenít enjoyed the surprisingly good Tennessee basketball season to the extent I should. Iíve become so fanatical with the Vols opportunity to make the NCAA Tournament that I have obsessed with every possession to the point the only part of the game that brings any true joy is the final horn with the Tennessee in the lead. In the process I have missed the pleasure of a young team playing better than most of us expected. It brought to mind George Steinbrennerís maniacal football mentality while owning the Yankees where he acted as if a midweek loss to the Seattle Mariners was as costly as Michigan losing to Ohio State on the gridiron. You canít enjoy a distance event if you view it through sprinterís eyes. The Vols have a pretty good basketball team in a pretty good SEC. They have twelve remining league games of which they will likely lose at least five. What I need to remember as I watch them is if they win half of whatís remaining my goal of watching the Vols in the Big Dance in March will become a reality. Might as well enjoy the view a little more along the way.

TEXAS A&M
-Really good win against the most fortified Texas A&M team anyone had seen since early December with D.J Hogg; Admon Gilder; Duane Wilson and Robert Williams all together for the first time in over a month.

-Thought the Vols played their most complete game of the season

-2 BIG THINGS: 1-Vols were able to win on a night when Grant Williams had an off offensive night; 2-They finished their third game in a row.

-Very good defensive effort. Except for a couple of uncontested drives by Gilder and Wilson Tennessee was solid in every other phase

Kyle Alexander (14 pts; 6 Rebs; 0 PFs; 5-6 FGs; 4-4 FTs 3 Blocks) played one of -if not the best- game of his Vol career against a team we absolutely had to have him against.

Jordan Bowden (15 pts; 6 Rebs 3 steals) is back engaged and when heís right so are the Vols

Jordan Bone was solid too (10 pts; 3 Rebs; 4 assists; 2 TOs; 2 steals)

The Vols owned the first half assist and turnover stats Tenn: 11 Assists and 5 TOs; A&M: 8 Assists 13 TOs

Tennessee was 20-23 from the FT line. In the last 2 games theyíve made 45 of 51

Great rebounding night considering the opponent with the Vols raking down 14 offensive rebounds to A&Mís 6 and won the overall battle 38 to 29.
MISSOURI
Rick Barnes and Cuonzo Martin are both ugly-it-up Hall of Fame coaches hence the rock fight we witnessed Wednesday.

Youíre simply not going to win a game in which your guards play as poorly as a unit offensively as the Vols did against Missouri (Bone, Bowden, Turner 2-19 from the field)

Or when your opponent goes 15 of 17 at the FT line while you make only 8 of 13.

The Vols defensive tenacity gave them a chance to steal a road game but their offensive deficiencies and faulty late game tactics (failing to foul early enough; failing to rush the ball up; making the back end of a double-bonus down 3; fouling Missouriís best FT shooter 90 feet from the bucket) kept it from occurring.

College Basketball seems to be between a rock and hard place. The officials either blow the whistle 75 times a night or you get a game with so little free movement that looks like itís played in a phone booth.

Maybe Kyle Alexander should have dove to the basket on Williamsí crucial turnover late but your go-to stud simply canít steal a critical possession from his team.

Hopefully Alexanderís last two games are an indication that his high-level play is here to stay.
FINAL FRIDAY THOUGHT: ENOUGH of the single-digit temperatures and feels-like readings. If I wanted to live in Minnesota thatís where Iíd live.