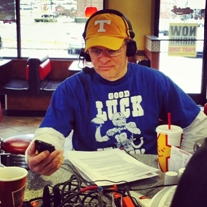 FREE THOUGHT FRIDAY
LETíS GO THROUGH IT ON JEREMY PRUITT:
Isnít it nice for things to be somewhat normal and relaxing on the Tennessee Football front for a change? After a dreadful season, a prolonged decision-making process concerning Butch Jonesí future and the worst manhunt since OJ looked for Nicoleís killers somehow I believe we actually found a competent football coach. After shaking off the fatigue of the seemingly never-ending search and the joy of unbridled optimism of Jeremy Pruittís introductory press conference I think I can now take a more objective look at both what I like and what concerns I have about the hire. Letís start with the questions so I can end the segment on a positive note.

CONCERNS
NO HEAD COACHING EXPERIENCE:
This Iím sure tops the list -if itís not the only entry- on every Vol fanís list of questions. On a coaching resume twenty-years in the making this will be Pruittís first time directing his own program. The SEC is a pretty tough arena to learn the mechanics of being a CEO
TOO INTENSE?
Passion and intensity are essential for success in the coaching profession. The level of each that Pruitt possesses may need to be dialed down a notch or two in transitioning from Defensive Coordinator to Head Coach however. Heís always going to churn internally because thatís who he is. He does need to at least project calm and control so his staff and players feel he has things in-hand.
NO NONSENSE GUY AT NONSENSE U:
In most every area I believe Pruitt is an outstanding fit for the Vol Football Program with the exception of one he has yet to deal with. Weíve been a nonsense program for a decade. With seemingly every entity pulling in different directions. I hope that Phillip Fulmerís
ďCome TogetherĒ
campaign takes hold quickly. Otherwise it wonít be long before the absorbed Pruitt may throw up his hands a say
ďwhat the hell is this?Ē
LIKES:
SEC BACKGROUND
: The SEC may have recently lost its stranglehold on the rest of the College Football world but it is still the most fiercely competitive league with the most passionate, scrutinizing, fans in the land. If you havenít grown up around it there is no way to understand what youíre walking into until in most instances itís too late. Jeremy Pruitt has spent all but three years of his college playing and coaching career within the league boundaries. He knows just how much it means to coaches, players and fans alike.
HIT EVERY RUNG:
I like a coach who hasnít been afforded any shortcuts to obtaining a head coaching position. Pruitt hasnít missed a single step. Alabama Grad Assistant; high school position coach; high school coordinator; college Director of Player Development and high school liaison; college position coach; college coordinator to head coach. Heís climbed the ladder hitting every rung. No one drove him to the job site in a bucket truck.

INTENSITY:
Hereís an attribute fitting of both lists. Returning Tennessee Football back to prominence is not a job for the laid-back,
it-will-come-eventually
, type. Itís a huge job that only the most driven, donít take no for an answer, leader can undertake successfully. Pruitt looks to me to be just the personality to welcome the challenge.
SUPER STAR STAFFING:
For a first-time head coach Pruitt certainly doesnít appear to be afraid of surrounding himself with a staff that will challenge him to be at his best every day. He is assembling some of the best and brightest most of which are proven SEC teachers and recruiters. He appears to be as secure in his staff-hiring approach as anyone weíve had lead the program since Johnny Majors.

RECRUITING PROWESS:
There may be Power-5 leagues that a head coach doesnít need to be a high-level recruiter in order to lead a successful program. The SEC is not one of them. You canít simply rely on your staff to do the leg work then come in as the closer and expect to be highly successful in this conference. You have to remain as dogged a talent scout and hunter as a head coach as you were as an assistant. I believe weíll see that Pruitt will do just that.

VOL HOOPS:
Iíd like to extend my annual apology for once again being fashionably late to the Vol Basketball beat. Unlike recent seasons I actually missed something by doing so. The BasketVols are in the midst of an impressive pre-conference slate run that finds them #20 in America and comfortably in the too-early NCAA Tournament Bracket projections. Here are a few thoughts on what weíve witnessed to-date:
-Grant Williams continues to surprise me with just how good he is at this level. Though undersized for what heís asked to do he is one of the leagueís top performers.

-I owe Kyle Alexander and Rick Barnes an apology. I thought Alexander was going to muddle through his entire career and was a complete wasted scholarship. Heís become a defensive force, gets huge rebounds at crunch-time and continues to evolve as an offensive option

-Admiral Schofield drives you crazy. Within a minuteís period you can be elated and disgusted with him. I praise him with one breath and become profane with the next.

-Jordan Bowden and LaMonte Turner have both advanced their games to the point of teams having to decide who to take away on the perimeter.

-I like what both James Daniel III and Chris Darrington bring. It seems odd to find one transfer that can make a true contribution per season. We may have found two.

-Turner was a sometimes-frustrating work in progress. I need to remember that when I become impatient with Jordan Boneís advancement.
FINAL FRIDAY THOUGHT: Itís marvelous to once again feel our football program is in capable hands at both the Head Coach and AD position.