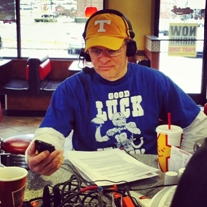 MONDAY ON MY MIND
WHO'S OUR NEXTUN, JIMMY SECTION? As the all-important search for the next football coach for our beloved Vols progresses I will peg this segment in the leadoff spot until its conclusion. I have no insight or insiders so it will be dedicated purely to my emotional state as the process transpires.

I'M FOR FULMER? WHAT IN THE WIDE-WIDE WORLD OF SPORTS?
I am admittedly not a Phillip Fulmer guy. Never was crazy about the way he became the Vols Head Coach and though I had long since forgiven him for that I was adamant he should be fired in 2008. I seethed at the way he tried to holdup the University he claimed to love negotiating a contract that assured him an extension and raise for an 8-win season and horror stories about his sense of entitlement. For a "Tennessee guy" many of his actions seem to suggest otherwise. But Friday as Fulmer took over the reins of a reeling athletic program I think I saw a man that reminded me of the interim coach I watched a team rally around in Athens Georgia in 1992. He would say he was
"fired-up, focused and prepared"
I prefer recharged, authoritative and confident. I laughed earlier in the fall when I saw him on a magazine cover under the title "Uniter". Friday, I was snickering no more because that's exactly what I'm counting on him to be. There is a time and place for everything. Right now, and the University of Tennessee is the time and place for Fulmer to help us put the pieces of Big Orange Nation back together. It's also time for me to pull for him to do so.
SAME SHOULD GO FOR LANE
: The shame of what appears to be a shift -or at least a redistribution- of the power money that looms over Tennessee's athletic department is that there is no configuration that gives Lane Kiffin a chance at redemption here. I believe Kiffin would the perfect guy to bring us back to prominence. He possesses the big-time experience, understanding of the job, football acumen required and the fearless swagger desired. I realize Fulmer, Doug Dickey and other prodigal sons had much more skin in the game as former Volunteers than Kiffin when they were allowed to return to positions of authority. But if there was a "time and place" for them, why not Lane?
"MULLEN" OVER WHAT COULD HAVE HAPPENED:
Strange how only a few days puts things in a different context. Even though I wasn't thrilled about the possibility of Dan Mullen being our Head Coach as I watched Greg Schiano and Dave Doeren become likely alternatives I rued that I had been dismissive of the former Mississippi State leader. Looking back over the tumult of last week I'm now elated at the way things came down. Had Dan Mullen been successfully wooed none of the critical rebellious actions that both unified the fan base, changed coaching searches for eternity or brought about a crucial reformation of Tennessee's leadership structure would have ever occurred. Not to mention that our beloved Vols would be stuck in 8-9-win purgatory under the direction of Meatloaf Mullen.
You can listen to the following Podcast using the player below.

You can find all of our Podcasts
here
.

Update Required
To play the media you will need to either update your browser to a recent version or update your
Flash plugin
.
CFB PLAYOFF THOUGHTS:
By the eye test alone I believe the committee selected the best four college football teams in the land and seeded them correctly.

Georgia, Clemson and Oklahoma were all dominant against quality competition. Hope after a month off they are still playing at a high-octane level.

Alabama was deserving of the final spot in the field. Wisconsin's gaudy record was the product of a lightweight schedule while Ohio State's 31-point loss to an average Iowa team was an automatic disqualifier for a team with multiple losses.

It will be sickening to see but I believe Alabama will become the first National Champion that failed to win their own division.

For 8-team playoff advocates such as myself things couldn't have fallen any better. Omitting both the Big-10 and PAC-12 in a year when the Rose Bowl is a semifinal playoff spot will be the kindling that starts the field expansion fire.
FINAL MONDAY MUSING: Should be another exciting week as we search for a coach to lead our beloved Vols. Hopefully there's not as much hand-to-hand combat however. I'm about fought-out.