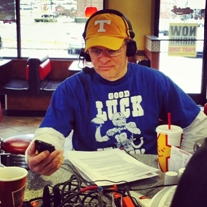 FREE THOUGHT FRIDAY
WHOíS OUR NEXTUN, JIMMY SECTION? As the all-important search for the next football coach for our beloved Vols progresses I will peg this segment in the leadoff spot until its conclusion. I have no insight or insiders so it will be dedicated purely to my emotional state as the process transpires.
As Jon Grudenís candidacy fades to black, upper-echelon sitting head coaches either have no interest or are not being aggressively pursued and Lane Kiffin is still persona-non-grata itís time to narrow the blogís focus to more likely candidates. As far as I can tell those are the guys I had ranked 8th, 10th, 11th and others receiving votes in my Dandy Dozen of last week.
8-MATT CAMPBELL:
STRENGTHS
: Turns 38 later this month and is already in his 6th full season as a head coach. Did a terrific job at Toledo and beat Top-5 opponents Oklahoma and TCU in only his second season at Iowa State. Appears to have the perfect combination of intensity and control on the sideline and obviously gets the most out of his roster. His defense currently ranks second in the Big-12 in Scoring Defense surrendering 21. PPG. Truly believe he is the next super star Power-5 Head Coach
QUESTIONS:
Cyclone AD was wise to place a huge 9.5-million-dollar buyout in his contract and that could become the impediment to his hiring as the next Tennessee coach. Campbell has no SEC experience and has limited recruiting experience in areas of necessity to be successful here.
BROCKY BLOG BREAK: My good friend and former radio partner Geoff Brock brought up a valid question on Twitter (@mickeysooner) concerning the possibility of hiring Campbell. He wondered if we can afford to pay both 9.5 million buyout required to offer him our job AND the 5-6 million he would probably demand in salary could we not put together a monetary package attractive enough to entice a more proven, established candidate? Wish I had a good answer Brocky but youíve once again stumped me.
10-DAN MULLEN:
STRENGTHS
: Has done as well as anyone could at Mississippi State to the point of being only six wins shy of the all-time winningest coach in Bulldog history. His resume suggests heís a QB whisperer which the Vol program hasnít seen in 9 seasons. Has grown up in this league and would have the easiest transition path of all the known candidates.
QUESTIONS:
Though he has a very high floor Iím afraid his ceiling is low. For all the wins heís accumulated at Mississippi State there are very few if any that come across as huge. He is also known as a prickly personality and I wonder how he would react outside of the comfortable low-pressure zone that is Starkville. Just afraid that heís Mr. Meatloaf; always pretty good but never special.
11-JEFF BROHM:
STRENGTHS
: Big time resume as player and has coached with some of the best offensive minds. Brohm played for Howard Schnellenberger, Bobby Ross, Norv Turner, George Seifert, Steve Mariucci, Tony Dungy and Mike Shanahan and has coached under both Schnellenberger and Bobby Petrino. Those who watched Western Kentuckyís program under his watch say it was even better than Petrinoís year and fell off drastically after Brohm departed. He is a brilliant offensive mind who combines the spread with many pro style sets. With a win Saturday against Indiana, Purdue will be bowl eligible in his first season at a school that won 9 games in the four seasons prior to his arrival combined.
QUESTIONS:
Like Campbell he has no SEC experience as a player or coach and only has one year as a Power-5 (to Campbellís 2) Head Coach.
NR: MIKE NORVELL:
STRENGTHS
: Looks like a very bright young coach who has Memphis playing at a high level. Had a successful 9-year apprenticeship with Todd Graham in a variety of roles at Tulsa, Pitt and Arizona State.
QUESTIONS:
Has only 2 years of Head Coaching experience all at the American Athletic Conference level. You also have to wonder if the Memphis success is more about Justin Fuente than Norvell.
BUTCH JONES vs DAN MULLEN:
Apparently Butch Jones is still in contact with select media members around town and has scoffed at the notion that Dan Mullen should be considered for the job he was fired from when according to Jones their records were comparable during his time here. My first thought was its absurd and chess to checkers when you consider how much more difficult the SEC West has been to navigate when compared to the East of Jonesí tenure. But just for kicks weíll take a look:
OVERALL:
JONES 34-27; MULLEN 40-23
SEC:
JONES 14-24; MULLEN 20-19
BOWLS:
JONES 3-0; MULLEN 3-1

THOUGHTS:
Though Mississippi State rarely plays anyone outside of the league the fact that his overall record is better and league record is significantly better despite the Westís superiority gives credence to the belief that Butch is once again speaking without researching or thinkingÖ.
Buuuut, letís take it a step further. A better indicator would be to look at games played against common opponents over the last five seasons.
Hereís how those numbers stack up:
2013 COMMON OPPONENTS: Alabama, Auburn, S Carolina, Kentucky
TENN: 2-2 (Bama-L; Aub-L; S Car-W; Ky-W)
MISS ST: 1-3 (Bama-L; Aub-L; S Car-L; Ky-W)

2014 COMMION OPPONENTS Ole Miss; Alabama; Kentucky; Vandy
TENN: 2-2 (Miss-L; Bama-L; Ky-W; Van-W)
MISS ST: 2-2 (Miss-L; Bama-L; Ky-W; Van-W)

2015 COMMON OPPONENTS: Arkansas, Alabama; Kentucky; Missouri
TENN: 2-2 (Ark-L; Bama-L; Ky-W; Mizzou-W)
MISS ST: 3-1 (Ark-W; Bama-L; Ky-W; Mizzou-W)
2016 COMMION OPPONENTS: Texas A&M; Alabama; S Carolina; Kentucky
TENN: 1-3 (A&M-L; Bama-L; S Car-L; Ky-W)
MISS ST: 2-2 (A&M-W; Bama-L; S Car-W; Ky-L)
2017 COMMON OPPONENTS: Alabama; LSU; Georgia; Kentucky
TENN 0-4 (Whoever-L)
MISS ST: 2-2 (Alabama-L; LSU-W; Georgia-L; Kentucky-W)
OVERALL: TENNESSEE 7-13; MISS ST 10-10
THOUGHTS:
This was actually closer than I thought with both Jonesí Tennessee squads and Mullenís Bulldogs finishing 7-3 versus common East opponents over the 5-year period. Mullenís advantage comes with wins over 3 common West opponents (Arkansas-2015; A&M-2016 & LSU-2017). I guess Butch is not that far off on his take after all.
WHAT VOL FANS SHOULD KNOW ABOUT VANDY:
OFFENSE
Vanderbilt's passing game is averaging over 300 yards per game over the team's last four games
The Commodores' 23 TD passes are the most since 1982 when the team passed for 26
QB Kyle Shurmur (200-349; 2540 yds; 10 INTs)) ranks in the top 10 in the SEC in multiple categories, including passing efficiency (8th), touchdowns (2nd), passing yards per game (2nd) and passing yards (2nd). He also ranks 3rd in the league in points responsible for with 150. His 22 touchdown passes rank 25th in the nation
RB Ralph Webb (668 yds; 4 ypc; 8 TDs) enters the Tennessee game with 4,010 rushing yds, No. 1 all-time at Vandy. He is just the 9th player in SEC history to run for 4,000 yards
WR Trent Sherfield (44-648 3 TD) has moved into 9th all-time at Vanderbilt with 130 receptions
WR Kalija Lipscomb has 32 receptions on the season for 552 yds and 7 TDs
WR C.J. Duncan leads the Commodores in receptions with 46 (418 yds; 4 TDs)

DEFENSE
Vandyís defense is not the stingy unit theyíre used to fielding surrendering 32 points and 407 yards per game
The Commodores also allow opponents to score 86% in the Red Zone with 32 of 37 being TDs.
To complete the trifecta they have only 6 Interceptions and 2 fumble recoveries on the season
OLB Charles Wright has 8 sacks and 9.5 TFL on the season
DE Dare Odeyingbo has 9 tfl and 3.5 sacks
FS LaDarius Wiley and ILB Oren Burks lead the Commodores in tackles with 84 and 80 respectively
SS Ryan White leads Vandy in interceptions with 2
SPECIAL TEAMS
PK Tommy Openshaw is only 3 of 7 on the season on FGs with a long of 42
Sam Loy handles punting duties averaging 40.3 with a long of 56
Kalija Lipscomb return punts for Vandy (12-73; Long-18)
Jamauri Wakefield has returned 21 kickoffs for 494 yds averaging 23.5 ypr
ODDS & END
Vandy has won 3 of the last 5 in the series by a combined score 145-139 in favor of the Commodores after last season's 45-34 victory in Nashville.
Tennessee leads the all-time series 75-31-5
FINAL FRIDAY THOUGHT: I hope you have a wonderful Thanksgiving weekend filled with faith, family, and friends as well as food and football. God Bless you.