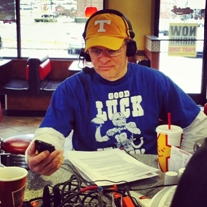 FREE THOUGHT FRIDAY
IF TONY'S WRONG WHAT'S THE TRUTH?
In Tuesday's blog Tony turned most of Big Orange Nation's backside bright red with the implication that not only has there been little to no movement on finding a replacement for Butch Jones but the decision to even look for one hasn't been made. He doubled-down on Thursday with the news that Jim Haslam publicly supported the sitting head coach. His anger-inducing proclamation? Butch Jones has yet to be fired. As much as I would like to stomp and yell at the top of my lungs
"THAT'S PURE HORSEBLEEP"
what's out there to suggest otherwise? I asked two Mondays ago for someone to give me one good reason why it hasn't been announced that Jones will not be returning to head the Vols in 2018. 12 days later? Crickets. With three games remaining in the 2017 season the Vols are sub .500 and need to win two of their remaining three to be bowl eligible;
Jones is still the coach
. It looks more likely that the Vols will lose 8 for the first time in program history then win 6 games;
Butch will be on the sideline at Missouri
. A local, legacy 5-star recruit, the linchpin of your entire recruiting class decommits;
Jones talks about it at his Wednesday presser like life goes on
. A young man plays two quarters of football without knowing he's done it while the
Caretaker
of Tennessee Football's organization allows it to happen;
no announcement from John Currie
. The Vols move toward a losing streak versus every team in their conference;
Jones gets to see it through
.
With all of Big Orange Country ablaze and soon to be turned an ashen Smokey Gray, John Currie and the Haslams are apparently at Pilot looking for a bargain on batteries for the smoke alarms. There can be only one answer for why when the program is obviously free-falling toward permanent irrelevance we see such infuriating inaction from the decision makers with the most influence. They have yet to be convinced that action is truly necessary. And that scares the hell out of me.
SO HERE I AM
at a place I hoped to never be. Convinced beyond a shadow of a doubt that Butch Jones not only is not the future of the program but if allowed to remain on much longer will be the orchestrator of long-term damage. The thing I'm yet to be convinced of is that the powers-that-be recognize the grave danger they are subjecting the program to or just how close to a revolt the fanbase is. Oh sure, Neyland was mostly full for a meaningless Homecoming game against a directional school Saturday. Don't be fooled however; most had already made a financial investment on the season AND felt that their attendance would have no bearing on Butch Jones job status who they not only believe but hope is in his last season. That will not be the case in a 2018 season with Jones still at the helm. The inaction of our leadership has driven me to a mindset I detest but can't contain. If it's more losses they need to see to finally pull the plug on Butch Jones -which quite obviously would be in the program's best interest- then I hope that's exactly what they get. I will sit in my recliner with my heart saying
"don't go there; DO NOT GO THERE"
while my mind screams
"GO TIGERS"
.
WHAT WE WILL SEE IN WEEK 9:
STANFORD'S LAST STAND:
After losing the first half of their Great Northwest double-header to Washington State the Stanford Cardinal will now host PAC-12 North leader Washington. Stanford can turn the division into a virtual three-way tie with a victory Friday night in Palo Alto. The Huskies have won only 3 of the last nine contests but emphatically broke a three-game series losing streak with a 44-6 clubbing of the Cardinal last season
BEAST OF THE BIG-10 EAST:
Michigan State has already taken care of both hated in-state rival Michigan and last week avenged a 2016 thrashing at the hands of Penn State. Saturday, they have an opportunity to grab the Big-10 East in a stranglehold with a victory over Ohio State. The Spartans would not only stand alone at 6-1 but would also hold the tiebreaker over every true division contender. The game will be played at the Horseshoe in Columbus but that is not necessarily a bad thing for the Spartans. The visitor has won 6 straight in the series.
CYCLONES BACK IN THE FORECAST:
Though they dropped a game in Morgantown to WVU last weekend Cyclone season is still in full effect. With a win Saturday in Ames over Oklahoma State, Iowa State will pull off a remarkable trifecta of victories over Oklahoma, TCU and the Cowboys. They will then trail the leader of the conference by only one game and hold the tiebreaker over all the other Big-12 Championship Game contenders. As in most every case Iowa State has dropped 7 of the last 8 versus Oklahoma State but the home team is 8-3 since 2001 and these Cyclones in Matt Campbell's second season are more than just hot air.
BIG-12 BULLY:
As large as Oklahoma State-Iowa State is, an even bigger matchup looms in a headliner week for the Big-12. If not for the above-mentioned Cyclones both TCU and Oklahoma would be unblemished in-conference and on the season. Instead they both stand 5-1 and 8-1 and meet in Norman Saturday for the league lead and a likely spot in the inaugural Big-12 Championship Game. With the Sooners currently just outside the CFB Playoff at #5 and the Horned Frogs right behind at #6 even bigger aspirations are at stake. After this weekend the Sooners have only a game at putrid Kansas and a home game versus WVU remaining while TCU will travel to Texas Tech and host Baylor. It is highly unlikely either will drop another game but Saturday's loser will be out of playoff contention and no longer control their own destiny in the league. Oklahoma has won 4 of the 5 the teams have played as conference rivals and since his arrival at TCU in 2001 Gary Patterson's teams are only 2-5 versus the Sooners.
SOUTH'S OLDEST BATTLE:
Georgia and Auburn will renew a series that started in 1893 -and has been played most every season since- Saturday in the Loveliest Village on the Plains. The Dawgs lead the unbelievably tightly-contested series 57-55-8. Though Georgia has already clinched a spot in the SEC Championship Game a win against the Tigers might provide them the leeway of losing to Alabama on December 2nd and still make the CFB Playoff at 12-1. Auburn on the other hand is looking to keep hopes alive of making the Iron Bowl for more than state pride. A win against Georgia won't change the Dawgs travel plans for December 2nd but it will put the Tigers in position to change Alabama's. With only Louisiana-Monroe between Auburn and a visit from Alabama on November 25th if the Tigers can pin a first loss on the Dawgs they will face their hated-rival Crimson Tide to determine the West's representative. Georgia is the only SEC East team dominating recent play versus their West permanent opponent winning 9 of the last 11 versus the Tigers.
WHAT VOL FANS SHOULD KNOW ABOUT MISSOURI:
OFFENSE
Through 9 games, Mizzou ranks 2nd in the SEC and 14th nationally in passing offense, at 314.9 ypg.
Mizzou has a national-leading 15 plays of 50+ yards. Of those 15 plays, eight have gone for 60+ yards
QB Drew Lock ranks third in Mizzou history in career passing yds (7,415) and second in passing TDs (58)
Over his last 6 games Lock has has 23 TDs and just 4 INTs for 1,896 yds on 129-of-196 (65.8 percent)
RB Ish Witter has rushed for 514 yds (5.5 ypc) and 3 TDs on the season
Fr RB Larry Rountree has rushed for 369 yards (5.77 ypc). He leads the team with 4 rushing TDs
WR J'Mon Moore (44-740 8 TDs) ranks 4th in school history with 19 career TD grabs. Moore also ranks 7th with 2,135 career yds.
WR Jonathan Johnson has 34 catches for 563 yds (16.6 ypc) and 4 TDs
Junior WR Emanuel Hall (Franklin, Tenn.) now ranks 5th in the NCAA in ypr with a 23.23 ypc (26 -604 yds, 4 TDs).
Mizzou's TE trio of R-Fr Albert Okwuegbunam, Jr Kendall Blanton and Sr Jason Reese have combined for 25 catches, 441 yards and 11 scores
The Tigers O-Line leads the nation in tackles for loss allowed (25) and is eighth in sacks allowed (8.0)
DEFENSE
Mizzou has held its last three opponents to just 295 total yards rushing (98.3 per game).
In the last 3 games Mizzou is allowing just 16.3 ppg after allowing 45.2 ppg over the first 6 games.
Mizzou is now 14th nationally and second in the SEC, averaging 7.6 tackles for loss per game
Sr DT A.J. Logan returned from suspension (6 games) and has teamed with Jr DT Terry Beckner, Jr., to give Mizzou a great front against the run
Beckner, Jr., is on the best four game stretch of his career with 19 tackles; 4.5 sacks and 7 tfl
Jr LB Terez Hall tied for the SEC lead in tfl per game (1.22). He has 11.0 TFLs on the season
MLB Cale Garrett leads the team with 67 tackles and has chipped in 5.0 tfl, 2 sacks, 2 ints and a fumble recovery.
SS Anthony Sherrils has 39 tack., 2 tfl and an interception on the season
SPECIAL TEAMS
Jr P Corey Fatony (Franklin Tn) ranks 8th nationally with his season average of 45.6 ypp with 12 going 50 yards or more
PK Tucker McCann is 8 for 10 on FG attempts this season with a long of 43 yds
PR Richaud Floyd has 9 returns for 128 (14.2 ypr) and 1 TD (85 yds)
KR Larry Roundtree averages 25.7 ypr
The longest punt return against the Tigers this year was a 16-yarder by Florida last week.
ODDS & ENDS
Missouri and Tennessee will meet for just the sixth time with Mizzou holding a 3-2 edge in the series
FINAL FRIDAY THOUGHT: A heart-felt thank you to all the Veterans and their families. We owe you a debt of gratitude that can never be repaid. God Bless you.