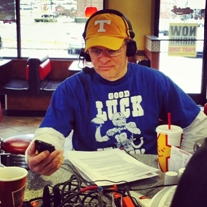 FREE THOUGHT FRIDAY
LEFTOVER GA TECH THOUGHTS:
-The Vols absolutely stole a game they had no business winning but donít the Football Gods owe this beleaguered fanbase a few?
-After some mentions early in the ticket sale process that Tech would bring more fans than the Vols, Big Orange Nation completely took over the Jackets back yard
-Even when Georgia Techís offense is clicking at itís very best itís difficult for them to put the game away. They limit not only their oppositionís possessions but theirs as well. Two turnovers were all it took to bring the Vols back even in a game in which they had been totally dominated.
-Just as Cordarrelle Patterson did 5 years earlier Marquez Callaway burst onto the scene in dramatic fashion in Atlanta against an ACC foe.
-Really pleased with the way Quinten Dormady recovered from a shaky start to perform calmly and efficiently down the stretch when we needed it most. Give me a good closer over a guy that sprints out of the gate and fades every time.
-What more can be said about John Kelly? His effort is inspiring to everyone that sees it.
-As Tony and Orange Throat have been preaching look for Ty Chandler to emerge as a valuable compliment to Kelly. All he needs is a game with more possessions to display his talent.
-Iím hoping the late-game surge combined with the return of Drew Richmond means we will see a more efficient offensive line going forward.
-Trey Smith is going to be a beast.
You can listen to the following Podcast using the player below.

You can find all of our Podcasts
here
.

Update Required
To play the media you will need to either update your browser to a recent version or update your
Flash plugin
.
-If Tyler Byrd is going to be our #5 or 6 receiver itís time to get him on the defensive side of the ball where we obviously need help.
-In spite of glowing preseason reports Justin Martin canít play. Rule of thumb: if you canít play in Years one and two; year three will be no different.
-Daniel Bituli sure can though and so can Darrell Taylor. Nigel Warrior looks promising and Colton Jumper played his usual blue-collar get all you can out of your ability game. Other than that, there were few if any bright spots from the defensive side of the ball.
-I hope Brady Hoke is the defensive line guru he is reputed to be. The performance and alignment of his unit left a lot to be desired.
-We desperately need both Kendall Vickers and Shy Tuttle to be healthy enough to play because Iím not sure Khalil McKenzie can.
WHAT WE WILL SEE IN WEEK 2:
HOW THE SEC TRAVELS:
The SEC got off to a pretty good start in Week 1 going 3-0 versus the ACC but suffered two high profile losses with Florida losing to Michigan and Texas A&M coming completely unglued at the Rose Bowl versus UCLA. Both dropped games away from their friendly environments setting the stage for two more huge intersectional games where SEC teams will find themselves in hostile territory. #13 Auburn will try to keep the league unscathed against the ACC traveling to #3 Clemson while #15 Georgia will trek to South Bend to take on #24 Notre Dame. Jake Fromm will take the reins from the injured Jacob Eason for the Bulldogs while Jarrett Stidham will get his first true litmus test as the Tigers QB. The only previous meeting between the Dawgs and Irish had slightly higher implications as Hershel Walker led Georgia to a National Championship in the 1981 Sugar Bowl. The Auburn version of Tigers are 14-3 all-time versus Clemson but were once 14-0.
ANOTHER EASTERN CLASSIC
Sunday night gave us a treat when Virginia Tech held on against West Virginia. This Saturday an even more historically significant old-school eastern football rivalry is revisited when #4 Penn State hosts Pitt. Sadly, it will be only the 6th meeting since 1992 in a classic that has been played 97 times. The Panthers won a 42-39 thriller last season.
COLUMBIA BOWL:
The SECís first league matchup takes place Saturday when South Carolina visits Missouri to determine who hails from the true Columbia. The permanent opponents have faced each other five times since the Tigers entry into the league with the Gamecocks winning three.
ALMOST ANOTHER TOP-5 CLASH:
Itís not #1 vs #3 as Alabama-Florida State was but #6 visiting #2 ainít bad. Give Oklahoma and Ohio State credit in the era of neutral field clashes this is the return game of a true home-and-home contract. The Buckeyes gave warning they were pretty darn good handing the Sooners a three-TD thumping -in Norman no less- last season. I doubt OU will catch The Ohio State napping based on last season however. It wasnít that long ago -in this very spot on the schedule when Virginia Tech came to Columbus and broke the Bucks 29-game home opener winning streak. Kudos to both of these teams; we need more on-campus titan matchups.
POSSIBLE PAC-12 CG PREVIEW
: In a game we may see repeated in early December #14 Stanford travels to #6 USC. The Cardinal methodically mauled Rice 62-7 in Week Zero while the Trojans sputtered to a double-digit win versus Western Michigan last Saturday. Stanford has been much better than their more acclaimed opponent in recent years winning 8 of the last 11 meetings. Clay Helton -however surprisingly- seems to be the right guy at the right time to right the Trojan ship. Troy has won their last ten games but are on a two-game skid against David Shawís crew by margins of 17 and 10 points respectively.
HOLY TOLEDO ITíS THE HOLY WAR:
The 92nd renewal of the Holy War commences Saturday when Utah travels to Provo to take on BYU. The hotly contested series saw the teams go 10-10 in the 90s and 2000s but the Utes have won all 6 games so far this decade.
WHAT VOL FANS SHOULD KNOW ABOUT INDIANA STATE:
OFFENSE
New offensive coordinator Jeff Hecklinski has installed a brand new offensive system for the Sycamores in 2017, moving away from the spread system of years past toward a pro-style, run-oriented offense.
Indiana Stateís 293 yards of total offense vs. Eastern Illinois is the most by ISU since Oct. 22, 2016 (438, at Southern Illinois).
Both R-Jr Isaac Harker and R-Fr Cade Sparks played QB in ISUís season opener.
Harker was the starter last season (214-of-370 for 2,559 yards, 19 TD, 8 INT)
R-Sr RB LeMonte Booker missed all of 2016 due to injury but returned to the field with 154 rushing yds and 158 all-purpose yds with two TDs against EIU
ISUís top returning receiver is SR Bob Pugh with 276 yards and one 56-yard TD in eight games in 2016.
The Sycamores also return Sr TE Jacquet McClendon, who hauled in 157 yards as a junior in 2016 and is set to see an increased role both in the passing and running games under the new offensive system.
Sr LT Matt Byrne is the elder statesman on the line with 30 career games played with 20 starts, alongside East Carolina transfer and RT Kyle Erickson (18 career games played at ECU).
DEFENSE
New DC Brad Wilson has installed a 4-3 defensive front (Sycamores played 3-4 in 2016)
Indiana State held Eastern Illinois to just 278 yds of total offense, the fewest allowed by a Sycamore defense since yielding 226 to Youngstown State on Nov. 21, 2015.
ISU recorded 5 sacks against Eastern Illinois, the most since Sept. 28, 2013 at Tennessee Tech (5.0).
Sr DE Evan Gill and Soph DE Inoke Moala both received their first career start and recorded 1.5 sacks against EIU
Sr DE Kenyota Rollins is ISUís second-leading returning tackler with 45 stops in 2016
R-Soph LB Jonas Griffith and R-Jr LB Katrell Moss both recorded 13 tackles vs EIU
Moss is the top returning tackler for the Sycamores with 46
Sr safety Jamal Jones and CB DeíJuan Tyson both recorded career-high tackles with 7 & 6 respectively vs vs. EIU
SPECIAL TEAMS
Soph PK Jerry Nunez went 2-for-3 in FGs (43 & 19 Yds) against EIU, the 16th and 17th of his career.
Sr KO specialist Andrew Lunsford has recorded 39 total touchbacks and has a career KO avg of 62 yds.
Sr P Thomas Bouldin recorded the longest punt in the Valley in 2016, (70 yds at Southern Illinois).
Fr Titus McCoy will handle KO returns while R-Sr Dimitri Taylor returns punts for the Sycamores.
ODDS & ENDS
This will be Indiana Stateís first game versus an SEC opponent since playing at Ole Miss in 1995
Indiana State is looking for its first road opening win since beating Louisville in 1984
ISUís new Head Coach Curt Mallory served as Butch Jones secondary coach at Central Michigan in 2001
All-time, ISU is 58-138-3 against the FBS and 0-3 vs. the SEC with losses to Florida in 1983 (17-13) and 1988 (58-0), and Ole Miss in 1995.
FINAL FRIDAY THOUGHT: The way football season flies by let me be the first to say Happy Thanksgiving. Blink and it will be here.

Stand With The Tony Basilio Show
Join the T Club
Make a One-Time Donation