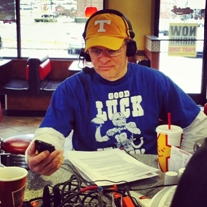 FREE THOUGHT FRIDAY
BEST RAINOUT OF ALL-TIME:
As I departed last Thursday for a scheduled softball tournament word came that it had been rained out. I had already planned to take in the Giants-Braves game that evening ahead of the scheduled Friday tournament start with Nephews, Chris and Andy. So, I made the trek south. What was supposed to be another typical tournament weekend turned into a blessed family visit with two full days of fun.
After Marietta endured a full day and early evening of rain the start of the Thursday game was delayed until 9:15. My Nephews and I were already inside the gates of the new and much improved -more on that later- SunTrust Stadium but decided our visit time would be better spent in the
Yard House Restaurant
in
The Battery
located right outside the stadium's RF Gate. It was the proper decision filled with great food and fellowship.
The industrious Chris decided to report to work on Friday which left the vacationing Andy and his completely non-ambitious Uncle to roam free about Atlanta on Friday. We took in the College Football Hall of Fame and the Atlanta Aquarium while awaiting time to catch the Braves-Brewers later that evening. Though very impressive in its own right I will spare you the fish tank review.
COLLEGE FOOTBALL HOF: A must for anyone asserting to be a college football fan. The displays, chronological timelines and video features are all educational and entertaining but the personalized interactive opportunities are what make it worth the price of admission. By registering your favorite team your hall pass -worn on a lanyard- automatically personalizes each stop with information on your favorite college program. It's up to you to determine how wide -or narrow- a focus to take while perusing the history of what I still consider the best spectator sport of them all. Two things slapped me in the face as I made my way through the hall; how much I love CFB and an astonishment that I've never taken the time to go to Cooperstown for the MLB equivalent.

SUNTRUST PARK: After a couple of flailing swing-and-misses the Braves Organization has finally done it right. SunTrust Park is big league in every aspect from aesthetics, to sightlines, to concessions, to service, to surroundings. Now the Braves need to continue to construct a roster fitting of a real MLB home.
REVISED BEANO STADIUM RANKINGS:
With my 21st MLB stadium visited now in the books it's time to post a revised ranking.
Comerica Park is next on the agenda scheduled for August.
1-FENWAY PARK:
For a baseball purist and romantic who cares only about the game and where it's played Fenway has no rival
2-CAMDEN YARDS:
The first and -still- best of the retro designed stadiums in a great baseball town
3-TARGET FIELD:
Aesthetically beautiful, great sightlines, passionate fans and the best scoreboard information dissemination in all of MLB.
4-PNC PARK:
Real close to being 3-A with perfect size and setting and palpable franchise history celebrated in the facility.

5-COORS FIELD:
Unique design with peaking CF bleachers and the Rocky Mountain background is breath taking.
6-YANKEE STADIUM (ORIGINAL):
Lacked the amenities of the retros but the historical significance was immeasurable to a lifelong Yankee fan.
7-SUNTRUST PARK:
Though I never saw Three Rivers Stadium the upgrade from Fulton County/Turner Field to SunTrust has to be the largest positive leap in baseball history short of Three Rivers to PNC for the Pirates and the Metrodome to Target Field for the Twins
8-NATIONALS PARK:
Beautiful design and though it appears money was no object in its construction simple touches like bullpen message boards make it special.

9-NEW YANKLEE STADIUM:
Adequately captured the history of its predecessor and the Yankee franchise but it's not the real House that Ruth Built.
10-US CELLULAR:
Surprising in its beauty and practicality. Without question one of the best pre-Camden Yard stadiums and White Sox followers are the true baseball fans in the city.
11-WRIGLEY FIELD:
It's greatest strength is also a weakness. Too many attendees are there to see a National Treasure rather than a baseball game.
12-PETCO PARK:
Beautiful park in a gorgeous city. May have ranked higher if I had attended with baseball fans rather than workmates looking for something to do on a Sunday out-of-town.
13-MEMORIAL STADIUM (Baltimore):
Outstanding baseball city and facility where the greatest Oriole teams played. Doesn't hurt that I remember countless Colt games played there
14-FULTON COUNTY STADIUM:
The first MLB park I saw a game live at. More appealing than other multi-purpose stadiums due to natural grass and memories of watching Hank Aaron play there.
15-TURNER FIELD:
Ranked very low compared to other post-Camden Yards stadiums I have seen. With all the carnival-like activities in the concourse it was like attending a MLB game in Pigeon Forge. Only the attendees weren't as passionate as those at Dollywood.

16-TROPICANA FIELD:
Better than it appears on TV but it's still indoor baseball with as indifferent a crowd as I have ever experienced.

17-GREAT AMERICAN BALLPARK:
The Reds organization did a disservice to some of MLB's greatest fans and their team's great history by going on the cheap with this facility. Everything about it screams penny-pinching and rather than a Queen City skyline you're looking at Kentucky. I can do that from Jellico.
18-MINUTE MAID STADIUM:
The only stadium I've ever been where I prefer the upper deck. The lower level is too cramped with bad sightlines.

19-RIVERFRONT STADIUM:
Cookie-cutter, multi-purpose, turf-covered, monstrosity with no character or redeeming features. How could that have possibly housed one of the great teams in the history of baseball?

20-PRO PLAYERS STADIUM:
This wasn't even a good football stadium but was an unquestioned disaster of a baseball facility. The fans are so bad I showed up two hours before game time and there were so few cars I thought I had read the schedule wrong.

21-METRODOME:
Tent-revival groups would thumb their nose at this atrocity. If they played a Super Bowl at this dump the Knoxville Civic Coliseum should bid for one as well.

WELCOME BACK COACH FULMER:
Anyone listening to
The Tony Basilio Show
in the mid-to-late 2000s knows I thought it was time for Tennessee to part ways with Phillip Fulmer. Heck, if you listened in the last 6 months you also know I wasn't a Fulmer for AD guy. I am however very pleased that he was named to an ambassador position that suits his skills and persona to a tee. I also believe it is a unifying/healing hire for the University and Athletic Program as a whole that was long overdue. The money part -though a drop in UT coffers- is the only minor stickler for me, and I preface
this is just me
. If I were asked to perform a part-time task for a university that has made me richer than my wildest dreams I believe…no, I know, I would have told -whoever is footing the bill- I would work for the 30K expense account and for them to use the 100K for something else. Regardless of that nit-pick, welcome back Coach Fulmer maybe our own personal "curse of the goat" has been lifted.
FANTASY FAUX PAS If there is anything at this time of year that provides weekly comedic material it is my fantasy baseball management. Until that changes, I will provide fantasy foolishness of the week.
Still on a mini-roll right now so thankfully there is nothing new to report.
MLB NUGGETS
-The Yankees have quickly gone from playing terrific to unwatchable baseball like flipping a switch. The bullpen has been the major culprit but just about everyone short of Aaron Judge and Gary Sanchez have contributed. Bad starts, lack of clutch hitting, little league defensive snafus and Joe Girardi hardheadedness have all reared their ugly head during the slide. I still love the youth movement however and look for the pinstripes to right their course any day now.
-I happened to be up in the early morning hours Wednesday
Blogger's Rant: We interrupt this thought momentarily to vent. I was up at God-forsaken 2 AM -and the rest of the dang day- suffering through the awful prep for my routine 60-year-old colonoscopy. I have tried to be a good boy and follow doctor's recommendations that you have this procedure performed at 50 years old and every ten years after. Praise God I received my second "clean" screening but let it be known if it is ever suggested -by anyone- I have another performed I will demonstrate my perfect health by knocking their ass out. If the Lord allows me to see 70 then whatever goes on down there is fine by me. The next time I drink 4 liters of foul tasting, impossible to get down, salt water I will not be welded to the porcelain throne for the next 4 hours. You will find me at the bottom of the ocean.
-where were we? Oh yes, as I was choking down the second 2 liters of fecal explosive the Rockies and Giants were thankfully still playing. What I saw Bud Black do in the top of the 13th however almost made me throw up before I could defecate. With a runner at first and no one out he had Nolan Arenado bunt the runner to second. A sacrifice bunt? With Nolan-fricken-Arenado at the plate? I'm sure Bruce Bochy had to restrain himself from sprinting out of his dugout to shake Black's hand. I wouldn't bunt Arenado to get the runner to third with one out let alone take the bat out of one of the best hitters in the game's hands to simply get a runner in scoring position. Hell, the guy's in scoring position at first with Nolan at the plate. Bud Black must have been preparing for his own colonoscopy between innings.
-Congratulations to Adrian Beltre on clubbing his 450th career HR this week. Next up? 3000 hits, and he's only 31 knocks away from the magic number.
-The American League is starting to look more like preseason predictions with the Red Sox (almost), Indians and Houston leading their respective divisions. The Rangers -after a dreadful start- have also come up for air at 1 game over .500.
-In the National the Cubs are breathing down the Brewer's necks soon to join Washington and Los Angeles as favorites in first place.
FINAL FRIDAY THOUGHT: Can't wait for Tony to unveil he and Tom Mattingly's VolScars. They're both talented individuals who have poured their heart and soul into the project. That's how something special is created.