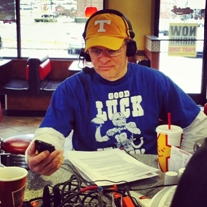 FREE THOUGHT FRIDAY
BUTCH'S OFFSEASON HAS BEEN SOLID:
Back on December 12th when the anguish of missing a second straight point-blank opportunity to win the SEC East was still weighing heavy on the hearts and minds of Vol fans everywhere -not to mention Vandy of all flippin teams had knocked us out of the Sugar Bowl- Tony asked me the following; "What would Butch have to do to regain your confidence going forward?" My immediate thought was "resign" but I accepted the assignment and expounded upon it. Below is what I blogged last December
with the results of the offseason bolded below each item:
HIRE -AND EMPOWER- A STRENGTH & CONDITIONING COACH:
One of the first red flags that too much player capitulation was occurring should have been the firing of Strength and Conditioning coach Dave Lawson and his replacement by Mike Szerszen. Widespread speculation was that the players opposed Lawson, not because of the program which he directed but because he would not allow them to play their music during sessions. What's next, quitting the team because you can't wear your Beats headset under your helmet during the games? I won't go so far as to say that the S&C coach shakeup had anything to do with the rash of injuries but it almost certainly negatively affected the performances of those who played. A case in point was our season-long inability to get off of blocks. I witnessed Micah Abernathy get driven from the 5-yard line all the way to the back line of the end zone against Vandy. That is either lack of strength or lack of effort and I've never known Abernathy to have an issue with want-to. Butch better hire an accomplished coach for this discipline and tell the players to do EXACTLY as he says.
CHECK; Rock Gullickson is a proven strength and conditioning guy who early-on seems to have the player's attention and respect. He's also re-instilling an old-fashion "explosive" approach that hopefully will keep our guys from getting manhandled at most every position as occurred too often in 2016
HIRE -AND EMPOWER- A QB COACH/OFFENSIVE/PASSING GAME COORDINATOR:
Tennessee's passing attack is rudimentary at best. Pure backyard, three completions is a first down nonsense. They also cannot continue along without a full-time, accomplished QB coach. I love Josh Dobbs but his advancements were more about strength gain and maturity than proper instruction. Jones needs to immediately address this issue by hiring a QB Coach/Passing Game Coordinator and get the heck out of the guy's way. He would be well advised to make sure whoever fills this roll has Offensive Coordinator experience as well because he probably should be handed that entire side of the ball.
CHECK: Mike Canales may not have been the sexiest name available but he will be full-time and QBs are his area of expertise. He may be able to fill another vital role as an older confidant for Butch Jones. It doesn't appear that he will be a passing game coordinator but Larry Scott may not need as much help in that area as I felt Mike DeBord required.
REASSIGN MIKE DEBORD:
If Mike DeBord chooses to remain on the staff his role should be -at most- Offensive Line Coach and Running Game Coordinator. His (actually Butch's) attack is fine against the dreg defenses of the conference but when facing solid defensive minds like Will Muschamp and Derek Mason the attack was slowed to a crawl. If DeBord is going to be a yes man crony rather than the confidant and conscious that Butch requires he should do it while having less influence over the rest of the offensive staff.
CHECK: Reassigned, resigned, what's the difference? Debord was much better -especially for the rush game- than I ever thought possible at the time of his hiring but if his heart wasn't here his body shouldn't be either. Larry Scott is an unknown as an OC due to his limited experience in that role but he is a solid football coach hungry to prove his worth as a head coach. A solid performance as an OC should move him one step closer to that dream. You can bet he won't lack energy and maybe he can talk Jones into some necessary tweaks to what will still be Butch's attack.
PUT THE OFFENSIVE LINE UNDER ONE COACH ONLY:
No unit on the field requires more synchronization than the offensive line and I've never understood how they can reach desired levels with two voices in their heads. Having interior and exterior line coaches is a bunch of hooey. Either DeBord needs to coach the O-Line and Don Mahoney find other employment or vice-versa.
CHECK: Walt Wells takes over the offensive line chores that were shared by Don Mahoney and Debord over the last two seasons. Wells is a highly-regarded coach and recruiter but more importantly I think the unit that relies more heavily on synchronicity than any other should answer to one voice and one voice only.

HIRE A DEFENSIVE COORDINATOR:
Bob Shoop may be a proven SEC Defensive Coordinator but all he's proven here is that he's a bad fit. Injuries aside you cannot put a product on the field that harkens back to the horrid Sal Sunseri experiment and get an additional year. That's a one-and-done performance.
NOPE: But I'm not terribly upset to see Bob Shoop get a mulligan. There is no question that his unit was the most devastated by injury and he had no say in what his support staff consisted of. Let's hope he isn't the second coming of Dave Clawson who was unable to effectively communicate all of his beautiful mind football knowledge in terms that could be understood and performed.
HIRE A SECONDARY COACH:
Last season our biggest disappointments were accentuated by game-changing gaffes in the secondary. This season has gotten worse rather than better. I would be hard-pressed to point out a single player on the back-end that appears to have been developed to their full potential. In an area where we seem to place annual recruiting emphasis the lack of production suggests the problem is not personnel but rather instruction and direction.
CHECK: Along with hiring a full-time QB Coach this was the area that absolutely had to be rectified. Willie Martinez may be a fine football coach but it never materialized for he or his unit here. Charlton Warren has an outstanding resume and his Air Force background should bring some much-needed discipline to a unit that too many times was out of position or unable to make plays when they were where they were supposed to be. The belief is that this was Shoop's selection which should also promote a more unified effort.
HAVE A TOP-10ish RECRUITING CLASS:
It doesn't matter if I'm through with Butch what matters is are difference-maker recruits done with him? The Vols obviously don't have the quality depth that all of us hoped and another solid recruiting class is essential. Whether Butch Jones is here to lead them more than one year or otherwise.
NOT QUITE: The Vols haul (#15-17) fell short of expectations especially in a season where the State of Tennessee appeared to have an abundance of D-1 prospects. The opportunities are even greater within the Volunteer State borders in 17-18 and Jones and staff seem to be off to a pretty good start.
ATTEND AN IN-DEPTH PUBLIC RELATIONS TRAINING COURSE:
Butch is the first coach in CFB history, whose team turned a potential Top-10, high-level bowl season into unranked and Music City bound who actually did more damage in press conferences than he did on the sideline. From -and I paraphrase- "I'm keeping a list of doubters in my back pocket when his team was 5-0, to "be happy we're going to be bowl eligible for the 3rd consecutive season" after the most damaging loss in at least 15 seasons at South Carolina, to "we're 1-0 this week" after seeing Florida steal the Vols SECCG berth, to "we're champions of life" leading into a critical game with Vandy to a 4-minute post-game charade after the debacle in Nashville, he is without question a damage-control dimwit. He needs to be forced to attend a public relations course with his job depending on successfully completing the program.
UNFORTUNATELY, I DON'T THINK SO: When is this scheduled for Coach?
SYNOPSIS: The above exercise is not to suggest I think all is well with Tennessee football. I hope I am slow to form definitive opinions on coaches at Tennessee but once I do I'm also very slow -if it ever happens- to reverse those judgements. I believe Coach Jones has had an impressive offseason; I'm not sure however that he has changed, which is the most critically required upgrade of all.
VOL HOOPS:
LOOKING BACK:

ALABAMA
-For 25 minutes it looked as though the Vols had indeed packed it in for the season. Then at around the 15-minute mark of the second half the switch got flipped back to "ON"
-You could see the belief coming back once the Tide stopped shooting the lights out and the Vols began to whittle away at the lead
-Grant Williams is a double-double machine. He is still at times bothered by his defender's length but he will continue to improve his footwork and positioning, learn to use his girth, and many times beat bigger guys down the court as his already-impressive game progresses.
-Kudos to Rick Barnes for not trash-piling Shembari Phillips and Admiral Schofield just because they were Donnie Tyndall's recruits and to Shembari and Admiral for not giving up on Barnes or themselves.
-You could not have convinced me that at season's end Jordan Bone and Kyle Alexander would play 3 and 7 minutes respectively. Those are two guys that I feel it's imperative grow up quickly if next season is to be anything more than another .500 campaign.
-Jordan Bowden must become the consistent shooter he's capable of and either Bone, LaMonte Turner or Kwe Parker better morph into a PG.
-Great job defensively by the Vols in the 2nd half versus Bama. The Tide went from hitting everything they threw up to can't buy a basket.
-It's probably too-little, too-late but the day I can't celebrate a win over Alabama in anything, anywhere is the day I find something else to do with my sports fandom.
GEORGIA
-The Vols aren't winning a game when Grant Williams scores six points and has one official FG attempt
-Jordan Bone and LaMonte Turner were better offensively than they have been recently and kept us in a game that we played poorly in. But while Grant Williams was saddled with two fouls we fell in love with the perimeter game and never adjusted.
-It was a shame to see Robert Hubbs on the bench during the final minutes of what was likely his last college basketball game. I'm not suggesting it was unwarranted, I'm simply saying it was sad.
-Kyle Alexander's performance suggested he should have received more than the 13 minutes playing time he was awarded.
LOOKING AHEAD:
2017-18: Tennessee's 15-15 record was probably better than most thought this team was capable of achieving. However, once it was apparent the freshman class was better than advertised I'm still disappointed that it appears they will once again miss the postseason. While conceding, things could have been different minus John Fulkerson's injury and Detrick Mostella's dismissal the season still leaves me feeling somewhat empty. Though I believe that the freshmen provide a solid foundation it will be wasted without some dramatic improvements both in terms of performance and roster makeup.

In order to get back into the NCAA Tournament -which should be the goal and expectation- several things must happen and happen quickly. Jordan Bowden must become the consistent three-point threat he has the potential to be. One or both of Jordan Bone or LaMonte Turner need to become effective floor generals. Kyle Alexander must develop into a player that the staff has enough confidence in to leave in long enough to affect the game as a rim protector and garbage offensive player. Yves Pons must prove to be a go-to scorer both at the rim and from the perimeter. Unfortunately, there also needs to be some attrition to provide both scholarships for the 2018-19 signing class and room to add a graduate transfer for next season if there are any available to provide immediate help.
FINAL FRIDAY THOUGHT: It's a great time on the sports calendar. Regardless of how many years the Vols try to ruin it for everyone.