Book Corner

Interviews with authors on topics including politics, history, music, sports, entertainment and more!

Listen on TonyBasilio.com
& On Your Apps!


Get the Droid App!


Get the iPhone App!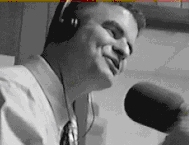 Friday
Posted: Friday, June 23rd, 2017, 8:04 AM
Welcome to Friday...I'm playing some music tonight and performing the show live from 11a to 1p. Plus I'm recording 4 more hours of VolScars this weekend, plus another 5 hours with the Tennessee Stud Ron Fuller on The Studcast. You could say I'm a little busy these days. If you get the chance, we (Sexy Lance, Davey Boy Bivin & Bashful Brett & Yours Truly TB) take the stage at 5:30 at Clancy's. Well play till 8 or 8:30...Come on out...It will be fun stuff.
As per usual, Orange Throat will have the floor on this Friday where we feature his work along with another terrific movie review from the Movie King.
...

[more]
Thursday
Posted: Thursday, June 22nd, 2017, 7:47 AM
One of my great Tennessee friends, who was one of the first people I met while on campus and taught me the ways of the Big Orange World, is featured today on the blog. His name is Frankie and he's all in on the Vols. He was always this way. We used to do a radio show together back in the day. Frankie has moved on to bigger and better things these days but he reads the blog frequently and wanted to answer OUR Vol Colonel.
A Restless Fan Base: Well hell, that really could be any year for us now especially in the social media error so let's skip that.
...

[more]
Live Wednesday at Smoothie King
Posted: Wednesday, June 21st, 2017, 8:09 AM
Welcome to your Wednesday
I want to publicly thank Mark Griffin for his appearance on the show yesterday. He joined me right off the top of the show and brought a terrific insider's perspective on UT's Elite Hoops Camp plus Orange Carpet Day on the football side. Griff was privy to going ons at both events and was effusive with his praise of Tennessee's execution. Plus any time we talk Rick Barnes on the show it's never boring. And yesterday was no exception.
On Fulmer & Men: I had fun with it on the air yesterday but the hire of Phillip Fulmer is really being overblown by folks. What happened at UT yesterday was brilliant politics on the part of UT. First of all they announced that this was being privately funded.
...

[more]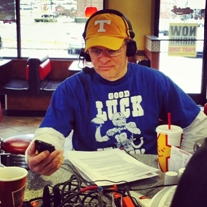 VITELLO AND ALL KINDS OF BASEBALL
Posted: Thursday, June 15th, 2017, 3:34 PM
FREE THOUGHT FRIDAY
HOW THE VITELLO HIRE STACKS UP: Tony was kind enough to include this in his blog the day after Tony Vitello was hired as the Vols new Baseball Coach. For those who may have missed it here is how I rate the hire. (Non-bolded represents my pre-hire thoughts on how I would approach the hiring process. Bolded rates how Vitello meets those viewpoints.
-DONíT HIRE A CURRENT, SITTING, COLLEGE HEAD COACH: Todd Raleigh and Dave Serrano in succession are enough to convince me that itís time to return to the last model that worked here. Rod Delmonico was Florida Stateís top assistant at the time of his hiring as the Volsí head man in 1990 CHECK, Vitello was most recently an assistant/recruiting coordinator at Arkansas (2014-17). Prior to that experience he was performed the same role for three seasons at TCU (2011-13) and preceded that with 8 seasons at Missouri (2003-10)
...

[more]
TENNESSEE FB OUTLIER DECADES
Posted: Thursday, June 1st, 2017, 3:18 PM
FREE THOUGHT FRIDAY
VOL FOOTBALL OUTLIER DECADES: A couple of blogs ago I posted what Tennessee football has been statistically during my period of fandom (1965-present). The numbers suggest that an average Tennessee football season/decade is 8 wins/season (should be adjusted to 9 with the 12-game regular season); 8 bowl appearances/decade (should never miss with several 5-7 teams now making bowls); 4-5 bowl wins/decade; 2 SECCG appearances/decade and 1 SEC Championship every 7 seasons.
With that in mind letís take a look at the outlier decades during the 52 seasons Iíve used to define the program above. One glance and it is easy to understand how those who began following the Vols in the 90s would have different expectations than most everyone introduced to Tennessee football during any other era. Itís also easy to sympathize with those in their teens and early-20s who Iím sure are asking Ďwhy would anyone think this stuff is ever going to be anything but -as Freddy describes the current state of our program- meatloaf?Ē
1990-99
...

[more]
CONFIDENCE IN CURRIE?
Posted: Thursday, May 25th, 2017, 1:55 PM
FREE THOUGHT FRIDAY
WHAT JOHN CURRIE MUST DO: Several weeks back during Tonyís trip to Philly to be with his Pop my former Calhounís Saturday Conversation co-host Geoff Brock and I discussed what John Currie would have to do to gain our confidence after being hired against our will. Below is a checklist I came up with at the time, some of which Currie has already marked off. From my standpoint -surprisingly- so far, so good.
-CONTINUE TO BE MORE OPEN AND FORTHCOMING WITH THE FANS: The open letter and effective use of social media outlets has been refreshing
-HANDLE THE BUTCH JONES CONTRACT CORRECTLY WITH NO ADDITIONAL FAILURE MONEY: If Currie wants to make it look as though Jones tenure is on firm ground for recruiting purposes with an extension and small raise I have less issue with that than extending/increasing the buyout in case what we saw late in the season was not a mirage but an oncoming train.
...

[more]