1180 AM Knoxville

Call In
To The Show! (865) 200-5402 Tee Mail 865-544-VOLS
(-8657)


Call In
To The Show! (865) 200-5402
Tee Mail 865-544-VOLS
(-8657)

Get the Droid App! Get the iPhone App!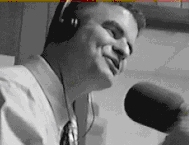 Live Friday @ Smoothie King
Walker Springs Rd
Posted: Friday, March 24th, 2017, 7:55 AM
Today's blog is dedicated to that Volunteer spirit of brotherhood and my main man Ramon Foster. Let me brag on the former Vol who also happens to be one of the top guards in the NFL with the Pittsburgh Steelers. We were fixin' to have Ramon on the show Thursday when an idea occurred to us regarding my friend Mark who's a HUGE Steelers fan. Mark's mother was undergoing cancer surgery and Brian Hartman asked Ramon if he could call Mark and just tell a fellow Vol that he was thinking about him. Ramon's reply. "No problem." In fact, yesterday on the air I thanked Ramon for this amazing act of kindness for which he asked nothing in return. His reply? "Thank you for asking me to do this. I hope it helped make his day easier," Foster said. To Ramon Foster...VFL extraordinaire....I thank you for your wonderful gesture and the Volunteer spirit you continue to exude. Keep on keepin' on my main man!!
...

[more]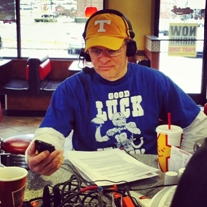 MORE TOURNEY TALK
Posted: Thursday, March 23rd, 2017, 1:49 PM
FREE THOUGHT FRIDAY
TOURNEY TIDBITS: As usual the tournament had no shortage of drama and gave us a wonderful weekend of entertainment.
-If seeding is your measurement there were very few surprises in the round of 64. Only five lower seeds won in the first round and amazingly three of those were 11 seeds (Rhode Island, USC, Xavier). The other "upsets" came from 12 seed MTSU and 10 seed Wichita State. Vegas wasn't buying the Shockers' seed making them a 1-pt favorite over 7-seed Dayton
-Seth Davis -in ridiculous fashion- selected Wichita State as his "underdog lock of the day" prior to their win over Dayton.
...

[more]
Thursday Live @ Stover's
Posted: Thursday, March 23rd, 2017, 7:19 AM
My good friend, the great Steve Parker, asked me an interesting hypothetical question that I would like to kick around today and also on the air.
Here's the question....
In 2017-2108 I would like to see the Vols
A) Make A New Year's Day Six Bowl Game.
B) Make The School's First Ever Final Four In Men's Hoops.
You get one of two choices here..
...

[more]
Wednesday Live at Stover's
Posted: Wednesday, March 22nd, 2017, 7:17 AM
10 Reasons I Feel Great About Tennessee's Chances Of Winning The SEC East In 2017:
10. A New Butch Jones:
Jones has learned a lesson and he learns his lessons. I appreciate this. As Dr. Sinclair said last week, Butch Jones doesn't always verbalize or admit that he fails but he seems to learn. All coaches are stubborn, but Butch learned from 2016. Butch's press conference was a radical departure to his past work on that front. Sensitive Butch has been put to the side for now.
...

[more]
TOURNAMENT TIME
Posted: Thursday, March 16th, 2017, 3:46 PM
FREE THOUGHT FRIDAY
TOURNEY TIDBITS: I enjoy college basketball but it is a conditional love. I rarely think of it when it isn't in season and if given truth serum I would admit that it would rank no better than fourth on my list of favorite sports behind college football, Major League Baseball and the NFL. But there is no question the NCAA Men's Basketball Tournament is still the most enjoyable spectacle in all of sports, especially the first two days of the event and I'm not referencing Dayton. The proof of the pudding is my excitement for the event doesn't wane if my favorite team is excluded unlike other sports' major championship events. As usual I am ready for what will almost certainly be days of great drama and enjoyment. Here are some early thoughts on the 2017 tourney:
-The four 5-12 matchups look as if they will prolong the slot's reputation as the most likely upset spot.
...

[more]
BUTCH HAS HAD AN "A" OFFSEASON but...
Posted: Thursday, March 9th, 2017, 5:40 PM
FREE THOUGHT FRIDAY
BUTCH'S OFFSEASON HAS BEEN SOLID: Back on December 12th when the anguish of missing a second straight point-blank opportunity to win the SEC East was still weighing heavy on the hearts and minds of Vol fans everywhere -not to mention Vandy of all flippin teams had knocked us out of the Sugar Bowl- Tony asked me the following; "What would Butch have to do to regain your confidence going forward?" My immediate thought was "resign" but I accepted the assignment and expounded upon it. Below is what I blogged last December with the results of the offseason bolded below each item:
HIRE -AND EMPOWER- A STRENGTH & CONDITIONING COACH: One of the first red flags that too much player capitulation was occurring should have been the firing of Strength and Conditioning coach Dave Lawson and his replacement by Mike Szerszen. Widespread speculation was that the players opposed Lawson, not because of the program which he directed but because he would not allow them to play their music during sessions. What's next, quitting the team because you can't wear your Beats headset under your helmet during the games? I won't go so far as to say that the S&C coach shakeup had anything to do with the rash of injuries but it almost certainly negatively affected the performances of those who played.
...

[more]