Book Corner

Interviews with authors on topics including politics, history, music, sports, entertainment and more!

Listen on TonyBasilio.com
& On Your Apps!


Get the Droid App!


Get the iPhone App!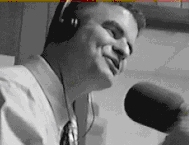 Friday
Posted: Saturday, May 27th, 2017, 3:54 PM
Welcome to Friday. Lots to talk about today with a lot of moving parts. We had a fun show on Thursday. If you missed it, check it out and giggle.
Throaty...Awesome report.....I'm not falling prey to the slight of hand from the Barnes-a-nistas. I refuse to let Dave Hart dumb down UT hoops though he tried his best to destroy it. Tennessee basketball should live in the NCAA Tournament. I agree with you. In year three you should not only get to the NCAA Tournament at this school, but win games too. Cuonzo got to the Sweet 16 in year 3 as did Pearl.
...

[more]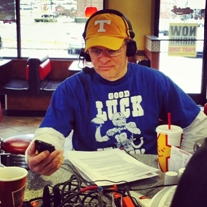 CONFIDENCE IN CURRIE?
Posted: Thursday, May 25th, 2017, 1:55 PM
FREE THOUGHT FRIDAY
WHAT JOHN CURRIE MUST DO: Several weeks back during Tonyís trip to Philly to be with his Pop my former Calhounís Saturday Conversation co-host Geoff Brock and I discussed what John Currie would have to do to gain our confidence after being hired against our will. Below is a checklist I came up with at the time, some of which Currie has already marked off. From my standpoint -surprisingly- so far, so good.
-CONTINUE TO BE MORE OPEN AND FORTHCOMING WITH THE FANS: The open letter and effective use of social media outlets has been refreshing
-HANDLE THE BUTCH JONES CONTRACT CORRECTLY WITH NO ADDITIONAL FAILURE MONEY: If Currie wants to make it look as though Jones tenure is on firm ground for recruiting purposes with an extension and small raise I have less issue with that than extending/increasing the buyout in case what we saw late in the season was not a mirage but an oncoming train.
...

[more]
Thursday
Posted: Saturday, May 27th, 2017, 3:55 PM
Thursday Brings Questions:
Question One: Will John Currie Seriously Consider Chris Burke? The subject of Chris Burke as UT's next coach came up when somebody brought up an interesting angle. If Tennessee Hires Burke very soon, the rest of the post-season TV wise will be infomercial for Tennessee. Burke would be a tremendous hire for Tennessee. I really believe Burke is going to blow John Currie away so much so that I won't even use this space to plead with or try to Currie favor with UT's newly minted AD. Currie is going to love Burke. The only question is will he hire a guy with a resume as unconventional as Burke. Rest assured Burke knows his baseball. Plus, he knows how to teach the game.
...

[more]
Wednesday Live at Copper Cellar Cumberland Ave.
Posted: Saturday, May 27th, 2017, 3:57 PM
Today's blog and show are done in the memory of Mike Johnson. The Knoxville based sports broadcaster did us proud during his many stops in his fine career. Mike left this world last Thursday at 70 years of age but touched a lot of people along the way. Here's a wonderful write up on his career by the folks at Bethune-Cookman University where Mike worked for close to a couple of decades. Link
Overlooked Vols?
Our Friends at Rocky Top Insider culled the pages of Athlon's All SEC Teams and here's where Tennessee players fare.
...

[more]
MY SPIN ON POWER-5 COACH'S RANKINGS
Posted: Thursday, May 11th, 2017, 5:47 PM
FREE THOUGHT FRIDAY
COACH CLASSIFICATIONS: CBS recently revealed their third annual Power-5 Coaches Rankings (+Brian Kelly) in which Butch Jones tumbled almost 20 spots from 2016 (from 33 to 52). While believing thatís excessive it shows how the disappointment of the 2016 Tennessee Football season -exacerbated by Jonesís ridiculous corresponding sound bites- have soured the National pundits view on the quality of coach currently heading the Vol program.
In my mind, there are 15 established Power-5 Head Coaches that are clearly better than Butch and a handful of rising stars that I would prefer over him as well due to their high ceiling. Aside from that I think there are just a bunch of guys that are pretty good coaches whose appeal is determined by their latest season.
Here is how I would categorize the same 65 coaches that CBS ranked.
...

[more]
TRIBUTE TO TONY'S POP
Posted: Wednesday, May 3rd, 2017, 8:57 PM
FREE THOUGHT FRIDAY (Real Early Edition)
IF I COULD HAVE ATTENDED ANY SPORTING EVENT: Tony, Tom Marine and I did a fun show a couple of weeks back revealing what sporting events we would have loved to attended regardless of the venue or era in which they occurred. Here are my Final-4
4-Jackie Robinsonís MLB Debut: On April 15, 1947, the landscape of Major League baseball was forever changed as Jackie Robinson broke the gameís color barrier. I would hope that I would have been a compassionate white fan with the foresight to understand that an injustice had finally been righted. Had I have been raised in that era however Iím uncertain I could. I would certainly hope I wouldnít have been the insufferable ass that Phillies Manager Ben Chapman was portrayed to be in the Movie 42.
...

[more]