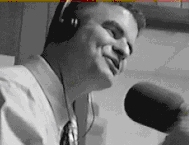 Live Monday @ Stover's
Posted: Monday, January 23rd, 2017, 7:15 AM
Make your plans for Wednesday, Feb 1st to join us in the loft of Calhoun's Pellissippi Parkway for our Smoothie King Signing Day Spectacular. It's going to be a tremendous day of celebration as we welcome another stellar class of Vols. This is one of my favorite days of the year because people come from miles around to enjoy each other. We're going to have a special buffet and Mr. Chase is cutting us a great deal so you will be out the door for only $13 per person. This includes the tip. Also, we will have terrific prizes as well. It's going to be a wonderful time. I hope you can get there! We will broadcast from 10 am to 2pm. Our first and last hours will app only.
...

[more]
Live Friday @
Bearden Hill Fieldhouse
Posted: Friday, January 20th, 2017, 7:55 AM
Make your plans to join us for our Smoothie King Signing Day Spectacular at Calhoun's Pellissippi Parkway. What a great deal and terrific time we will have ringing in another awesome signing class together. It's a day of hope. One of the terrific days on our sports calendar. I love every minute of giving those kids their day. For some young guys that Wednesday will be the pinnacle. That's okay. Congrats to them for their accomplishments. We will gather as a fan base in the upstairs of Calhoun's Pellissippi Parkway. Buffet upstairs. $13 per person (tip included).
...

[more]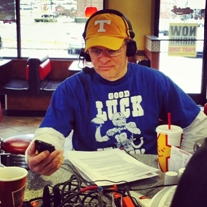 FULMER PLUSSES AND MINUSES
Posted: Thursday, January 19th, 2017, 4:07 PM
FREE THOUGHT FRIDAY
REPLY FROM THE PREZ (OR A REP) Last week I posted my e-mail to UT President Joe DiPietro requesting he hire David Blackburn as our next AD. Below is the response I received:
Dear Jeff:
Thank you for your email message of January 11. I very much appreciate your interest in the UTK Athletics Director search. This is an important hire for the Knoxville campus.
...

[more]
Live @ Smoothie King
Posted: Thursday, January 19th, 2017, 1:20 AM
Sorry for missing my show yesterday. Been dragging crud around for days and did Smartway/Garza Law Firm Tennessee Basketball Overtime after that UT/Ole Miss classic. Oh, and it was a classic. I've been soft on UT hoops thus far this season on this blog and on the show thus far because I appreciate how hard they play most nights. That said, Tuesday night at Oxford, MS was disgraceful. That was an all time horrible loss.
My message thus far on the Rick Barnes era has been (and continues to be) that this is about players. Barnes seems like a nice enough feller, but he's in little danger of placing the Vols in the upper division anytime soon. Juxtapose him with Ben Howland who took over Miss State on March 24th, 2015. Rick Barnes got the UT job March 31st, 2015.
...

[more]
OH MY; THE HOOPS TEAM MAY BE WHAT WE THOUGHT THEY WERE
Posted: Thursday, January 12th, 2017, 1:54 PM
FREE THOUGHT FRIDAY
E-MAIL TO PRESIDENT DIPIETRO: With Tony dedicating most of this week's shows to impassioned pleas to anyone who would listen and Copper Cellar Family of Restaurants Owner Mike Chase's Twitter support for the hiring of David Blackburn as Tennessee's next AD I thought it was time for me to toss my pebble into the sea. Here is the e-mail I sent on Wednesday evening:
Mr. DiPietro,
As a graduate of the University of Tennessee and a lifelong fan of the University's Athletic program I urge you to make your voice heard in the hiring of David Blackburn as our next Athletic Director. In over 50 years of closely following Tennessee sports I have never witnessed such overwhelming support behind a candidate -with the possible exception of John Majors return in 1977- by the Tennessee fan base for any candidate seeking any position at the University. He has earned the opportunity and you will never regret his hiring.
...

[more]
QB TOUGHTS; FUTURE, PAST & PRESENT
Posted: Monday, January 9th, 2017, 8:55 AM
ON MY MONDAY MIND
QB THOUGHTS PAST AND PRESENT:
WHOEVER'S NEXT: With Josh Dobbs completing his eligibility and new blood (or same blood, new role) filling both the Offensive Coordinator and QB Coach positions spring and fall football practices should be newsworthy for Butch Jones and the Tennessee program. Like most I believe Jarrett Guarantano is the favorite for the heir-apparent role and the best fit for what Jones -and it will still be Butch's offense- wants his attack to be. Unlike most I don't believe it is a slam dunk he starts Game 1 versus Georgia Tech due to the fact the slate is being wiped somewhat clean with the staff changes mentioned above…and Butch's decision making quirks. Regardless of who wins the job my hope for them is that they are less careless with the ball than Josh was at times last season and that they avoid suffering through a dreadful day as he experienced in Columbia, S.C. Other than that, if they'll just be Josh Dobbs I will be perfectly satisfied with our QB play.
...

[more]