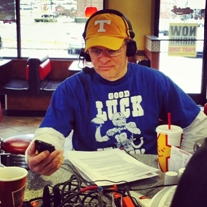 FREE THOUGHT FRIDAY
MLB STILL CREEPING ALONG:
On the eve of the start of Spring Training games for Major League Baseball much of the early chatter centers around improving the pace of the game. Iím generally a traditionalist but at my advanced age I would appreciate if someone would figure out a way to get the last three innings in the books before Iím dead-asleep in the recliner. Unfortunately, the Major League Players Association rejected proposals that would indeed speed things up while allowing one that wonít. The players
graciously
accepted intentional walks being signaled from the dugout without having to throw four balls. Since there is only one every three games played that will have about
zero
effect. The proposals that should have been passed for the betterment of the game are the pitch clock and limiting visits to mound in the last three innings. I love baseball but love is fleeting once the game passes the three- hour mark and if theyíre losing me at that juncture of a game they will never register on the radar screen of the generation of fans to follow.
HOW QUICKLY IT CHANGES:
Going into Wednesday nightís game vs Vandy the Vols still had an outside chance to be an NCAA Tournament team. The loss to the Commodores was so damaging that the Vols now have work to do in order to make the NIT bracket. At 15-13 -with a win over Chaminade that doesnít truly exist- and two of the three remaining regular season games on the road, any postseason play at all is no longer a lock. All three games are certainly winnable but the Vols constant perimeter defensive and shooting issues make all of them scary as well. At this point in their development it would be unfair of me to be discouraged about this teamís likely omission from the NCAA Tournament. Falling short of the NIT however will certainly be a disappointing turn of events.
VOL HOOPS:
LOOKING BACK:
vs MISSOURI
-Great to see Robert Hubbs back on his game. Hubbs 21 point, 8 rebound performance begs the question if heís getting healthier or if Missouri showed up at the right time.
-I listened to the game on the radio from LMUís gym in Harrogate so I was spared what many say was the worst SEC opponent to grace TBA in that facilityís history.
-Grant Williams continues to amaze with his all-around game. His 6 of 12 performance from the filed bolstered by hitting 12 of 13 free throws is the perfect line for a guy doing solid work in the paint
-When Brad Woodson and Lucas Campbell get rewarded for hard work on the practice floor things are either going really well or really bad. Weíve seen examples of both over the last several days.
-Letís hope that Jordan Bowden missing most of the game with the flu is an indication that the virus has run its way through the roster rather than just beginning.
-Hats off to both Admiral Schofield and Shembari Phillips who were hurled into the middle of a coaching change and have both persevered through a difficult transition.
vs VANDY
-Unfortunately, at the worst possible time. the Vols played their worst game since UTC. The Vols now have work to do to remain an NIT candidate.
-Youíre going to have games when you shoot the ball poorly. At this point in the season however playing a half of lethargic basketball is unacceptable.
-Luke Kornet was the difference maker. Though he only scored 13 pts his length and presence around the rim defensively (7 blocks) forced Tennessee into an awful game shooting in close.
-The Vols two young PGs were horrendous. Jordan Bone was 1-4 from the floor and 0-1 from beyond the arch with 2 assists and 2 TOs. LaMonte Turner was 1-6 and 0-3 with 0 assists and 2 TOs. Neither shot a free-throw.
-Shembari Phillips, Admiral Schofield and Grant Williams all missed two free throws at key moments
-Vandy didnít play very well but their ability to make occasional perimeter shots and the fact they got most of the 50-50 balls were both factors in a huge win for the Commodores.
LOOKING AHEAD:
Short of a 5-game winning streak -or an even more unlikely SEC Tournament Championship- any thoughts of an NCAA Tournament berth were euthanized in a lethargic first half of basketball Wednesday night. The Vols still have hopes of an NIT berth but even that resume needs bolstering down the stretch.
@SOUTH CAROLINA (Sat 1pm)
SEC Player of the Year candidate 6-5 Sr G Sindarius Thornwell continues to lead the Gamecocks -and the SEC- with 21.2 ppg. He is supported by 6-6 Soph G PJ Dozier (13.6),6-2 Sr G Duane Notice (10.4) and 6-9 Soph F Chris Silva (10.1) also averaging double-figures. Thornwell also leads the Cocks in rebounding with 7.4 rpg while Silva has blocked 39 shots.
@LSU (Wed 7pm)
At the time of writing the Tigers were still looking for their second SEC win but the Vols travel to Baton Rouge on Senior Day (only 6-8 F Brandon Eddleston 1.5 ppg & 6-5 F Brian Bridgewater 0.8 ppg) and it will also be the last home game for the
incomparable
Johnny Jones. The Tigers have three double-digit scorers led by 6-4 Soph G Antonio Blakeney (17.8), 6-10 Jr F Duop Reath (12.7) and 6-5 Soph G Brandon Sampson (11.1). Reath is the Tigers leading rebounder at 6.2 rpg.
MY PREDICTION:
With the season teetering on the brink it is my hope the Vols can recover sufficiently from their current streak of four losses in their last six contests. With four guaranteed games remaining there is very little room for error. I believe the Vols will lose Saturday to a desperate South Carolina team that has to feel their once-special season slipping into darkness. I then have the Vols recovering to win games at LSU and -donít ask me why- at home versus Alabama. I then believe the Vols will win their customary one game at the SEC Tournament which will make their final record 18-15. From the NITís perspective, I do not believe the Chaminade game counts which makes the Vols tournament resume record 17-15. If that is the case Vol fans need to cheer for every one-bid league, regular season champion to win their conference tournament as well because those who donít get an automatic invite to the NIT. At two-games over .500 every spot will prove to be precious.
AD SEARCH:
As Tony said on his Thursday show it appears that David Blackburn has long -since been out of the race for the Vols AD position. He also suggested that Phillip Fulmerís candidacy is fading as well. If that is indeed the case and third-party candidates are now back in vogue here are the bios of two believed to be being considered
BUBBA CUNNINGHAM
JIM PHILLIPS
AD CAMPAIGN SLOGANS
Since the ridiculous farce of a process known as our Athletic Director search has reached comical proportions -and forced both David Blackburn and Phillip Fulmer into full campaign mode- Tony asked me to be prepared with slogans for both. If I were each manís campaign manager here is the motto that I would suggest for both:
PHILLIP FULMER:
Remember the best and forget the rest
DAVID BLACKBURN:
The next time you fire me will be the first
FINAL FRIDAY THOUGHT: Spring Training Baseball games begin on Friday. That has to be a good thing.