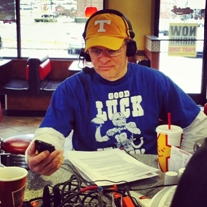 They say that pre-season scrimmages are a poor indicator of the season-to-come. As Tennessee fans we better hit our knees and pray that's accurate because the one I just attended looked like game film from 2005. The coaches obviously knew what they were doing closing practices to the public and media. My guess is surgeons don't want prying eyes in the operating room when their patient is dying either. I CAN report that the defense has taken the "Fired up, focused and prepared" mantra to heart. The problem is they weren't the ones it was developed for. The offense on the other hand looked more "lit- up, simply cussed, and prehistoric. The first indication that the message has yet to sink in came when they were forced to take a timeout before running the scrimmage's opening play. The offensive performance was littered with non-existent blocking, little or no separation by receivers, and Eric Ainge seemingly losing his command of the game. Sound familiar? It was in a word U-G-L-Y. The Vols have three weeks to "fire up, focus, and prepare" for Cal. If the scrimmage was any indication the offense better be going at a 333,333.334 miles a week clip between now and then.
Below are my impressions of the day's good, bad, and ugly:
OFFENSE
GOOD
-More obvious vocal, immediate, corrections to errors during pre-game drills
-Arian Foster, David Yancey, Ja'Kouri Williams, and walk-on Roy Olisimbo all had fine "individual" efforts after being provided few holes by the O-Line.
-Brad Cottam made a nice catch and run breaking several tackles
-Jason Swain showed a desire and ability to battle for balls with DBs
-Jonathan Crompton showed good mobility and completed a perfectly thrown 28 yard TD pass to Lucas Taylor
-Eric Ainge showed poise in the pocket early (and I emphasize EARLY) in the scrimmage
-Ainge made two nice scrambles on one of the many jail break pass rushes put on by the defense
-Bo Hardegree threw two TD passes one each to Quintin Hancock and Josh Briscoe
BAD
-Midway through the second first-team series Ainge lost the earlier mentioned poise. Failing to set and throw for much of the day, throwing a wounded duck out of his own end zone that Hefney should have intercepted, and later throwing an interception to Hefney after a QB-WR miscommunication
-Key weapons Montario Hardesty and FB Cory Anderson watched from the sidelines with injuries
-Both Eric Ainge and Jonathan Crompton need work on truly selling the run on play-action passes. Their fakes are half-hearted at best
-Center play was poor and appeared to be a revolving door between Michael Frogg, Josh McNeil, and Anthony Parker
-There were several QB-C exchange problems regardless of the combination
-Nick Stephens first two plays resulted in a poor exchange with the RB and a fumbled snap
-Failure to complete positive plays. On two consecutive snaps Ainge made a nice improv shuffle pass to Foster who rumbled 12 yards then fumbled; Yancey then made a nice 10 yard gain on a sweep left and also fumbled at the end of the run.
UGLY
-The offensive line was flat-out awful. They opened few holes for Running Backs and even with a quick whistle gave up 7+ sacks
-After two weeks of coach-speak about "tempo" and "fired-up, focused, and prepared, the offense was forced to call a timeout before running the first play of the scrimmage. Another wasted timeout occurred in the second series.
-1/4 of the Touchdown passes thrown or caught were executed by Holder Casey Woods (thrown) and PK James Wilhoit (caught).
-The receivers are still getting ZERO separation in the passing game.
DEFENSE
GOOD
-Jerod Mayo spent more time in the offensive backfield than Phillip Fulmer
-Justin Harrell made an NFL-worthy play using great angle, agility and speed to tackle Yancey on a screen that would have gone for big yardage
-The blitzes were perfectly timed and the offense rarely if ever picked them up
-Tackling appeared sharp and there always seemed to be a crowd around the ball
-The secondary allowed the receivers very little breathing room in 3 hours
-Matt Mcglothlin started at LT with Turk McBride playing DE and was very noticeable on many occasions
BAD
-Allowed RBs to make yards on a couple occasions where the play should have been stoned
-Who will step up with Robert Ayers to allow Turk McBride to play some inside?
UGLY
-The orange numerals on white jerseys that are impossible to read even before the players tie them up
SPECIAL TEAMS
GOOD
-Perfectly executed fake field goal with Casey Woods completing a touchdown pass to James Wilhoit STREAKING down the left sideline.
BAD
Punt protection; two would have been blocked if the play were truly live
GENERAL OBSERVATIONS
-Jonathan Hefney and Austin Rogers returned punts while Hefney and Robert Meachem were deep on kickoffs
-Britton Colquitt and James Wilhoit appeared to hit punts and kicks well on a day when it was difficult to determine from the stands if the wind was friend or foe.
-The second-team offensive line was LT-Chris Scott, LG-Jacques McClendon C-Josh McNeil, RG-Ramon Foster, RT-Steven Jones