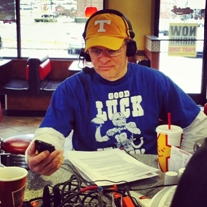 A Blog? Me with a Blog? Who in their right mind would allow a guy called ďBeanoĒ to express his mental meanderings on their web sight? Well who else but Tony Basilio? A man whose kindness and sense of adventure knows no end and his wisdom knows no beginning. Thanks Tony.
DISCLAIMER 1 I am not a journalist, not a writer, not a columnist, not objective, and not often of sound mind. I am like most of you, a fan. That means the tone of this space will often run the gamut from euphoria to pure disgust. The folks in the carnival business would be elated to have a ride that simulated the ups, downs, twists, and turns that inhabit my mind while watching my favorite teamís seasons progress. No waiting in line for you. Jump in, hang on and letís enjoy the trip.
DISCLAIMER 2 Please do not judge the Oak Ridge School System by my punctuation and sentence structure skills. They must have taught those in early October while I was feigning sick to watch the World Series. My relatives still refer to it as the Fall Classic Flu.
What else could my inaugural blog be about but Bruuuuuuce Pearl? I ask you has a more competent, exciting, energetic, charming, charismatic, in touch with the fan base; individual EVER graced the hill as the leader of one of our beloved Vol programs? I say no way. In my clear memory of all that is orange (which goes back to 1965) we have had three coaches with magnetism. Ray Mears, Johnny Majors, and Bruce Pearl. (I exclude Kevin OíNeill since he lasted on the hill about as long as my high school romances). Realizing that itís far too early for definitive evaluation I rate Pearl ahead of his aforementioned predecessors. Why? Mears inexplicably didnít receive the respect or support of the UTAD hierarchy that he so richly deserved and didnít have todayís mega-stage on which to display his talents. Majorís abrasive approach with assistants and administrators derailed his progress at a time when program stability appeared achievable. Both lacked Pearlís astute sense of diplomacy which will allow him to prosper as a basketball coach in a football-first area.
Iím still in disbelief that Pearl is actually pacing the side court of TBA. I have been so conditioned to the self-perpetuating mediocrity of Tennessee hoops that I keep thinking I will wakeup to see Bobby Lutz in charge. Under the direction of Bob Woodruff and Doug Dickey I never felt a sense of urgency to put a top-notch product on the floor. The hires following Don Devoeís dismissal always seemed to be aimed at fan appeasement rather than program building. The pre-Mike Hamilton approach was ďthe fans thinkĒ:
- Devoe canít recruit letís give them Wade Houston.
- Houston had no head coaching experience and canít (space limitations preclude my listing that many deficiencies) so letís find an established coach that recently beat Kentucky. Kevin OíNeill is our man
- they needed a jolt cola espresso to watch OíNeillís robotic offense so letís replace him with a guy who rolls the ball out and gets the heck out of the way. Jerry Greene will accept
- Greeneís too old, too abrasive, told them to go to K-Mart (he apparently damaged that franchise much as he did our program) and doesnít look good in a turtle neck lets hire fast-walkin, slow-talkin, good-lookin Buzz Peterson. Nice guy, average coach
I was just sure the next step was a return to the anti-Buzz. A crack the whip no-nonsense, experienced tyrant more likely to win basketball games than friends. My nightmare almost came true. Remember the Bobby Knight talk? Thank God Mike Hamiltonís ACC background gave him a true affection for the plight of our basketball program and a desire to do more than put it out-of-sight, out-of-mind, for another 4 year period of misery. Finally a University of Tennessee Athletic Director realized we needed a man-for-all-seasons. A man who could teach, coach, recruit, motivate, promote, and heal. Possessing three of the six attributes would not have been enough. We had to have the total package. To my utter amazement we hired that man.
16-3 overall, 7-1 at the SEC midpoint? Vehicular traffic around TBA? 21,000 for Georgia? Students waiting in line at the entrance gate and so fired up inside that South Carolinaís Renaldo Balkman is serenaded with ďWhoo-pi Gold-bergĒ every time he touches the ball? Trouble finding tickets to mid-week games and no open seat to lay your coat in? Sir who are you and what have you done with the Tennessee basketball program? Welcome to Pearlís world. I donít know about you but Iím damn-glad to be living in it. Pardon me while I express how much; Bruuuuuuuuuuuce.
Beano