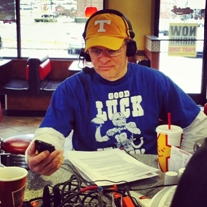 What a glorious time of year it is. October brings the best weather, the best of baseball, and the meat of the Football Vols conference schedule. Saturdayís game with Georgia is a great opportunity for Tennessee to reinsert itself into the SEC-East race and the nationís conscience.
Now that the game is here itís scary for all the wrong reasons. Prior to the season I worried that Georgia would by now have their QB situation settled and Matthew Stafford would be comfortably entrenched. I worried that our QB situation would once again be garbled and team confidence would be fragile. I worried that Georgiaís ballyhooed backs would find their chemistry and their receivers led by Mohamed Massaquoi, A.J Bryant, and TE Martrez Milner would catch everything in sight and we would have no answer. I worried that our receiving corps would continue to drop passes or fall down with the ones they caught. I worried that Georgia PK Brandon Couto would be dead-on and Wilhoit would have more hammy problems. Wrong, wrong, wrong, wrong, wrong and wrong.
The Dawgs QB situation is a shambles and ours is stabilized. Coker, Hardesty, and now Foster give the Vols a solid stable of backs that can hold their own with the Lumpkin, Brown and Ware. Meachem and Swain are snagging everything thrown their way and taking 5 yard hooks to the house while Massaquoi and company are taking personal lessons from Pat Washington. Wilhoit is hot and Couto is hurt.
Now Iím worried that everything is set up too well. Weíre going into the Dawg House favored for gosh sakes. It smells like Legion Field to me. Letís hope itís of the 1983, 1985 variety rather than all the other years from 71-93. It should be a great game and Iím anxiously awaiting Saturday. The following quote by Coach Fulmer is correct and weíre lucky to be a part of it:
"I really want our guys to understand how big of an opportunity this is and how much they should enjoy this moment," Fulmer said. "Getting to play at a place like Tennessee in the Southeastern Conference, and going to a place like Georgia in a big SEC game -- it will be an exciting arena. Just like when folks come here to Knoxville, I don't know how it gets any better than this."
Iíll tell you how it gets better Coach. WIN THE DANG GAME. ITíS HUGE
OTHER GREAT GAMES:
What a weekend in the SEC and beyond:
#9 LSU @ #5 Florida
#13 Tennessee @ #10 Georgia
#7 Texas vs #14 Oklahoma
#11 Oregon @ #16 Cal
USA Today Coaches Rankings
#25 Missouri @ #24 Texas Tech
#15 Clemson @ Wake Forest
Washington @ #3 USC
Arkansas @ #2 Auburn
Purdue @ Iowa
PLEASE GET LOU OFF MY TV
I must really love College Football to sit and watch Lou Holtz spit on the camera. This guy is atrocious. Tonight at halftime of the NC State-Florida State game he picked Tennessee to beat Georgia. His reasoning was ďJoe Tereshinski is coming back to play QB. I would pick Georgia if David Greene or J.D Stokely were coming back". WHO IN THE NAME OF HARRY CAREY IS J.D STOKELY? I have acute CRS (Canít Remember S#*%) but even I havenít forgotten the name D.J. Shockley. Get that clown off my TV or at the very least put him in a three-man booth on the Lincoln Financial game where I can miss he and Dave Rowe with one punch of the remote.
Here are this weekís game notes:
GEORGIA GAMEDAY NOTES
GEORGIA 5-0, 2-0; Tennessee 4-1; 0-1
Series Record 18-15-2-TN @Ga-TN Fulmer/Ga 9-5
OFFENSE:
-Georgia has only one offensive player ranked in the Top-10 in any SEC statistical category (Kregg Lumpkin 53.8 rushing ypg-10th)
-The Georgia O-Line has surrendered only 6 sacks (4th in SEC)
DEFENSE:
-Georgia is ranked #1 in the nation in Scoring Defense at 6.8ppg
-34 points allowed in the first 5 games are the least since 1981 (33)
-Dawgs are 1st in the SEC in 3rd down conversion defense (24%); Vols lead the league in 3rd down conversions (60%)
-Sr WLB Tony Taylor (32) and Jr FS Kelin Johnson lead the Dawgs in tackles
-Jr DE Charles Johnson leads Georgia in sacks with 3 Dawgs rank 3rd in the SEC with 15 with 11 different players recording at least 1
-Sr LBs Danny Verdun Wheeler, Jarvis Jackson, and Tony Taylor have combined for 71 starts
SPECIAL TEAMS:
-Georgia leads the SEC and is 5th nationally in Punt Returns (18.6 ypr)
-Dawgs also average 26 yds/kickoff return
-Georgia has blocked 13 punts, 9 FGs and 2 PATs since 2001 converting them to 88 pts
-The Bulldogs have 10 Special Teams TDs and a safety in the last 6 seasons
THIS AND THAT:
-Dawgs have won 5 of the last 6 in the series
-This will be the 13th meeting when both teams are ranked. Vols are 7-5 in those games
Come and see us on the deck at Kingston Alley and letís get ďKick Your DawgĒ weekend started in grand fashion.