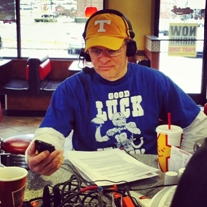 Sorry for the brief hiatus from the site but things have been moving at breakneck speed lately. In one of lifeís great mysteries it seems as if youíre busier between jobs than you are when employed. For those of you are unaware I recently accepted Tonyís offer to become a full-fledged ďradio personalityĒ. Tony and I had been involved in on-going discussions about his plans for both expanding, and improving what has long been a quality program. He needed help and I needed a career change. The timing of both was too much to be looked upon as a coincidence so after much soul-searching and prayer I decided the time was right to attempt to make my passion my profession.
I have been a sports talk radio freak since my high school days. Yes you wisenheimers, TV was invented when I was in high school and no my family didnít sit around a giant radio listening to the Lone Ranger while waiting on some Jurassic sports show. Pete Franklin was cranking out an entertaining sports talk program on WWWE in Cleveland in the mid to late 70s. Although not a fan of the Cavs, Indians, or Browns I was mesmerized by the daily banter their exploits inspired and by the hostís entertaining, sometimes abrasive, but always thought provoking personality. Although Tony is much more caller compassionate than Pete Franklin ever thought of being my preference for his approach to the business probably sprang from my earliest experiences with the medium.
As much as I loved it I never dreamed that you could make a living at it in or around Knoxville. It seemed at the time to be a large market phenomenon that would spread no further than the major metropolitan markets. So I entered college intent on becoming a High School Baseball Coach. I forgot one minute detail. You had to teach to do so. Upon completing my student teaching in 1979 I knew for a fact I could not spend 30+ years of my life in that profession. It takes a special individual to spend their life in education and I obviously did not have what it takes.
So I did the next best thing. I made sure I was gainfully employed in the Oak Ride area, in a day job, that assured I was free on the weekends to play softball in the spring/ summer and attend UT Football and basketball games in the fall/winter. I worked for 19 years at the Y-12 and K-25 plants in Oak Ridge then spent the last 7 coordinating a health and safety training program for the Operating Engineers. During that period however a funny thing happened. Sports talk exploded upon the Knoxville market. Mike Keith (forgive me Tony I have sinned) the current play-by-play man of the Tennessee Titans proved that if a quality product was provided the people of East Tennessee would listen and respond. Tony followed shortly thereafter and proved that not only could you provide information and a forum for the voice of the fan but you could do it in an entertaining, stimulating manner.
Never in my wildest dreams however would I have imagined that finally finding the courage to pick up the phone and call Tonyís show would set in motion a chain of events eventually leading to my joining his organization 12 years later. I went from an occasional to regular caller, from regular caller to weekend show co-host, and from hostís friend to hostís associate.
I am very grateful and indebted to many for the opportunity. First and foremost I appreciate Tonyís offer, friendship, and faith in my ability. I greatly appreciate that Geoff Brock gave me the opportunity to become a regular co-host on his Saturday morning program in 2002 and that he and Phil have patiently shook their heads for 4 years as Iíve babbled on. More importantly I appreciate and cherish their friendship. Mostly I am grateful and humbled by the kind response to the announcement that I would be joining Tony. The response on-air, on Sports Parlor South, and through personal transmissions, has been positive and gratifying. Thank you all very much for your encouragement. Donít let it end there however. I value your input and it is essential to assure we provide the listeners with quality programming. Please do not hesitate to contact me with any suggestions, concerns, or constructive criticisms. They will be both carefully considered and appreciated. Thanks again and I will talk to you on the radio.
B-No
P.S. Next time Iíll get back to sports. Thatís a promise