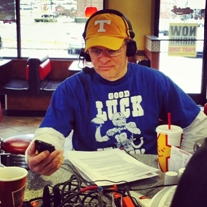 FREE THOUGHT FRIDAY
BETTER EARLY THIS TIME:
Usually I lament the fact that Tennessee and Florida face each other so early every season and I will again … just not this season. For the first time, I think it is an advantage for the Vols to visit Ben Hill Griffin Stadium in the season's third weekend. From a purely football standpoint the Gators find themselves in a higher state of confusion than the Vols. Not only did they lose their opener for the first time in 28 tries but did so in offensively anemic fashion. The Gators rushed for only 11 yards against a Michigan defense replacing 10 starters and that wasn't their biggest concern. Their QB play was pedestrian at best with newest "future star" Feleipe Franks going 5-9 for 75 yards and veteran Notre Dame transfer Malik Zaire 9-17 for 109 yards with neither throwing a TD. When the Wolverines Wilson Speight is clearly the best QB on the field you've got issues. Also, the Gators are accustomed to running through two warm-up games prior to the Vols arrival but last weekend's cancellation of the scheduled Northern Colorado game left them with zero wins and the same number of opportunities to work through some offensive questions. They also lost a scrimmage-like environment to boost their low confidence level.
Realizing that there are far more pressing issues in connection with Hurricane Irma -and just how unimportant a football game is in the big picture- it is an intangible that cannot be completely ignored. I can't imagine having their daily lives disrupted with all that's involved in recovering from an extreme weather event helped the Gator's preparation in any way. The game may serve as a welcome distraction for one day but I doubt it improves Florida's chances for victory. Throw on top of all that the indefinite suspension of 9 players including top RB Jordan Scarlett and #1 WR Antonio Callaway -which shocking as it may seem appears to include the Tennessee game- and I don't believe any Vol squad in the foreseeable future will face a more vulnerable bunch of Gators playing within the friendly confines of Florida Field.
After this season however expect me to return my usual stance of screaming
'move it back"
from the mountain tops.
ON THE FLIP SIDE:
Three tenets I believe in when trying to pick a winner all favor Florida:

SERIES HISTORY:
The Vols have lost 16 of the last 20 and have won only twice in Gainesville since the SEC broke into divisions in 1992.

VEGAS LINE ASKEW:
When I look at an opening Vegas line and think
"they're out of their mind"
it's usually me that's looney. The Gators opening as an 8-point favorite with all that's gone wrong for Florida early looks like easy money. If there were any easy pickings to be had in Sin City my house would be palatial and their casinos would look like Bugtussle Tavern.
WHEN UNCERTAIN GO WITH THE BEST D:
In games that are hard to handicap going with the best defense is usually a sound approach. The Gator D may not be as stout as we've become accustomed to facing but unfortunately ours -to this point- has been exactly the same as we've become accustomed to seeing Bob Shoop put on the field.
WHAT WE WILL SEE IN WEEK 3:

WHERE THE HELL ARE WE?
In what is a head-scratching slate UCLA travels to Memphis, Bill Snyder brings Kansas State to Nashville to face Vandy and North Carolina goes to Norfolk, Virginia to take on Old Dominion. Makes you wonder did I read that schedule right? Last I remember former UCLA coach Tommy Prothro came away from the famous 1965 RoseBonnet Bowl against Tennessee in the Liberty Bowl claiming he was
"ashamed to be a southerner"
and famously saying
"neutral site? That's like playing Notre Dame in Rome"
. Now the Bruins are traveling to the Blues Capital to play Memphis? If that's not strange enough Kansas State comes a little further east to take on what could be a dangerous Vandy squad. If this is a home-and-home don't expect a lot of black and gold in the stands in the rematch. Commodore fans may go to Manhattan but it won't be the one in Kansas. The Tar Heels (though the largest favorite of the group at -7-) seem to be risking the most with a visit to the Monarchs home field. UNC won the only other meeting 80-20 but face a 2-0 ODU squad that went 10-3 in 2016 and returns eight offensive starters.
WEST JUMP START:
In the first SEC-West scrap of the season LSU travels to Starkville to take on Mississippi State. Both teams have had a couple of bakery battles feasting on cupcakes like Charleston Southern and Louisiana Tech (Miss St) and BYU and UTC (LSU). Most years it would be ridiculous to think of the Cougars as a walk-over but when you don't cross the 50 in a modern-day CFB game you stink-out-loud. Now however, it gets real for both the Tigers and Bulldogs. Though Starkville is not an easy place to play the Tigers have experienced little trouble regardless of the game site winning 16 of the last 17 with the last road loss coming in 1999.
COMPETITIVE CATS?
A lot was made in the offseason about Kentucky having turned the corner and ready to possibly win the SEC East. If that is going to come to fruition they better start by beating surprising South Carolina this weekend in Columbia. If not, the Cocks will be 2-0 and the new East dark horse while the Cats will be in a more familiar slot at the bottom of the standings. The Wildcats shouldn't lack for confidence however having beaten Cackalackee the last three times the teams have met. Carolina is clearly more tested after beating NC State at a neutral site and winning on the road in Columbia Missouri. This will also be the home opener for the Gamecocks and I'm sure their devoted fan base will be more than ready to party at the Cats expense.
WHAT'S IN THE CARDS?
Last year Lamar Jackson served early notice that he was the real-deal with some scintillating early season performances and Louisville rode that momentum to a 43-point embarrassment of #2 Florida State. The only blemish in the Cards first ten games came a couple of weeks later when they visited Clemson. The Tigers jumped to a 28-10 halftime lead only to see the Cardinals score 26 straight for a 4th quarter lead. The Tigers showed their championship pedigree with two late TDs for a 42-36 victory. Last year saw both teams ranked in the Top-5 with Louisville actually two slots ahead at #3. This weekend Clemson comes in at #3 while the Cardinals lag behind at #14 but the game will be played in Papa Johns Stadium. Oddly the teams never faced one another until 2014 and the Tigers have won all three games in the series.
HOW FAR WE ARE FROM 1-4-2006:
That was the date of one of the all-time great college football games when the Vince Young-led Texas Longhorns defeated USC 41-38 in the Rose Bowl for the National Championship. USC might be good enough to get another Natty shot very soon but the eyes of Texas would have to have laser vision to see that in their future. The Trojans are 2-0 on the season winning both games by 18 points including last week's throttling of Stanford. The Horns got the Tom Herman era off to an inauspicious start allowing Maryland to hang a half-a-hundred on them in Austin. Last week's 56-0 win over dreadful San Jose State probably did little to stitch up the gaping hole left by the Terrapins. A win -or maybe even a competitive showing- in the Coliseum however would be well received by the Longhorn faithful. The two traditional powers have only played 5 times in history with the Trojans holding a 4-1 advantage with the latest of those victories coming in 1967.
WHAT VOL FANS SHOULD KNOW ABOUT FLORIDA:
OFFENSE
Both Feleipe Franks (5-for-9 with 75 yards passing) and Malik Zaire (9-for-17 with 106 yards passing) appeared at quarterback against Michigan in UF's season opener
Making his first career start against Michigan, RB LAMICAL PERINE led all Gator running backs with 7 carries for a whopping 8 yds
RB MARK THOMPSON had a team-high 13 yds against Michigan on 5 carries
WR TYRIE CLEVELAND recorded a career-high 4 receptions against Michigan, finishing with 56 yards
WR JOSH HAMMOND led the Gators with 91 receiving yds against Michigan on four catches.
WR BRANDON POWELL is just 68 receiving yards shy of 1,000 for his career.
UF's starting O-Line: LT-MARTEZ IVEY, LG-BRETT HEGGIE, C-T.J. McCOY, RG-FRED JOHNSON and RT-JAWAAN TAYLOR have 52 combined starts between them.
DEFENSE
Florida recorded a pair of interceptions (both returned for touchdowns), 5 sacks and 11 TFL in UF's season opener against Michigan
The Gators 5 sacks against Michigan were the most in a game since seven against North Texas last season.
Among the TFL, DE CECE JEFFERSON led the way with 2.5 while DEs JACHAI POLITE, & JORDAN SHERIT and Safety CHAUNCEY GARDNER each recorded 2
SHERIT tallied a career-best two sacks for a loss of 15 yards against Michigan
MLB DAVID REESE led the way for Florida's defense against Michigan, posting 11 tackles on the day, including one tackle for loss.
Florida held the Michigan quarterbacks to a 46.2 completion percentage
CBs C.J. HENDERSON and DUKE DAWSON each had interception returns for TDs (41 & 48 yds respectively).
Safety NICK WASHINGTON has appeared in 39 games during his career. The safety's 87 tackles (9 vs Mich) are the most among all Gators.

SPECIAL TEAMS
With his 46-yard FG vs Michigan Eddy Pineiro extended his streak of consecutive made field goals to 13.
In the season opener, JOHNNY TOWNSEND averaged 54.7 ypp punting 6 times for 328 yds.
Soph TYRIE CLEVELAND took over kickoff return duties in the season opener.
WR Dre Massey will serve as the Gators punt returner
ODDS & ENDS
Including this year, 20 of the last 22 meetings between these Southeastern Conference East Division rivals has aired on CBS.
Florida has won its last 27 home openers.
Overall, Coach Jim McElwain is 11-1 at home after going unbeaten (5-0) at Ben Hill Griffin Stadium last year
UF played 10 true freshmen and 13 newcomers. In the season opener against Michigan
Florida has no players from the state of Tennessee.
The Vols have 13 players from the state of Florida.
When winning or tying the turnover battle since 2011, the Gators are 40-11. When losing the turnover battle, UF is 7-19 during that span
FINAL FRIDAY THOUGHT: At the end of tomorrow's game one fan base will be joyous and the other outraged. Not sure either reaction is appropriate in September but it's what makes College Football so great. Go Big Orange!