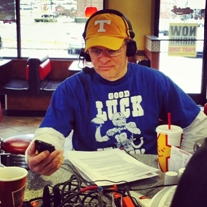 FREE THOUGHT FRIDAY
A BAD CLOSE TO A GOOD CLASS:
By any measurement Wednesday's second signing day was a disappointment for Tennessee fans hoping that Jeremy Pruitt and staff could close the 2018 recruiting class with the efficiency in which they started. After only days on the job the new Vol coaches launched the recruiting haul from the 60s to a Top-20 class in the early signing period with a chance to jump to one of the best 15 classes in America in February. In Year-1 however the staff closed more like Tyler Clippard than Mariano Rivera. They lost WR Jordan Young to FSU and failed to secure J.C. Copeland who went to Florida. OLB Quay Walker cast his Tennessee hat in the trash and his lot with Georgia. CBs Olaijah Griffin and Isaac Taylor-Stewart (ITS) chose USC while Taylor Palmer selected NC State. The Vols did hold onto prize commitment OLB J.J. Peterson who they beat out Alabama for.
Though the day was at the least underwhelming and alarming at worst I believe the split signing day has forever changed the way we perceive classes. We seem to put much more weight on the late losses than the early wins. Had Pruitt and company signed their entire class Wednesday I believe it would have been widely hailed as a solid job of recovering from a potential disaster to a very solid class. Instead the December success probably unreasonably raised the bar for what was to come in February. Regardless of how the class is viewed I think we can all agree that this class should not be the measuring stick for the Vols new staff's recruiting prowess. That will be determined in the days, weeks and months ahead when they continue the process of assembling the 2019 class. There's no reason to believe while starting on equal footing that the next class will be anything other than a rousing success. Nor will there be any acceptable excuses if it is anything but.
VOL HOOPS:
OLE MISS
-Jordan Bone was once again perfect with the basketball dishing out 6 assists with no turnovers. That's 14 assists with no turnovers in the last two contests

-LaMonte Turner is LaMonte Turnover no more. He's had 6 assists and no turnovers in his last two outings as well.

-I absolutely love the way Kyle Alexander is playing. His rim protection, rebounding and efficient shooting are things this team must have to advance in March.

-Admiral Schofield reemerged after a mini-slump with 15 points; 12 rebounds a blocked shot and a steal. I guess he should roll his ankle more often

James Daniel was one of the few struggling from the floor (1-7) versus Ole Miss. He made up for it however with 5 assists and an amazing 4 steals.

Grant Williams is a joy to watch. His arsenal of post moves continues to baffle most defenders.
KENTUCKY
Due to our -and everyone else's- putrid history in Rupp Arena and Kentucky's desperation I simply could not make myself believe the Vols would win. Shame on me.

With the game on the line there is no one I would rather see take a critical shot than LaMonte Turner. He won't always deliver but his stroke in the clutch is exactly the same as his first shot of the contest. He's just cold-blooded.

Jordan Bowden showed some serious moxie hitting several big shots while Grant Williams was on the bench saddled with foul trouble. As essential as Williams is the team is beginning to show they can perform in short stretches without him.

You can certainly tell the difference in Tennessee's team defense when Kyle Alexander is not on the floor. Shai Gilgeous-Alexander looked like he had an express pass to the hoop when Alexander wasn't on the floor to rim protect.

The Vols defense is still plenty good enough however and it travels. There is no other explanation for winning a game at Rupp on a night when Williams was neutralized, Tennessee shot 23.8 % from three (5-21) and turned the ball over 13 times.

The Vols toughness was on full display weathering a nail biter that they never led by more than 4 and never trailed by more than three. Their 9 steals and 32 rebounds (to the Cats 30) are other indicators that this team is mentally tough.

It sure is good to have a coach with enough gravitas to get a fair whistle at Rupp Arena. That puts Rick Barnes in rarified air.
Congrats to Tony -and other Philly fan listeners- on the Eagles Super Bowl Championship. I'm really happy that long-suffering fanbase has something wonderful to celebrate.
FINAL FRIDAY THOUGHT: I'm now prepared to say the Vols are playing for NCAA Tournament seeding -and maybe an SEC regular season title- for the remainder of the season.