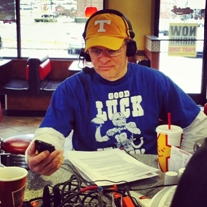 FREE THOUGHT FRIDAY

ANSWERING TONY'S JEREMY PRUITT QUESTION: (This ran in Tony's blog on Monday so forgive me for the repeat but it is after all February which in case you haven't noticed is not the greatest sports month)
I was certain that I no longer had the propensity for unconditional faith for anything associated with University of Tennessee Athletics. Too many gaffes by incompetent leaders hiring ill-prepared coaches with little understanding of the task at hand and in most cases even less appreciation for the opportunity or the school's history. Combine that with varied boosters, athletic administrators and support personnel with their own agendas and you have a recipe for failure. It would take a seismic event to return me to the all-in fandom of my youth.
That event occurred on Sunday November 26th when the Tennessee fanbase finally said
"enough's enough"
and wrestled control of their football program back from those who had taken it hostage years before. The day Big Orange Nation said
"hell no"
to Greg Schiano my faith was bolstered; the following Friday when Beverly Davenport and a segment of powerful boosters said no to the even more powerful HOH and replaced errand boy John Currie with former Vol and National Championship Coach Phillip Fulmer it was restored.
I believe in Jeremy Pruitt. I love that he has hit every rung on the ladder to become Tennessee's Head Football Coach; that he understands what it takes to win at a high level in the ultra-competitive SEC and unafraid to surround himself with a staff that will challenge him every day. I also have become enamored with the thought of having Fulmer right down the hall to provide counsel and both provide the support critical to success while shielding him from what doesn't. I never thought I would find myself here again but put me down for:

A: I BELIEVE JEREMY PRUITT WINS BIG HERE
COLLEGE BASEBALL BLURB:
As I mentioned above February is not exactly a sports oasis for me. I know many love the nightly NBA and NHL action and have maintained a more across-the-board interest in regular season college basketball than I've been able to muster. I will also concede the month will hold my attention more than many prior due to Tennessee Basketball's apparent trek to March Madness rather than their recently-typical tank job. That being said I have zero interest in either winter pro sport and find the last month of regular season college basketball to be a tedious wait for tournament time. With every year that goes by February becomes a look-ahead to the beginning of baseball season for me. With pitchers and catchers still more than a week away from reporting to MLB camps let's take a quick glance at what a bear Tony Vitello faces in rebuilding Vol baseball in the best conference in America.
Baseball America
recently released its College Baseball Preview and it illustrates the task ahead for Vitello and the Vols. Projecting the Field of 64 the publication has
#1 Seeds Florida (overall #1), Arkansas (4), Kentucky (8), Texas A&M (10), and Ole Miss (16) hosting regionals. It projects LSU, Vanderbilt and Mississippi State as #2 seeds and Auburn as a #3.
In true baseball terminology,
for those keeping score at home
, that's 9 of the 14 SEC members playing in NCAA Regionals with 5 of the nation's Top-16 seeds also projected from within the league. In a week spent battling a cold there's nothing -chicken soup included- that warms my heart like the thought of baseball; even the college brand.
VOL HOOPS:
IOWA STATE
The Vols played their 4th and 5th halves of suffocating defense in the last three contests. It's nice when a letdown on the defensive end (2nd half versus Vandy) is an anomaly.

A Saturday afternoon in Ames Iowa jammed into the middle of the conference slate would seem a likely date for disaster. The Vols let Iowa State suffer that fate.

Kyle Alexander was a man on the boards raking 10 rebounds five each on the defensive and offensive glass. The box score credited him with only one blocked shot. Whoever keeps that must require a volleyball spike to be credited.

Never dreamed the Vols would win a game going away in which none of Grant Williams (9 pts), Admiral Schofield (10) or Jordan Bowden (7) played a big factor offensively.

Credit both LaMonte Turner (20) and James Daniel (16) for carrying the load. Going forward we'll need others to do the same as opponents make someone other than Williams beat them.

Tennessee continues to shoot it well from the FT line. Though they only attempted 10 against the Cyclones they converted on 8. ISU on the other hand was a miserable 7 of 17.
LSU
-Not sure I've ever seen better ball movement through the course of the game than the Vols exhibited against the Tigers. Tennessee had 24 assists and at one point had 16 FGs and 13 assists which is a staggeringly high percentage.

-The Vols are tough to handle when they have two guards playing well. When they have three performing at a high level like James Daniel (17 pts 5 3-pointers), Jordan Bone (12 pts, 4 reb, 8 assists) and LaMonte Turner (12 pts) did against LSU they look like a second weekend NCAA team.

-The trio mentioned above also accounted for 12 assists and only 2 turnovers.

-Scary to see Grant Williams go to the locker room only two minutes in. It illustrates just how quickly a solid NCAA entrant could become just another team. Hopefully his nagging hip and back issues will not rob this team of his immeasurable presence.

-Good to see Tennessee restore order after only briefly allowing LSU to recover from the double-digit margin the Vols enjoyed for most of the contest. Looks like we're growing up.

-The fact the Vols shot only 10 FTs was a combination of frequently finding the open man, the perimeter nature of the contest and the fact LSU trailed by such a large margin that they didn't foul to stop play at the game's conclusion.

-Love how hard Admiral plays but he had one of his bulldozer games where he runs over everything in his path. Though struggling with fouls and ball handling he still found a way to corral 8 rebounds.

-Kyle Alexander continues to make everyone look better by being the Vols rim protector, setting picks, rebounding and he is improving as a passer in the half-court offense.
FINAL FRIDAY THOUGHT: We're all with Tony B this weekend; everyone is an Eagles fan. Sing it with me Roget and Titan's Bill "Fly Eagles Fly"