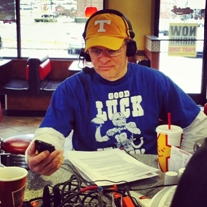 FREE THOUGHT FRIDAY
RICK BARNES THE RECRUITER; RETIRED OR RECALIBRATED?
There has been a lot of lively discussion both on-air and through social media regarding Rick Barnes recruiting or lack thereof. Though most are very happy with what he's done with his current roster, lines have been drawn between those who believe his methods are underrated and those who believe -to put it kindly- underwhelming. There is also a debate on whether the difference from his previous stops is a new approach or that he has become a retired-in-place recruiter. There's no way to settle the debate but let's look at both points of view.
From the new approach supporters the defense of Barnes most often takes the form of:
-the staff's evaluation of players has been solid

-recruiting rankings are subjective and overrated

-regardless of where he was ranked coming out of high school Grant Williams is clearly a top-100 player

-What advantage have highly-ranked classes and individual studs provided for programs within the SEC like Mississippi State and Alabama?

-If it can be done at Xavier, Butler and Wichita State why not give it a chance here?
From the "Barnes is mailing it in recruiting" viewpoint:
The Sophomore class came strictly off UNC-Charlotte's list and Williams was luckily included

Barnes' roster may be tournament-worthy but not good enough for deep runs

He's only struck gold with frontcourt players; the backcourt is not strong enough

It is inexcusable to have zero representation at the Tennessee State Tournament and seldom attend evaluation period events

Why did he choose Tennessee to reform from his dogged recruiting ways at all his other stops?

If you're truly still fully-engaged with the recruiting process why would a staff member feel obligated to say you've "earned the right" to limit your time on the road?
Both sides make a compelling case. I find myself wavering in my personal opinion and many times will make statements from both viewpoints in the same week. His team is much better than I expected this season and the Sophomore Class looks capable of being the impetus for three consecutive NCAA Tournament appearances. On the other hand, I see little behind them to suggest that Barnes was simply building a foundation with the class and moving on to higher-profile guys as the program's reputation was repaired
If you forced me to pick a side I probably fear a continuation of the current trend. It has just enough Don DeVoe feel to it to give me pause. It is probably unfair and Barnes may prove my consternation bogus with future classes that are either higher-ranked or once-again expertly evaluated. But it has the slight hint of
"I don't need as good a roster because I can beat you without"
. If that faint whisper in the recesses of my mind proves true you can bet we're going to experience DeVoe two-point-oh.
TONY'S CORRECT ON THE SEC-BIG XII CHALLENGE:
Why play it now? As a matter of fact, why play it at all? Other than Texas A&M-Texas, Missouri-Kansas or Kentucky-Kansas there's not a natural rivalry in the equation. Basilio is also correct that if it's to be played at all it should be played in December not in the middle of SEC play. I'll take it a step further I think it's a waste of time regardless of when it's scheduled. SEC basketball fans do not engage in the regional pride so prevalent among the conference's football fans so there is little passion for the event or individual matchups. I would be willing to bet the only conference vs conference event that would make an SEC basketball fan's pulse raise a tick or two would be an SEC-ACC setup. With little or no chance of that both the SEC and Big XII should agree to go their separate ways.
VOL HOOPS RECAPS
S CAROLINA
Great to see LaMonte Turner(25 pts; 10-10 FTs; 6 reb; 2 assists; 1 steal) take over a game again.You can live with his occasional carelessness with the ball and taking some ill-advised shots if he carries you at times as well.

It would be unfair to mention Turner's above shortcomings and not also praise him for his courage to take -and make- big shots, his rebounding prowess and his unshakeable ability to continuously hit clutch free throws

The South Carolina game shows that regardless of who practices better the hot hand on game night should garner the most minutes; i.e. Derrick Walker (10 pts; 5-5 FGs; 4 rebounds 25 minutes) and Turner.

I believe this is especially true at the guard position. The Vols have 4 or 5 guys who can play really solid or totally disappear. Rick Barnes should manage our guards like baseball managers do middle relievers; hot hand gets the most appearances.

Grant Williams once again was harassed into a below average first half offensively at Columbia but was much more poised and productive in the 2nd half.

I believe I've addressed this before but I'm now convinced Jorden Bowden is much more productive when he finds his shots in the course of the Vols normal offense. In the midst of shot-searching or Barnes drawing ups plays to get him more attempts he's lost his rhythm and confidence. He's simply not a high-volume shooter.

The Gamecocks outscored the Vols by 15 from beyond the arc but the Vols were so efficient overall offensively (23-40 57.9% FG; 5-11 45.5% 3-pt; 19-24 79.2% FT) they were able to overcome that advantage.
VANDERBILT
Just when it appeared he was in an inescapable funk Jordan Bowden (19 pts; 5-7 beyond the arc) returned to the rescue

It wasn't the 37 he dropped on them last time but Grant Williams' 18 was effective especially his 12 for 14 night at the charity stripe

At a time when Freshmen often regress it looks as if Derrick Walker (5 pts; 6 rebounds 4 offensive; 3-4 FT) is just hitting his stride.

LaMonte Turner once again took -and hit- a huge shot taking Tennessee from a precarious 2-point lead to an insurmountable five

If someone can figure out what James Daniel III is doing to garner crunch time minutes I would sure like to know.

Take a deep-breath and wipe your brow; the Vols narrowly escaped an all-time collapse and what would have been the worst loss of the Barnes era.

The Vols used Vandy's historical M.O. to victory outscoring the Commodores by 11 points at the FT line. It couldn't happen to a more deserving group…Vandy I mean.

Regardless of how it occurs a regular season sweep of Vandy is about as sweet as it gets.
FINAL FRIDAY THOUGHT: My great friend the Paesan has been gone for two years (1-26-16). When he was in your corner you felt damn good about your chances regardless what you were facing. Gone way too soon but not forgotten.