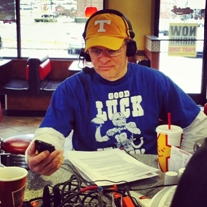 FREE THOUGHT FRIDAY
EARLY SIGNING PERIOD IS PREPOSTEROUS:
When the new early signing period was announced I said it was a good idea. Proving once again that I know diddly about recruiting and my mouth is much quicker than my brain. Now that it is actually upon us I canít think of one redeeming feature it presents. It is an ill-timed, poorly thought out, venture that should be abolished after one failed attempt. It puts universities, coaches and prospects in a frenzied pursuit that will wind up -as most rushed efforts- with disappointing results. With one ill-conceived calendar change the CFB ďbrain trustĒ has found a way to soil Christmas, bowl preparation, the honeymoon period for newly-hired coaches and dimmed the excitement of the true National Signing Day -a mere six weeks from now- in one fell swoop. Not to mention placing more pressure on recruits to grab a spot than ever before. I canít believe I ever thought this could possibly have been a good idea. Upon further review I was as out-to-lunch as whatever brainiacs enacted this nonsense to start with.
PRAISE FOR MAYS:
The one truly disappointing aspect of Tennesseeís early recruiting was the inability to convince legacy Cade Mays to return to the fold. I do not lay this at Jeremy Pruittís feet nor do I hold any ill-will for the young man. I enjoyed his Father; Kevin as both a player and person and hoped to see his son wear orange and give the ultra-effort that was always a part of his Dadís game. I think however there is only one selfish act a college football player should ever exhibit and that is the selection of the school he chooses to play for. It is many times not only a decision of where to spend his college years but his adulthood as well. Knowing his Dad, Iím sure Cade is a fine young man that will be a success both on and off the field. I wish him the very best with the exception of one fall Saturday each season.
VOL HOOPS:
In a week that saw the Vols come painfully close to both a signature win and a resume-wrecking loss going 1-1 looks OK in the rearview mirror. With only Wake Forest standing between Tennessee and the beginning of SEC play the preconference segment of the schedule canít be looked at as anything but a success.
-With only Wake and Iowa State left to play outside the league it appears a split of those two contests would mean anything over .500 in league play puts the Vols on-the-cusp -if not comfortably in- the NCAA Tournament

-Thank heavens for Jordan Bowden versus Furman. His 21 point, 6 rebound, 3 assists effort with only one turnover delivered the Vols from the misery of losing to the only team remaining on their schedule that they simply could not fall to without severely damaging their NCAA resume.

-Admiral Schofield collected some huge rebounds and delivered a critical hoop down the stretch against the Purple Paladins. His mad dashes down the court with the ball late however were almost heart attack inducing. Admiral only has a high gear and other than being a Gunner on special teams thereís not another role in sports I can think of that you donít need to slow down occasionally to be successful.

-The Vols finally ran into a team that uglies the game up more than they. Furman swarmed defensively as a unit making every offensive possession a struggle. Tennessee was also salty on the defensive end serving up a game that was hard on the eyes.

-Grant Williams does most everything exceptionally well especially being undersized for what is asked of him. He does however need to value the basketball better. There are too many times when his carelessness handling the ball both in the post and the open floor leads to turnovers.

Devin Sibley was terrific in his homecoming. If ever there was a guy that deserves the label ďscorerĒ it is he. His strength, poise and toughness were on display for everyone to see.

Lamonte Turner has to be one of the best rebounding guards in America. The problem is he has gone totally AWOL in the scoring column over the last three contests.

Jordan Bone is a blur but until he gets more fundamentally sound in everything he does his opportunities with the game on the line will be limited. Playing one-handed both passing and catching the ball as well as choosing to constantly shoot runners will not endear you to an old-school coach like Rick Barnes.

BOWL RANKINGS:
CANíT MISS: All holiday plans are put on hold to be in front of the big screen
SUGAR: CLEMSON vs ALABAMA:
3rd straight matchup of the two prominent programs in America

ROSE: GEORGIA vs OKLAHOMA:
Sooners are a playoff regular as well

COTTON: OHIO STATE vs USC:
Classic Rose Bowl in Dallas

CANíT WAIT: Fun entertaining matchups that make bowl season special
ORANGE: WISCONSIN vs MIAMI:
Late season playoff contenders looking to bounce back

FIESTA: PENN STATE vs WASHINGTON
Classic Rose Bowl lite

HOLIDAY: MICHIGAN STATE vs WASHINGTON STATE
: Excellent contrasting style matchup
ALAMO: TCU vs STANFORD:
Great coaching clash
CANíT KNOCK THE GAME: College Football fans will find the beauty in the matchup
CITRUS: LSU vs NOTRE DAME:
Iíll have ZERO problem pulling for the SEC here

PEACH: AUBURN vs CENTRAL FLORIDA:
Big-time versus Big Season

OUTBACK: MICHIGAN vs SOUTH CAROLINA:
Wolverineís keeping an eye out for Jadeveon Clowney

LIBERTY: MEMPHIS vs IOWA STATE:
Two of the fine young coaches in America
TAXSLAYER: MISSISSIPPI STATE vs LOUISVILLE:
Post Meatloaf era begins in Starkville

CAMPING WORLD: OKLAHOMA STATE vs VIRGINIA TECH:
Couple of just below elite squads
MILITARY: VIRGINIA vs NAVY:
George Welsh Bowl

TEXAS: MISSOURI vs TEXAS:
SEC vs Big-12 is worth a glance.

SANTA CLARA: PURDUE vs ARIZONA:
Offensive wizards at work

CACTUS: UCLA vs KANSAS STATE:
Bill Snyder coaching in his 100th Bowl Game

HEART OF DALLAS: WEST VA vs UTAH:
Still love to watch WVU play
DOLLAR GENERAL: TOLEDO vs APPALACHIAN ST
: Watching in tribute to Dale Jones
ARMED FORCES: SAN DIEGO ST vs ARMY:
Love to watch the Black Knights

CANíT BELIEVE IíM WATCHING: Itís this or rehab
MUSIC CITY: NORTHWESTERN vs KENTUCKY:
At least it wonít cause cardiac arrest for anyone

SUN: NC STATE vs ARIZONA STATE:
Beautiful setting for an ugly game

BELK: TEXAS A&M vs WAKE FOREST:
Should be the Belt Bowl; youíll need a drink to watch.

PINSTRIPE: IOWA vs BOSTON COLLEGE:
ALWAYS
pull against Boston in Yankee Stadium

QUICK LANE: DUKE vs N ILLINOIS:
Only because of my respect for Cutcliffe

HAWAII: HOUSTON vs FRESNO ST:
Only because I need it on Christmas Eve

BIRMINGHAM: SOUTH FLA vs TEXAS TECH:
Miss a game from Legion Field? Come on.

CANíT DO IT: Itís another bowl, basketball or mob movie time

ARIZONA: NEW MEXICO STATE vs UTAH STATE:
Move this one to a Tuesday

INDEPENDENCE: FLORIDA STATE vs SOUTHERN MISS:
Iíve seen Southern Miss play one too many times already.

FAMOUS IDAHO POTATO: WYOMING vs CENTRAL MICHIGAN:
Mister Potato Head wouldnít watch this one.
BAHAMAS: OHIO vs UAB:
Can you imagine being in the Bahamas and watching the Bobcats and Blazers?
BLOG BREAK:
Taking a short break from blogging for the Christmas season. I wish you and yours a blessed; peaceful Christmas filled with the love of family and friends. God bless you all.
FINAL FRIDAY THOUGHT: The Word became flesh and made his dwelling among us. We have seen his glory, the glory of the one and only Son, who came from the Father, full of grace and truth. John 1;14