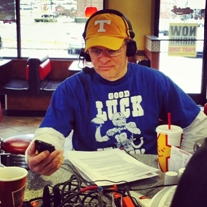 FREE THOUGHT FRIDAY

WHO'S OUR NEXTUN, JIMMY SECTION?
As the all-important search for the next football coach for our beloved Vols progresses I will peg this segment in the leadoff spot until its conclusion. I have no insight or insiders so it will be dedicated purely to my emotional state as the process transpires.
YOU CAN'T MAKE UP THIS LEVEL OF INCOMPETENCE:
There is no way to sugar coat the search process we've witnessed. I had given the powers behind the throne the benefit of the doubt in the last two hires due to Lane Kiffin's late departure and the mess that Derek Dooley made of the program once handed the reins. Unfortunately, now -after witnessing without question the worst search in history- the sad truth is no coach truly deserving of this great fanbase and program will ever agree to work under the direction of our flawed power structure and stooge stand-ins serving as Board Members, Athletic Director and Chancellor. Quality coaches are not afraid of a rabid fanbase -as a matter of fact they long for it- but they will not take orders from those unqualified to direct. Hence here we are once again after bungee jumping without a cord down the prospective coaching board probably landing with a thud and hoping against hope that somehow, we get Bruce Pearl lucky.

EVEN IF THERE IS A RIFT:
There's a lot of talk by those wanting Tee Martin to be named Tennessee's Head Coach that a rift between Peyton Manning and Tee may have played a role in Martin not being considered for the job. I have no way of refuting the alleged heat between the two former Vol QBs. I know neither and those who know both are adamant that a problem exists. I also realize Peyton is a political animal whose every decision is calculated to take care of well…Peyton. What I do know is how a Tennessee coaching search is conducted and who truly has influence and who doesn't. For all of his greatness Peyton is merely a messenger boy in determining who was or was not pursued. If Jimmy Haslam wanted Tee to be Tennessee's football coach Manning couldn't have blocked it if he wanted to. The other side of the coin is since HOH decided not to pursue Tee, Manning couldn't have made them do so if he and Tee were best buddies.
WHAT'S LEFT?
With the HOH apparently dead-set against hiring either Lane Kiffin, Tee Martin or Mike Norvell if you asked me to rank realistic candidates I would probably go Kevin Sumlin, Les Miles, Kevin Steele, Jeremy Pruitt, Brent Venables and Chad Morris.
RED ASS RANTS:
Bear with me here. I'm generally a congenial guy but -as most every Vol fan should understand- there are numerous entities on my last nerve:
Jimmy Haslam:
I know you have a lot more on your plate than Tennessee Football which I urge you to focus all your efforts on. I believe you love Tennessee Football as we all do. If that assertion is correct then please let it go. Or at least give someone else a vote. I have no way of knowing; but understand that there is nothing as intoxicating as power and control. While you're fully intoxicated by it your decision making concerning Tennessee Football has the rest of us simply drunk. Step back, play a smaller role and let's get back to being the Tennessee that your Dad was a part of and you enjoyed growing up.
John Gruden:
I realize when you're a grinder and your job consists of only a couple days a week work its difficult to fill the rest of your time. I also realize you need to keep your name in the public domain in order for your image to be something other than an out-of-work football coach. That doesn't mean you should be constantly playing with others lives and emotions. You've got a damn warehouse where you watch tape preparing for an opponent that you will NEVER face; drawing up plays that will NEVER be run and putting together staffs that you will NEVER direct. Quit being a damn pretend coach. Either get a coaching job or go to some brothel in Las Vegas and have a normal fantasy. And I better NEVER hear your name associated with our job again.
John Currie:
I know your just a strawman like Allen Glick at the old Stardust Hotel and Casino when Lefty Rosenthal and the Chicago Mob were actually running things when it comes to football but could you please either be less of a stooge or resign? Have enough self-respect to at least stand up to Jimmy Haslam and say 'you want to hire Greg Schiano? Then you go up to Columbus and get him because it's my ass either way and I ain't doing it?" Quit sitting on his lap waiting for him to move your mouth.
NATIONAL MEDIA:
You're as despicable and duplicitous a group that has ever drawn a breath. Sitting on a moral fence rail ready to fall off on whichever side of the issue gives you the most viewers, readers or clicks caring little if there is any accuracy to your portrayal at all. If you had a clue you would know that the explosive outcry to Greg Schiano's "hiring" at Tennessee had NOTHING to do with Jon Gruden nor Schiano's success or lack thereof. It wasn't even about guilt or innocence. Had you even made a phone call or two you would know it was completely about the fact that we were unwilling to allow anyone with even a hint of implication of covering up child molestation to lead the program. We simply were not going to watch him lead Tennessee into battle with that gnawing doubt on our minds for however long his tenure would have lasted. If you knew a thing about the coach we just fired and Dave Doeren you would understand they are the same guy and why should we sit idly by and be fed another four-year course of the same meal we had just thrown up a couple weeks earlier? But of course, that's too much work to expect from a crew more interested sitting on their ass and long-distance sniping. Strange that a group that is supposed to be the eyes and ears of the fans are more interested in living in servitude to the coaching fraternity or even worse doing Jimmy Sexton's bidding. We'll all accept being preached to on Sunday, it's how most of us grew up. But not from a gaggle of sanctimonious hacks who have never walked an inch in our shoes or that the next sporting event they pay to attend will be their first. You should all be at the Vegas Bunny Ranch I suggested to Gruden above. Only you wouldn't be patrons, you would be employees.
FINAL FRIDAY THOUGHT: I know they're capable of reaching unforeseen depths but with Schiano and Doeren in the background unless our brainiacs hire Bobby Knight, Dan Wetzel, Dan Wolken or Kirk Herbstreit I think they've run out of pricks that I simply can't pull for.