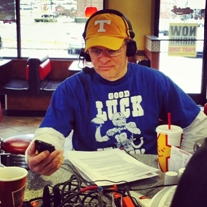 MONDAY ON MY MIND
WHO'S OUR NEXTUN, JIMMY SECTION? As the all-important search for the next football coach for our beloved Vols progresses I will peg this segment in the leadoff spot until its conclusion. I have no insight or insiders so it will be dedicated purely to my emotional state as the process transpires.
As the weekend came and went with no Jon Gruden announcement -and some astute advisors believing the Dennis Dodd blurb at cbssports.com was a leak from deep inside the search intended to cool Grudenmania- I believe that ship has sailed. I am also conditioned to think the powers behind the UTAD throne will not aggressively pursue other top line candidates like Chip Kelly, James Franklin, Chris Petersen, Gary Patterson or Jimbo Fisher. The HOH and others involved simply do not want to surrender power to anyone lacking previous UT ties and/or do not view the job with the high regard that Big Orange Nation does.
That brings us to what I believe is our likely candidate list of Dan Mullen, Matt Campbell and Jeff Brohm -any of which I would be pleased with- or Chad Morris, Mike Norvell and Greg Schiano none of which move my needle. With my fear that we have once again fallen to second or third tier in another search here is the war waged within my Big Orange soul:
MY "I'VE HAD ENOUGH" BRAIN SAYS:
I still believe 100% Tennessee is a big-time job; one of the -at the very least- 15 best in America. I want our powers to believe it as well and I want them to demonstrate as much in this search. I want them to quit devaluing what they have to offer and shortchanging one of the most caring and loyal fanbases in all the land and invest in the best coach out there. If they don't care enough to do so why should I continue to invest both financially and emotionally in second-rate entertainment? My tortured mind says if they run another small-potatoes poser out there disguised as an SEC Head Coach I'll throw my hands up and holler
"SCREW THIS; I'M OUTTA HERE"

MY "VFL HEART SAYS:
I was a Tennessee fan as a child an adolescent, a young man and now an older
gentleman
. It is in my soul and seared in my heart. I have lived and died with every Tennessee Football season since 1965 through the very good and the very bad. I have experienced, listened to, attended and constantly discussed Tennessee football games with family and friends who were and are as passionate as I. It is something that I simply cannot erase from my being. So as much as I would like to pretend to be the hard ass my brain knows I should be I simply can't say to hell with it. Oh, I can attend fewer games in person and maybe keep the losses from causing me to be
Sleepless in Lenoir City
but it will always matter. So, when John Currie introduces Mike Houston -or a reasonable facsimile- as the Vols next coach as if he's found the next Nick Saban I will immediately think
"what the hell have we done"?
But by August? I'll once again be excited, hoping somehow, we turn a foul ball into a home run. Then I'll go to my BOI (Big Orange Idiots) Meeting and stand up and say
"Hi, I'm Beano and I'm a damn sheep"
I'm just a pathetic Vol for life without parole.
LSU TAKEAWAYS:
The Vols seemed to play with more emotion and joy after the negative cloud surrounding Butch Jones was lifted.

The crowd was obviously liberated as well. For a night when nasty weather was forecasted -and ultimately delivered-to watch what may be the worst team in Vol history, the crowd was large and boisterous.

In all my years of attending games at Neyland I have never seen the combination of wind, rain and darkness that overtook the stadium at the start of the 3rd Quarter.

The LSU contingent certainly helped. There was purple and gold everywhere.

I felt really bad for Marquez Callaway. Fielding punts in those conditions was probably the most difficult task of the evening.

He also was a part of botching the second half kickoff that he eventually fell on at the three-yard line. Not sure I fault him much there either. I was sitting in the opposite end zone and could not see the football from the time it left the tee.

While we're discussing gaffes how about Brady Hoke's performance? Going for it from our own 25 with a makeshift line that couldn't move the crew I sit with in Z-12; not only electing to play but to also receive the 2nd half kickoff in a typhoon; having Aaron Medley attempt a 40-yard FG -after he had just missed badly during a timeout- in a downburst of wind; calling timeout to avoid a red zone delay only to have his team break the huddle with about 6 seconds on the play clock afterward. Stunning that he's not still leading the Wolverines.

The current O-Line wouldn't be good in the OVC. Riley Locklear, Ryan Johnson and DeVante Brooks may someday be fine players but right now it looks like we have four TEs playing at once.

Butch Jones should be ashamed of what he did to our strength and conditioning program. Rock Gullickson gets a pass due to his short tenure and the mess that was made prior to his arrival. Physically imposing however is not a term that many would apply to the bulk of our roster. I envision us squeezing tennis balls and doing Pilates.

Thought the defense accounted well for themselves. The offense simply couldn't move the ball and our kicking game gaffes led to numerous point-blank opportunities for the Tigers.

I hope our next coach is either a QB whisperer or employs one. Jarrett Guarantano looks like anything but the highly-rated dual-threat he was reputed to be.

We also need a WR Coach in the worst way. Our receivers can't get off press coverage, don't run crisp routes and don't catch it very well when they do.
WHAT WE LEARNED IN WEEK TWELVE:
If what we saw Saturday is going to be the norm for Week 12 let's just go back to an 11-game schedule. That has to be one of the worst overall slates in the history of College Football. We didn't learn squat from that day of drek.
FINAL MONDAY MUSING: In everything give thanks; for this is God's will for you in Christ Jesus. 1 Thessalonians 5:18 HAPPY THANKSGIVING TO YOU ALL