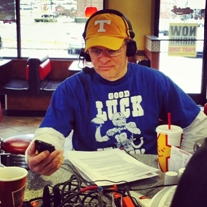 FREE THOUGHT FRIDAY
WHOíS OUR NEXTUN, JIMMY SECTION?
As the all-important search for the next football coach for our beloved Vols progresses I will peg this segment in the leadoff spot until its conclusion. I have no insight or insiders so it will be dedicated purely to my emotional state as the process transpires. Weíll start with my personal wish list Dandy Dozen:
1-JON GRUDEN:
Though Iím having trouble believing he is the best choice from a college football coaching standpoint I am convinced he is the remedy for Big Orange Nationís broken spirit and soul. Hiring Gruden would put to rest the growing sentiment that the powers that drive Tennessee Football lack vision, are tone deaf, unwilling to surrender power to a strong-willed leader and even more indicting; donít share the fanís passion for winning.
2-JAMES FRANKLIN:
Want a guy that shares the areaís underdog, hardnosed, donít tell us we canít, refusal to genuflect spirit? James Franklin is that
ďhey Florida, Georgia and Bama, how about you kiss my assĒ
coach.

3-CHRIS PETERSEN:
Here is a do more with less guy. From Boise State to Washington his roster outperforms its pieces. He would also be the first real offensive guy since Kiffin
4-GARY PATTERSON:
Heís been fighting giants for years in Fort Worth and would welcome the challenge of facing Florida, Georgia and Alabama annually. Oh, and by the way Mike; he ainít no damn Mid Major coach.

5-BRIAN KELLY:
May not be the best geographical or personality fit here but he can dang-sure coach college football. His offense will look like it came from outer space after the Ferris State Fandango or whatever that was we were running in the non-Josh Dobbs years under Butch Jones.

6-SCOTT FROST:
The best of the up-and-comers. From being a physical QB in Tom Osborneís demanding Nebraska system to playing DB in the NFL he is the ultimate tough-guy. He paid his dues under the tutelage of Chip Kelly and has turned UCFís fortunes on a dime. If he doesnít go to Nebraska he needs to be in Knoxville.
7-JIMBO FISHER:
Things have gone a little haywire in Tallahassee recently both professionally and personally for Jimbo which makes it the perfect time to steal him away. I donít think thereís any doubt heís big-time
8-MATT CAMPBELL:
Turns 38 later this month and is already in his 7th season as a head coach. Did a terrific job at Toledo and beat Top-5 opponents Oklahoma and TCU in only his second season at Iowa State. Cyclone AD was wise to place a huge buyout in his contract

9-JUSTIN FUENTE:
Turned around a moribund program at Memphis and won the ACC Coastal in his 1st year at Virginia Tech. Points taken away for losing to Butch

10-DAN MULLEN:
Has done as well as anyone could at Mississippi State and his resume suggests heís a QB whisperer. Just afraid that pretty good is all heíll ever be.
11-JEFF BROHM:
Big time resume as player and has coached with some of the best offensive minds. Purdueís recent slide took a little bloom off of the rose.

12-LANE KIFFIN
: Lane would be higher on the list if I thought there was any way in the world those most influential in the search would allow it to happen.
GUY I MAY BE UNDERSELLING: MIKE NORVELL
: Looks like a very bright young coach who has Memphis playing at a high level. Had a successful 9-year apprenticeship with Todd Graham in a variety of roles at Tulsa, Pitt and Arizona State. Just afraid the Memphis success is more about Fuente than him
LIVING IN MY HOPES:
The Grumors finally move from fantasy to reality and joy returns to Big Orange Nation. Short of that the HOH and their point man John Currie have finally had enough mediocrity and successfully pursue Franklin, Patterson, Petersen, Kelly or Frost

LIVING IN MY FEARS:
Gruden is once again feeding his coaching fantasies and has no real intention of taking the job. Meanwhile after 15+ years of relative irrelevance the coaching fraternity no longer views the program or its leadership -President, BOTs, Influential Boosters and AD- seriously reducing our options to those looking to make a quantum leap or just get back in the pool; i.e. Mike Norvell, Chad Morris and Greg Schiano.
WHAT WE WILL SEE IN WEEK 12:

WILL THE BADGERS BE BOTHERED?
Wisconsin already has their spot reserved in the Big-10 Championship Game but the small matter of a potential unbeaten regular season is still to be resolved. Their biggest test comes Saturday when they host Jim Harbaugh and Michigan. The Badgers drew a fortuitous slate that excluded Eastern Division heavyweights Ohio State, Penn State and Michigan State and the Wolverines are smarting from already dropping games to both the Nittany Lions and Spartans and would like nothing better than to wipe some of that egg off their face with a win in Madison. It will take overcoming history as much as the Badgers with the visitor losing 7 of the last 8 in the series.
YOUNG GUN SHOOTOUT:
A couple of names popping up on the fringe of Tennesseeís coaching search butt heads Saturday when SMU travels to Memphis. Both the Tigers Mike Norvell and the Mustangs Chad Morris are thought to have bright offensive minds and destined for bigger jobs in the very near future. Memphisí only loss came to fellow American Athletic Conference foe UCF whose coach (Scott Frost) is an even hotter coaching prospect. The Mustangs (6-4; 3-3) canít unseat the Tigers in the AAC West but they can give their coach a little push up the job-hunting pecking order with a win in the Bluff City. Even a close loss might be somewhat of a feather in Morrisí hat since his two Mustang squads have lost 63-0 and 51-7 against the Tigers.
WILL JIM GET ONE MORA?
The City of Angels championship may not be all thatís on the line for UCLA Saturday. It may determine the fate of their coach Jim Mora as well. While USC is almost certainly headed to the PAC-12 Championship Game UCLA is stumbling along at 3-4 in league and 5-5 overall. If it werenít for a miraculous comeback win over Texas A&M Mora might already be in the unemployment line standing just in front of Butch Jones. It will be the 87th meeting between the Bruins and Trojans with USC leading 48-31-7. The Trojans have won 14 of the last 18 to take a big lead in the once closely-contested rivalry.

THE BIG GAME:
First-year Cal coach Justin Wilcox has the Bears one win away from bowl eligibility and has already put a surprising 37-3 thrashing on Washington State. In order to exceed last seasonís 5-7 record however the Bears will have to win one of their two remaining games. If that win comes Saturday the Berkeley faithful wonít soon forget since it will come at the expense of ancient rival Stanford. This will be the 120th Big Game with the Cardinal leading 57-44-10. Stanford has won the last seven and Cardinal Coach David Shaw is a perfect 6-0 versus the Bears.

WHAT VOL FANS SHOULD KNOW ABOUT LSU:
OFFENSE
QB Danny Etling (1806 yds; 11 TDs; 2 Ints) needs 22 yards to enter LSUís top-10 career passing yards list.
*RB Derrius Guice (929 yds; 9 TDs) owns 2,752 rushing yards for his career which puts him at sixth on LSUís career rushing list
Sr WR DJ Chark (29-718 2 TDs) has now scored TDs three different ways this year Ė rushing, receiving and punt returns.
WR Russell Gage (14-173; 2 TDs) leads the group with 41 touches (27 rushes, 14 receptions) for 393 yards and three scores
Jr Foster Moreau leads Tiger TEs with 15 catches for 181 yards and 3 TDs
DEFENSE
LSUís defense has limited opponents to only 10 touchdowns in the first half of the last 14 games
LSUís defense has combined for 31 sacks through 10 games at second in the league.
*NT Greg Gilmore and DE Christian LaCouture lead the squad with 5.5 sacks this season
*LB Arden Key (18 tack; 5.5 TFL; 4 sacks) owns 21 sacks and moved into a tie for third place on LSUís career sack rankings
LB Devin White (103 tack; 8.5 tfl; 3 sacks) recorded his 100th tackle of the season against Arkansas
S Donte Jackson (39 tack; 2.5 tfl 10pbu) notched his first career sack in the first quarter against Arkansas
*R-Fr CB Andraez "Greedy" Williams has 4 INTs this season and has totaled 14 passes defended, which both rank first in the league
SPECIAL TEAMS
PK Connor Culp is 9-11 on FGs with a long of 47
Zach Von Rosenberg (42.3 ypp) and Josh Growden (36 ypp) share the punting duties for the Tigers
Clyde Edwards-Helaire serves as the Tigers kick returner wit 10 for 209 yds
ODDS & END
*LSU is 42-17 in November games since the 2002 season, including a 40-16 record in games in which the Tigers are ranked.
LSU has won seven of its last eight games against SEC Eastern Division foes.
FINAL FRIDAY THOUGHT: I hope this is our last football head coaching search for the foreseeable future.