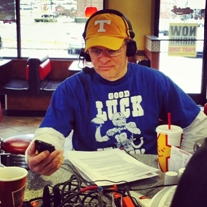 MONDAY ON MY MIND

O-LINE; A PORTRAIT OF JONES ERA:
As I watched Tennessee's patchwork offensive line feebly try to protect both Jarrett Guarantano and Will McBride Saturday evening it came to me that this unit paints the portrait that illustrates how history will view Butch Jones's tenure. The offensive front was supposed to be Butch's greatest achievement succeeding Derek Dooley whose failure to reinforce this most-important group was highlighted by a recruiting class void of a single member. Jones supposedly fortified the unit and entering Year-5 it was projected to be a strong-point. Instead -like so many other areas of the program- it has fallen far short of what it could have been. The unit's paltry performance is a product of a failed strength and conditioning program, faulty evaluation, poor development and deployment, attrition and injury. With the exception of running back that is the Jones era regardless of what unit you choose to focus on.
NO MORE UNCONDITIONAL COACH BELIEF:
As rampant speculation concerning Jones's inevitable firing -and who his successor will be- escalates it is quite obvious there are few -if any- candidates who will immediately have large-scale buy-in from Big Orange Nation. Get beyond Jon Gruden, Chip Kelly, James Franklin, Chris Petersen and Gary Patterson and I doubt there is anyone who would start his Tennessee tenure with a 50% initial approval rating. Lane Kiffin's
midnight train to LA
. departure and the obvious failure to recognize the inadequacies of both Derek Dooley and Butch Jones have soured Vol fan's faith in the UTAD powers to properly vet, identify and evaluate those rising in the profession and have left the vast majority pining for a proven commodity. Or in Gruden's case, a big-time persona with hardware from the highest level the game offers. The sum of all of the above? The Big Orange Universe is fresh out of unconditional, give-em-a-chance belief when it comes to its program's leadership. The next guy in line -excluding those mentioned above- will have to prove it early and receive faith and accolades late.

SOUTHERN MISS TAKEAWAYS:

-I have no problem with Jones burning Will McBride's redshirt. It couldn't be avoided. I do think it was ridiculous to put Jarrett Guarantano back in the game however. He couldn't even back up to take a knee without crumpling to the ground.

-John Kelly is a really good football player on a really bad team.

-The Vols defense played well. How well I'm not sure since Southern Miss was putrid offensively and shot off every toe with penalties.

-It was encouraging to see us continue to force turnovers. Because of it the Vols put a game away comfortably even without much offensive output.

-McBride's numbers (1-8; 13 yds) were extremely pedestrian but he looks more comfortable to me than Guarantano has looked so far. He also has a clock in his head which JG appears to lack.

-USM QB Keon Howard was abysmal. The interception he threw to Emmanuel Moseley was as bad a throw as you will see from a college QB

-For reasons that only Golden Eagles Head Coach Jay Hopson knows QB Kwadra Griggs -who led USM's only TD drive- didn't play until it was too late. Griggs had started three games to Howard's five coming into Saturday though he had thrown the same number of TDs (8) and 3 less interceptions (1).

-The Golden Eagles were one of the least disciplined teams the Vols have had the pleasure to host (14 penalties for 120 yds and two turnovers).

That being said the leaping call that led to the Vols final TD was pure SEC over-officious horse bleep.

-The Vols were outgained 279-210 and were only 2 of 13 on third down but turned two turnovers into 14 third quarter points. The General would have been proud ….well, he would take the win. "The team that makes the fewest mistakes wins"

-Tennessee may be the first college football team to construct an actual hospital on the sideline. A tent simply won't house all the Vol injuries. I better shaddup. I can see it now; the JCSATF John Currie Sideline Athletic Treatment Facility. All built at the bargain basement price of 35 million.
You can listen to the following Podcast using the player below.

You can find all of our Podcasts
here
.

Update Required
To play the media you will need to either update your browser to a recent version or update your
Flash plugin
.
WHAT WE LEARNED IN WEEK TEN:
4 SOON WON'T BE ENOUGH:
With Georgia and Alabama both rolling a matchup of unbeatens in the SEC Championship is highly-possible providing an avenue for the league to garner two spots in this season's college football playoff. Add Notre Dame looking as if they could run the table and both Penn State and Ohio State suffering their second loss it also isn't a stretch to think that not two, but THREE Power-5 leagues could be omitted from CFB's biggest stage. Oh, sure there's a lot left to be determined as Auburn could put a blemish on one or both the Dawgs and Tide; Oklahoma could run the table; Miami could derail the Irish and Wisconsin could represent the Big-10 as an unbeaten. Make no mistake about it however the Big-10; Big-12 and PAC-12 are all in danger of being shut out of CFB's biggest stage and if it happens we'll have an 8-team playoff before you can say
"four is plenty"
.
SEC LEAST:
The Georgia Bulldogs under second-year coach Kirby Smart made really quick work of the SEC Least. The Dawgs victory over South Carolina coupled with Kentucky's loss to Ole Miss means they clinched the East's bid to the SECCG shortly after the calendar flipped to November. Georgia has outscored 5 East opponents (Kentucky remains) 205-59 and if they aren't careful will be moved to the SEC West any day now. The rest of the division should be ashamed to let that much distance be placed between them and the Dawgs in such a short period of time.
HARD TO WIN IN BIG-10:
Just last week it looked as if the Big-10 East might have two teams worthy of CFB playoff discussion. Ohio State and Penn State staged another classic with both teams exiting with only one loss and appearing to have arguably two of the top five teams in America. Then J.T. Barrett (18-34; 208; 3 TDs 4 Ints) reverted to the QB we all know and love in a 31-point thrashing administered by Iowa and Michigan State got revenge for James Franklin attempting to run up last year's game's score (45-12) to impress playoff committee members. Now everyone in the league except unbeaten Wisconsin has at least two losses and the eye test doesn't engender faith the Badgers can beat whoever represents the East in the Big-12 Championship Game. Sure would be a shame if the Big-10 gets shut out of the playoffs. Sure would.
STOP CANING THE CANES:
Miami came into Saturday's home contest with Virginia Tech as the ACC's only unbeaten and ranked 9th and 10th in the AP and College Football Playoff polls respectively. You wouldn't have known it however based on the pros in the desert and word on the street. Only a late betting wave took the Hurricanes from a 2 ½ point home dog to a slight favorite. Many of the talking-heads and much of the public branded them with the disrespectful
undeserving-unbeaten
tag. The Canes had unremarkable close wins over struggling Florida State (24-20); a Georgia Tech team that even the Vols beat (25-24); up-and-down Syracuse (27-19) and awful North Carolina (24-19). Virginia Tech on the other hand was thought to be rolling coming in on a three-game winning streak where they won @ BC and versus Duke and UNC at home by a combined 106-20. The Hokies were expected to move into a virtual tie with the Canes and be well on their way to a second-straight ACC Championship Game appearance. Instead Miami thoroughly dominated the contest putting up 418 total yards to the Hokies 274 in a 28-10 victory that wasn't even that close. With a huge game with Notre Dame straight ahead with possible playoff implications Miami has little time to say
we told you so
but at least people won't be questioning their bonafides quite as much as before.
FINAL MONDAY MUSING: Great to get a win for the first time since September 23rd but I saw little in the victory -or from our future opponents- to suggest another will be easy to come by.