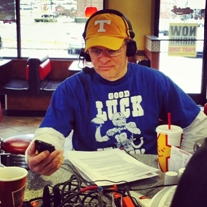 FREE THOUGHT FRIDAY

EMPTY OR FILL?
There has been a lot of conversation this week about proper fan etiquette, loyalty and responsibility. Most of it was generated by the
#emptyneyland
campaign waged on Twitter and other social media entities. The purpose of the movement is to demonstrate the widespread displeasure of Big Orange Nation that Butch Jones remains entrenched as Tennessee's Head Football Coach despite obvious proof that he shouldn't. The feeling being that the only voice a tone-deaf administration hears from a common fan is the echo of empty seats and short concession stand lines.
The opposition -though most are also sick of the Jones era- believes failing to attend is disrespectful to the players, hurts the brand or in extreme cases is downright treasonous. They argue that ticket money has long since been earned and concession takes are just a drop in the ocean. Some believe that the decision concerning Jones' future has long-since been made and attendance figures won't matter in the least so fans not wanting to attend should give their tickets to those who would have a greater appreciation for the opportunity.
I see both sides of the argument and think there are points to be made by either. I personally am in a novel position in that for the first time I chose to pass the majority of my season ticket package to my buddies whom I've sat with since the north end zone was enclosed in 1980. I kept only the Georgia and LSU tickets and have watched the rest of the schedule from various locations. It wasn't a statement against the program or Butch Jones I had simply tired of the seven-game per season Neyland experience. Had I kept them all however the last time I would have graced my seat would have been South Carolina. I would not be in attendance this Saturday and I will not use my LSU ticket if an announcement on Jones's future has not been publicly disseminated nor will I allow anyone else to occupy my seat. I understand completely those who don't believe in or share that approach and I urge anyone that wants to go to continue to do so. Like the
#emptyneyland
folks however I agree that the only way to make my feelings known is to not be in attendance and not hide the fact by allowing someone else to do so in my stead. Until they announce Jones will not be returning I will assume he is. And as long as that is my assumption I will not feign support for the powers allowing it to happen.
SONG-WRITIN; BUTCH JONES-FIGHTIN; FOOL:
Matt Stillwell has a fun little ditty out there called
I'm a Vol For Life Y'all
.
HERE IT IS
After the tumultuous period we've been through for most of the past couple of decades -and with apologies to Matt- I've rewritten the chorus. Here we go:
I'm a Vol for life Y'all
It's anger and strife Y'all
I wish I could die Y'all
I'm a Vol for Life

yeaaaaah

Raised up on WIVK
That's back fore ugly-ass gray
Bout 20 years my life they've stole
Vol for life without parole
And that concludes my song-writin career. It's been a great ride and wouldn't have been possible without all my adorin fans. I love y'all

WHAT WE WILL SEE IN WEEK 10:

STAYING ALIVE:
What a headliner this could have been. Undefeated and #2 ranked Penn State versus a one-loss Michigan State squad for the outright lead in the Big-10 East. But alas Ohio State came back from a double-digit 4th quarter deficit to defeat the Nittany Lions 39-38 while the Spartans were losing in triple OT to Northwestern. The game -while still significant- will now determine who stays in the division race rather than who controls it.
ADRIFT IN THE ATLANTIC:
N.C State did everything except leave Clemson with a victory last season missing a chip shot FG in regulations before falling 24-17 in OT. This season the Wolfpack will find it more difficult to catch the Tigers napping since Syracuse has already given them a wakeup call and NC State currently leads the ACC Atlantic with a perfect 4-0 slate. With only one conference game remaining for the Tigers after this weekend against a feeble FSU squad scheduled for Memorial Stadium in Clemson a win over the Pack would virtually lock up yet another ACC Championship Game appearance. An NC State win would give them a 2-game division lead meaning they would have to lose all of their remaining ACC games (@BC; @Wake; UNC) to surrender the division. History suggests it will be quite a task with Clemson winning 12 of the last 13 in the series.
COASTING IN THE COASTAL:
The other side of the ACC also finds the division's top two teams squaring off for control. Undefeated Miami hosts Virginia Tech whose only loss came over a month ago to Clemson. A Hurricane win virtually assures that Miami makes its first -you heard that right- first ACC Championship Game appearance in a game that has been staged since 2005. If the Hokies win they will be in a virtual tie with Mark Richt's squad and own the tiebreaker but will still have work to do with road games remaining at Georgia Tech and Virginia with a home game versus Pitt sandwiched between.
UPSETTING THE APPLE CUP:
Stanford currently leads the PAC-12 North with a 5-1 record and face a six-day stretch that will likely determine its winner. The Cardinal will travel to Pullman Saturday to take on Washington State then host Washington the following Friday. The Cougars are in an on-again; off-again streak that saw them lose by 30 and 19 at Cal and Arizona respectively with a 28-point win at home versus Colorado in between. WSU broke an 8-game losing streak to Stanford last season and will need to make it two in a row to continue to be a factor in the division race. If Stanford gets the win they could make the Apple Cup for state bragging rights only by dispatching Washington in Palo Alto less than a week later.
BEDLAM TO BANISHMENT:
As if the annual Oklahoma-Oklahoma State bloodbath didn't have enough riding on the outcome already, this season's meeting is a Big-12 and possible College Football Playoff elimination game. The heated in-state rivals are 4-1 in-league and 7-1 overall with both TCU and Iowa State sporting identical Big-12 marks. The league may have already removed itself from any playoff possibilities with more in-house carnage sure to come but the winner of Saturday's game in Stillwater will at least have a chance to emerge from the pack. It's the earliest Bedlam contest since 2004 in a series dominated by the Sooners 86-18-7 that has also seen OU win 4 of the last 5.
LONE HOPE FOR THE LONE STAR
TCU got ambushed in Ames Iowa last weekend seeing not only their perfect mark but also their grip on the Big-12 lead slip away. Now they'll host Texas attempting to be the only Lone Star State entity remining in the Big-12 Title chase. A loss to the Longhorns would mean both would trail the winner of the Oklahoma-Oklahoma State contest by one game in the league race and Texas has already lost to both. With a win over Oklahoma State under their belt and a game with the Sooners up next the Horned Frogs wouldn't be totally out of the conference picture with a loss but their CFB playoff hopes would most certainly be extinguished. The Longhorns are 62-24-1 all-time versus TCU but the Horned Frogs have won four of the last five.
TALKIN SMACK IN THE PAC:
After traveling to Tempe and dispensing of Arizona State by 31 points the USC Trojans host the other Cactus State crew Saturday when Arizona invades Troy. Rich Rodriguez was supposed to be job hunting by this point and instead he and his Wildcats are searching for a spot in the PAC-12 Championship Game. The Trojans currently lead the division with a 5-1 record but Arizona is right on their heels at 4-1 with a chance to wrestle away the lead and the tiebreaker. The Wildcats will have to overcome not only the pros in the desert who tabbed the Trojans as 7-point favorites but also series history which has seen them lose 13 of the last 15.
You can listen to the following Podcast using the player below.

You can find all of our Podcasts
here
.

Update Required
To play the media you will need to either update your browser to a recent version or update your
Flash plugin
.
WHAT VOL FANS SHOULD KNOW ABOUT SOUTHERN MISS:
OFFENSE
Soph QB Keon Howard (89-148; 1099 yds 8 TDs; 4 Ints; 151 yds-rushing) has started 5 times this season for the Golden Eagles
R-Jr QB Kwadra Griggs (71-136; 1010 yds; 91 yds rushing) had made three-straight starts for the Golden Eagles at QB prior to UAB, posting a 2-1 record, while throwing for 951 yds and 8 TDs with only 1 INT
Sr RB Ito Smith (817 yds 7 TDs in 2017) has 3,940 career yards in 47 games for 83.8 ypg and became only the 2nd Golden Eagle to go over 5,000 all-purpose yds with 5793 (Damion Fletcher-6253; 2006-09)
Four different USM receivers have posted 100-yd games this season. Korey Robertson, has two (111 vs Kentucky and 2 scores, 9 catches and 127 yds at Louisiana Tech) Sr Allenzae Staggers against North Texas (112 on 5 catches), Fr Jaylond Adams against UTEP (104) Fr Quez Watkins versus Kentucky (103)
The Golden Eagle O-line features a young lineup as only 3 players that had previously started in their careers returned in 2017
DEFENSE
Sr DE Xavier Thigpen has 29 stops (13 solos) with a pair of pass breakups, 6 tfl, 3 sacks, a forced fumble and a fumble recovery.
R-Soph WLB Paxton Schrimsher has 31 tackles, including 6.5 tfl and 3.5 sacks, to go along with two forced fumbles.
Jr CB Curtis Mikell (35 tack, 1 INT, 9 pbu) and has tallied 106 career tackles in the 47 games for the Golden Eagles and has a 100-yd interception return for a TD.
SPECIAL TEAMS
Fr Zac Everett has done most of the punting for USM posting a 39.8 average over 42 punts including a career-long of 62 yds.
R-Jr Parker Shaunfield handles PK duties (10-12; long-49)
T-Rod Daniels returns kickoffs (13-249 long of 29) for USM while Allenzae Staggers returns punts (10-50 long of 25).
ODDS & ENDS
The two schools meet for the 6th with Tennessee capturing all 5 previous meetings - all played in Knoxville
The closest game in the series was played on Sept. 2, 2000, when Southern Miss dropped a 19-16 decision.
The Golden Eagles have a streak of playing an SEC foe in 50 of the last 54 seasons.
USM is -2 in turnover ratio in 2017 allowing nine fumbles and six interceptions, while forcing six interceptions and seven fumbles.
FINAL FRIDAY THOUGHT: Happy Homecoming wherever you choose to celebrate it.