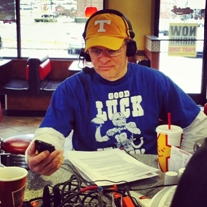 MONDAY ON MY MIND
BLOGGER'S NOTE: At the time the blog was posted there was wide-spread speculation and a report from Mike Griffith that Tennessee Administrators were meeting tonight to determine Butch Jones immediate future. If he is indeed relieved of his duties much of what is written below will be old at best and downright inaccurate at worst. Buuut, since there has been no official announcement let me take one final opportunity to pile on, er, I mean, report on the Butch Jones situation. Enjoy

SO MANY QUESTIONS WITH ONLY ONE ANSWER:
Tennessee Football has become a confusing entity in the last 12 months. There are so many questions surrounding the program but when you really contemplate each query you keep coming up with the same answer.
-How can a program that was ranked in the Top-10 at the end of September 2016 find itself in "others receiving votes" for the worst team in Power-5 football?
It is being led by Butch Jones
-How after beating top East rivals Florida and Georgia can a team lose 9 of its next 11 SEC games at a time when the conference is mediocre at best?
Butch Jones coached those 11 games.
-How can an offensive approach be exactly the same when it has been "led" by 3 different Offensive Coordinators and engineered by 5 different QBs?
It's Butch Jones' offense
-How -even if the coach was actually on the hot seat- can you wind up with an OC that has never called plays at the college level and a WR Coach who thought he still had eligibility left?
Butch Jones drawing power
-How in Year-5 -after a string of Top-15 recruiting classes- can Tennessee be in a position where the best possible outcome is a 5th-place finish in a weak SEC East?
Butch Jones evaluated, developed and deployed what remains of those classes.
-How can Quinten Dormady go from starter, to quitting, to accepting his new role, to practicing, to traveling to Lexington, to having season-ending surgery when no one can pinpoint a time of injury?
Butch Jones recruiting and handling of personnel.
-How can Jarrett Guarantano -in his second year on campus - not be able to recognize blitz packages and have the clock in his head operate like a sun dial?
Butch Jones had him under the tutelage of a GA followed by a DOA.
-How could a talent like Ty Chandler have been limited to 36 touches in 7 games leading up to his 24 touch,153 yds Total Offense and 2 TD performance Saturday?
Butch Jones player utilization
-How in his Sophomore year after a promising first season can Tyler Byrd be MIA on a pedestrian receiving corps?
Butch Jones' emphasize practice and ignore Saturday nonsense.
-How does Bob Shoop's unit rank 96th in Total Defense in 2016 and yet he returns to "guide" the current Vols to 80th?
Butch Jones is his boss
.
-How can Cade Mays go from helping recruit your next class to wearing a Clemson jersey on Twitter by the end of October?
Butch Jones is still the coach.
-How can Will Muschamp and Mark Stoops-led teams -playing D+ football- beat Tennessee?
Butch Jones was their opposition
How do you become the first team in 20 years to gain 400 yards and be +4 in turnovers and lose?
Butch Jones ruins your team's continuity and confidence.
How do you create your own 5-game playoff -with select opponents- and lose in the first round to a team that has beaten you once in 33 years?
Butch Jones led the playoff charge.
How do Vandy AND Kentucky beat you in less than 12 months?
Butch Jones
How is Butch Jones still Tennessee's coach?
Damn if I didn't stump myself there. That's a trick question.
MY BAD:
Though like most I was upset that Butch Jones had not already been relieved of his duties I rationalized that the powers behind Tennessee football were simply following an aged-old pattern of giving their sitting coach an opportunity to navigate the seemingly always critical month of October. I thought beyond a shadow of a doubt that a loss to Kentucky now sitting in the old Grim Reaper position on the schedule that South Carolina once occupied would be the final indignity. Well, unless our "brain trust" is awaiting Jimmy Haslam's return from London -where his real interest fell to 0-and-whatever- to finalize a decision Butch Jones appears to be set to coach against Southern Miss on November 4th and probably beyond. My question is if you can fire guys as accomplished as John Majors and Phillip Fulmer who are true VFLs around Halloween what in the name of Beattie Feathers is this Mickey Mouse, Power-5 Head Coach imposter still doing employed?
WRONG AGAIN:
I also was one that fell into the trap of thinking John Currie would have more autonomy and gravitas then his two most recent predecessors when it comes to making a decision on Tennessee Football's future. Oh, he came in and blew out a tennis and baseball coach and handled
pressing issues
like Lady Vols name and logo resurrection but when it comes to the most important task of all -firing a sitting Tennessee football coach- he obviously either has little-to-no influence or even less testicular fortitude. He is just as Tony and Geoff Brock said -a political hack and big booster lackey. Vol Colonel hit it on the head during one of his highly-entertaining and informative Periscope sessions. John Currie is the squeaky-clean front man of a Las Vegas casino in the years when the mob was in control of Sin City. He is Alan Glick claiming to be in charge of the Stardust while the Chicago Mob and Lefty Rosenthal are calling all the shots. Too bad our mob doesn't have the common sense to give Butch Jones a no-show job.
HERE YA GO JOHN
KENTUCKY TAKEAWAYS:
Ty Chandler was very impressive in his first extended opportunity (Rushing 22-120, 2 TDs; Receiving 2-33).
Jarrett Guarantano cannot continue to take the level of beating he has currently. He was sacked 7 times and the clock in his head must sound like it is stuck on alarm.
Congratulations to Butch Jones and Larry Scott for putting Guarantano under center at the goal line. You guys work on that stable gate and we'll go round up all the cows.
The Vols rushed for 203 officially but actually were more effective than that suggests since they lost 69 yds off the total due to sacks. That's the dumbest stat in CFB. Sack yardage should come off passing totals not rushing.
The flip side is Bob Shoop's troops allowed 289
As stated above the Vols were the first team in 20 years to have 400 yards of offense and be +4 in turnovers and still lose. Thanks to Brian Hartman for that disturbing gem.
The SEC officiating crew's decision to give out a blanket unsportsman-like conduct penalty to both teams is asinine even if the rule book says they can do so. They review everything moving through the course of a game yet they can't look at the tape and assess who was involved? Then again with the irritating practice of having multiple players wearing the same number you can bet the Barney Fifes of CFB officiating would have ejected the wrong guys.
It wasn't a shock that it became an issue for a squad that hasn't exactly been the most disciplined.
Sheno astutely pointed out that Brent Cimaglia is much better from the right hashmark than the left. Wonder how long it will take our geniuses to figure that out?
WHAT WE LEARNED IN WEEK NINE:
That Florida is in it to win it and we're satisfied with participation trophies.
BLOGGER'S NOTE II: Due to time constraints all you get in the segment this week is a quick and easy cheap shot.
FINAL MONDAY MUSING: Hope by the time you read this Tennessee is beginning a search for Butch's successor. That would be the best for everyone
involved.