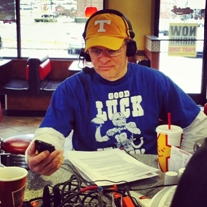 FREE THOUGHT FRIDAY
JONES ON TENNESSEE'S HISTORICAL CLOCK:
Several weeks back I said the most likely time for the announcement to come down that Butch Jones was being relieved of his duties as Head Coach would come after Kentucky. I don't have seer abilities or a Magic 8-Ball -let alone a Crystal Ball- and certainly don't have any deep-throat-like sources. All I based it on was Tennessee's historical M.O for handling situations such as these. If John Majors and Phillip Fulmer can be fired around Halloween my thought is there is absolutely no reason for Butch Jones to survive any deeper into the season than those two Hall of Famers. By coincidence It's also likely to be the spot where Jones' 5th edition of the Vols could absorb their 5th loss assuring they would not match the prior two season's win totals and allow John Currie to appear to have given Jones every opportunity to recover. If the game goes as expected and Kentucky wins for only the second time since 1984 I look for an announcement to be made on Sunday or Monday that Jones will not be returning for the 2018 season. Will he finish out the season before being completely relieved of his duties? That I'm uncertain of. Though both Majors and Fulmer were allowed to finish out the season they were both "real" VFLs while Jones is now a VFD; Vol for Days.
WHAT WE WILL SEE IN WEEK 8:

THE STATE OF THE BIG-10 EAST:
Penn State's win over Michigan set up a gargantuan rematch of the contest that seemingly turned James Franklin and his Nittany Lions from disappointment to one of the most compelling stories in all of college Football. Penn State was 4-2 and a 19-point underdog when #2 Ohio State came to Happy Valley and dropped a 24-21 decision. Penn State has won 13 of 14 games played since then and now sit in the same #2 spot Ohio State occupied at this point last season. The highest ranked team has won 23 of the last 26 games played in the series but Ohio State has won 10 straight games in the revenge role. One of the trends will be broken this weekend and the victor will be the co-favorite to win the Big-10 East along with…
THE OTHER STATE
which in this instance is Michigan State. The Spartans have recovered from last season's 3-9 disaster currently standing at 6-1, got back on-track versus in-state rival Michigan and are ranked 16th in America. If they take care of Northwestern in Evanston on Saturday it will be their turn to jump on the Big-10 East three-team round robin with Penn State coming to East Lansing on November 4th and the Spartans traveling to Columbus the next week. First however they need to beat the Wildcats (4-3; 2-2) and State should be buoyed by the fact the visitor has won 9 of the last 10.
IF THESE AREN'T THE DAWG DAYS….
in the game formerly known as the Cocktail Party when are they coming? Florida can't play and Georgia looks like they may be able to stand toe-to-toe with mighty Alabama. With an opportunity to deal a death-knell to Florida's season and take a two-game lead in the East with only three games left on their SEC slate a better opportunity to take over control of the division will be hard to come by. The Gators have won the last three games in the series after Georgia had run off three straight (2011-13) of their own.
IRISH HEADING UPHILL:
All the signs of Notre Dame rising from the ashes of a 4-8 2016 seem to be there but the proof will come in the weeks ahead. The Irish lost at home to #3 Georgia but have taken down all of their other six opponents. The question is how much of the data gathered to date is genuine? It certainly appears that Michigan State is for real and the Irish beat the Spartans by 3 TDs in East Lansing. Other wins at BC and UNC along with a home victory over USC are tarnished by the fact all those teams are playing below expectations. With a solid NC State team visiting South Bend Saturday and trips to Miami and Stanford ahead we will know soon enough how much better the Irish truly are. Let's hope Saturday's game is played in better conditions than last year's contest in Raleigh played in the path of Hurricane Matthew where the teams combined for 10 fumbles and only 311 yards of offense.
THE STATE OF THE PAC-12:
After a dreadful performance at Cal that made Mike Leach refer to his squad as "pathetic frontrunners" Washington State shutout last year's PAC-12 darling Colorado 28-0 last Saturday. They now go back on the road to face the suddenly hot Arizona Wildcats. The winner will remain a one-loss team in their division and setup a meaningful stretch run in November. The Wildcats have won 20 of the last 31 in the series but Washington State has won 3 of the last 4 years.
THE OTHER STATE …
in the PAC-12 with a real chance to be a factor in the conference race is Arizona State. Like their rival Arizona Wildcats the Sun Devils have ridden a recent winning streak to a 3-1 conference record with the only blemish coming to cross-division foe Stanford. Now they get a shot at USC who currently holds a ˝ game lead in the South at 4-1. The Trojans are bound to be miffed -and focused- after suffering a 5-TD primetime embarrassment at the hands of Notre Dame. The Sun Devils are apparently more confident than one would think coming off a 5-7 campaign since they actually tabbed USC as their Homecoming opponent. USC has won 13 of the last 17 but the teams have split their last 6 meetings and the Sun Devils have won 2 of the last 3 played in Tempe.
You can listen to the following Podcast using the player below.

You can find all of our Podcasts
here
.

Update Required
To play the media you will need to either update your browser to a recent version or update your
Flash plugin
.
WHAT VOL FANS SHOULD KNOW ABOUT KENTUCKY:

OFFENSE
UK is 12-6 with Stephen Johnson II (112-183; 1355 yds 9 TDs 4 INTs) as the QB for the majority of the game
In his last 7 SEC games, Soph RB Benny Snell Jr. has 166 carries, 809 yards, 4.9 ypc and 9 TDs.
Jr RB Sihiem King (42 for 203 yds) is averaging 4.8 ypc
Sr WR Garrett "Juice" Johnson (32-369 3 TDs) has caught a pass in 18 consecutive games and ranks 4th on the school's all-time career receiving yards list (1,919)
Sr Kayaune Ross has caught 10 passes for 160 yards
Jr TE C.J. Conrad has caught 9 passes for 195 yards and 3 TDs this season.
The O-line returns 47 starts from 2016
DEFENSE
DE Josh Allen ranks second in the SEC in sacks (6.5) and is third in tackles for loss (8.5).
LB Denzil Ware has 9.0 sacks and 21.5 tackles for loss in 31 career games to go along with three forced fumbles, three fumble recoveries (one for a touchdown) and nine QB hurries.
JR WLB Jordan Jones is the SEC's returning leader in tackles (109) and tackles for loss (15.5). Jones has missed four games this season due to injury but returned to action vs. Mississippi State
Sr MLB Courtney Love is 2nd on the team in tackles with 51.
CBs Derrick Baity Jr. and Chris Westry and safety Mike Edwards have 80 career combined starts
Edwards has 7 career INTs, including 3 in 2017
SPECIAL TEAMS
Sr PK Austin MacGinnis' 63 FGs and 315 career points are both tops in school history. His 13 FGs in 2017 rank 2nd in the SEC and 7th Nationally.
P Matt Panton is averaging 43.0 ypp and had a career-long 71-yarder vs. Eastern Michigan on Sept. 30.
UK ranks 5th in the nation in punt return average (20.8)
Sr Charles Walker returns punts and Jr Sihiem King is the Cats KR

ODDS & ENDS
The Cats rank fourth in the SEC and 21st nationally in turnover margin (+6)
Tennessee leads the all-time series 79-24-9, including 37-14-3 in Lexington
FINAL FRIDAY THOUGHT: Joe Girardi gets fired and Butch Jones still has a job? Jiminy Christmas.