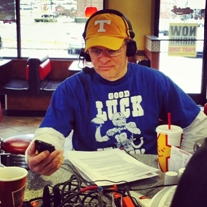 MONDAY ON MY MIND
THE CASE FOR JEFF BROHM:
The good Doctor Sean Sinclair and I had a spirited debate over the merits -or lack thereof- of Jeff Brohm becoming the next head football coach for our beloved Vols. I was on the merit side while Sinco took the other. I certainly understand his hesitancy. The UT Administration hasn't had much luck finding an up-and-comer that has worked in either major men's sport and most fans are beyond thinking about trying it again. I guess I'm a slow learner and though there are several sitting and out-of-work candidates I prefer I believe Brohm would be highly-successful here. I also realize the timing of this isn't ideal after Brohm's Boilermakers dropped a 14-12 decision to lowly Rutgers but evaluating a candidate based on one Saturday is like passing up on drafting a stud baseball player because he went 0 for 4 at the plate the one day you scouted him. Here is my case that he is ready for the big-time:
PLAYING CAREER
HIGH SCHOOL: Kentucky Mr. Football at Trinity High School, Louisville

COLLEGE: Starting QB University of Louisville 1992-93

MINOR LEAGUE BASEBALL: Selected in the 7th round of the 89 draft by Montreal. Went to Louisville on football scholarship but left the Cardinals after his Freshman year after being selected in the 4th round by Cleveland. Played two seasons in the Indians Minor League (90-91) before returning to Louisville.

NFL: Played seven seasons in the NFL for San Diego (94); Washington (95); San Francisco (96-97); Tampa Bay (98); Denver (99); Cleveland (2000)

XFL: Orlando Rage (2001)

COACHING CAREER
Louisville Fire-Arena Football League: (2002) (Head Coach)

University of Louisville: (2003-08) (Asst Head Coach; Passing Game Coordinator; Offensive Coordinator 07-08)

Florida Atlantic (2009) (QB Coach)

University of Illinois (2010-11) (QB Coach)

UAB (2012) (OC/QB)

Western Kentucky (2013) (AHC/OC/QB) 2014-16 Head Coach

Purdue (2017) Head Coach

PLAYED FOR: Howard Schnellenberger (Louis); Bobby Ross (Chargers); Norv Turner (Redskins); George Seifert, Steve Marriucci (49ers); Tony Dungy (Bucs); Mike Shanahan (Broncos); Chris Palmer (Browns)

COACHED UNDER: Bobby Petrino (Louis); Steve Kragthorpe (Louis); Schnellenberger (FAU); Ron Zook (Illinois); Garrick McGee (UAB)

OFFENSIVE STYLE: Here are a couple of descriptions of Brohm's offense taken from recent articles:

-The Brohm offense is at the cutting edge of what it means to be "pro-style" in the modern era.

Brohm's offenses are pass-heavy. His passing games have ranked in the top 10 in efficiency in each of the last three years. They spread you out and can kill you with the run or pass.

The Brohm offense is filled with packaged concepts, play fakes, motions, and formations that all serve to obfuscate the pretty standard concepts they're running underneath. What's more, his teams are running it all at tempo, making the entire thing a coordinated, multi-front assault on the minds of their opponents.

The 2016 Western Kentucky Hilltoppers put up some jaw-dropping numbers on offense. Despite not having highly rated talent, even for Conference USA, they went 11-3 overall and 7-1 in their conference, thanks largely to an offense that ranked 14th in S&P+ (based on efficiency, explosiveness, field position, finishing drives & turnovers) and No. 1 in scoring (45.5 points per game).

BROHM OFFENSE RANKINGS:
Under Brohm, the Hilltoppers averaged 44.6 points, 356.6 passing yards and 526.2 yards of total offense per game over three seasons

Western Kentucky ranked in the top 10 nationally in scoring offense (No. 6 in 2014, No. 3 in 2015 and No. 1 in 2016), passing offense (No. 2 in 2014, No. 4 in 2015 and No. 5 in 2016) and total offense (No. 4 in 2014, No. 9 in 2015 and No. 5 in 2016) each of Brohm's three seasons as head coach.

WHAT ABOUT DEFENSE?
At the same time, the Hilltoppers improved their scoring defense from 121st nationally in 2014 (39.9) to 41st in 2016 (24.6), their total defense from 120th (509.9) to 41st (367.6) and their rushing defense from 111th (220.8) to second (97.2).

COLLEGE HEAD COACHING RECORD 30-10 at WKU; The Hilltoppers were league champions in 2015 and 2016, the school's first back-to-back titles as an FBS member

Purdue has had one winning season since 2007 (7-6 under Danny Hope in 2011) In his first season with the Boilermakers Brohm currently stands at 3-4.
Most everything listed above suggests Brohm is a coach that has spent his years as both player and coach surrounded and influenced by those who have been ultra-successful at the highest levels. He is destined for a big-time job and will not cower to -or buckle under- the pressure of big-time expectations. I for one believe he will not only win but win big at Tennessee if given the opportunity.
Though I have given each coach hired by Tennessee in both Football and Men's Basketball every opportunity to prove worthy the only one I fully endorsed -since Phillip Fulmer- at the time of his announcement was Bruce Pearl. Realizing most anyone hired not named Gruden or Kelly will be lucky to have a 50% initial fan approval rating if Tennessee hires Brohm I intend to go into full Broh-mance mode on-the-air both excited and confident that a wise choice has been made. If he fails? Then you'll have my foolish ass to kick on down the road.
THE DUKE OF DETACHMENT:
After Saturday's drubbing Butch Jones said
"we have a five- game playoff ahead with plenty to play for"
. No coach LAST YEAR you had a five-game playoff with something truly on the line and you failed miserably. This year you have nothing of significance left to play for NOT A DAMN THING.
BAMA TAKEAWAYS:
-Realizing that Alabama is a machine like no other it's still a sad state of affairs when their second team QB is in the game in the second series of the third quarter
-I actually thought our defense played as well as they could which is pretty indicting since the Tide rolled up 604 yards (7 ypp) and 35 first downs
-Our offensive line -and their coach- should be embarrassed. Most experienced unit on the squad and haven't blocked anyone since Georgia Tech
-Jarrett Guarantano is a tough nut. With this O-Line and staff he better be. A rodeo clown has a safer job.
-14 Quarters without an offensive TD; we couldn't score on Bourbon Street
-Listening to the Vol Network on the way home from Tony's watch party did provide some levity. Bob Kesling said
"Your Red Zone Report brought to you by Nissan. The Vols had one red zone trip and threw an interception. That's your Nissan Red Zone Report"
.
-I'm not condoning Rashaan Gaulden's double-barrel bird salute toward the Alabama faithful but I certainly understand his frustration.
-I'm not sure I've ever been as miserable as a Tennessee fan in my 50+ years of following the program. The lack of leadership from the coaching staff and apparent apathy from the administrative offices are both extremely discouraging.
You can listen to the following Podcast using the player below.

You can find all of our Podcasts
here
.

Update Required
To play the media you will need to either update your browser to a recent version or update your
Flash plugin
.
WHAT WE LEARNED IN WEEK EIGHT:
HOT SEAT LIST DWINDLING:
Looks like Brian Kelly (6-1), Kevin Sumlin (5-2, 3-1)), Rich Rodriguez (5-2, 3-1) and Todd Graham (4-3, 3-1) have all coached themselves off the preseason Hot Seat List. Meanwhile our guy is breaking up office furniture in search of more kindling.

BRIAN KELLY AND THE IRISH HAVE RECOVERED:
After 39 victories from 2012-2015 Brian Kelly and Notre Dame stumbled to 4-8 last season. His name was frequently placed near the top of many Coach's Hot Seat lists entering the season. Kelly instead has proven once-again to be one of the nation's best coaches rather than one of the worst. Though the schedule has proven to be friendlier than originally thought -and potential trouble lies ahead (NC St, @Miami; @Stanford) -the Irish have won at Michigan State and their only blemish was at the hands of #3 Georgia. Saturday's 49-14 thrashing of USC proved that if there was a pretender inhabiting Notre Dame Stadium it was the Trojans not the Irish.
LAST SEASON WAS NO FLUKE IN HAPPY VALLEY:
I really believed that Penn State's 11-win, Big-10 Championship season of 2016 was a magical journey not soon repeated in Happy Valley. I thought the Nittany Lions rode the momentum of a fluke victory over Ohio State into a once-and-done special. "Not so fast my friend" is probably a phrase too tame for James Franklin but whatever he said would have the same meaning. Penn State appears built for the long-haul in what is at least the second toughest division in all of college football. After dispensing a 42-13 drubbing on Michigan -that likely once again relegates Jim Harbaugh's Michigan squad to no better than a 3rd place Big-10 East finish- Penn State is once again poised on the doorstep of back-to-back special seasons.

HOW THE OTHER HALF LIVES:
This is certainly foreign soil for Jimbo Fisher to trod. After averaging over 11 victories per season (78-17) in his seven years as Florida State's Head Coach the Seminoles are 2-4 overall and 2-3 in the ACC. Certainly the loss of Deondre Francois in the opener versus Alabama was devastating but I never dreamed it would lead to home losses to N.C. State, Miami and Louisville. With Clemson still ahead and a game with Louisiana Monroe cancelled it looks as though a 6-win season is the best the proud program can accomplish in 2017.
RAISING ARIZONA:
As mentioned above both Rich Rodriguez and Todd Graham came into the year fighting for their professional lives. Instead both Arizona and Arizona State stand at 3-1 in the PAC-12 West with a suddenly vulnerable USC squad in their sights. The Sun Devils get the first shot this Saturday in Tempe with the Wildcats visiting the Los Angeles Coliseum on November 4th. ASU has won 3 of their last 4 while the Wildcats haven't lost since September 22nd. If you want to look way ahead the state rivals meet in Tempe on November 25th in the Duel in the Desert which may well be for a lot more than the Territorial Cup.

FINAL MONDAY MUSING: In 50+ years of following Tennessee Football it has never been less fun than it is right now.