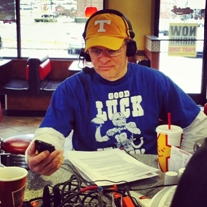 FREE THOUGHT FRIDAY
HUMORED BY GRUMORS:
It gets stronger by the day. The Jon Gruden to The Hill train has made it to Ayers Hall and is about to come barreling downhill toward hallowed Neyland Stadium. Do I believe it is all just chat site chatter? No. Do I believe it has any chance at all to occur? Maybe. Do I think he would have a successful long-term tenure here? Probably not.
What most of us love about Gruden is more about persona and perception than it is about the potential for Power-5 College Football excellence. We love the scowl; the intensity, the demand for perfection we've seen in old ESPN Raider and Bucs practice clips and his Quarterback Camp series. We love his youthful looks, the square jaw, how he says
'Spider Y 2 Banana"
, and
"I've got a lot of orange blood in my body"
. We love his NFL experience, coaching pedigree, that John Majors had him as a Grad Assistant and that his wife is a former Vol cheerleader. Hell, I even love that Geeker had a picture made with him. I'm not sure however that any of that spells success at the SEC level of College Football
Gruden has little experience in the college game. He hasn't had to hit the road recruiting guys that have yet to do the first thing beyond their high school glory yet many are already reaching an NFL-level sense of entitlement. Gruden is known to have despised rookies during his time in the league. How much tolerance do you think he will have for Johnny Wideout and his Mom and Dad wanting to know why he isn't getting the ball more on August 3rd? Or better yet how many targets will he get in his first college game as a Freshman when JW is still a Junior at Sierra Mist High School? I have no doubt that Gruden can coach. But in the NFL, you are shielded from most of the nonsense that CFB coaches are expected to do as part of their contract.
Like many if the fairy tale of Jon Gruden coaching at Tennessee becomes a reality I will be excited the day it is announced. I think it will be the most hailed hire since Johnny came marching home in 1977. It will prove to me that Tennessee's Administration has decided
"enough's, enough"
and agreed it's time they got out of the bargain-basement business, hire a strong personality and get the hell out of his way. That will be a welcomed step in the right direction. My fear however is that the euphoria will quickly die for both Gruden and the Vol faithful. And three years down the road – a time much more important than the introductory press conference- we will all be saying; "
what in the world have we done"
?

ONE MAN'S VIEW OF THE INEVITABLE COACHING SEARCH:
It may be disrespectful and premature to be spending so much of the blog's space on something that may be months out but the truth is a coaching search is coming and there's little else intriguing about the remainder of Butch Jones' fifth -and final- season at Tennessee. Most everyone other than the most casual of fans have sadly fixed their gaze on the future of the program rather than the plight of Team 121.
With that as an apologetic precursor I move on to my wish and what I believe to be realistic vision of how the search could unfold. I understand that with the exception of the top names in the industry there are few if any realistic candidates that will garner much more than a 50% initial fan approval rating on the day they are announced. Mercifully -when thinking about our leadership- it's not how people feel on Day-1 that truly matters; it's how they feel three years after.
OK here we go:

GUYS I WOULD LOVE TO HAVE BUT DON'T BELIEVE WE GET:
BOB STOOPS:
Think he is sincerely retired
JON GRUDEN:
Believe if he ever coaches again it will be in the NFL
JAMES FRANKLIN:
Don't believe the overly-sensitive Title-IX watchdogs will let it happen
CHIP KELLY:
Eyeing a PAC-12 opportunity and would scare our power structure to death
CHRIS PETERSEN:
One season at Pitt is the only time he's coached anywhere close to this region
MIKE GUNDY:
Played us last time; would do it again
GUYS THAT WOULD EXCITE ME FROM DAY 1
DAVID SHAW:
Terrific coach that has done more than ride Jim Harbaugh's coattail
GARY PATTERSON:
Winning big at a historical doormat
JEFF BROHM:
Best up-and-comer who's never been average at anything in his life
LANE KIFFIN:
Would be the best Kiffin anyone has seen with a second chance
JUSTIN FUENTE:
Anyone that raised that Memphis program from the ashes is the real deal

GUYS I WOULD BE HAPPY TO HAVE
DAN MULLEN:
Doing more at Mississippi State than most in that school's history
BOBBY PETRINO:
Usually raises the level of play of his roster and will have better players here
GUS MALZAHN:
Excellent offensive mind that has plenty of big-time experience and success
KYLE WITTINGHAM:
Solid program leader who has never had an opportunity like UT
MIKE LEACH:
Not a lot of huge seasons but he's been at lightweights Texas Tech and Washington State
DAVE DOEREN:
24-3 in MAC is impressive and appears to have it going in his 5th season in Raleigh. Remember telling the late-great Paesan that NC State did better than we did when both he and Butch were hired.
GUYS I WILL BARELY TOLERATE
TEE MARTIN:
No way he's considered based on his resume if he wasn't a VFL
JIM BOB COOTER:
See above
SCOTT FROST:
Limited experience and a huge flight risk
DINO BABERS:
Great offensive mind BUT rarely puts a defense on the field AND Butch beat him by four TDs
GREG SCHIANO:
Not enough quality seasons while at Rutgers and Butch Jones-like "wood chopper"
LES MILES:
Press conference jewel and a gameday fugazi
P.J. FLECK:
Unfortunately, he speaks too much Butchese
BRENT VENABLES:
Too many quality candidates to reach on a coordinator

GUYS THAT WILL MAKE ME A CASUAL FAN AND LIKELY END MY RADIO "CAREER"
MIKE BOBO; CHAD MORRIS; BLAKE ANDERSON; NEAL BROWN; MIKE NORVELL; FRANK WILSON
or any other small potatoes schlep our powers pull out of some deep orifice.
You can listen to the following Podcast using the player below.

You can find all of our Podcasts
here
.

Update Required
To play the media you will need to either update your browser to a recent version or update your
Flash plugin
.
WHAT WE WILL SEE IN WEEK 8:
DOESN'T LOOK AS GOOD NOW THAT WE'RE HERE:
At first glance prior to the 2017 season Louisville's visit to Florida State looked like one of the headliner games of not only the ACC slate but nationally as well. Unfortunately, as we begin the season's second stanza neither is a threat to win a championship of any kind residing outside the mind of Butch Jones. The teams are a combined 6-6 on the season and 3-5 in-league. Neither are ranked as we enter Week 8 and the loser of Saturday's contest has little to no chance of being so at season's end.
ROUNDUP OR STAMPEDE?
The classic wild west conflict between man and cattle occurs Saturday in Austin as the Cowboys of Oklahoma State take on the Longhorns of Texas. While Texas stands at only 3-3 on the season two of their losses have come in heartbreaking fashion to #11 USC and #9 Oklahoma. #10 Oklahoma State was cruising along until TCU became the only team to hold them under 40 points and gave them their only blemish to-date. If the Cowboys want to keep pace with in-state rival Oklahoma and make Bedlam special they will need to avoid the upset bug both this week in Austin and the following in Morgantown. The Cowboys have won 5 of the last 7 in the series.

PUTTING THE O BACK IN OLE MISS:
Ed Orgeron and his LSU Tigers have recovered nicely from a sleep-walking "effort" in Starkville and an embarrassing homecoming loss to Troy with back-to-back victories over conference rivals Florida and Auburn. They now travel to Coach O's old stomping grounds in Oxford where Rebel fans both cheered and later jeered his "efforts" as their head coach. Ole Miss seems to have found some footing just prior to their less-than-favorite son's arrival beating suddenly woeful Vandy by 3 TDs. When asked about his return Orgeron said
"…the truth is the whole time I was there I was wishing I were here
." My guess is this is one thing he and the vast majority of Ole Miss fans agree on.
RARE UNDERDOG OP FOR HARBAUGH:
After his first couple of seasons at Stanford Jim Harbaugh has rarely been viewed as an underdog. Michigan's coronation coach and perceived savior has had two solid 10-win seasons in his time in Ann Arbor and appears on track for another presently standing at 5-1. The knock however has been his inability to beat Ohio State, his 1-2 record versus Michigan State and ineffective QB play which should be his specialty. His teams thus far have also finished no better than third in the Big-10 East. If he is to have more than another somehow empty-feeling double-digit win season Saturday would be a good starting place. The Wolverines head to State College to take on another pain-in-the-ass coach, James Franklin who out-Harbaughed Jim by beating Ohio State last season and won the conference even though the Wolverines beat them by 29 points last September. Harbaugh -like Franklin- is a hard-scrabble, blue-collar guy who relishes the underdog role that his team assumes this Saturday as the Nittany Lions are currently a 9 1/2-point favorite. Penn State is only 4-12 all-time in the series but all 4 wins have come in the last 7 years.

BACK LIKE IT SHOULD BE
One of the great historical intersectional rivalries takes place Saturday as Notre Dame travels to The City of Angels to play USC. It's earlier on the schedule than most of us remember but this time both teams come into the contest sitting on lofty perches just outside the Top-10. The #11 Trojans and # 13 Fighting Irish have each lost only one game and are both coveting a spot in the CFB Playoffs. Keeping the dream alive however will almost certainly require a victory Saturday. The Irish lead the all-time series 46-37-5 and after seeing the Trojans win 8 of 10 between 2000-2009 Notre Dame has recovered to win four of the seven played this decade.

WHAT VOL FANS SHOULD KNOW ABOUT ALABAMA:
OFFENSE
The Tide ranks 10th in scoring offense, 7th in rushing offense, and 15th in total offense.
Soph Jalen Hurts' (Passing- 1028 yds 8 TDs; 1 Int; Rushing- 614 yds, 6 TDs)) ranks 2nd on the Alabama QB career rushing list with 1,512 yards
Hurts is also tied for 4th place with Shaun Alexander (1996-99) on the Bama career TD responsibility list with 50
Jr RB Damien Harris (625 yds; 9.2 ypc; 9 TDs) has surpassed the 100-yard mark 3 times this season and 7 times in his career
Jr RB Bo Scarbrough's (359 yds; 5 ypc; 4 TDs) 2 TDs runs against Vandy marks the 4th time in his career he has found the end zone rushing multiple times.
Jr WR Calvin Ridley's 441 receiving yds on 33 catches this season gives the junior 2,255 yds for his career. He also has 16 career TD receptions good for 5th all-time at Alabama
Fr WR Henry Ruggs III has caught 4 passes for 52 yds and all have gone for TDs.
DEFENSE
Alabama ranks 7th in Scoring Defense, 1st in Rushing Defense and 4th in Total Defense
Alabama has scored 35 defensive TDs during the Nick Saban era
Alabama's defense has surrendered only 174 TDs over the last 118 games.
That's 48 fewer than the second most in the nation (LSU with 222)
With offenses keying on DE Shawn Hand (11 tack, 1.5 tfl 1 sack) Raekwon Davis is wreaking havoc from the other side with 27 tack; 5 tfl and 4.5 sacks.
Sr LB Rashaan Evans recorded a career-high 3.5 tackles for loss in the Crimson Tide's win over Arkansas
Sr LB Shaun Dion Hamilton is 2nd on the team with 35 tackles and leads the Tide with 5.5 tfl.
Sr CB Levi Wallace has 3 Interceptions on the year 1 of which he returned for a TD
All-American candidate SS Minkah Fitzpatrick has 32 tackles, 4.5 tfl; 1 sack and 1 INT on the season
FS Ronnie Harrison -an AP mid-season AA- leads Alabama in tackles with 41 and also has 2 Ints
SPECIAL TEAMS
Sr PK Andy Pappanastos leads the SEC in kick scoring and is second in overall at 10.3 ppg.
P JK Scott is averaging 39.2 ypp and amazingly opponents have yet to return one of his 22 kicks
Trevon Diggs (10-86) and Henry Ruggs (8-46) handle punt return duties for the Tide while Diggs returns KOs
ODDS & ENDS
Alabama and Tennessee will meet for the 100th time on Saturday.
The Crimson Tide leads the all-time series, 54-37-8
Nick Saban is 12-1 in his career against Tennessee.
Alabama's 59-0 win over Vanderbilt on Sept. 23 was the Crimson Tide's 19th consecutive over an SEC Eastern Division opponent, dating back to a 35-21 loss at then-No. 19 South Carolina on Oct. 9, 2010
Alabama has defeated 72 consecutive unranked teams under head coach Nick Saban

FINAL FRIDAY THOUGHT: Hope I live long enough to see the Third Saturday in October become truly meaningful again.