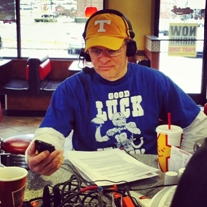 FREE THOUGHT FRIDAY
WHAT WE WILL SEE IN WEEK 7:

ANY FIGHT LEFT IN THE JONES ERA?
Arrangements are already being made but the corpse hasn't been placed in the box yet. If Butch Jones is to stage a zombie apocalypse and make a statement that his demise has been greatly exaggerated it must start versus South Carolina Saturday. All the signs are there that -as Titan's Bill would say- the kingdom is being torn down but Jones and some of his upperclassmen are putting up a strong front for the outside world to see. Whether it is a thinly-veiled façade or true "got your back" resilience will be readily evident when an improving South Carolina comes for a visit in Neyland. Carolina if nothing else IS resilient. They have cobbled together a 4-2 record despite losing their best all-around weapon in Deebo Samuel and certainly not dominating opponents from a statistical standpoint. The Gamecocks do however limit opponents to an average of 21 ppg good for 5th in the SEC (Georgia -10 ppg, Alabama-10.3, Auburn-13, LSU-18.8) in that category and scored three times defensively against the Razorbacks. That is not good news for a Tennessee offense struggling to find continuity with Jarrett Guarantano making his first collegiate start. Beating South Carolina certainly doesn't assure that Jones will receive an immediate pardon for his obvious shortcomings. However, with Alabama looming a loss will almost assure that he starts SEC play at 0-4. In Year-5. I doubt that's a sin that can be forgiven by even the most ardent Jones supporter.

AMBUSH IN MANHATTAN:
With TCU's impressive win two weeks ago over Oklahoma State and Oklahoma's stunning loss to Iowa State last Saturday the Horned Frogs are beginning to look like the Big-12's best -if not it's only hope- for inclusion in the 2017 CFB Playoffs. The biggest obstruction -prior to a November 11th visit to Norman Oklahoma- to reaching that goal comes this weekend with a visit to Manhattan Kansas. Kansas State will limp into the contest on the heels of an overtime loss to Texas in Austin and bad memories of last year's 30-6 pasting to end the regular season in Fort Worth. But the series has been evenly played with both teams winning 5 times and the Wildcats are 3-2 in the five contests played as Big-12 rivals.
WEST'S TOP TIGER:
Ed Orgeron changed the narrative somewhat around Baton Rouge when LSU traveled to Gainesville and pinned the first conference loss on Florida. Beating one of the top teams in the East however is quite different than doing the same against a West opponent. Auburn comes to town on a four-game winning streak with an offense -that though was early-on maligned- has found its way averaging 35.8 ppg while rushing for 228. LSU as mentioned above is allowing only 18.8 but have scored 10-points less per game than Auburn despite having played the likes of BYU, UTC, Syracuse and Troy. The Geaux Tigers do have recent history on their side winning seven of the last ten with all three losses coming in the Loveliest Village on the Plains. Auburn did catch a break in that the game will be played in the 3:30 time slot rather than at night. On second thought it is a CBS game meaning they may get a taste of Death Valley after dark anyway.

WHO DRAWS FIRST BLOOD IN THE RED RIVER:
It will be a first for both Head Coaches when Oklahoma and Texas square-off in the Cotton Bowl in the 2017 Red River Rivalry. When Tom Herman and Lincoln Riley bring their teams out of the tunnel it will be the first time since 1947 that both squads have a first-year coach. Herman's Longhorns look to have recovered nicely from a season-opening disaster versus Maryland while Riley's Sooners will have to bounce back quickly from a stunning loss -at home no less- as better than a 4-TD favorite to Iowa State. Saturday will mark the 112th meeting between the historic rivals in a game always played in conjunction with the second week of the Texas State Fair. Texas leads the all-time series 61-45-5 but the teams have split the last 12 meetings and the last three games have been decided by a TD or less (14-Oklahoma 31-26; 15-Texas 24-17; 16-Okla 45-40).
GATORS OFER THE WEST?
Jim McElwain's late game mastery -and good fortune- abandoned him and his Gators last Saturday as LSU got off the mat after a stunning home loss to Troy and beat Florida 17-16. UF however is still sitting pretty in the SEC East at 3-1with victories over all the division rivals they've faced to-date (Tenn, Ky, Vandy). A win over once left for dead Texas A&M would set up what will probably be a winner-take-all match with Georgia on October 28th. The Aggies will not be an easy out however whose only conference loss was a much closer than expected 27-19 defeat at the hands of Alabama. A&M Freshman QB Kellen Mond (88-155; 1045 yds; 7 TDs, 3 INTs) has progressed from completing only 3 of 17 attempts for 27 yards in the abysmal collapse in the opener versus UCLA to going 19-29 for 237 yds and a TD versus Bama's vaunted defense. He's also run for 266 yds and 2 TDs as well. Florida on the other hand has a unit ranked 103rd in America in Total Offense that throws for only 191.8 (95th) and rushes for 155.4 (75th). The Gators are 2-1 all-time versus the Aggies but the teams have only played once as SEC foes that occurring in A&M first ever SEC game in 2012 that the Gators won in College Station 20-17
You can listen to the following Podcast using the player below.

You can find all of our Podcasts
here
.

Update Required
To play the media you will need to either update your browser to a recent version or update your
Flash plugin
.
WHAT VOL FANS SHOULD KNOW ABOUT SOUTH CAROLINA:
OFFENSE
Soph QB Jake Bentley is hitting on 60.6 percent of his passes this season (114- for-188) for 1,456 yds with 12 TDs and 4 ints.
The Cocks have a trio of sophomores who are sharing the load at running back. Rico Dowdle (56-187-1), A.J. Turner (20-60-0) and Ty'Son Williams (49-281-1)
WR Bryan Edwards is now Carolina's first option in the passing game in Deebo Samuel's absence. He has at least 4 receptions in 5 of 6 games this season, totaling 27 catches for 357 yards and one score.
Fr WR OrTre Smith has caught a TD pass in 3 of the last 4 games.
Fr WR Shi Smith has hauled in 14 passes for 186 yards and one touchdown.
TE Hayden Hurst (19-299-2 in 2017) ranks 2nd on Carolina's all-time list in career receptions (75) and 3rd in yds receiving by a tight end (1,019).
Due to injury the Gamecocks have used 5 different O-line combinations in their first 6 games, including 3 starters at RT

DEFENSE
The Gamecocks set a school record with 3 defensive TDs in the win over Arkansas
Carolina's defense has been better than advertised this season, holding all 6 opponents to fewer points than their season avg.
For the season, Carolina is tied for the SEC lead and tied for 11th in the nation with 13 turnovers forced (7 fum and 6 ints).
Carolina has recorded 10 sacks this season with DE Dante Sawyer and SLB Bryson Allen-Williams recording 2 each
Soph MLB T.J. Brunson is the Cocks' top tackler (6th in the SEC) with 49 stops, or 8.2 tpg.
Sr WLB Skai Moore has returned from a back injury that cost him the entire 2016 season and ranks 2nd on the squad with an avg of 7.0 tackles per game.
Nickel Back Jamyest Williams logged a career-best 10 tackles, including nine solo stops and 2.0 tackles for loss versus Texas A&M
Carolina has six interceptions on the season (Moore-2; CB JaMarcus King, S Keisean Nixon, Allen-Williams & Williams each have 1)
SPECIAL TEAMS
PKs R-Fr Alexander Woznick and F Parker White have combined to connect on just 5-of-14 field goal attempts
P R-Soph Joseph Charlton averages 44.2 yards, (6th in the SEC and 25th in USA) with nine measuring over 50 yards, including a 73-yarder at Missouri
Rashad Fenton handles KO returns while Chris Lammons will return punts.

ODDS & ENDS
Tennessee leads the all-time series, 25-8-2, including a 16-2 advantage in Knoxville
Each of the last 5 contests has been decided by a FG or less, with the Vols outscoring Carolina by a 151-149 margin during that five-game stretch.
Tennessee has accounted for all three of the Gamecock overtime losses, all decided by a field goal.
Will Muschamp owns a perfect 5-0 record against Tennessee as a head coach, including a 2-0 mark in Knoxville
MLB TIDBITS
Turns out the Yankees are pretty good at this rebuild thing after all. Can't believe I had to sit through so many years of A-Rod and Mark Teixeira before they realized it.

Looks to me like the Yankees, Red Sox and Astros are set up for years of playing each other in meaningful fall baseball games.

I really thought the Indians were the AL's best team. The fact that the Yankees basically beat them 4 of 5 games was stunning. Not sure Cleveland is as fortified for the future as the three teams above.

For how it can all go awry however all you have to do is glance back at the 2015 Mets pitching staff that seemed a force to be reckoned with for years-to-come in Matt Harvey, Jacob deGrom, Noah Syndergaard, Jonathan Niece and Steven Matz. Fortunately position players -which the Red Sox, Yankees and Stros are loaded with- are not as vulnerable to injuries as young arms.

I was really happy for Joe Girardi that the Yankees overcame his bone-headed failure to review the hit batsman call that led to Francisco Lindor's grand slam last Friday. Joe drives me crazy at times with his new-found, total reliance on analytics. That above all else caused the inexcusable mind-misfire of Game 2. I do believe he has done a fine job with the Yankees young roster and also am convinced that the catastrophe of that night will make him an even better manager going forward. I expect he will more readily rely on his keen sense of the game at crucial points from here on.

Is this the year that the Dodgers -and Clayton Kershaw- overcome their fear of the postseason?

I hate it when outsiders lampoon coaching change decisions for teams that I follow closely when they don't know what they're talking about (see national media with Phillip Fulmer, Cuonzo Martin yada-yada-yada). That being said from a clueless, view from afar the Red Sox firing of John Farrell seems curious.

Cubs and Nats go to Game 5 tonight in the Nation's Capital. That is some nail-biting, anxiety-filled fun there.
FINAL FRIDAY THOUGHT: It is a true shame when a program reaches the point where it's fans are conflicted concerning what they want to see on a fall Saturday. They are far too precious to waste but the UT Administration is truly gifted in placing us in that situation rather frequently.