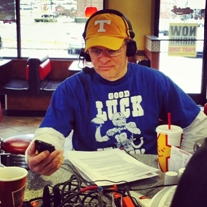 MONDAY ON MY MIND
RANKING POSSIBLE JONES REPLACEMENTS:
I really hoped not to and Iím surprised to already be doing so with the calendar barely penetrating October but itís time to think about who Tennesseeís next football coach could be. Yes, I understand the season is only 5-games old and with the exception of Alabama there are no unbeatables left on the remaining slate. With the Vols current state of play and internal unrest however there are also no sure wins. If Butch Jones remarkably rights the ship, survives the entire season, wins six of his remaining seven and opts to stay Iíll apologize at that time. Until that fairy tale is written however I am choosing not to live on Fantasy Island where if Jones resided you can bet a tropical storm would be brewing right off itís coast.
The fantasy football participant in me is a huge believer in tiering prospects. It is a wonderful tool to help in any selection process. For the current exercise
Tier-A represents the cream of the crop with the following tiers in descending order.
NOTE: Odds were taken from various publicized sources
TIER A: IF THEYíRE INTERESTED HIRE THEM NOW!
Chip Kelly- In waiting +325
Bob Stoops- Retired +900
Jon Gruden- ESPN +2000
James Franklin- Penn State (no odds)

TIER B: ALMOST CERTAIN UPGRADES
Justin Fuente- Va Tech (No Odds)
Jeff Brohm- Purdue +450
Scott Frost Central Fla (No Odds)
Mike Leach-Washington St (No Odds)
Dan Mullen- Mississippi State +1800
Greg Schiano- Ohio State DC (No Odds)
PJ Fleck- Minnesota +800
Bobby Petrino- Louisville +450

TIER C: IF ALL ELSE FAILS
Mike Norvell- Memphis +750
Brent Venables- Clemson DC (No Odds)
Neal Brown- Troy- (No Odds)
Blake Anderson- Arkansas State (No Odds)
Tee Martin- USC OC +900
Les Miles- In Waiting +1000
Jim Bob Cooter- Lions OC +1800

WHAT WE LEARNED IN WEEK SIX:

OH-NO-KLAHOMA:
I knew it was hurricane season but a cyclone in Norman Oklahoma? First-year head coach Lincoln Riley and his Sooners -feeling good coming off an open date at 4-0- had already planted a flag at the Horseshoe after a road win over Ohio State and there was little reason to believe that 4-TD underdog Iowa State would stop the roll. OU was not only off and running in 2017 but had the nationís longest winning streak at 14 and had beaten the Cyclones 18 times in a row. Making the Hollywood-like fantasy even more unbelievable was the fact that Senior Cyclone QB Kyle Kempt -filling in for starter Jacob Park- had thrown only two passes in his career entering Saturday. All he did was complete 18 of 24 for 343 yds and 3 TDs
NO HORSESHOE FOR YOU:
It looked like Florida was gaining some traction. It looked like the Ed Orgeron experiment was over before any test tubes were broken. LSU came to Florida Field in a season when the game was supposed to be played in Baton Rouge and made themselves at home anyway. Jim McElwain has made a living of winning close games as the head man in the swamp but there was no horseshoe being pulled from any orifice this time. As much as they would have liked it to happen neither 11 Tennessee defenders nor 10 Wildcats were walking through that door. Instead LSU found the late-game defense they needed to hold onto a 1-point lead courtesy of a missed Gator PAT that came with 1:45 remaining in the 3rd quarter. The Tigers found a little more offense along the way as well outgaining the Gators 330 to 278 in a game where the teams combined for only 198 yds passing. LSU continued its domination of the Gators this decade winning 6 of the 8 games played since 2010.
MARK THE TAPE:
Well that didnít take long. In his second season in Coral Gables Mark Richt broke Florida Stateís seven-game stranglehold in the series between heated Sunshine State rivals. A graphic displayed on ESPNís Gameday showed that FSU had also won 8-straight games in which the Canes were favored. Not this time, not even in Tallahassee. The stunning turn of events came seemingly out of nowhere as FSU scored a go-ahead TD with only 1:24 left and Miami got nothing on its first two plays after that. A couple of big plays later Doak-Campbell Stadium was holding itís breath. A field goal would have tied the game for The U but knowing the history of missed kicks in the series -admittedly most by FSU- it looked as though the last thing Richtís squad was playing for was three. So, UM QB Malik Rozier threw a 23-yard TD to Darrell Langham -his only catch of the game- with six ticks remaining. It looks as though the squeaky-clean, restrained Richt has once again found a home at the once questionable, rowdy, south Florida school and it looks like this rivalry could become great again.
LOSING THE GENIUS TAG.
I am a big fan of Jim Harbaugh. I have been from the time he was a hard-nosed QB for the Colts taking a blue-collar squad to within one game of what would have been a surprising Super Bowl appearance. I also loved that he didnít try to parlay NFL success into skipping steps on the college football coaching ladder. He served several years as an unpaid assistant to his father at Western Kentucky then took an inglorious assignment as head coach at San Diego. Not the Chargers; not San Diego State but the University of San Diego. He then lifted Stanford from a doormat to perennial PAC-12 contender before taking the 49ers to a Super Bowl. With all that hard-earned experience I was sure he would quickly make Michigan -once again- a thorn in Ohio Stateís side. While he has taken UM from 7-6 and 5-7 the two seasons prior to his arrival to consecutive 10-win campaigns he is not the immediate dominant force I expected. He has yet to beat Ohio State and now stands at 1-2 against in-state rival Michigan State. The Wolverines have finished no better than 3rd place in the Big-10 East in his two seasons and Saturdayís home loss to the Spartans suggest this season may be no better. I still believe his history suggests he will do something special in Ann Arbor but it better happen soon since his track record also shows four seasons is about as long as his welcome lasts.
FINAL MONDAY MUSING: Hope youíll join good friend Geoff Brock and I as we fill in for Tony Monday and Tuesday. Weíll have a great time as long as you come along for the ride.