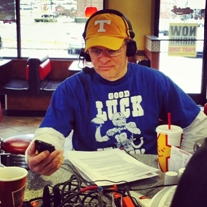 FREE THOUGHT FRIDAY

MP IS PROBABLY CORRECT; I SHOULD FEAR THE KNOWN:
Longtime, excellent and astute caller MP (aka @Lloyd_Testerman on Twitter) joined the show earlier this week lamenting an issue he has been driving home for several years. His belief is we will never have a Power-5 Championship-level program with a Mid-Major administrative approach. He had kind words for my appearances -which I greatly appreciate- but he reminded Tony that my assertion that a deeper available candidate pool to replace Butch will mitigate our bevy of poor decision makers is a repeat of what I said at the time we were replacing Cuonzo Martin. Guilty as charged. Tony on a later show also poo-pooed my contention that John Currie will be more involved in the process with more autonomy than his last two predecessors. I will plead no contest to that one until further proof is available.
I believe as both MP and Tony that weíve been plagued by poor leadership at the Presidentís position, lack of vision in the Board of Trustees and unwillingness to simply be bankers and let more astute athletic minds handle coaching searches and hires at the booster level. I also believe that we have had difficulty making football hires that take vetting and evaluation. We were spoiled by 30+ years of Johnny Majors and Phillip Fulmer. Those two hires took ZERO vision or salesmanship to make. They were automatic, coronation hires. Once the obvious coaching legacies were no longer available our ability to find the right man vanished.
I hesitate however to give up hope that the powers that be arenít as sick of mediocrity as I am. If I choose to believe that our administrators and boosters are going to continue along a bargain-basement, change coaches every five years path then there is nothing left to grasp onto for the future of Tennessee Athletics because the positions we're referencing are difficult -if not impossible- for the common fan to influence change in. It may be naÔve but I refuse to take that last step into the darkness of that mindset. Because here at Shawshank University hope is not only a good thing, it may be our only thing.
WHAT IS MY GREATEST FEAR?
That the Power Strangers mentioned above are simply still playing fantasy football with a program we all love so dearly. That they love the power and access more than victories on the field and that their last three brutal hires havenít changed their approach. I will admit to reaching a point where Iíve boarded the
Anyone but Butch
Train. I sure hope however when that train stops itís not in Jonesboro Arkansas picking up Blake Anderson.
You can listen to the following Podcast using the player below.

You can find all of our Podcasts
here
.

Update Required
To play the media you will need to either update your browser to a recent version or update your
Flash plugin
.
WHAT WE WILL SEE IN WEEK 6:
OLD SCHOOL FUN TO WATCH BOWL:
There was a time when I tried my best to see Boise State and BYU play football as often as I could. I liked that they rarely backed down from teams with more resources and better rosters and their offenses were a joy to behold. It was like finding a great mid-major basketball game to spice up a long, boring major conference regular season. For some reason neither attracts my attention as they once did. The post-Lavell Edwards and Chris Petersen eras havenít been as kind to the Cougars and Broncos respectively and what once were Cinderella stories for both has faded in the glut of TV coverage and conference realignment. This will be the sixth straight season the teams have played but only the 8th meeting all-time. The Broncos have won three of the last five including last seasonís 28-27 thriller on the blue turf.
ONE YEAR IN THE MAKING:
LSU will finally visit Ben Hill Griffin Stadium to take on Florida after being cancelled last year for what turned out to be too much sun. Hurricane something or other was supposed to wreak havoc throughout Florida but the carnage never reached Gainesville. So, after a lot of competitive hijinks from both camps the game was finally moved to Baton Rouge in late November. The 16-10 loss by the Tigers should have made LSU AD Joe Alleva jot ďdo not hire Orgeron permanently under ANY circumstancesĒ. Instead Coach O will ďleadĒ LSU in what will now be the first of two consecutive visits to Florida Field. To the chagrin of most every purple and gold fan he will probably be along for the return engagement next season thanks to Joe also failing to note ďif worse comes to worse donít give this imbecile a 12 million-dollar buyoutĒ. All of that aside the Tigers limp in after a homecoming loss to Troy to face a Gator squad sitting at 3-0 in the SEC yet still somewhat disjointed offensively. Missing big-play threat Tyrie Cleveland probably wonít help matters for UF. Last yearís debacle notwithstanding the Tigers have won five of the last seven meetings between the annual cross-division rivals.

FOUR WEEKS IN THE MAKING:
Old Sunshine State rivals Miami and Florida State didnít wage a months-long squabble as LSU and Florida did in 2016. Fortunately, they had a common open date when weather forced the postponement of their September 16th scheduled game and they will resume hostilities Saturday. Mark Richtís first Hurricane squad was rolling along at 4-0 and #10 in America when the 2-loss Seminoles came in and spoiled the party with a 10-9 win in Coral Gables last season. Different year; same script. The U is 3-0 and ranked #13 while a twice-beaten, battered and desperate FSU team awaits their arrival in Doak Campbell. Miami comes in as a 3-pt favorite according to the boys in the desert which represents a role-reversal since the Noles have won the last seven games in the series.
NEW KID ON THE BLOCK PARTY:
When Minnesota visits West Lafayette to take on Purdue both teams will enter the contest with increased pep in their step. There is a new energy and buzz surrounding both programs now led by young energetic new-comer coaches. P.J. Fleck rowed the boat from a Western Michigan program he resurrected to Minneapolis while Jeff Brohm brought his offensive wizardry to Purdue from Western Kentucky. Fleck didnít face the reclamation job ahead with the Gophers who finished 9-4 last season. The Boilers on the other hand won only 3 which is only one less win than Brohm registered in his first month on the job. Even more impressive is the fact that Purdue is actually favored by 3-points to match last seasonís win total. I have a feeling that Tennessee fans are going to hear both names mentioned prominently with our job in the very near future.
OLD AND NEW:
The very old and the very new will clash this Saturday when Kansas Stateís Bill Snyder brings his Wildcats to Austin to face Tom Hermanís Longhorns. Snyder is in his 9th season of his second stint as K-Stateís Head Coach and his 26th overall where he is 206-105-1. Herman on the other hand is in his first season at Texas after a whirlwind apprenticeship as OC and QB Coach at Iowas State (2009-11), Ohio State (2012-14) and two seasons leading the University of Houstonís program. Despite some non-conference hiccups for each squad both stand at 1-0 in the Big 12 and can position themselves to be a factor in the race going forward with a win Saturday. K-State is 10-7 overall in the series but Texas holds the trend advantage as the home team has won 13 of 17.
ARE THE DUCKS STILL AFLOAT:
Willie Taggartís first season in Eugene comes to a dangerous midway crossroads this Saturday as his Oregon Ducks entertain Washington State. The Cougars are coming of an impressive Friday Night ambush of previously unbeaten and Top-5 ranked (at the time) USC. WSU -along with in-state rival Washington- are threatening to turn the PAC-12 North race into an Apple Cup warmup. Though theyíre off to a 4-1 start overall a Duck defeat would put them two games behind the PAC-12 North leaders and playing from that point for a non-New Yearís Day Six bowl slot. Oregon will be looking to break a two-year losing streak to Washington State after they had won eight consecutive games in the series prior to those defeats.
FINAL FRIDAY THOUGHT: Congratulations to Anthony Basilio and his Halls High School teammates on their second consecutive golf State Championship. That is a terrific accomplishment.