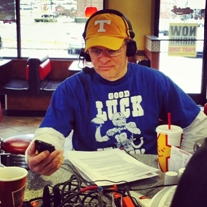 MONDAY ON MY MIND
POST DAWG THOUGHTS:
Our worst fears came to fruition. Georgia's defense is much better than in recent years and our offense is horrendous. So much in fact that I actually felt we played fairly well defensively in a 41-0 rout. What we saw Saturday were two programs steaming in different directions. One with energy, excitement, purpose and direction; the other free-falling with none of those attributes.
I have always agreed with Jeremy Foley's philosophy of not waiting to do the inevitable -and believe me it is inevitable- but unfortunately, I don't believe it is in our administration's DNA to do so. I expect them to follow past precedence and fire Butch Jones shortly after Halloween as they did Johnny Majors and Phillip Fulmer. This season that would be immediately following the Kentucky game.
-The real indictment of Saturday's game is it didn't feel like we got mauled as most decisive losses do. Georgia wasn't terribly impressive and still beat us 41-0.

-Someone give me one unit on our football team -with the exception of Running Back- where it appears our players are being developed. I'll wait….no I won't.

-While I'm on the subject we justifiably snickered when Butch promised to construct the "best staff in the country" then brought almost everyone with him from UC. I'll say this though; his original staff was better than his current.

-With the relentless interruption of play by CBS no one should ever claim their defense was gassed in games played on that network. Hell, it must stand for Constantly Being Stopped.

-Jake Fromm is going to be a fine QB but he was far from the mistake-free field general I expected to see. He came into the contest with only one INT in four games and really should have thrown three Saturday alone.

-Our QB play on the other hand is horrid. For guys in their third and second years on campus Quinten Dormady and Jarret Guarantano are about as far from upper-tank SEC caliber as they can be. Maybe they should transfer to Pitt and Memphis so we can see how talented they truly are.

-The offensive line has been underwhelming as well. While realizing they are much the same unit that paved the way for solid running stats the last two seasons I still believe they were bailed out frequently by Josh Dobbs brilliance when carrying the football. In their defense however, I think the Jones offense is dead-in-the-water without someone who is more RB than QB at the switch.

-Hated to see John Kelly's Herculean effort end in a turnover. Exhibiting that kind of desire deserves a more positive result.

-Starting with his ill-advised, poorly-timed, woe-is-me, press conference rant on Monday and ending with the worst home loss since 1905 Butch Jones had a week that is proof-positive the job is too big for him. We will NEVER win anything of significance with him at the helm. It may be weeks or months before it becomes official but the Jones era is over at Tennessee.
WHAT WE LEARNED IN WEEK FIVE:

THE APPLE CUP IS GOING TO BE SPECIAL:
You couldn't write a better upset script than having the #5 team in America visit The Palouse on Friday night against a team led by a crazy pirate. Washington State remained unbeaten in the PAC-12 North (5-0; 2-0) defeating a USC team that had won their last five trips to Pullman by an average of 33 points. The Cougars jumped to 11th in the latest AP Poll -with a critical visit to Oregon straight ahead- and have positioned themselves to be a factor in the race all the way to a visit to arch-rival Washington on the Saturday after Thanksgiving.
OH-NO COACH O:
My immediate thought at the time LSU hired Ed Orgeron -quickly after being snubbed by Tom Herman- was "two months of preparation and THAT is the best you can do?" Always go with your first thought. Orgeron is, was, and will always be a Lieutenant and not a General. The non-competitive loss to Mississippi State -since thrashed twice themselves- was apparently just the tip of the iceberg of embarrassments to come. Troy marched in -actually bused in from 6 ½ hours away- accepted a check for a beating, then rudely put one on the Bayou Bengals instead becoming the first non-SEC team to win in Death Valley since 2000. Certainly, Derrius Guice's injury hurt the Tigers but you should still have the wherewithal to hold off the Trojans. Instead the rushing star was Troy's Jordan Chunn who ran for 191 yds and a TD. I know LSU fans are sick thinking about the misery that is sure to lie ahead for an Orgeron-led program. Take it from a Tennessee fan and count your blessings LSU faithful. At least you won't be able to understand a single, empty word your coach utters in his "we're gonna get this fixed" Monday press conference.
BULLIES ARE DOG-TIRED:
I would think the last thing a team needs after an emotional, misleading, lopsided victory over a division rival is back-to-back trips to hostile environments. That's exactly the hand the SEC office dealt to Mississippi State. The Bulldogs scored what at the time appeared to be a solid, convincing win over LSU which portended good things to come. Instead they traveled on consecutive Saturdays to Athens, Georgia and Auburn, Alabama with their tails tucked tightly between their legs just below where their ass used to be located. The Bulldogs losses were by a combined score of 80-13 and have fallen from potential surprise team to "same ole State". Bulldog faithful are hard to shatter however as long the Egg Bowl is still to be played. Especially when the Rebels just suffered a 66-3 beating of their own.
MLB TIDBITS
-The Yankees are far ahead of the rebuild plan I envisioned. Had Tyler Clippard not infected the whole bullpen with a malady that took months to recover from they would have won the division which would have been truly shocking.
-The Bombers however will be at a disadvantage in the playoffs -assuming they get by the Twins- since the Red Sox, Astros and Indians all have an ace the Yanks lack in Chris sale, Dallas Keichel and Corey Kluber respectively.
-Luis Severino may become such as his performance this season suggests.
-If it weren't for the quality of the AL-East I would say the other Wild Card entrants (Twins, Rockies, Diamondbacks) were more surprising than the Yankees
-With both NL Wild Cards coming from within their division it is amazing the Dodgers were able to ring up 103 wins. Now we'll see if for once both the team and Clayton Kershaw can be as effective in the postseason.
-The Cardinals finished five games above .500 but they no longer appear to be the model organization we have come to expect them to be.
-Below are a couple of items I pulled from articles discussing the new single-season HR record set this year
When Alex Gordon hit a home run for the Royals in the eighth inning on Tuesday (Sept 18), it was the 5,694th home run of the season, breaking the record for most home runs in a single season set in 2000.

As recently as 2014, home runs were few and far between at 0.86 per game. Thanks to a second-half push of 1.09 per game, that number rose to 1.01 in 2015. And then to 1.16 per game in 2016, a mark topped only by the 1.17 per game in 2000, the height of the so-called "Steroid Era."
-I know MLB teams have emphasized hitting the long-ball and excused high strikeout rates to do so. They also are much more entuned to launch angles and other "get the ball up" teaching techniques than ever before. All of this has I'm sure been a factor in the power surge. That aside I sure hope several years from now we learn that the real explanation was that the ball was what was juiced.
-Chicks don't dig the long-ball any more than I do so Giancarlo Stanton and Aaron Judge have been a pleasure to watch.
-Sure seems strange to have both Derek Jeter and Don Mattingly involved with the Florida Marlins.
-Charlie Blackmon's batting title was amazingly the 11th won by a Rockie in the franchise's 25 -year history. No wonder daily fantasy guys stack their lineups with guys playing in Coors Field.
FINAL MONDAY MUSING: The Slap Sign guys should make one with Butch Jones face on it. No one would get hurt, Vol Nation could ease tension by "slappin the hell outta" Butch and the manufacturers would make some early dot-com-like money.