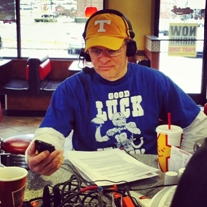 MONDAY ON MY MIND
FAVORITE VOL OPENERS:
I posted this last season just before the Appalachian State game and thought I would revisit it. Since our opening effort last year against the Mountaineers certainly didn't make the cut it will be a complete repeat for long-time blog readers. If I am forced to post the same again prior to the 2018 season you'll know this year's opener was nothing to write home about as well. I have listed my favorite openers below in chronological order.
1968 TENNESSEE 17 GEORGIA 17:
The Vols scored the last 8 points of the game with no time on the clock to force one of those ties that feels like a win. It was not only the first game played on "Doug's Rug" -the artificial surface then coach Doug Dickey preferred- but it also marked the first Tennessee Football broadcast for the esteemed Voice of the Vols, John Ward. Bulldog coach Vince Dooley was so incensed by Tennessee's fake grass that 42 years later he sent us a fake football coach.
1974 TENNESSEE 17 UCLA 17:
No, I don't have a tie fetish or a reverence for the number 17. I do love the number 7 however as in Condredge Holloway. As mentioned in an earlier blog the "Artful Dodger" came back from the hospital bringing both Neyland Stadium and the Vols back to life.
1985 TENNESSEE 26 UCLA 26:
Maybe I do need a tie-intervention. Though this was a deadlock that seemed more like a loss -since UCLA scored the last 16 points- it was proof positive that the Vols had a solid squad. The Bruins were ranked 10th and had beaten a Top-ranked BYU team in Provo a week earlier. The initial assessments of both teams proved correct as the Vols and Bruins went on to win the Sugar and Rose Bowls respectively.

1987 TENNESSEE 23 IOWA 22:
The Vols and Hawkeyes opened the 1987 College Football season at the Meadowlands in the Kickoff Classic. The most memorable play of the game was Darrin Miller's 96-yard return of an errant pitch but Phil Reich kicked three FGs including the game-winning 20-yarder with only 3 seconds remaining. The game was also Reggie Cobb's first as a Vol.

1991 TENNESSEE 28 LOUISVILLE 11:
The first Thursday night regular season football game in Tennessee history was played at Cardinal Stadium in Louisville. The Cards had to be asking "who were those guys?" after Tennessee unleashed freshmen RBs James "Little Man" Stewart and Aaron Hayden on them.

1998 TENNESSEE 34 SYRACUSE 33:
The first of several breathtaking victories in a National Championship season. Tee Martin was only 9-26 for 143 yards in his first start but as he so often did, made huge plays at the most opportune times and led the Vols down the field setting up Jeff Hall's game winning 27-yard FG
2006 TENNESSEE 35 CALIFORNIA 18:
The Vols were coming off one of the most disappointing seasons in program history and took out a year's worth of frustration on the shell-shocked Golden Bears. Cal came in ranked 9th in the country but were out-run, out-hit and out -classed from the opening kickoff.

WHAT WE LEARNED IN WEEK 1:

SLOW STARTS AREN'T LETHAL:
Like South Florida in Week Zero, #2 Ohio State, #8 Washington and #9 Wisconsin all came out of the gates slow in their 2107 season openers. Trailing by a cumulative score of 24-6 at the end of one quarter the Top-10 heavyweights overwhelmed their outmanned opponents (Indiana, Rutgers & Utah St respectively) 132-21 the rest of the way.

BAD WILL HUNTING.
Looks like Will Muschamp screwed up the Florida offense so bad that no one can fix it. Jim McElwain is a renowned offensive mind who was a National Championship Offensive Coordinator at Alabama and had solid attacks as the head man at Colorado State. In his third year in Gainesville however his offensive unit looks as pedestrian as the first two. I realize he was without his projected leading receiver in Antonio Callaway and lead running back Jordan Scarlett but that doesn't excuse the Grass Cutter attack that produced a paltry 154 yds total offense (143-passing 11 yes 11-Rushing) versus a Michigan defense replacing 10 starters. The Gators have seemingly been looking for a competent QB since Tim Tebow departed and based on a single glance neither Felipe Franks or Malik Zaire appear to be the answer. I'll leave you with a question; suspensions aside how can you be so void of offensive weapons recruiting in a state as rich in talent as Florida?

GOOD WILL HUNTING:
Muschamp may have flopped at Florida but he -stunningly to me- seems to be a good fit at South Carolina. I was impressed with the recovery he led Carolina to from the smoldering mess of Steve Spurrier throwing up his hands mid-season 2015 in his first year in Columbia. He appears to have directed a solid off-season as well as the Cocks played inspired football in defeating highly-regarded (however foolish that was) N.C. State. Muschamp's squad did a little of everything in the upset victory including a kickoff return for a TD, turning two Wolfpack turnovers into points and a display of offensive fireworks. He's also found or developed some pieces he couldn't while leading the Gators. Jake Bentley (17-29; 215 3 TDs 1 Int) will at some point be the league's best QB and Deebo Samuel not only took opening kickoff to the house but caught 5 passes for 83 yards and 2 TDs as well. The Gators might not want Will back but you can bet they would negotiate if he would bring those two guys with him.
PERSONALITY DISORDER: I'm still trying to figure out if they have some kind of weird science going on in Columbia. How can Steve Spurrier have most of his success there based on a give-no-ground defense and a running game then Muschamp's squad gives up 476 yards and 28 points and still wins? Strange times indeed.

HERMAN'S HERMITS: Well Week 1 of the Tom Herman era in Austin sure didn't come off the way many Longhorn faithful envisioned. Big-10 doormat Maryland showed up and looked like they pulled the old Bobby Fleet and His Band with the Beat filling in for the Mayberry Band trick. The Terrapins played as if the Clemson Tigers had shown up in Maryland uniforms. The Terps had lost 17 straight to ranked opponents but shook off an early pick-6 and never trailed the rest of the day. They led 27-7 at one point and 30-14 at the half. The Horns did score 41 but still suffered a deflating double-digit defeat surrendering a half-a-hundred +1. Don't stay in hiding Texas fans. The first week is often misleading when considering what's to come. Heck this time last year I was certain that Charlie Strong had actually turned the corner and settled in as the Head-Horn after a resounding victory over Notre Dame.
VICTORY FOR VIC:
Congratulations are in order for former Vol Vic Wharton III. Vic caught 5 passes for 156 yds including a 67-yard scoring strike in Cal's 35-30 victory over North Carolina. Wharton was instrumental in helping Butch Jones bring in his vaunted second recruiting class and left under unusual circumstances given his one-time dedication to the program. Whatever happened there it's good to see the young man find success at his new school. It was also Justin Wilcox's first game as the Cal Head Coach. So, job-well-done sentiments seem to be appropriate for another one-time member of Big Orange Nation from a bygone era.

IF YOU'RE GONNA CROW BE READY TO GO:
ACC coaches spent most of the preseason perched on a soap box with their chests stuck out claiming to be the best league in the land. As those of us in SEC country are well aware that is a dangerous precedent unless you have enough artillery to survive the coming battles. Being fully cognizant that Week 1 is often a canard the ACC simply didn't live up to those lofty boasts in games against teams from power leagues. N.C. State and North Carolina lost to middling SEC and PAC-12 squads (S Car, Cal), Florida State got man-handled by Alabama while Louisville struggled with perennial Big-10 whipping-boy Purdue. The league didn't exactly dominate the MAC either with Pitt and BC squeaking out 7 and 3-point victories versus Youngstown State and N Illinois respectively. The ACC had clear claim to the best league in America in 2016. I think most of the time it's better to quietly celebrate those winning skirmishes however than to claim victory from the mountain tops.
FINAL MONDAY MUSING: Happy Birthday to Fab-5 Freddy. No one was ever blessed with a better Brother than I. Hope the Vols give you a good present and I love you Brother.