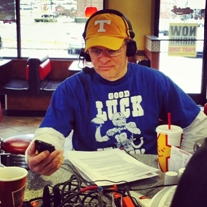 FREE THOUGHT FRIDAY
FIVE KEYS TO VOL SUCCESS:
With
"5 Things"
seemingly being the new journalistic craze I thought I would use the format once as well. With print media going the way of the dinosaur I'm not sure this is a wise tact but here are my 5 keys for Vol success during the just around the corner season

1-HEALTHY DEFENSIVE LINE:
In one of the most abysmal performances in the storied history of Tennessee football the Vols finished 104th in America in Rush Defense allowing opponents to run for 218.5 ypg; 5 ypc and 28 TDs. Things went from awful to absurd as 4 of the Vols last 6 SEC opponents rushed for 350 or more yards (A&M-353; Bama-409; Ky-443; Mizzu-420). Though the Vols had issues stopping the run from the outset most of the stampeding occurred after injuries to Shy Tuttle, Khalil McKenzie and the suspension of Danny O'Brien. First and foremost, on Tennessee's to-do list has to be finding a way to make 2017 foes turn a couple of pages in the playbook by stopping the run between the tackles. The aforementioned Tuttle and McKenzie must remain healthy and play to their potential along with Alexis Johnson while Kendall Vickers remains consistent.

2-REAPPEARANCE OF VANDY BOB SHOOP:
Last season in a segment similar to this I posted the following:
BOB SHOOP'S REPUTATION TO BE A KNOXVILLE REALITY: "His defenses are aggressive" SHOW ME. "He brings the house", LET'S SEE IT. "Shoop's defense is disruptive" BE SO ON SEPTEMBER 24. "His defense turns teams over", TAKE THE BALL AWAY.
In reality, his defense was aggressively aggravating, let people take it to the house more than taking it away and the only thing disrupted was Vol fan's sleep. We need Bob Shoop to be the difference-maker DC he was at both Vandy and Penn State not the second coming of Sal Sunseri or defensive version of Dave Clawson.

3-REPLACE JOSH DOBBS:
I spent more time than I care to rehash defending Dobbs during last season's
Tony Basilio Show
and
Garza Law Firm 5th Quarter Fan Reaction.
I now hope those I verbally grappled with don't learn the hard way just how valuable he was. It is my wish that one or both Quinten Dormady and Jarret Guarantano prove me wrong instead. Both appear to have the ability to win at a high level in the ultra-competitive SEC and possess the arm strength and accuracy required to be successful. The question is can they be the consistent timely playmakers in the running game -so essential in the Butch Jones offense- (sorry Larry Scott, it is what it is) that Josh so ably provided.
4-RETURN OF TRULY "SPECIAL"-TEAM PLAY:
One of the pleasantly surprising staples of the first three years of Jones' tenure was special teams play. Last year the only sparkling phase was the continued excellence of punter Trevor Daniel. A return to health by Kick Returner Evan Berry will undoubtedly upgrade performance but the Vols need someone to provide the same threat on punt returns and Aaron Medley to be a threat beyond 40 yards. Coverage teams need to get back to having a nasty attitude as well.
5-SOLID LAST LINE OF DEFENSE:
Good riddance Willie Martinez and hello Charlton Warren. The Vols secondary has been anything but a last line of defense throughout the Jones era. Whether it was late-game gaffes versus Oklahoma and Florida in 2015 -and Georgia last season- (Thanks again Josh and Jauan Jennings) or total MIA days like late last year versus Missouri and Vandy the secondary has played as consistently poor as any other on campus. Hey, Justin Martin;
"WAKE THE HELL UP"
and please Coach Warren
"GET NIGEL WARRIOR, SHAQ WIGGINS AND MARQUILL OSBORNE ON THE DAMN FIELD.
Thanks, I feel much better.
SEC NON-CONFERENCE SCHEDULE RANKINGS
Florida, Georgia, South Carolina -and with Louisville's ascent- Kentucky all have solid, in-state, non-conference rivals they face every season. Other SEC teams have to decide to schedule contracts with Top-25-caliber, Power-5, non-league opponents. I believe the league as a whole has done a better job in recent seasons of giving their fanbases at least one quality non-league game on an annual basis. Below I have attempted to categorize SEC team's non-conference schedules by level of difficulty.

COURAGEOUS: (Taking a chance of losing more than one)
FLORIDA- Michigan (Arlington); Northern Colorado; UAB; Florida State
GEORGIA: Appalachian St; @Notre Dame; Samford; Georgia Tech
SOUTH CAROLINA: NC State (Charlotte); Louisiana Tech; Wofford; Clemson
CHALLENGING: (A Power-5 + a team with a pulse.)
ALABAMA: Florida St (Atl); Fresno St; Colorado St; Mercer
AUBURN: Ga Southern; @Clemson; Mercer; UL Monroe
VANDY: @MTSU; Alabama A&M; Kansas St; Western Kentucky
CRUISIN: (One that "could" beat you)
ARKANSAS: Florida A&M; TCU; New Mexico St; Coastal Carolina
KENTUCKY: @Southern Miss; Eastern Ky; Eastern Michigan; Louisville
LSU: BYU (Houston); UTC; Syracuse; Troy
MISSISSIPPI ST: Charleston Sou; @Louisiana Tech; BYU; U-Mass
OLE MISS: South Alabama; Tennessee-Martin; @Cal; UL Lafayette
TEXAS A&M: @UCLA; Nicholls St; UL Lafayette; New Mexico
TENNESSEE: Ga Tech (Atl); Indiana St; U-Mass; Southern Miss
CREAMPUFF (Why bother?)
MISSOURI: Missouri St.; Purdue; Idaho; @Connecticut
COMING MONDAY:
We'll rate SEC team's non-division schedules and look at how they could affect the upcoming conference race as well as rank the Vols top games in terms of chance for an upset. Have a great weekend

FINAL FRIDAY THOUGHT: Football REALLY needs to get here before Vol Nation chooses up sides and whips each other's ass.