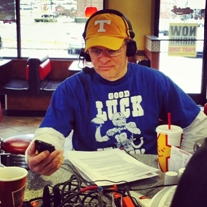 MONDAY ON MY MIND

SEC TEAM QUESTION MARKS
: Following up Fridayís SEC team strengths here are the question marks:
EAST
FLORIDA:
QUARTERBACK:
Maybe a QB emerges from R-Fr Felipe Franks and Fr Kyle Trask but apparently Jim McElwain didnít think it was happening fast enough accepting Notre Dame transfer Malik Zaire into the program. Zaire started very few games for the Irish after a 2015 ankle injury and Trask was a high school backup in Houston.
Honorable Mention: RUNNING BACK:
Jordan Scarlett emerged as a feature back last season but a RB-by-committee is expected in 2017. Lamical Perine, Mark Thompson and Fr Adarius Lemons will try to aid Scarlett and assure the Gators rush for more than the putrid 1.3 ypc averaged in 2016.
GEORGIA:
WIDE RECEIVER:
Terry Godwin is the Dogs leading receiver but his stats (38-397; 0 TDs; 10.4 ypc) and his size (5-11) donít scare opponents. Sr Javon Wims and Soph Riley Ridley need to step up and Freshman Jeremiah Holloman needs to contribute early.
Honorable Mention, OFFENSIVE LINE:
Noted O-Line guru Sam Pittman had trouble getting his unit to perform in 2016 and that was with 3 senior starters. Sr 2-yr starter Isaiah Wynn will be the LT. Other than that, who knows?
KENTUCKY:
DEFENSIVE LINE:
The Cats D-line had only 13 tfl and 2 sacks all last season. SR NG Matt Elam -a former 5-star recruit- has been a 6-7, 360 lb. dud from the time he walked on campus and seems to represent all that has gone wrong with the unit.
Honorable Mention, WIDE RECEIVER:
According to
Athlon Sports
SEC Preseason Magazine OC Eddie Gran told the unit in the spring to
ďearn their scholarship and quit eating free foodĒ
. Last seasonís leading receiver Jeff Badet transferred to Oklahoma leaving SRs Garrett Johnson and Dorian Baker to carry the load
MISSOURI:
DEFENSIVE LINE
The once-daunted Tiger D-line was dreadful last season and that was with Charles Harris who is now in the NFL. SR DT A.J Logan is the only returning starter which based on the 2016 performance may be a good thing.
Honorable Mention, LINEBACKER
: When your D-line canít keep them off of you and your LBs canít tackle that spells trouble. JR OLBs Brandon Lee and Terez Hall and MLBs Eric Beisel and Cale Garrett will try to upgrade play in 2017.

SOUTH CAROLINA:
DEFENSIVE LINE:
Strange days indeed when a Will Muschamp team has a QB but a weak D-Line. SRs Taylor Stallworth and Ulric Jones return at tackle but neither was impressive last season. The Cocks must find a replacement at DE for the departed Darius English who led the team in sacks last season.
Honorable Mention, SPECIAL TEAMS:
Walk-on PK Alex Woznick will attempt to replace 4-year starter Elliott Fry. Carolina will also have new faces at both punter and long snapper.
VANDERBILT:
LINEBACKER:
Though Vandy always seems to find a tackling-machine for the unit itís hard to imagine they have another like the departed Zach Cunningham. The Dores return only one starter for their 3-4 set in Senior Oren Burks who will move inside after Cunninghamís loss.
Honorable Mention, QUARTERBACK:
Forget the 400+ yards Kyle Shurmur put on the Vols dreadful defense last season. That was almost 1/5 of his seasonís total and he threw more picks (10) than TDs (9)
WEST
ALABAMA:
LINEBACKER:
The Tide lost Reuben Foster, Tim Williams and Ryan Anderson to the NFL and the returning starter; ILB Shaun Dion Hamilton tore his ACL in December.
Honorable Mention, WIDE RECEIVER:
Calvin Ridley is outstanding (72-769, 7 TDs) but the best returning option after Ridley is Cam Sims (14-152)
ARKANSAS
RUNNINGBACK:
What would have been a strength became a question mark when SEC Rushing Leader Rawleigh Williams suffered a second neck injury in the spring and announced he was stepping away from the game shortly afterward. The Hogs -and Brett Bielema- always seem to have a stud RB so maybe Devwah Whaley or Kody Walker can fill the void.
Honorable Mention, LINEBACKER:
The opposite scenario for the defensive line is in play for the linebacker corps. The Hogs were already short of depth at the position and will now play four instead of three.WLB Dre Greenlaw is the only returning starter.
AUBURN:
WIDE RECEIVER:
Though the unit is thought to have size athleticism and high upside none of the top quartet of Darius Slayton (292), Kyle Davis (248), Eli Stove (224) or Nate Craig-Myers (70) had 300 yards receiving.
Honorable Mention. DEFENSIVE LINE:
The Tigers will probably figure it out -as they almost always do- but tackle Montravius Adams graduation and Carl Lawsonís early jump to the NFL leave huge voids to fill. DT Dontavius Russell and DE Marlon Davidson do provide experience to the unit.
LSU:
WIDE RECEIVER:
LSU lost its top two pass catchers (Malachi Dupree and Travin Duval) and had to convince D.J Chark to return in order to bring back any production (26-466; 3 TDs) at all in the unit. Dee Anderson, Drake Davis and Stephen Sullivan caught 5 passes combined in 2016.
Honorable Mention, LINEBACKER:
The Tigers lost their top two tacklers in ILBs Duke Riley and Kendall Beckwith and have no starters returning from the three-man unit.

MISSISSIPPI STATE:
OFFENSIVE LINE:
Stateís O-Line hasnít been very good the last two seasons and lost three starters from last season. That may be a plus but Bully fans arenít optimistic.
Honorable Mention, DEFENSIVE LINE:
The Bullies return no starters and only 6.5 of the 25 sacks registered in 2016. Soph DE Jeffrey Simmons is talented and versatile and could upgrade the overall unit performance.
OLE MISS:
LINEBACKER:
OLB DeMarquis Gates is the only true returning starter from a disappointing unit in 2016. Detric Bing-Dukes was a spot starter at MLB and will probably play the same role in 2017.
Honorable Mention, SECONDARY:
The Rebels back four will be depending on Myles Hartsfield making a successful switch from safety to CB and Ken Webster recovering from knee surgery to man the opposite corner.
TEXAS A&M:
LINEBACKER
: OLB Otaro Alaka is the only returning starter and will be joined by a freshman; Anthony Hines and a Soph; Tyrel Dodson in the starting lineup.
Honorable Mention, WIDE RECEIVER:
Christian Kirk (83-928-9) may be enough alone to make this a bogus question mark selection. The rest of the unit accounted for only 8 catches last season.

3 PLAYERS THAT MUST STAY HEALTHY:
Tony threw out for the Friday
Tony Basilio Show
audience the question of which players the Vols could least afford to lose to injury to have the year we all hope they can have. Here is my swing at the query:
1-JOHN KELLY:
Though Ty Chandler is expected to make an immediate contribution and Iím hearing good things about Tim Jordan, Kelly has the potential to be a between-the-tackles workhorse the Vols desperately need. You simply canít fall from the three-headed monster of Jalen Hurd, Alvin Kamara and Kelly to none of the above. Especially with a first-year starter at the QB position
2-JAUAN JENNINGS:
On the heels of Josh Maloneís breakout season that led to early departure to the NFL Jennings must be our
ďthrow me the damn ball
" stalwart. Tyler Byrd and Marquez Callaway have big-time potential as well but itís Jauanís turn to be the diva.

3-KENDAL VICKERS:
This may seem at a glance to be a reach but with the unitís history of frailty his continued consistency is essential. Both Shy Tuttle and Khalil McKenzie have more prototypical size and upside but neither has proven capable of staying on the field long enough to fulfill their promise.
WHO DID I OMIT?
Most who contacted the show mentioned Darrin Kirkland Jr. who I thought long and hard about. No knock on Kirkland -who like Tuttle and McKenzie has great upside- but Colton Jumper has proven to be a more than adequate replacement for Darrin. As a matter of fact, our defense seemed to perform better with Jumper on the field last season than with Kirkland. The injury was obviously a factor but itís time for Kirkland- like McKenzie- to perform at the level their reputations suggest they should.
MLB TIDBITS:
-While highly entertaining the Yankees are also puzzling. There are times they look like they may go on extended runs of success then like flipping a switch look as though they may never win another.
-The Astros are showing the effects of losing both Carlos Correa and George Springer to injury understandable since both were playing as well as anyone at their position prior to getting hurt. Springer should make it back to the lineup early this week.
-Jose Altuve has certainly picked up the slack hitting around .400 for the last two months.
-The Orioles have somehow clawed their way back into the wildcard race, in the best division in baseball with arguably the worst pitching staff in all of baseball.
-Iím not sure what clicked for Daniel Murphy in the 2015 postseason but whatever it was everyone should try to find it.
-I write it several times a year but itís a true shame that both Mike Trout and Paul Goldschmidt play so many of their games after most of us have gone to bed.
-Luis Severino looks like the young ace the Yankees have been lacking. They certainly needed someone to step up since Chris Sale looks like the next best thing to Clayton Kershaw for the hated Red Sox (everyone does hate the Red Sox, correct?).
-With around 50 games remaining the cream has risen to the top with the Red Sox, Indians, Astros, Nats, Cubs and Dodgers leading their respective divisions.
-Even at 8 games under .500 the Braves are a pleasant surprise. Guess there is a little magic in their beautiful new ballpark.
FINAL MONDAY MUSING: Hard Knocks featuring the Tampa Bay Bucs makes itís 2017 debut Tuesday on HBO. Football canít be far behind.