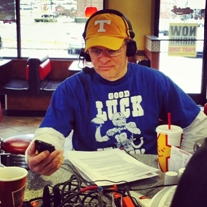 FREE THOUGHT FRIDAY
LET'S RAMP THIS UP:
After Senior Softball -and a wonderful weekend visit with Nephews Chris and Andy- dominating many of my summer weekends it's great to turn my attention to the upcoming football season and resume twice-weekly blogging for most of the time between now and year's end.
SEC TEAM STRENGTHS:
Each year in order to familiarize myself with SEC personnel I attempt to identify each team's strengths and question marks (in the age of sensitivity I hesitate to use "weaknesses"). This not only helps me prepare for upcoming opponents and radio appearances but enhances my enjoyment of the buildup to college football season. I hope you find it informative and enjoyable as well.
Blogger's Note: Look for SEC Team Question Marks on Monday
EAST
FLORIDA:
WIDE RECEIVER:
Expect a bounce-back from Antonio Callaway and Tyrie Cleveland showed his HR capability with a 98-yd TD reception versus LSU. Dre Massey is good in the slot and Brandon Powell is a valued veteran.
Honorable Mention SPECIAL TEAMS:
Johnny Townsend is one of the Nation's best punters (47.9 ypp) and PK Eddy Pineiro made 21 of 25 FGs including 3 of 3 from beyond 50 yds.
GEORGIA:
DEFENSIVE LINE:
Trent Thompson is an All-SEC caliber, versatile, D-lineman and Jonathan Ledbetter also provides inside-outside capability. John Atkins is a 5th-yr NT while Sophs Julian Rochester and David Marshall are ready to emerge.
Honorable Mention RUNNING BACK
Nick Chubb and Sony Michel should be in the NFL but for some reason are in Athens. The Dogs also have Fr D'Andre Swift and Sophs Brian Herrien and Elijah Holyfield ready if needed.

KENTUCKY:
LINEBACKER;
Jr OLBs Denzil Ware and Josh Allen had outstanding statistical years in 2016 (20.5 tfl; 12.5 sacks) and WLB Jordan Jones is more highly thought of than both. Sr Courtney Love and Soph Cash Daniel will man MLB.
Honorable Mention, SECONDARY:
The guys behind those LBs aren't too shabby either. CBs Chris Westry and Derrick Baity are both two-year starters Safety Mike Edwards is an all-conference-type performer.
MISSOURI:
WIDE RECEIVER
Sr J'Mon Moore had a huge finish to 2016 while Dimetrios Mason and Jonathan Johnson both started as true freshmen. Five returning Tiger WRs have at least one 100-yd receiving game in their careers.
Honorable Mention, OFFENSIVE LINE:
A line that allowed only 14 sacks in a pass-happy offense and sprung RB Zach Crockett for 1062 rushing yards returns everyone from the two-deep.
SOUTH CAROLINA:
QUARTERBACK:
Jake Bentley seems to bring a presence missing at the position at South Carolina for a number of years. He was poised beyond his years after taking over the starting job and will only grow more so now that he is actually college-aged. Bentley threw for 1420 yds and nine TDs with only 4 INTs
Honorable Mention: RUNNING BACK:
Rico Dowdell missed half the season and still rushed for 764 yds; averaged 5.7 ypc with 6 TDs. He'll be complimented by North Carolina transfer power back Ty'Son Williams. A.J Turner started 4 games as well in 2016 and will provide a 3rd down change of pace.
VANDERBILT:
RUNNING BACK:
Everyone by now knows how good Ralph Webb is as he enters his Senior season coming off of a school-record 1283 yd, 13 TD Junior campaign. He will be complimented by converted LB Khari Blasingame who runs like a tank in short-yardage situations. Redshirt Freshman Jamauri Wakefield appears ready to contribute as well.
Honorable Mention: SECONDARY:
The Dores return four Senior starters in CB Tre Herndon, SS Ryan White, FS Arnold Tarpley and Nickel Taurean Ferguson. Add Super-Soph Joejuan Williams at the other corner and the backside of Vandy's defense is really solid.
WEST
ALABAMA:
RUNNING BACK:
Talk about filthy rich the Tide has four former five stars in their RB corps. Bo Scarbrough was the stud they expected late in the season and appears recovered from a broken leg against Clemson. If not, Damian Harris averaged 7.1 ypc; Josh Jacobs 6.3 and Freshman Najee Harris may be better than all of them.
Honorable Mention, SECONDARY:
Bama returns three of four starters; SR CB Anthony Averett and Jr Safeties Ronnie Harrison and Minkah Fitzpatrick. Fitzpatrick is considered one of the best DBs in all of CFB and can play CB as well if needed.
ARKANSAS.
QUARTERBACK:
Prior to injuring his knee midway through the season Austin Allen had thrown 18 TDs and only 6 INTs. His second half swoon can be contributed to the injury and if healthy should be one of the league's top QBs.
Honorable Mention, DEFENSIVE LINE:
In a classic addition-by-subtraction scenario the Hogs lost four experienced Seniors from the defensive front and expect to be better since the quartet underachieved. Arkansas also switched to a 3-4 which should better suit the talents of Ends McTelvin Agim and Armon Watts and NGs Bijhon Jackson and Austin Capps.
AUBURN:
RUNNING BACK:
Kamryn Petway was limited to nine games last season due to injury but he more than made up for it with production when he did play. The Jr averaged 136 ypg rushing 5.9 ypc and scored 7 TDs. The Tigers also have Kerryon Johnson who not only had 895 yd and 9 TDs on the ground but also hauled in twelve catches for 125 more.
Honorable Mention, SECONDARY:
The Tigers return an accomplished trio of starters in Jr CB Carlton Davis and Sr safeties Tray Matthews and Stephen Roberts. Javaris Davis will man the other CB and had two interceptions in 2016. The group needs to stay healthy as depth could be an issue.
LSU:
RUNNING BACK:
It's a recurring theme in the league; lots of teams with solid RB corps. Superman -and 1st-round NFL draft choice Leonard Fournette spent more time watching than playing in 2016 but the Tiger rushing attack didn't seem to notice as Derrius Guice rushed for 1387 yds and 15 TDs. Guice will be backed up by Sr Darrel Williams and -the aptly for LSU named- Nick Brossette who averaged 4.5 and 9.7 ypc respectively.
Honorable Mention, OFFENSIVE LINE:
The Tigers lost versatile C Ethan Pocic but return three starters (LT- K.J. Malone, C-Will Clapp; RG-Maea Teuhema) and have a couple of capable Juniors (Garrett Brumfield and Toby Weathersby) ready to jump in.
MISSISSIPPI STATE:
QUARTERBACK:
Nick Fitzgerald may be the best QB in a league expecting to get improved QB play overall. Fitzgerald lead the SEC in Total Offense in 2016 with 3,798 yds while throwing 21 TDs and rushing for 16 more.
Honorable Mention, LINEBACKER:
Whether they play a 4-2-5 or 3-4 the Bulldogs have the personnel at LB to make it work. Montez Sweat and Marquiss Spencer will play OLB/DE. R-Fr Leo Lewis enters his second year as a starter at ILB.
OLE MISS:
WIDE RECEIVER:
The Rebels seem to reload this unit annually and D.K Metcalf and A.J Brown look to be the next Rebel receivers to eventually play in the NFL.
Honorable Mention, OFFENSIVE LINE:
Four starters return (LT-Rod Taylor; LG Javon Patterson; C-Sean Rawlings; RG-Jordan Smith) and Sophs Greg Little and Alex Givens are ready to step in at tackle spots now.
TEXAS A&M:
RUNNING BACK
Trayveon Williams ran for 1057 yards, averaged 6.8 ypc and scored 8 TDs. Vol fans remember one of them that went for 71. Power back Kenny Ford had 669 yards and 6 TDs of his own.
Honorable Mention, DEFENSIVE LINE:
If clogging the middle is what it's all about DTs Kingsley Keke and Zaycoven Henderson should fit the bill nicely for the Aggies. Srs Jarrett Johnson and Qualen Cunningham will man the ends.
CEILING AND FLOOR:
Tony asked his audience on Thursday what they thought Tennessee's 2017 football season's potential high and low could be if everything went right or conversely wrong? Here is my shot at that thought-provoking question:
2017 CEILING; 10-2:
I'm afraid the best Tennessee can hope for in their four most challenging games (@Fla, Ga, @Bama, LSU) is 2-2. If the Vols can split that portion of their schedule however they are certainly capable of beating everyone else they face in the regular season
2017 FLOOR; 6-6:
If the Vols drop the opener to Georgia Tech I could see a scenario where the bottom drops out. It could portend a witch's brew of inexperience at QB, lack of healthy bodies at DT, continued defensive deficiencies, lack of player leadership and a toxic malaise surrounding the program impossible to overcome. Add the four challenges listed above and one of Kentucky, South Carolina and Vandy and the Vols barely become bowl-eligible.
DOES EVEN BUTCH BELIEVE?
It didn't take long for Butch Jones to resume his
"woe is me, Vol fans don't realize what a fine coach I am"
rhetoric. He told those attending a Rotary Club meeting earlier this week:
"I know we live in a society of negativity, people get paid for clicks on the internet,". "But I'm here to tell you, when you step back and peel the onion back, look at the layers, we have a lot of things to be proud of.

"You look at how far we've come in four years."
Many of us want to believe -and still hope- that he can prove to be a coach capable of leading our beloved Vols to special seasons and be the long-term answer. My biggest fear however is that the job is simply too big for him and every time he speaks in glowing terms of non-championship seasons -that are average by Tennessee standards- he heightens my concerns. I'm beginning to wonder who he's trying to convince of his capability; Vol faithful or himself?
AUGUST 2:
Wednesday marked the 5-year anniversary of my Brother Ron's burial at Arlington Cemetery. Ron went home to be with his Lord and Savior on May 3rd of 2012. Regardless of rank -and Ron advanced to 2-Star General status- there is a long waiting period for interment at Arlington. Here is where the story becomes amazing, or more accurately an act of God. During the scheduling process for his military services the Arlington staff originally projected a fall date. As an aside a staff member asked Ron's wonderful wife Linda if the large auditorium would be needed for the site service? Upon being informed that wouldn't be necessary since Ron's initial service had already been completed at his home church in Virginia the Arlington staff member said the Chapel would be available sooner.
How about August 2nd?
That will be perfect was Linda's response. Perfect indeed because that was also the date of Ron's birth. God is indeed good.
I love you Ron and miss you every day.
THURMAN MUNSON TOO:
August 2nd (1979) is also the anniversary of Thurman Munson's untimely death when the small plane he was piloting crashed. Munson was the heart and soul of the late 70s Yankee teams that ended a long string of futility that lasted from around my 8th (October 1, 1964) to my 19th (1975) birthday. Munson is without question one of my five favorite Yankee players of all time. I would rank them (chronologically) as follows;
Mickey Mantle, Bobby Murcer; Thurman; Don Mattingly and Derek Jeter.
Jeter breaks up the 4-Ms who had always been at the top of my list. Mariano Rivera is very close and I could have listed him as "Mo" to keep the one-letter domination alive.
FINAL FRIDAY THOUGHT: Football is BACK baby!