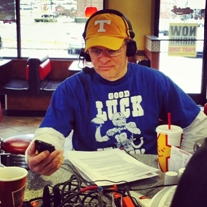 MONDAY ON MY MIND

2017 SEC FOOTBALL PREDICTIONS
With the SEC Media Days beginning today in Hoover I wanted to beat the writers that cover the league to making a fool of myself. Here is how I feel the 2017 season will play out. If I can indeed use my lack of prognostication prowess to jinx both Florida and Alabama I will consider it a public service.
EAST: RECORD (SEC/All) SEC LOSSES
Florida 8-0; 10-2- None
Georgia 6-2; 9-3- Fla (Jax); @Aub
Tennessee 4-4; 8-4- @Fla; Ga; @Bama; LSU
S Carolina 3-5; 6-6- @A&M; Ark; @Tn; @Ga; Fla
Kentucky 3-5; 6-6- @S Car; Fla; @Miss St; Tn; @Ga
Vandy 1-7; 3-9- All but Missouri
Missouri 0-8; 4-8- Whoever shows up
WEST: RECORD (SEC/ALL) SEC LOSSES
Alabama 7-1; 11-1- @Aub
Auburn 6-2; 9-3- @LSU; @A&M
LSU 5-3; 9-3- @Fla; @Miss; @Bama
Texas A&M 5-3; 8-4- Bama; @Fla; @LSU
Ole Miss 3-5; 6-6- @Bama; @Aub; @Ky; A&M; @MS
Arkansas 3-5; 6-6- A&M (Arl); @Bama; Aub; @Miss; @LSU
Miss State 2-6; 6-6- LSU; @Ga; Aub; @A&M; Bama; @Ark
8-4; ENOUGH FOR MORE?
Whether Butch Jones is truly on the hot seat or not is in the eye of the beholder and the hands of only John Currie and the guys I like to refer to as the Power Strangers (see definition below). Though it's an overly simplistic view let's look at three possible regular season scenarios and what they could mean for Butch Jones future as Tennessee's Head Football Coach:
7-5:
I believe this would be a fireable offense. It is a pretty clear indication that the program is in regression and would mean the Vols have an inexcusable loss to at least one of the following teams; Georgia Tech (Atlanta), South Carolina, @Kentucky, @Missouri or Vandy.
9-3:
To me this lands on the other side of the spectrum. Nine regular season wins would be the high-water mark of the Jones era to-date signifying a step forward with a roster not as fully equipped as the one he took to battle the previous two seasons. It would also require at least one win versus Florida, Georgia, Alabama or LSU. In my opinion, regardless if that results in a trip to Atlanta or not it would be irresponsible -and counterproductive for the program- to fire a coach after that season.
8-4:
Here is where it gets dicey. Many will believe an 8-win season should never result in the firing of a coach but what if my scenario depicted in the above SEC predictions (losses to Fla, Ga, Bama and LSU) occurs? It is the most likely path to 8-4 for the Vols and Jones' corresponding numbers -if that scenario comes to fruition- would not be pretty:
-1-4 versus Florida
-2-3 vs Georgia
-0-5 vs Alabama
-0-10 vs SEC West
-18-22 in SEC play
-One season over .500 in conference play (5-3 in 2016)
I'm not suggesting that Jones shouldn't be credited with improving what was a moribund program or that the above is automatically a fireable offense. I do believe however it would take some magical thinking to believe those numbers suggest in any way that a 6th season for Jones should be a foregone conclusion.
From Beano's Unabridged Dictionary Volume 1:

POWER STRANGERS:
(pou-er streyn-jer)
The well-known, well-heeled, few with most of the money and all the power that make decisions from the shadows of the process so the AD gets all the blame if the hire is
Dooleyed
up
DOOLEYED
:
(DU-leed)
You know exactly what that means
FANTASY FAUX PAS If there is anything at this time of year that provides weekly comedic material it is my fantasy baseball management. Until that changes, I will provide fantasy foolishness of the week.
Tied for third in a league that has a 4-team playoff at season's end. Hanging in there despite Mike Trout's DL stint.
1st HALF MLB NUGGETS
-The Yankees have gone from a delight to brutal to watch in part due to injuries and sluggish play from veterans Chase Headley, Jacoby Ellsbury and the departed Chris Carter. The real culprit however has been the dreadful performance of Tyler Clippard and accompanying complete bullpen meltdown. The Yanks lost 17 of 23 games in a recent stretch and the pen was directly responsible for over half of the losses.
-I'm still delighted with the youth movement. Aaron Judge, Gary Sanchez, Clint Frazier and Luis Severino will be fun to watch for years to come and there are several stars-in-waiting in what many believe is the top farm system in all of baseball. It is time however to fix your issues at first and third base, get out from under Ellsbury's contract, package a few youngsters for another pitcher and put Clippard in jail for arson and impersonating a Major League pitcher.
-Milwaukee's lead in the NL Central is complete smoke and mirrors. They are one of the worst fielding teams I've seen all season and their pitching staff simply can't continue at the current rate of success they've enjoyed in the first half. They can certainly hit but there is no way that is a division-winning roster.
-The Dodgers beat the Astros to 60 wins but if those two ultimately meet I don't believe LA will be thrilled by the results
-There may not be a July fire sale in Kansas City after all. The Royals have recovered nicely and will finish the 1st half above .500
-The Red Sox -as I feared- are a couple of years ahead of the Yankees in redefining their roster. They appear to be the only true challenger of the Astros in the AL.
-Detroit, Toronto and Baltimore better resign themselves to the fact they are indeed sellers. Their current rosters are roached.
-Though I certainly don't follow them closely enough to know their issues the Cardinals struggles of the last two seasons are puzzling to me. They seemed to be the team that always pushed the right buttons and had someone ready to step up. They no longer look like the "model" franchise.
-Hope Aaron Judge and Giancarlo Stanton meet in the finals of the HR Derby. I also hope it doesn't hose up Judge's swing for the second half of the season.
WELCOME BACK DEAN:
It will be good to get back on the air with Tony and the listening audience Monday. I'm sure T-Boz will be ready to explode back on the scene after a week of rest and eating gun powder. I'm as anxious as many of you to hear details of the new-look-and-sound
Tony Basilio Show
.
JUST A FEW MORE ABSENCES:
As I wind down my Jurassic Softball Season -and maybe career- I will miss three more Fridays in the weeks ahead (July 14, 28 & Aug 18). I will likely bypass blogging leading up to those as well. I will not however miss any football season shows -as I have the last two years- as my September softball playing days have without question come to an end.
BLOG LOG:
It is my intention to return to twice-weekly blogs starting in August leading up to football season. It is up to you to determine if this is a blessing or something far short of that. Either way thanks for taking time out of your precious day to read my drivel. I am both amazed and forever grateful you do so.
FINAL MONDAY MUSING:
SEC Media Days are like the sore throat portion of a cold. It signals the beginning but you've got a lot to go through before you really feel good.