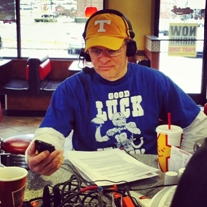 FREE THOUGHT FRIDAY

HOW THE VITELLO HIRE STACKS UP:
Tony was kind enough to include this in his blog the day after Tony Vitello was hired as the Vols new Baseball Coach. For those who may have missed it here is how I rate the hire.
(Non-bolded represents my pre-hire thoughts on how I would approach the hiring process.
Bolded rates how Vitello meets those viewpoints.
-DONíT HIRE A CURRENT, SITTING, COLLEGE HEAD COACH: Todd Raleigh and Dave Serrano in succession are enough to convince me that itís time to return to the last model that worked here. Rod Delmonico was Florida Stateís top assistant at the time of his hiring as the Volsí head man in 1990
CHECK, Vitello was most recently an assistant/recruiting coordinator at Arkansas (2014-17). Prior to that experience he was performed the same role for three seasons at TCU (2011-13) and preceded that with 8 seasons at Missouri (2003-10)
-DONíT HIRE A FORMER OR CURRENT PITCHING COACH: I suspended my pitcher prejudice due to Serranoís success at previous head coaching stops and it proved to be a mistake. Former pitchers and pitching coaches spend so much of their careers specializing that they lack the level of knowledge in other aspects of the game essential to being a successful manager. Heck, pitchers spend most of their career with their back turned to most of what occurs. Give me a former catcher or middle infielder over a hurler anytime.
CHECK (with a waiver) Coach V did serve as pitching coach for most of his Missouri tenure but also had hitting instruction duties as well. He has been a hitting instructor; third and first base coach and worked with INF/OF instruction at TCU and Arkansas.
-FIND A SALESMAN FOR TENNESSEEíS PROGRAM: We need a proven recruiter -or someone with a true love for Tennesseeís program- that can sell both local kids and those that know nothing about Vol baseball on the merits of playing in Knoxville.
CHECK He is a renowned recruiter whose second class at Arkansas was ranked by some services the #1 class in America. In 2012 TCU started 7 freshmen recruited by Vitello and made a Super Regional appearance. Throughout his coaching career he has played a vital role in signing 7 Top-15 classes.
-FIND SOMEONE WITH KNOWLEDGE OF THE CHALLENGES OF SEC BASEBALL: Neither Raleigh or Serrano -though he should have- had a clue what they were stepping into with SEC Baseball. Football may be king but this is still a better baseball league.
CHECK Though during his playing and coaching time in Columbia, Missouri was in the Big-12 he has spent the last four seasons coaching and recruiting in the dog-eat-dog SEC-West.
SYNOPSIS: Tony Vitello checks every box I laid out so it is hard to be critical of the hire. Iím certainly pleased that we didnít hire Chad Holbrook who resigned at South Carolina just beating the hangmanís noose. Our program didnít need to hire a division foe castoff at a time when energy and vision are so essential. I also would have been disappointed had Ash Lawson -who has spent only one season in college baseball since 2003- been our selection.
HURT FOR BURKEY:
I made no secret of the fact that I thought rebuilding Tennessee Baseball would take more than a solid resume. I believed (believe) it needed a more passionate approach -a family touch if you will- to recover from the Todd Raleigh/Dave Serrano malaise the program has fallen under. No one would have brought more passion or desire to turn things around than Chris Burke. He in my opinion -though not the most traditional approach- would have been the perfect selection.

NICE FIRST IMPRESSION:
Iíve now heard Vitello on two radio appearances;
The Drive
and of course
The Tony Basilio Show
. Both Russell Smith and Tony conducted solid interviews but Vitello was the star. He seemed extremely comfortable with the interview process especially for a newly-named rookie head coach. He exudes confidence while retaining an awareness of the challenge that lies ahead for a first-year coach in a brutal league. He was engaging, astute self-aware and obviously appreciative of the opportunity and passion of Vol Nation. Itís easy to see how he is one of the most acclaimed recruiters in the nation.
FANTASY FAUX PAS If there is anything at this time of year that provides weekly comedic material it is my fantasy baseball management. Until that changes, I will provide fantasy foolishness of the week.
On a mini-roll right now so thankfully there is nothing new to report.

MLB NUGGETS
-Every once in a while a special talent comes along that you just have to see as much of as possible regardless of what uniform he wears. I do it with Mike Trout and Iím sure non-Yankee fans are doing the same with Aaron Judge.
-The scary thing for Yankee-haters should be Gary Sanchez is just as good.
-On the other side of the coin A-Rod was one of the few Yankees that I hated to watch wear the pinstripes. Tyler Clippard is one I
will not
watch. I know whatís about to happen EVERY time this guy is called in from the pen and Iím not referring to me spewing profanity.
-Closing in on the All-Star break few are surprised that Washington leads the putrid NL East or that Houston is setting the pace in the AL-West (although their dominance is stunning). The Dodgers were also a popular selection to be atop the NL West. I would have to question the sincerity however of anyone claiming they thought the Yankees (AL East), Twins (AL Central) and Brewers (NL Central) would be leading theirs.
-Iím excited for the opportunity to see the Braves new SunTrust Park while in Marietta for an Old Man Softball Tournament next week. Iím equally pumped for the opportunity to see Buster Posey play for the Giants. Posey is hitting at a .352 clip with 8 HRs and 23 RBIs. Hard to believe heís now 30 years old and with 8+ seasons of Major League experience.
-Ichiro Suzuki -another guy who could make me turn away from Yankee games momentarily- became the all-time Interleague hit leader with his 365th Wednesday against the Aís. he broke a tie with Derek Jeter.
MY ALL-STAR BALLOT:
For those new to the blog I will reiterate my voting philosophy is to select player having the best years regardless of reputation. If things are even I will select the player with the better career numbers. The great thing about fan balloting is itís all in the eyes (and hands) of the beholder. Itís your game; vote for who you want to see play in the game.
NL
C J.T Realmuto (.294; 6; 25)
1B Ryan Zimmerman (.365; 17; 49)
2B Daniel Murphy (.338; 10; 41)
3B Nolan Arenado (.292; 14; 46)
SS Zack Cozart (.324; 9; 33)
OF Charlie Blackmon (.336; 15; 53)
OF Bryce Harper (.319; 16; 47)
OF Marcel Ozuna (.324; 15; 43)
AL
C Salvador Perez (.274; 13; 35)
1B Justin Smoak (.295; 18; 43)
2B Jose Altuve (.317; 9; 32)
3B Miguel Sano (.288; 15; 46)
SS Carlos Correa (.294; 11; 40)
OF Aaron Judge (.347; 22; 49)
OF Mike Trout (.337; 16; 36) Hurt or not he deserves to be elected
OF George Springer (.274; 17; 40)
DH Corey Dickerson (.328; 14; 31)
UGLY SIDE OF BUTCH:
You can most certainly make the case that Butch Jones inherited a Superfund Site and quickly got it off the EPAís list; restored the roster to SEC quality; won at least 9 games in back-to-back seasons for the first time since 2006-07; had two consecutive Top-25 teams and of course the now-popular, saved the program from APR doom.
Unfortunately, there is another Jones profile not so handsome that many who are emotionally invested -and seemingly all who arenít- see more often. Check out this scathing excerpt from Brian Edwards Coaches Hot Seat on
VegasInsider.com
5 - Butch Jones (Tennessee)
-
This clown is living on borrowed time already. If not for a fortunate season-opening victory in overtime over Appalachian St. thanks to a missed extra point and fourth-quarter field goal from the Mountaineersí kicker, in addition to a win at Georgia on a Hail-Mary pass as time expired, Jones wouldíve been gone last season. Where do we even start with his ineptitude during his four seasons so far? There were the pregame built-in excuses to lose early in his tenure when he relentlessly pointed out his teamís youth and inexperience to the media at every opportunity. There was his lack of stones for owning his egregious mistake at The Swamp two years ago when he didnít go for two after going up 12 midway through the fourth quarter. Instead, he claimed he went for one by following his ďstandard two-point chartĒ that was obviously written by a moron. He hasnít brought any championships to Knoxville, but he enraged his fan base by calling his first group of graduating seniors ďchampions of life.Ē

Jones has a 14-18 record in SEC play at UT despite the fact that nearly every school in the East has been down. In fairness, his í16 club did deal with a lot of injuries, but you canít get embarrassed by double digits at Vandy. When you have two weeks to prepare to play at South Carolina and its freshman QB (who shouldíve been a senior in high school) is making his second career start while UT is in control of its destiny to win the division for the first time in a decade, you canít lose that game. With the season coming off the rails in November, Jones was seemingly losing his composure regularly. After one particular presser in Knoxville, he felt inclined to go after a female reporter whose questions werenít to his liking. Then after the debacle against the Commodores in Music City, he conveniently avoided the media onslaught by showing up to his presser early and leaving before most of the journalists arrived. The heat is on Mr. Jones at UT this year and it says here that he could be gone by early November.
MORE OLD MAN SOFTBALL:
Over the next couple of months I will be participating in softball tournaments at a clip of every other weekend. This may curtail my weekly contributions. If I miss a Friday donít give up on the blog. It will come back as quickly as it disappears. Thanks for your patience and understanding in advance.
FINAL FRIDAY THOUGHT:
This is one of the great MLB promotions of all time
THE FREEZE