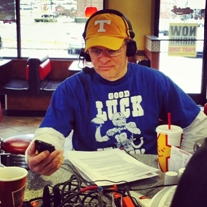 FREE THOUGHT FRIDAY
VOL FOOTBALL OUTLIER DECADES:
A couple of blogs ago I posted what Tennessee football has been statistically during my period of fandom (1965-present). The numbers suggest that an average Tennessee football season/decade is
8 wins/season
(should be adjusted to 9 with the 12-game regular season);
8 bowl appearances/decade
(should never miss with several 5-7 teams now making bowls);
4-5 bowl wins/decade;
2 SECCG appearances/decade
and
1 SEC Championship every 7 seasons.
With that in mind letís take a look at the outlier decades during the 52 seasons Iíve used to define the program above. One glance and it is easy to understand how those who began following the Vols in the 90s would have different expectations than most everyone introduced to Tennessee football during any other era. Itís also easy to sympathize with those in their teens and early-20s who Iím sure are asking Ďwhy would anyone think this stuff is ever going to be anything but -
as Freddy describes the current state of our program-
meatloaf?Ē
1990-99
90- 9-2-2; SEC CHAMPS: Sugar Bowl (Win-Va)
91- 9-3; Fiesta Bowl (Loss-Penn St)
92- 9-3; Outback Bowl (Win-BC)
93- 10-2; Capital One Bowl (Loss-Penn St)
94- 8-4; Gator Bowl (Win-Va Tech)
95- 11-1; Capital One Bowl (Win-Ohio State)
96- 10-2; Capital One Bowl (Win- NíWestern)
97- 11-2; SEC Champs Orange Bowl (Loss-Nebraska)
98- 13-0; SEC Champs; National Champs; BCS Championship Game (Win-FSU)
99- 9-3; Fiesta Bowl (Loss-Nebraska)
SYNOPSIS:
-99-22-2 (.818%); 9.9 wins/season
-3 SEC Championships; 1 National Championship
-5 BCS Bowl Games; 9 New Yearís Day Bowls; 6-4 in Bowl Games
-5 Seasons with 10 or more wins; Only 1 season with less than 9 wins
CURRENT DECADE:
10- 6-7 Music City Bowl (Loss-UNC)
11- 5-7
12- 5-7
13- 5-7
14- 7-6; TaxSlayer Bowl (Win-Iowa)
15- 9-4; Outback Bowl (Win-NíWestern)
16- 9-4; Music City Bowl (Win-Nebraska)
SYNOPSIS:
-46-42 (.522); 6.6 wins/season
-4 Bowl Games (3 Wins)
-First time Vols have had 4 consecutive losing seasons since 1903-06
FANTASY FAUX PAS If there is anything at this time of year that provides weekly comedic material it is my fantasy baseball management. Until that changes, I will provide fantasy foolishness of the week
. Mike Trout landed on the DL for the first time in his burgeoning Hall of Fame career. One guess who has him on their fantasy roster for the first time.
MLB NUGGETS
-The bruhaha between the Giants and Nats on Memorial Day was comical even for a Major League Baseball fight. Although there were a few good punches landed the fracas was more humorous than frightful. First off it was a three year old beef stemming from Bryce Harperís two HRs off Hunter Strickland in the 2014 NLCS. Strickland was apparently still bothered despite the Giants World Championship that year plunked Harper on the hip. Bryce charged the mound with a helmet throw that was so off the mark it looked like a Hip-Hop artist throwing out the first pitch. He then took one off the chin before landing a solid blow of his own. The real comedic action was just getting started however as Jeff Samardzija -flashing back to his football days- came to Harperís rescue with a running-start blowup block. The problem was the guy he pancaked was teammate Mike Morse who had converged from the other side. It then appeared that about 6 Giants were on the bottom of the pile fighting each other like the old Three Stooges gag when someone turns the lights out during a brawl. The poor National League; they canít even stage a good donnybrook.
-The repercussions of the melee were obvious a day later as Harper was suspended for four games (later reduced to 3), Strickland for 6, Morse went on the DL with a concussion and Samardzija pitched as if he had one (4 innings, 9 hits 3 ERs)
-I believe Houstonís rebuild is complete. The Astros are clearly MLBís best team entering June with 38 wins; four more than anyone else in baseball. The Astros trail only the Washington Nationals in most hitting stats and pitch better than anyone but the Dodgers. There doesnít appear to be an out in the lineup and Dallas Keuchel (8-0; 1.81; 62 Ks; 16 BBs) is out-Kershawing Clayton himself.
-The Nats Ryan Zimmerman seems to have been transported back 5 years to when he was a feared hitter. Though heís struck out 40 times when he makes contact good things are happening (.371, 14 HRs, 41 RBIs)
-Matt Kemp of the Braves must have climbed in the time machine with Zim. Though Freddie Freemanís injury robbed him of what little protection Atlantaís lineup provides, Kemp has still managed a .341 average with 9 HRs and 29 RBIs
-The Reds are surprisingly 7th in all of baseball with a .263 team average and are one of 10 MLB teams with 70+ HRs (73). Zach Cozart is leading the way in average at .347 while Scott Schebler has 16 bombs. Both Joey Votto and Adam Duvall have clubbed 14 HRs.
-The World Champion Cubs on the other hand are hitting a paltry .236 entering the seasonís 3rd month.
-Moneyball apparently doesnít take defense into account. The Aís may be the worst fielding team Iíve ever seen in MLB. They have a nice young pitching staff that could be traumatized by seasonís end. During a recent series vs. the Yankees I fully expected to see Sal Sunseri wearing an Aís cap.
-After two months division strength starts to come into focus. Here is how it looked prior to games played on June 1st
AL EAST-20 games over .500
AL CENTRAL-9 games under .500
AL WEST-.500

NL EAST-24 games under .500
NL CENTRAL-7 games under .500
NL WEST-12 games over .500
MORE OLD MAN SOFTBALL:
Over the next couple of months I will be participating in softball tournaments at a clip of every other weekend. This may curtail my weekly contributions. If I miss a Friday donít give up on the blog. It will come back as quickly as it disappears. Thanks for your patience and understanding in advance.
FINAL FRIDAY THOUGHT: The preseason CFB magazines are steadily hitting the racks. It wonít be long now.