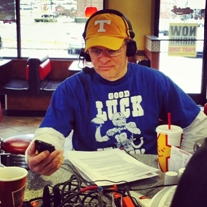 FREE THOUGHT FRIDAY
WHAT JOHN CURRIE MUST DO:
Several weeks back during Tonyís trip to Philly to be with his Pop my former
Calhounís Saturday Conversation
co-host Geoff Brock and I discussed what John Currie would have to do to gain our confidence after being hired against our will. Below is a checklist I came up with at the time, some of which Currie has already marked off. From my standpoint -surprisingly- so far, so good.
-CONTINUE TO BE MORE OPEN AND FORTHCOMING WITH THE FANS
: The open letter and effective use of social media outlets has been refreshing
-HANDLE THE BUTCH JONES CONTRACT CORRECTLY WITH NO ADDITIONAL FAILURE MONEY:
If Currie wants to make it look as though Jones tenure is on firm ground for recruiting purposes with an extension and small raise I have less issue with that than extending/increasing the buyout in case what we saw late in the season was not a mirage but an oncoming train.
-CONTINUE TO DEMAND EXCELLENCE FROM EVERY PROGRAM:
The firing of Sam Winterbotham had to be a shot across the bow of every staff on campus short of the Weeklys. It was a clear indication that past success is not enough and sustained excellence is expected.
-MAKE A CHANGE IN BASEBALL ASAP AND FROM MY STANDPOINT SHOW THE VISION TO GO OUTSIDE THE BOX AND HIRE CHRIS BURKE
: As I mentioned this list was originally compiled several weeks ago and Currie has completed the first half of this request. Regardless of who is hired I would hope a willingness to form a group of people with the intimate knowledge of College Baseball to guide him in making a wise selection is part of the process.
SHOW AN ABILITY TO INSPIRE SITTING COACHES TO IMPROVE IN THEIR AREAS OF WEAKNESS:
As in help Butch Jones with his public interaction and stop all his butt-hurt sensitivity to any form of criticism

-CONVINCE RICK BARNES THAT RECRUITING IS AS VITAL TO HIS JOB SECURITY AS PLAYER AND TEAM INSTRUCTION:
Barnes has treated recruiting as if it is no longer required of him due to his extensive resume of success. The truth is if he isnít using his notoriety to lure difference-maker players to Knoxville then his past success means nothing for our program.
-PAY MORE THAN LIP SERVICE TO RETURNING TENNESSEE TO A BETTER ALL-AROUND SPORTS PROGRAM
He can start by guiding Vol athletics to a much-improved standing in the Director's Cup. There is absolutely no excuse for Tennessee to ever finish outside the Top-50. THAT is unacceptable under any circumstances.
VOL COACHING SEARCH:
You would think with all their recent experience the Vol brass would be pretty dang proficient at hiring new head coaches in menís sports. Unfortunately, if they were, it wouldnít be happening so frequently. With that in mind here are some suggested guidelines to follow in replacing Dave Serrano:
-DONíT HIRE A CURRENT, SITTING, COLLEGE HEAD COACH:
Todd Raleigh and Dave Serrano in succession are enough to convince me that itís time to return to the last model that worked here. Rod Delmonico was Florida Stateís top assistant at the time of his hiring as the Volsí head man in 1990
-DONíT HIRE A FORMER OR CURRENT PITCHING COACH:
I suspended my pitcher prejudice due to Serranoís success at previous head coaching stops and it proved to be a mistake. Former pitchers and pitching coaches spend so much of their careers specializing that they lack the level of knowledge in other aspects of the game essential to being a successful manager. Heck, pitchers spend their careers with their back turned to most of what occurs. Give me a former catcher or middle infielder over a hurler anytime.

-FIND A SALESMAN FOR TENNESSEEíS PROGRAM:
We need a proven recruiter -or someone with a true love for Tennesseeís program- that can sell both local kids and those that know nothing about Vol baseball on the merits of playing in Knoxville.

-FIND SOMEONE WITH KNOWLEDGE OF THE CHALLENGES OF SEC BASEBALL:
Neither Raleigh or Serrano -though he should have- had a clue what they were stepping into with SEC Baseball. Football may be king but this is still a better baseball league.

WHO DOES THAT REMOVE?
Based on the above criteria -and relying on names I have seen connected publicly:
KEVIN McMULLAN UVA Asst:
NO SEC EXPERIENCE

JOHN SZEFC (Maryland); MATT BRAGGA (Tenn Tech); TRAVIS JEWITT (Tulane); MARK CALVI (S Alabama) and MATT RISER (SE Louisiana)
ALL SITTING HEAD COACHES
ASH LAWSON NY Mets Scout:
This is totally unfair but the combination of being with the Mets and one year here with Todd Raleigh and Lawsonís ASH is outta here.

RICK HONETCUTT LAD Pitching Coach;
Though a great college hitter he has spent his entire professional career as a pitcher or pitching coach.
ALAN COCKRELL NYY Hitting Coach:
Too far removed from the college game and too valuable to my beloved Yankees as a hitting coach.
WHO DOES THAT LEAVE?:
- Here are my top 2 candidates for the job:
BRAD BOHANNON; Auburn Asst:
Bohannon spent 12 years at Kentucky before joining Auburnís staff two seasons ago. He is a renowned recruiter and has spent most of his career coaching OF and IF play and as a hitting instructor.
CHRIS BURKE;
Iím not going to pretend to be objective about Burkey. I have gotten to know him through the radio show and simply admire everything about the guy. I donít believe however that my judgement has been clouded concerning his baseball acumen, gifts and true love for all that is Tennessee. His knowledge of the game, the SEC, Tennesseeís program and the fact that he played most every position on the field at one point in his career or another -combined with his Major league and instructional experience- more than suggest he would return Tennessee to prominence. Or damn-near die trying.

FANTASY FAUX PAS If there is anything at this time of year that provides weekly comedic material it is my fantasy baseball management. Until that changes, I will provide fantasy foolishness of the week.
Iím in the midst of a tight contest this week that indications are every point will be critical. Last night instant replay reared its ugly head. Indians closer Cody Allen enticed Billy -freakin- Hamilton into an apparent inning and game-ending double play and a 3-2 Indians win. Allen at that point would have been awarded 9 points; 1 for an inning pitched and 8 for a save. Instead replay overturned the call and brought Reds SS Zac Cozart to the plate with two outs and runners on 1st and 3rd. Cozart lined a single to LF where Michael Brantley barely missed a diving catch but the ball bounded just far enough away for Bullet Billy to score the go ahead run from first. Allen finished the inning (+1) but when the Tribe failed to score in the 9th losing 4-3 Allen not only put up -2 for the runs scored but also -2 for a blown save and -5 for a loss. From +9 to -8 in the blink of an eye. I hate you replay.
FINAL FRIDAY THOUGHT: Greatly looking forward to spending Friday with Tony the callers and listeners. I missed you guys.